McLaughlin extends Championship lead with victory at The Bend
Scott McLaughlin capped off a roller coaster weekend at Sandown in South Australia with a race win to extend his lead to 215 points over Jamie Whincup.
It leaves the 27-year old Shell Ford ace in the box seat to claim a rare three peat of drivers' titles, with just two rounds remaining in this year's Virgin Australia Supercars Champion.
As for today's results, McLaughlin finished third in the opening race of the day before backing it up with victory in his 250th career race start this afternoon.
He started the day perfectly, claiming pole for both of today's races in this morning's qualifying to take his season tally of pole positions to 12 and his career tally to 73.
In the opening race of the day McLaughlin was beaten off the start by Red Bull Holden ace Shane van Gisbergen who never gave up the lead from there.
Van Gisbergen's win was his third of 2020. Behind the Red Bull over the finish line it was an historic result, with Andre Heimgartner second in the Ned's Mustang while McLaughlin was third.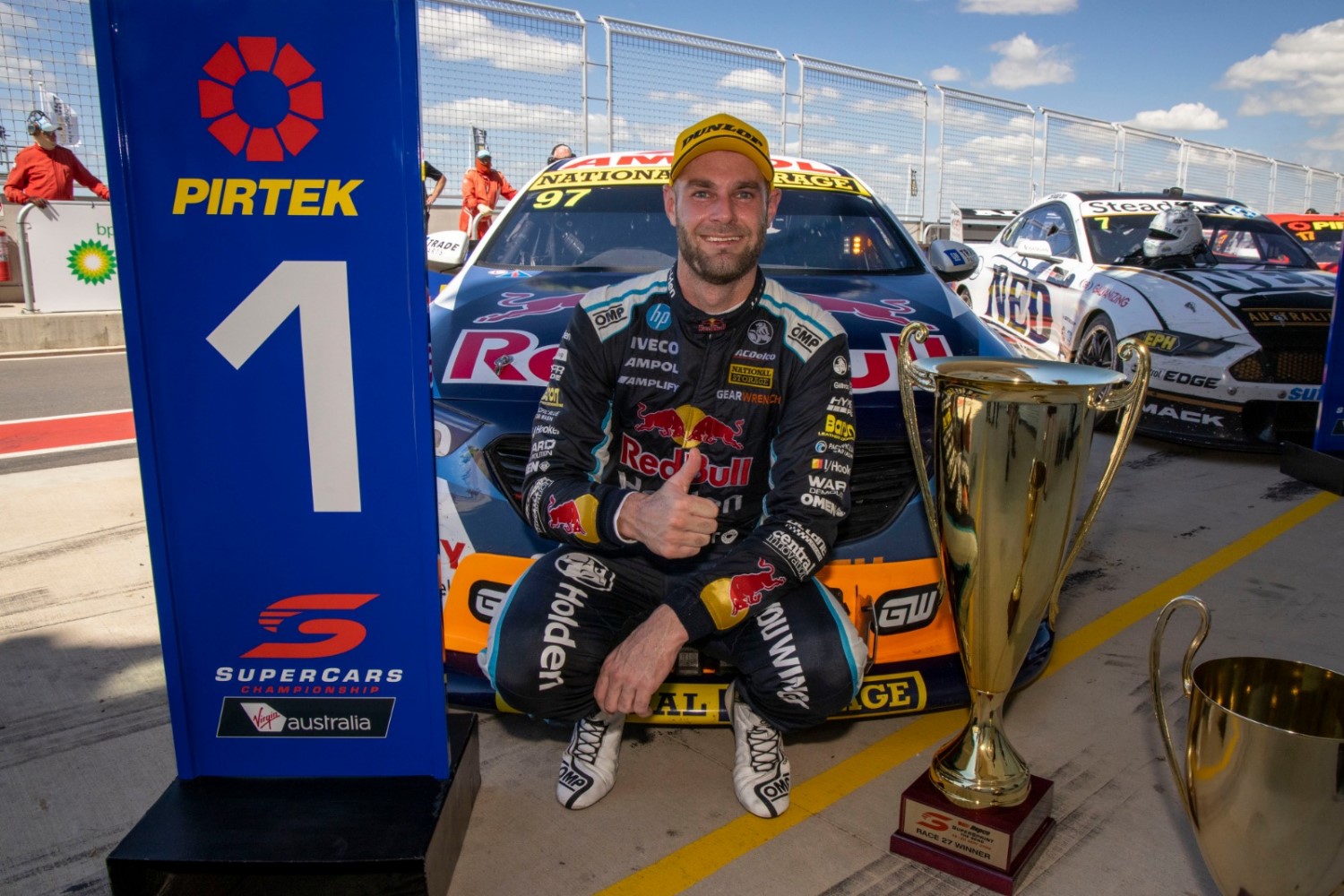 McLaughlin's Shell Ford Mustang teammate Fabian Coulthard finished fourth, making it the first-ever time in Supercars history that New Zealand born drivers had crossed the finish line in the top four positions.
There was disaster for Whincup in the opening race of the day, when during a pit stop his car failed to lift for a tire change adding crucial seconds to his time sitting idol.
In the end he lost several spots, however that meant he also lost valuable Championship points allowing McLaughlin to skip out to a 201-point lead in the title race ahead of the final race of the round.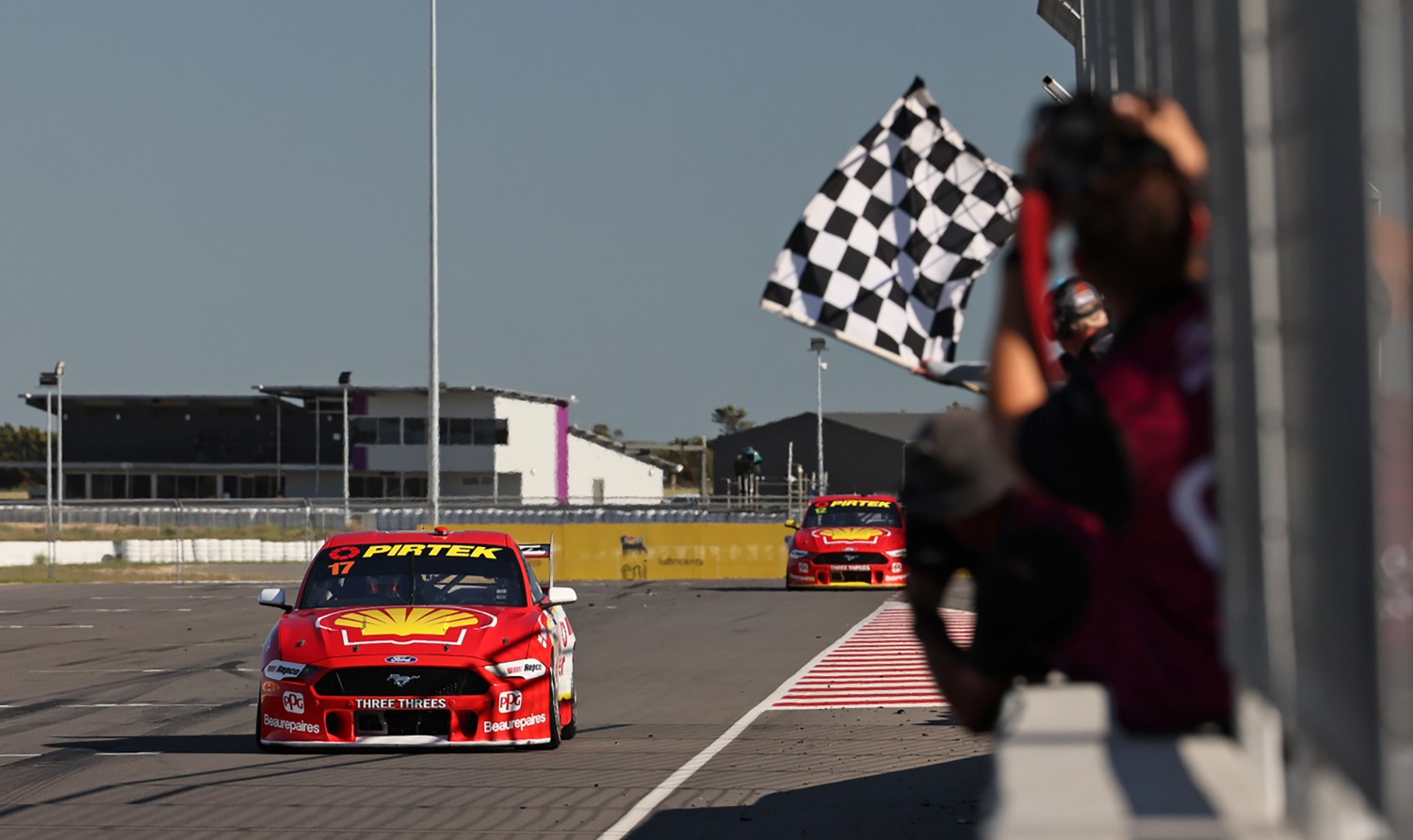 In the third and final race of the event, McLaughlin led from start to finish to claim top honors ahead of Coulthard, while Whincup was third.
The race was full of incidents, with James Courtney and Mark Winterbottom both limping back to pit lane after a massive crash on the opening lap.
Today's results helped McLaughlin take his lead to 215 points, with just four races to go this year.
McLaughlin praised Coulthard for putting together a round in which he claimed more points than any other driver.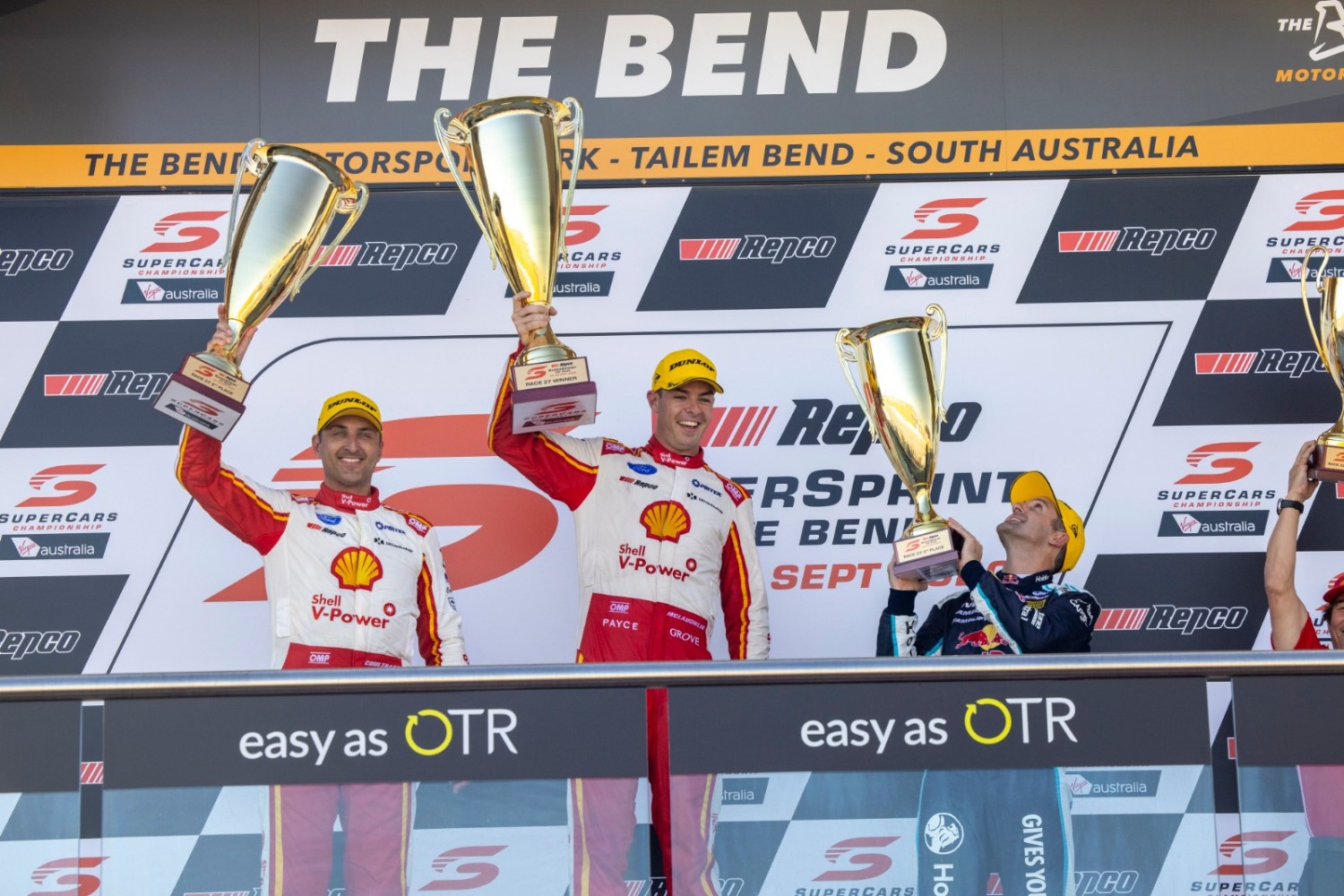 "I'm proud of Fabs and car #12, they've been on the receiving end of a few bad runs. He hasn't forgotten how to drive obviously, he's a great teammate," said McLaughlin.
"Track position helps, being in front. When you're behind people they dictate what you do, so it was important to get the start and that's what we did."
Added Coulthard: "It's been a solid weekend for our side of the garage. Any time you can get a one-two in this category the team is doing an awesome job."
Whincup was upset with his weekend in which he received a penalty for colliding with McLaughlin yesterday, the pit stop drama today and then a collision with Anton De Pasquale while fighting for third this afternoon.
The Red Bull Commodore hit the back of the Penrite car at Turn 6 on lap 20, requiring Whincup to slow up in order not to receive a penalty, before refocusing and making a clean pass.
"Anton shut the gate, we were racing hard, he was obviously pretty desperate for the podium position and I wanted to get through as well," said Whincup.
"I'm kicking myself a little, I wish I'd been a bit more patient and waited half a lap because I may have been able to have a go at Fabs as well.
"It was a little wasted opportunity. We'll throw that in with the mistakes this weekend and hopefully we can clear some of them out for next week."
Teams will have five days to turn everything around before the second event of the South Australian double header, the OTR SuperSprint – which will run on a different circuit layout at the Tailem Bend raceway.
That will be the penultimate round of the Championship with only the Supercheap Auto Bathurst 1000 to run after that on October 18.
McLAUGHLIN QUOTE
"We were 1st and 3rd overall for the weekend, and we got a 1-2 today which is fantastic for the team. For us, the car was fantastic to drive, it was just a pleasure to drive, and I'm really proud of everyone at the Shell V-Power Racing Team to be able to bounce back up here today. It was a fantastic day today."
"Our tires were great all weekend. I had a couple of little blisters but nothing like we have seen up and down pit lane. We changed our strategy today and changed two rear tires instead of two sides, and then I just had to play with my bars to get balance. Once I got that, it was good."
Sandown Race 2 Results
| | | | | |
| --- | --- | --- | --- | --- |
| POS | # | DRIVER | TEAM | BEHIND |
| 1 | 97 | Van Gisbergen | Red Bull Holden Racing Team | +0.000s |
| 2 | 7 | Heimgartner | NED Whisky Racing | +1.146 |
| 3 | 17 | McLaughlin | Shell V-Power Racing Team | +1.874 |
| 4 | 12 | Coulthard | Shell V-Power Racing Team | +12.204 |
| 5 | 99 | A. de Pasquale | Penrite Racing | +15.864 |
| 6 | 15 | R. Kelly | Castrol Racing | +16.030 |
| 7 | 9 | Reynolds | Penrite Racing | +16.885 |
| 8 | 6 | C. Waters | Monster Energy Racing | +17.187 |
| 9 | 8 | Percat | R&J Batteries | +20.086 |
| 10 | 55 | J. Le Brocq | Supercheap Auto Racing | +25.532 |
| 11 | 25 | Mostert | Mobil 1 TM Appliances Online | +25.570 |
| 12 | 14 | T. Hazelwood | TRG Transport | +25.626 |
| 13 | 20 | S. Pye | DEWALT Racing | +25.678 |
| 14 | 44 | Courtney | Boost Mobile Racing | +26.806 |
| 15 | 18 | Winterbottom | IRWIN Racing | +27.537 |
| 16 | 2 | B. Fullwood | Mobil 1 TM Middy's Racing | +27.847 |
| 17 | 88 | Whincup | Red Bull Holden Racing Team | +33.524 |
| 18 | 3 | M. Jones | Team CoolDrive | +33.861 |
| 19 | 22 | C. Pither | Team SYDNEY | +39.069 |
| 20 | 19 | A. Davison | Local Legends Racing | +39.462 |
| 21 | 4 | J. Smith | SCT Motor Sports | +39.764 |
| 22 | 35 | G. Jacobson | Yellow Cover Racing | +43.558 |
| 23 | 5 | Holdsworth | Truck Assist Racing | +43.630 |
| 24 | 34 | Z. Goddard | UNIT Racing | +1:07.567 |
Sandown Race 3 Results
| | | | | |
| --- | --- | --- | --- | --- |
| POS | # | DRIVER | TEAM | BEHIND |
| 1 | 17 | McLaughlin | Shell V-Power Racing Team | +0.000s |
| 2 | 12 | Coulthard | Shell V-Power Racing Team | +1.865 |
| 3 | 88 | Whincup | Red Bull Holden Racing Team | +5.758 |
| 4 | 99 | A. de Pasquale | Penrite Racing | +8.601 |
| 5 | 6 | C. Waters | Monster Energy Racing | +11.032 |
| 6 | 20 | S. Pye | DEWALT Racing | +11.371 |
| 7 | 7 | Heimgartner | NED Whisky Racing | +17.681 |
| 8 | 15 | R. Kelly | Castrol Racing | +18.227 |
| 9 | 9 | Reynolds | Penrite Racing | +18.815 |
| 10 | 14 | T. Hazelwood | TRG Transport | +19.200 |
| 11 | 5 | Holdsworth | Truck Assist Racing | +25.724 |
| 12 | 3 | M. Jones | Team CoolDrive | +26.558 |
| 13 | 35 | G. Jacobson | Yellow Cover Racing | +26.981 |
| 14 | 97 | Van Gisbergen | Red Bull Holden Racing Team | +27.027 |
| 15 | 22 | C. Pither | Team SYDNEY | +29.804 |
| 16 | 25 | Mostert | Mobil 1 TM Appliances Online | +34.924 |
| 17 | 8 | Percat | R&J Batteries | +35.517 |
| 18 | 19 | A. Davison | Local Legends Racing | +37.618 |
| 19 | 2 | B. Fullwood | Mobil 1 TM Middy's Racing | +38.063 |
| 20 | 34 | Z. Goddard | UNIT Racing | +51.401 |
| 21 | 55 | J. Le Brocq | Supercheap Auto Racing | +54.721 |
| 22 | 4 | J. Smith | SCT Motor Sports | +1 Lap |
| NC | 44 | Courtney | Boost Mobile Racing | +23 Laps |
| NC | 18 | Winterbottom | IRWIN Racing | +23 Laps |