Toyota takes 3rd straight 24 Hours of LeMans win
Kazuki Nakajima brought the #8 Toyota across the finish line 5 laps ahead of the #1 Rebellion driven by Norman Nato to win the Covid-19 postponed 24 Hours of LeMans.
This was the first hat-trick for a pair of drivers since Audi's three-peat from 2000 to 2002. It is the No. 8 car's third victory of WEC Season 8 and Toyota's third consecutive win at Le Mans.
Toyota's Le Mans triumph means the team has won the FIA LMP1 World Endurance Championship with one round [Bahrain] still remaining. Aston Martin have also secured the FIA GT Manufacturers' World Championship and United Autosports have claimed the WEC Season 8 LMP2 FIA World Endurance Teams' trophy.
Kazuki Nakajima, Sebastien Buemi and Brendon Hartley were faultless for the entire 24 hours, only a brake duct issue cost them time in the garage early in the race.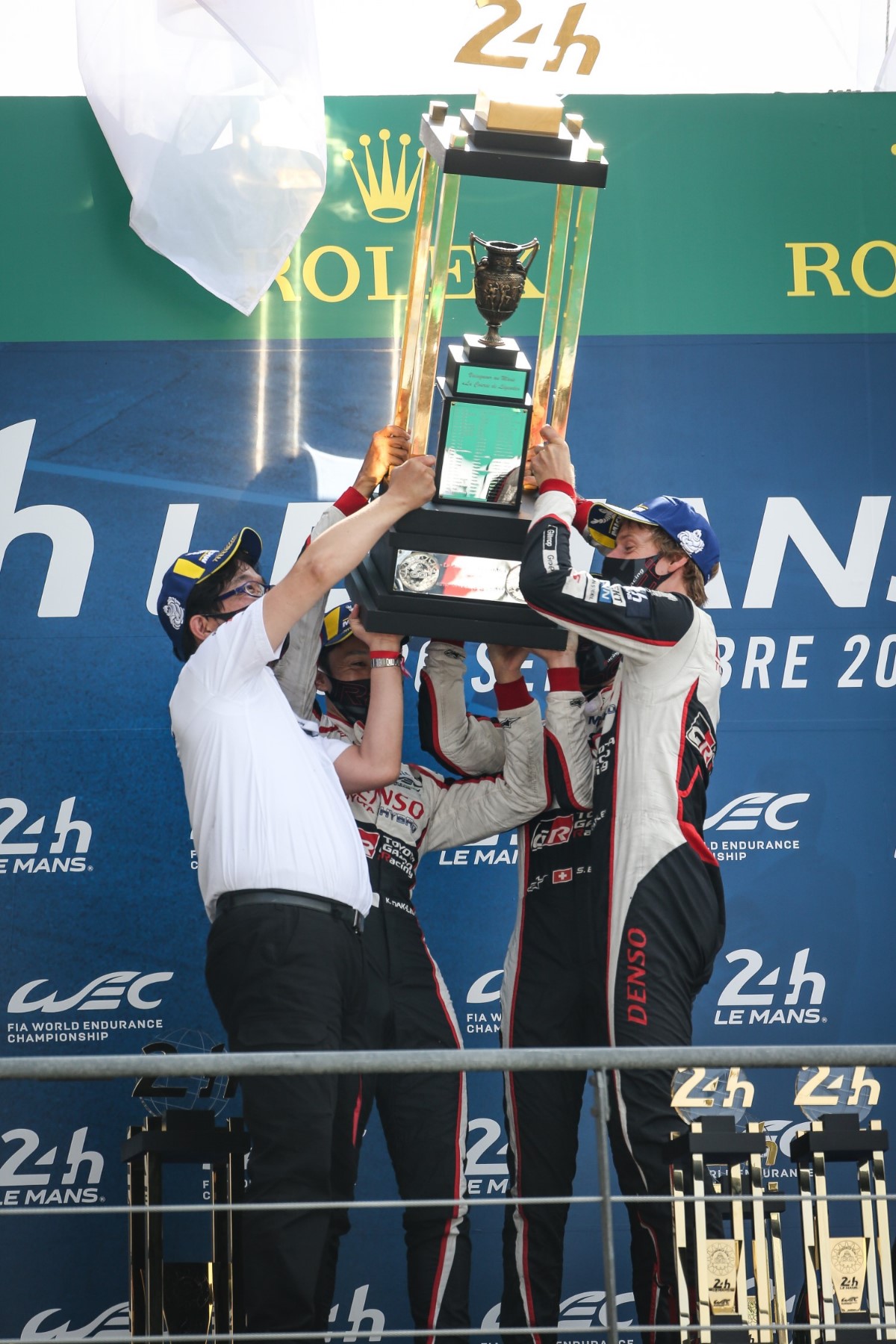 The No. 7 sister Toyota could have won or been 2nd but a turbo-charger failure would cost Mike Conway, Kamui Kobayashi and Jose Maria Lopez dearly. Overnight the No. 7 lost 5-laps in the garage and dropped outside the top three.
With 2 hours and 20 minutes remaining, the #3 Rebellion came into the pits running 2nd ahead of the sister #1 Rebellion, but Louis Deletraz had difficulty launching the #3 out of his pit stall. The 20-second loss trying to restart the car was enough for the #1 to take the 2nd position.
The #22 United Oreca driven by Paul Di Resta, Phil Hanson and Filipe Albuquerque won the LMP2 class over the #38 JOTA, finishing 5th overall. Last year's Le Mans category winners Signatech Alpine Elf finished fourth overall.
The 24-field category provided plenty of action including a disqualification for early class leaders, No. 37 Jackie Chan DC Racing. The squad were black flagged from the race after receiving outside assistance when the car stopped out on track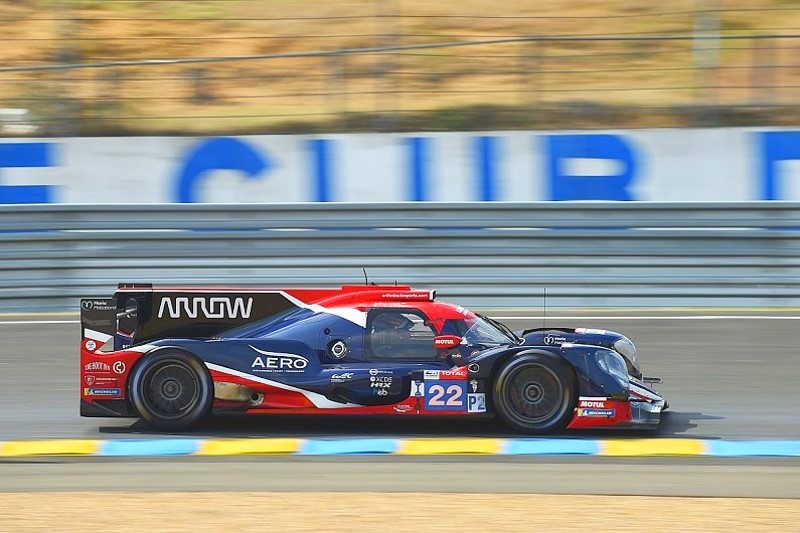 The #97 Aston Martin driven by Alex Lynn, Maxime Martin and Harry Tincknell defeated the #51 AF Corse Ferrari to take LMGTE-Pro honors by 1m33s after 24 hours.  It was a hard fought battle throughout and it was the first victory at La Sarthe with the 'new' Vantage AMR. The Aston Martin #97 car completed the 24-hour race without needing a brake change, a first for GTE cars.
The No. 95 sister Aston Martin car rounded out the top three.
The #24 TF Sport Aston Martin driven by Jonny Adam, Charlie Eastwood and Salih Yoluc won the LMGTE-Am class over the #25 Patrick Dempsey #77 Porsche with the No. 83 AF Corse Ferrari 488 GTE Evo rounding out the Am podium.
Winners Quotes
Hisatake Murata, Toyota Team President: "Again we have seen what a difficult challenge the Le Mans 24 Hours is; it is a true endurance test. We showed great team spirit and determination to overcome the early troubles for the #8 car, and winning three consecutive Le Mans with the TS050 HYBRID is a dream come true. Well done to everyone in the team on this achievement. However, we set ourselves the target of another one-two finish and I am sorry for the #7 drivers, mechanics and engineers who worked so hard and performed so well again. We are one team, so we all feel their pain. We missed experiencing these highs and lows with the fans at the track but I hope we can meet again here next year. Congratulations to Rebellion for their podium; they pushed us and once again earned our respect. Thank you to the ACO for giving us the chance to enjoy Le Mans despite the global circumstances this year."
Sébastien Buemi (TS050 HYBRID #8): "I feel great. My team-mates and the team have done such an amazing job. The race once again showed how quickly the luck can turn here at Le Mans. When we started the race, I had the feeling everything was against us; slow zones, punctures and a problem with the brake cooling. But then all of a sudden things started to go well and we were leading the race then soon we were leading by five laps. Le Mans again proved that you never know what will happen until the race is over."
Kazuki Nakajima (TS050 HYBRID #8): "It is special to be in the last TS050 HYBRID to win Le Mans and to achieve three victories in a row is fantastic. We had a race of ups and downs but everybody did a really good job, include our sister car. Somehow we seem to have a bit more luck than the other car. When the #7 car had the issue, it was all about winning the race for TOYOTA GAZOO Racing and this was quite tough. I am really happy to achieve it and be part of this team."
Brendon Hartley (TS050 HYBRID #8): "I am proud of my team-mates and the whole team around us. It has been a learning curve for me coming to this team. Séb and Kazuki have helped me getting up to speed in a very fast and complex race car. Today we had some little issues at the beginning, but then we had a perfect race, thanks to an amazing group of engineers and mechanics behind the scenes. Everything was executed really well, so a big thank you to TOYOTA GAZOO Racing."
Alex Lynn (GB), #97 Aston Martin Vantage GTE: "I won't lie that was emotional. I had a few tears on the last lap. I have driven this exact car for the last three years and so much hard work and sweat has gone into it."
Maxime Martin (BE), #97 Aston Martin Vantage GTE: "It's awesome to win Le Mans for Aston Martin. It was a difficult race – the Ferrari was strong and it was tough for more than 22 hours. To win Le Mans is something special. We had two years when we struggled here so to learn, improve, come back so prepared and win… it feels emotional. Alex did an amazing job, Harry was incredible on his first outing in the car and the team was faultless."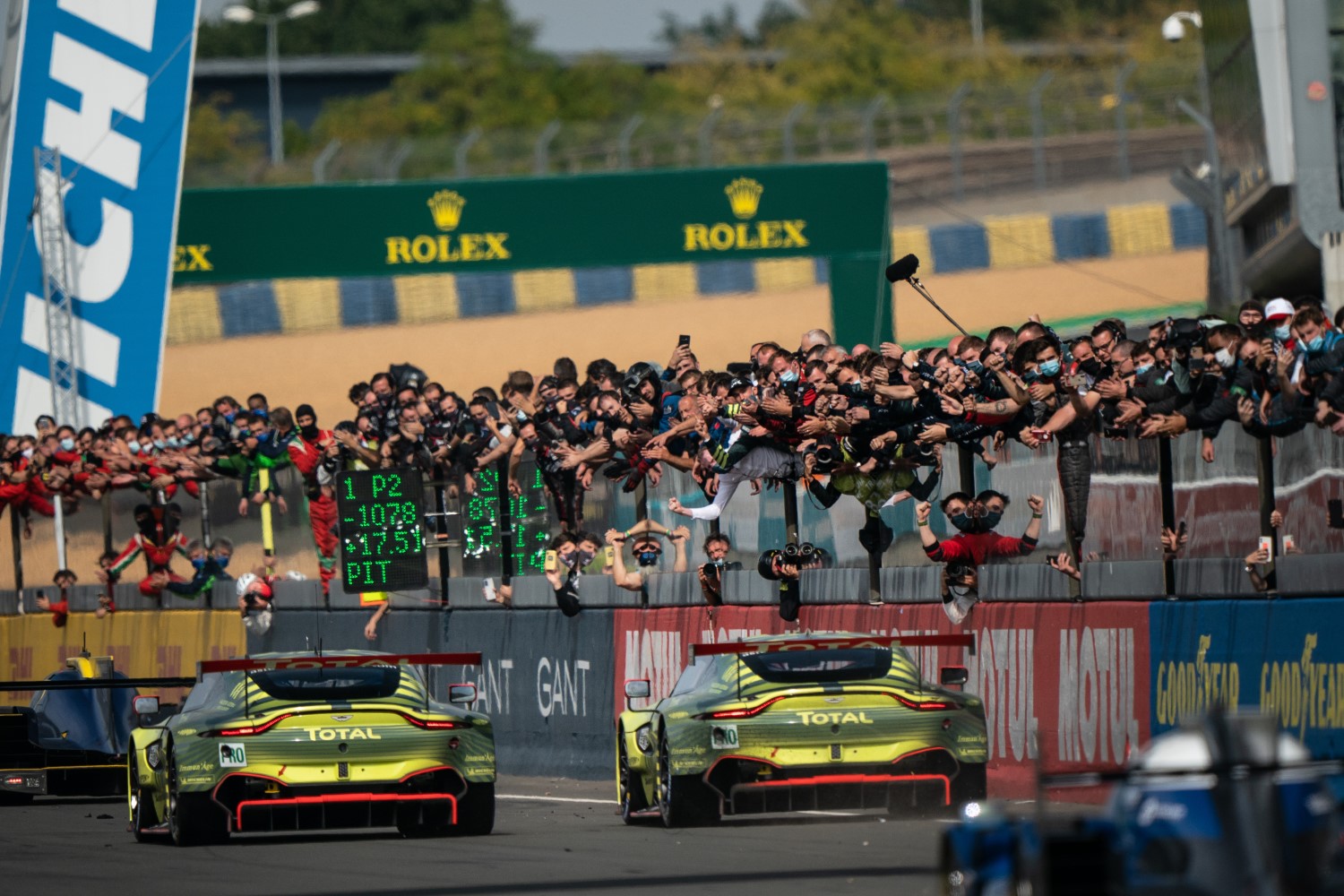 Harry Tincknell (GB), #97 Aston Martin Vantage GTE: "I feel incredibly lucky to be part of this team and experience. It's fantastic to be a winner in an Aston Martin at Le Mans. The history that the brand has here and the emotion of the British fans, who couldn't be with us but are still watching at home… it's really something special. I have to pinch myself that I'm going to be a small part of Aston Martin's history forever."
David King, Aston Martin Vice President Chief Special Operations Officer and President Aston Martin Racing: "The team have worked so hard with the new Vantage for three years now to make it a Le Mans and a world championship winner against the toughest of competitor teams. I am so proud to see the Aston Martin Vantage beat such illustrious rivals on the track in the ultimate test of man and machine. I'm only sorry that so many of our brand partners, customers and fans who usually join us here in France were unable to do so this year, but we felt the support and really appreciate all the messages and the good will."
Mark C. reporting for AutoRacing1.com. 
2020 24 Hours of Le Mans Results
| | | | | | |
| --- | --- | --- | --- | --- | --- |
| POS | CLASS | CAR | DRIVERS | LAPS | BEHIND |
| 1 | LMP1 | #8 Toyota | Buemi, Nakajima, Hartley | 387 | +0.000s |
| 2 | LMP1 | #1 Rebellion | Senna, Nato, Menezes | 382 | + 5 Laps |
| 3 | LMP1 | #7 Toyota | Conway, Kobayashi, Lopez | 381 | + 6 Laps |
| 4 | LMP1 | #3 Rebellion | Dumas, Berthon, Deletraz | 381 | + 39.408s |
| 5 | LMP2 | #22 Oreca | Hanson, Albuquerque, Di Resta | 370 | + 17 Laps |
| 6 | LMP2 | #38 Oreca | Davidson, Da Costa, Gonzalez | 370 | + 32.831s |
| 7 | LMP2 | #31 Oreca | Jamin, Canal, Vaxiviere | 368 | + 19 Laps |
| 8 | LMP2 | #36 Alpine | Negrao, Ragues, Laurent | 367 | + 20 Laps |
| 9 | LMP2 | #26 Aurus | Rusinov, Vergne, Jensen | 367 | + 57.578s |
| 10 | LMP2 | #28 Oreca | Lafargue, Chatin, Bradley | 366 | + 21 Laps |
| 11 | LMP2 | #42 Oreca | Lapierre, Borga, Coigny | 365 | + 22 Laps |
| 12 | LMP2 | #25 Oreca | Falb, Trummer, McMurry | 365 | + 1m31.640s |
| 13 | LMP2 | #50 Oreca | Calderon, Florsch, Visser | 364 | + 23 Laps |
| 14 | LMP2 | #47 Dallara | Lacorte, Belicchi, Sernagiotto | 363 | + 24 Laps |
| 15 | LMP2 | #17 Oreca | Pilet, Tilley, Kennard | 363 | + 51.762s |
| 16 | LMP2 | #27 Oreca | Hedman, Hanley, Van der Zande | 361 | + 26 Laps |
| 17 | LMP2 | #32 Oreca | Owen, Brundle, Van Uitert | 359 | + 28 Laps |
| 18 | LMP2 | #35 Ligier | Yamanaka, Foster, Merhi | 351 | + 36 Laps |
| 19 | LMP2 | #29 Oreca | Van Eerd, Van der Garde, De Vries | 349 | + 38 Laps |
| 20 | GTE Pro | #97 Aston | Martin, Lynn, Tincknell | 346 | + 41 Laps |
| 21 | GTE Pro | #51 Ferrari | Pier Guidi, Calado, Serra | 346 | + 1m33.164s |
| 22 | GTE Pro | #95 Aston | Thiim, Sorensen, Westbrook | 343 | + 44 Laps |
| 23 | GTE Pro | #82 Ferrari | Pla, Bourdais, Gounon | 339 | + 48 Laps |
| 24 | GTE Am | #90 Aston | Yoluc, Eastwood, Adam | 339 | + 1m33.407s |
| 25 | GTE Am | #77 Porsche | Ried, Pera, Campbell | 339 | + 2m23.159s |
| 26 | GTE Am | #83 Ferrari | Perrodo, Collard, Nielsen | 339 | + 2m26.206s |
| 27 | GTE Am | #56 Porsche | Perfetti, Ten Voorde, Cairoli | 339 | + 2m34.526s |
| 28 | LMP2 | #24 Oreca | Grist, Kapadia, Wells | 338 | + 49 Laps |
| 29 | GTE Am | #86 Porsche | Wainwright, Barker, Watson | 337 | + 50 Laps |
| 30 | GTE Am | #66 Ferrari | Heistand, Root, Magnussen | 335 | + 52 Laps |
| 31 | GTE Pro | #91 Porsche | Bruni, Lietz, Makowiecki | 335 | + 6.187s |
| 32 | GTE Am | #61 Ferrari | Piovanetti, Negri Jr., Ledogar | 335 | + 2m49.871s |
| 33 | GTE Am | #98 Aston | Dalla Lana, Gunn, Farfus | 333 | + 54 Laps |
| 34 | GTE Am | #85 Ferrari | Gostner, Frey, Gatting | 332 | + 55 Laps |
| 35 | GTE Pro | #92 Porsche | Christensen, Estre, Vanthoor | 331 | + 56 Laps |
| 36 | GTE Am | #99 Porsche | Inthraphuvasak, Legeret, Andlauer | 331 | + 1m23.705s |
| 37 | GTE Am | #60 Ferrari | Schiavoni, Pianezzola, Ruberti | 331 | + 2m58.825s |
| 38 | GTE Am | #78 Porsche | Felbermayr, Beretta, Van Splunteren | 330 | + 57 Laps |
| 39 | GTE Am | #54 Ferrari | Flohr, Castellacci, Fisichella | 330 | + 1m11.360s |
| 40 | GTE Am | #57 Porsche | Keating, Fraga, Bleekemolen | 326 | + 61 Laps |
| 41 | LMP2 | #34 Ligier | Smiechowski, Binder, Isaakyan | 325 | + 62 Laps |
| 42 | GTE Am | #62 Ferrari | Grimes, Mowlem, Hollings | 325 | + 24.638s |
| 43 | GTE Am | #89 Porsche | Brooks, Piguet, Laskaratos | 313 | + 74 Laps |
| 44 | LMP2 | #39 Oreca | Allen, Capillaire, Milesi | 357 | + 30 Laps |
| 45 | GTE Pro | #71 Ferrari | Rigon, Molina, Bird | 340 | + 47 Laps |
| 46 | GTE Am | #72 Ferrari | Chen, Blomqvist, Gomes | 273 | + 114 Laps |
| 47 | GTE Am | #88 Porsche | Preining, Bastien, De Leener | 238 | + 149 Laps |
| 48 | GTE Am | #75 Ferrari | Mastronardi, Cressoni, Piccini | 211 | + 176 Laps |
| 49 | LMP2 | #37 Oreca | Tung, Aubry, Stevens | 141 | + 246 Laps |
| 50 | LMP2 | #21 Oreca | Montoya, Buret, Rojas | 192 | + 195 Laps |
| 51 | GTE Pro | #63 Ferrari | Macneil, Vilander, Segal | 185 | + 202 Laps |
| 52 | GTE Am | #70 Ferrari | Kimura, Abril, Cozzolino | 172 | + 215 Laps |
| 53 | LMP2 | #16 Aurus | Cullen, Jarvis, Tandy | 105 | + 282 Laps |
| 54 | LMP2 | #30 Oreca | Hirschi, Tereschenko, Gommendy | 100 | + 287 Laps |
| 55 | LMP1 | #4 ENSO | Dillmann, Spengler, Webb | 97 | + 290 Laps |
| 56 | LMP2 | #33 Oreca | Yamashita, Patterson, Fjordbach | 88 | + 299 Laps |
| 57 | GTE Am | #52 Ferrari | Ulrich, Gorig, West | 80 | + 307 Laps |
| 58 | GTE Am | #55 Ferrari | Cameron, Scott, Griffin | 78 | + 309 Laps |
| 59 | LMP2 | #11 Ligier | Tambay, Maris, D'Ansembourg | 26 | + 361 Laps |