Vegas Trucks: Hill holds off Creed
Austin Hill advanced into the Round of 8 of the NASCAR Gander RV & Outdoors Truck Series Playoffs with a victory in Saturday's World of Westgate 200 at Las Vegas Motor Speedway.
Hill, the regular-season champion, led the final 39 laps to earn his second victory of the 2020 season and the sixth Gander Trucks race of his career.
The No. 16 Hattori Racing Enterprises Toyota driver held off Sheldon Creed in the closing laps. Creed put the heat on Hill until the No. 2 GMS Racing Chevrolet truck hit the wall with 11 laps remaining, hindering his shot at victory.
"Well the ironic thing was right after the checkered flag I said, hey, let's keep our heads up," Hill told FS1 after the race. 'We're gonna go to Vegas and win it. Heck, we did it."
Creed, who won both stages, held on to finish second. Rookie Tanner Gray finished third, tying his career best finish in the Gander Trucks. Stewart Friesen and Chandler Smith rounded out the top five.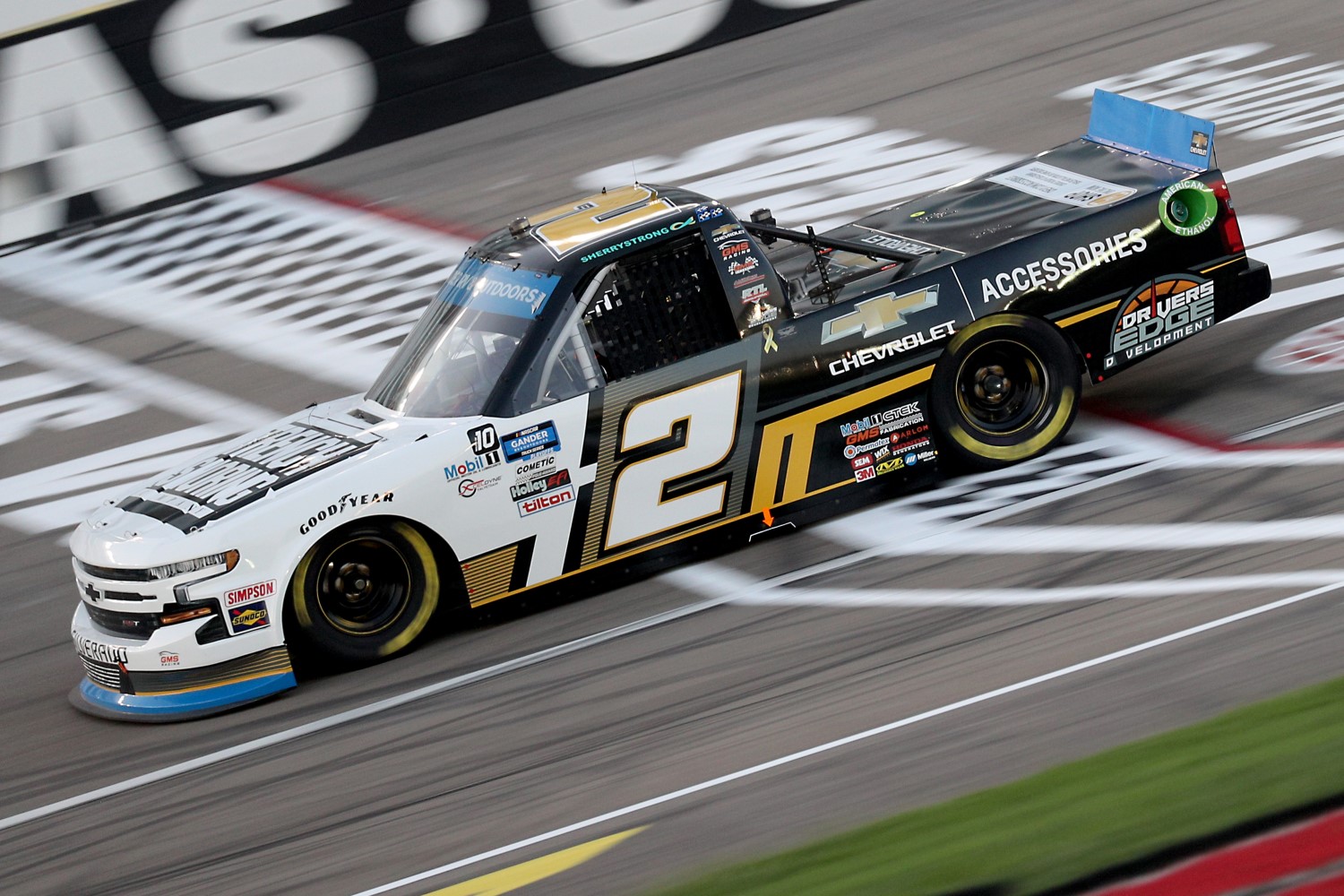 Other playoff drivers who finished in the top 10 included Grant Enfinger (sixth), Zane Smith (seventh), Matt Crafton (ninth) and Tyler Ankrum (10th).
Ben Rhodes was the lowest finishing playoff driver, finishing 23rd after a difficult night. Rhodes fought oil pressure and power issues the majority of the 134-lap event. Things turned worse when he spun the No. 99 ThorSport Racing Ford coming out of Turn 2, backing the truck into the inside wall but was able to continue.
Winner's Quotes
AUSTIN HILL, No. 16 Weins Canada Toyota Tundra, Hattori Racing Enterprises
Finishing Position: 1st
What did everyone get to learn about your team tonight by getting this victory after the struggles at Bristol last weekend?
"The ironic thing was that right after Bristol, right after we took the checkered flag I said, 'let's keep our heads up, we're going to go to Vegas and win it.' Heck, we did it. We didn't have the best truck tonight by no means. We had to fight a lot of adversity. Stage one and two, we weren't good at all. Scott (Zipadelli, crew chief) and the guys kept working on it and got it better and better. Pit crew did a hell of a job on that last pit stop getting me in the position that I needed to get into. I just had to get out there and get it. That's what we did. I knew clean air was huge so just had to get through the gears right and get to the lead. I knew this Weins Canada Toyota Tundra could probably hold off everybody, but Sheldon (Creed) was definitely way faster than me."
What was the battle like with Sheldon Creed in the closing laps?
"I was probably looking in my mirror more than I was looking out front. I knew he (Sheldon Creed) was better than we were. I knew that I was going to have to protect and that's the first time I've rode the wall all the way around this place so it was almost a little intimidating for the first three or four laps when I moved up, but I knew as I disturbed his air that it would keep him behind me. He would have to change his lane. When he went to the bottom and he made a little bit of time, I thought he might be able to get me because my truck was so tight at the end that there was no way I could go to the bottom. That was a heck of a battle between me and him. I hope all the fans enjoyed it. I wish you were here. We have some really special guests on the truck today. I've got Tori (Costa) and Miss Cindy (Adkins). Miss Cindy, we're really thinking about her, she's fighting cancer right now. Tori is Scott's (Zipadelli, crew chief) daughter and she passed away a few years ago. Thinking about her. I know this means a lot to Scott, this is a tough time for him so just excited to get the job done for him. Thinking about my father in-law right now, he's really fighting a lot of adversity and been in and out of the hospital. A lot going on with family and it's nice to get a victory."
How much was dirty air your friend on the last run?
"For starters, our truck was terrible to start with, but that just goes to show how good Scott (Zipadelli, crew chief) and everybody back at the shop at HRE (Hattori Racing Enterprises), how hard they work. They don't give up and I never gave up the whole race. We were riding around 12th to 15th pretty much the first two stages. The second stage, I think we ended up ninth or something so we didn't have very many stage points. I knew if we didn't go get it done and get the win that we were going to have to fight a lot of adversity going to Talladega. We just kept working on it and kept telling Scott what he truck was doing. It was really weird tonight, the way the air was. I don't know if it's this tire or what's going on, but it was really hard to pass in traffic. I knew there at the end, the 2 (Sheldon Creed) was definitely way faster than we were. If he would have gotten out front, he would have drove away from us. We had to play defense at that point. I knew as much as I stayed in front of him and kept the dirty air on him, I was mirror driving pretty much the whole time. I wasn't really looking ahead of me at what was going on. They work their tails off at the shop and they're the hardest working team in the garage area, I truly believe that. Our Weins Canada Toyota Tundra was decent tonight. We had to go out there and earn that one and we did it."
What about the restart when you took the leaders three-wide to take the lead?
"I said it before when we were coming into the Playoffs, I wasn't going to change anything I've been doing all season. If you go look back at a lot of film, I've put a lot of people three wide on restarts just because they don't get through the gears as well as I've been doing this year. I've worked so hard to make these restarts as good a I can, trying to perfect them as good as I can. I know Kyle Busch, when he comes down here and runs the trucks, he's the master at these restarts. Just trying to learn all I can from him and whoever else that I can, watching film, watching video and that was just one of those deals, I knew if the 21 didn't get a great start then I was going for it. That put us in the right position, we had that caution and we just got a really, really good restart. We didn't really have anybody pushing us on that restart, but the 2 (Sheldon Creed) had to go out and block the 18 (Christian Eckes) so I have to thank the 18 a little bit for trying to make it three wide on him because that helped me clear him. We were really good short run, it was just that long run, we got so tight, my tires were terrible. They were chattering and I needed a mouth piece there the last couple laps. I was giving it all I had and my spotter Eddie (D'Hondt), he did a heck of a job. If it wasn't for him, we might not have won this race just because he told me where he was going, what lane he was – if he was a lane down or riding the wall and I just disturbed the air all race long. We got it done."
Race Results
| | | | | | | | |
| --- | --- | --- | --- | --- | --- | --- | --- |
| Fin | Str | No. | Driver | Team | Laps | Status | Led |
| 1 | 11 | 16 | Austin Hill (P) | Weins Canada Toyota | 134 | Running | 39 |
| 2 | 4 | 2 | Sheldon Creed (P) | Chevy.com/Trench Shoring Chevrolet | 134 | Running | 89 |
| 3 | 12 | 15 | Tanner Gray # | Ford/Ford Performance Ford | 134 | Running | 0 |
| 4 | 17 | 52 | Stewart Friesen | Halmar Racing To Beat Hunger Toyota | 134 | Running | 0 |
| 5 | 5 | 51 | Chandler Smith | JBL/Smith General Contracting Toyota | 134 | Running | 0 |
| 6 | 3 | 98 | Grant Enfinger (P) | Champion/Curb Records Ford | 134 | Running | 0 |
| 7 | 7 | 21 | Zane Smith # (P) | Michael Roberts Construction Chevrolet | 134 | Running | 0 |
| 8 | 9 | 18 | Christian Eckes # (P) | Safelite AutoGlass Toyota | 134 | Running | 5 |
| 9 | 6 | 88 | Matt Crafton (P) | Black Label Bacon/Menards Ford | 134 | Running | 0 |
| 10 | 2 | 26 | Tyler Ankrum (P) | LiUNA! Chevrolet | 134 | Running | 0 |
| 11 | 13 | 13 | Johnny Sauter | Vivitar Ford | 134 | Running | 0 |
| 12 | 23 | 40 | Ryan Truex | Marquis Chevrolet | 134 | Running | 0 |
| 13 | 10 | 38 | Todd Gilliland (P) | pneumatech Ford | 134 | Running | 0 |
| 14 | 34 | 17 | Dylan Lupton | Fatal Motorsports Ford | 134 | Running | 0 |
| 15 | 1 | 23 | Brett Moffitt (P) | GMS Fabrication Chevrolet | 134 | Running | 1 |
| 16 | 18 | 2 | Tate Fogleman # | Solid Rock Carriers Chevrolet | 134 | Running | 0 |
| 17 | 26 | 56 | Tyler Hill | Hill Motorsports Chevrolet | 134 | Running | 0 |
| 18 | 27 | 42 | Conor Daly | iRacing Chevrolet | 133 | Running | 0 |
| 19 | 32 | 11 | Spencer Davis | Max Industrial Toyota | 133 | Running | 0 |
| 20 | 15 | 4 | Raphael Lessard # | Mobil 1 Toyota | 133 | Running | 0 |
| 21 | 29 | 45 | Travis Pastrana | iRacing Chevrolet | 133 | Running | 0 |
| 22 | 21 | 68 | Clay Greenfield | Rackley Roofing Toyota | 133 | Running | 0 |
| 23 | 8 | 99 | Ben Rhodes (P) | Tenda Heal Ford | 132 | Running | 0 |
| 24 | 25 | 22 | Austin Wayne Self | JB Henderson Construction Chevrolet | 132 | Running | 0 |
| 25 | 19 | 30 | Danny Bohn | North American Motor Car/Sierra Delta Toyota | 132 | Running | 0 |
| 26 | 35 | 49 | Ray Ciccarelli | CMI Motorsports Chevrolet | 131 | Running | 0 |
| 27 | 16 | 24 | Chase Purdy | Bama Buggies Chevrolet | 131 | Running | 0 |
| 28 | 24 | 20 | Spencer Boyd | Hairclub Chevrolet | 129 | Running | 0 |
| 29 | 30 | 0 | Josh Reaume | Motorsports Safety Group/Colonial Countertops Toyota | 127 | Running | 0 |
| 30 | 14 | 19 | Derek Kraus # | SHOCKWAVE/ENEOS Toyota | 125 | Running | 0 |
| 31 | 31 | 33 | Jesse Iwuji | Mile Marker 10 Toyota | 115 | Running | 0 |
| 32 | 20 | 3 | Jordan Anderson | FirstMate/Bommarito.com Chevrolet | 85 | Track Bar | 0 |
| 33 | 36 | 83 | Tim Viens | Trump 2020 Chevrolet | 69 | Too Slow | 0 |
| 34 | 28 | 10 | Jennifer Jo Cobb | Fastener Supply Company Chevrolet | 62 | Oil Tank | 0 |
| 35 | 33 | 41 | Dawson Cram | Magnum Contracting Inc. Chevrolet | 16 | Accident | 0 |
| 36 | 22 | 44 | Natalie Decker | Ruedebusch Development Chevrolet | 0 | Fatigue | 0 |