McLaughlin claims third consecutive Supercars Championship
27-year old kiwi Scott McLaughlin has confirmed his position as one of Supercars greatest all-time drivers, by locking in a third consecutive Championship this afternoon in South Australia.
McLaughlin is officially the Champion Elect until the Championship wraps up at next months Supercheap Auto Bathurst 1000, where he will receive his third straight drivers' crown.
The Shell Ford ace, who won the 2018 and 2019 titles with the DJR Team Penske outfit, now joins elite company – only three drivers have won at least three straight titles in the 60 years of the Australian Touring Car Championship – Ian Geoghegan (1966-69), Mark Skaife (2000-2002) and Jamie Whincup (2011-14).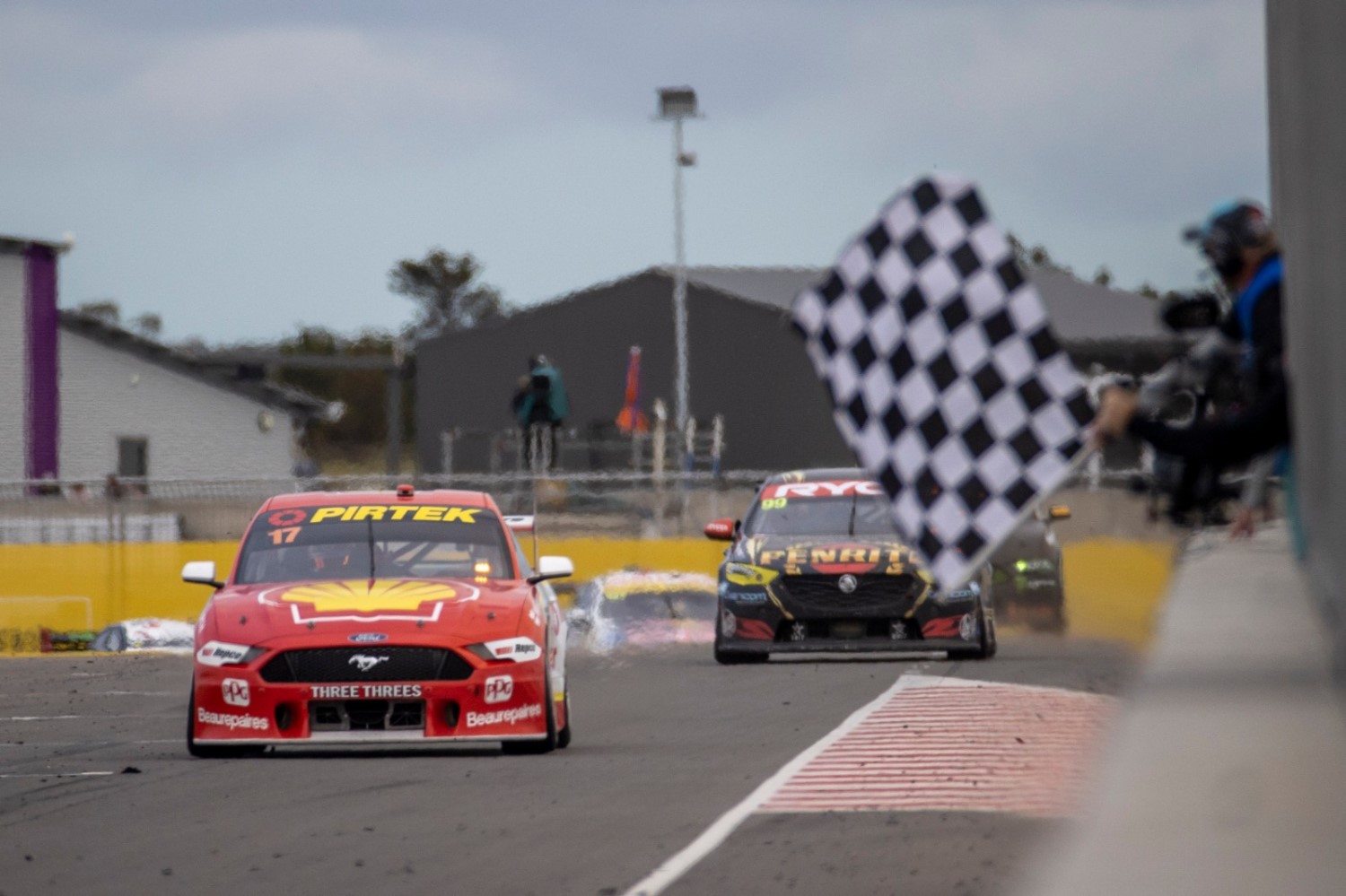 While he won't lift the Championship trophy until October 18, today's result sets up a mouth-watering Great Race at Mount Panorama, where everyone will be gunning for victory, with the Drivers' Championship now sorted for 2020.
Today at the OTR SuperSprint at The Bend, McLaughlin claimed pole position for both races knowing he needed to finish the day with at least 37 more points than seven-time Supercars Champion Jamie Whincup.
In the opening race of the day, McLaughlin ran away with victory, while Whincup who needed a perfect race, had a disastrous pit stop with his Red Bull Holden Racing Team.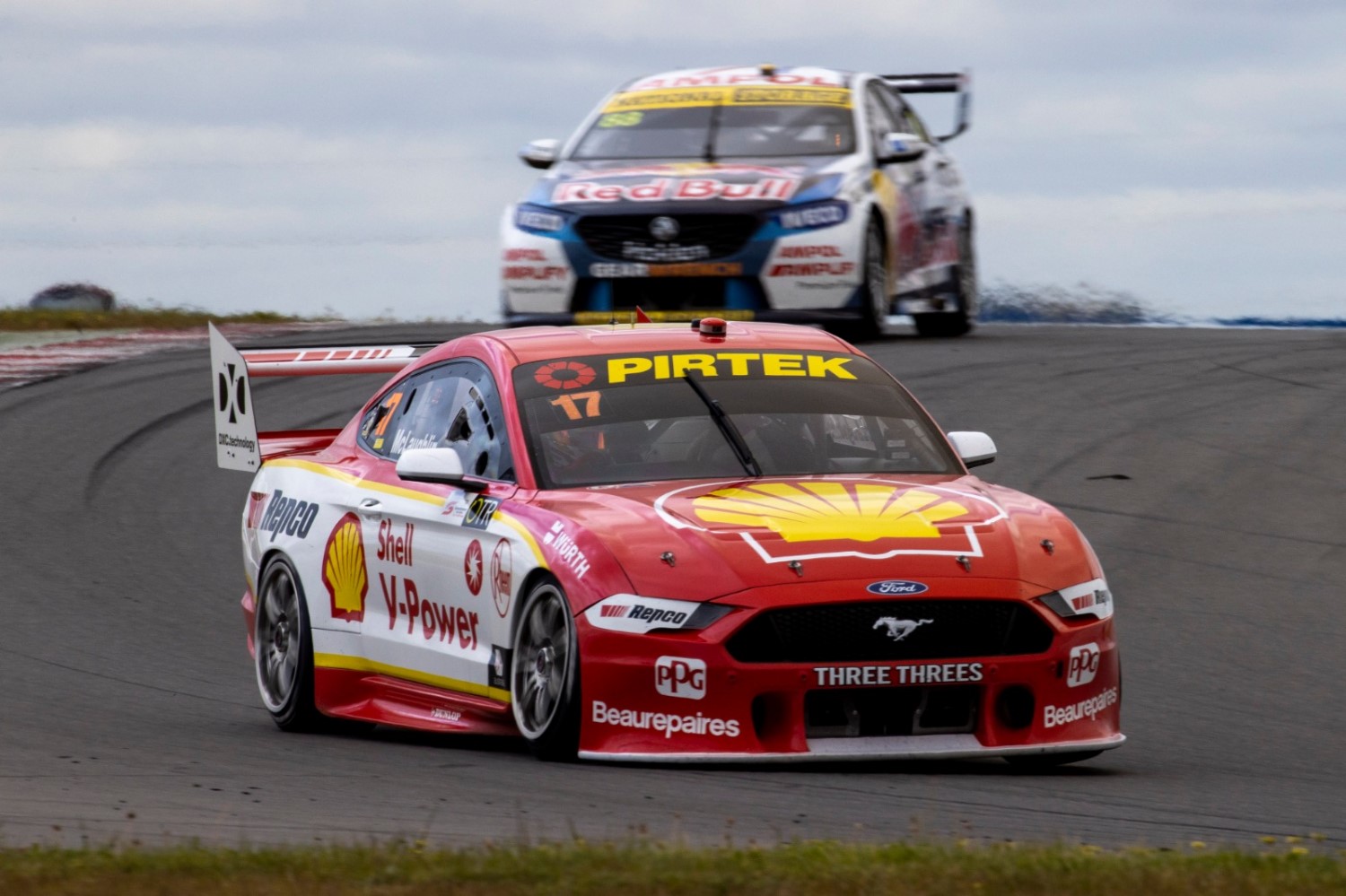 As the #88 Commodore of Whincup entered it's team's stopping bay, the car ran over a PIRTEK rattle gun hose. As a result Whincup lost precious seconds chasing the lead and to add insult to injury, Whincup received a $1500 fine and the team lost 30 Teams Championship points.
The end result was win number 56 for McLaughlin's career, with Anton De Pasquale second and Cam Waters in the Monster Energy Mustang third.
In the final race of the event, McLaughlin started from pole but was headed off at the first corner by Waters, who went on to win. It was Waters first ever victory as a solo driver after winning an enduro event in 2017.
McLaughlin finished second and Whincup third.
That meant McLaughlin finished the day with an unassailable 305-point lead over Whincup and a third consecutive title.
Scott McLaughlin quotes:
"We've got the main one now, the big one we can fully focus on and Bathurst we can have a massive crack at it," McLaughlin said.
"It's been an awesome battle with Jamie throughout the whole year and for Cam to get his first win of the year congrats to him.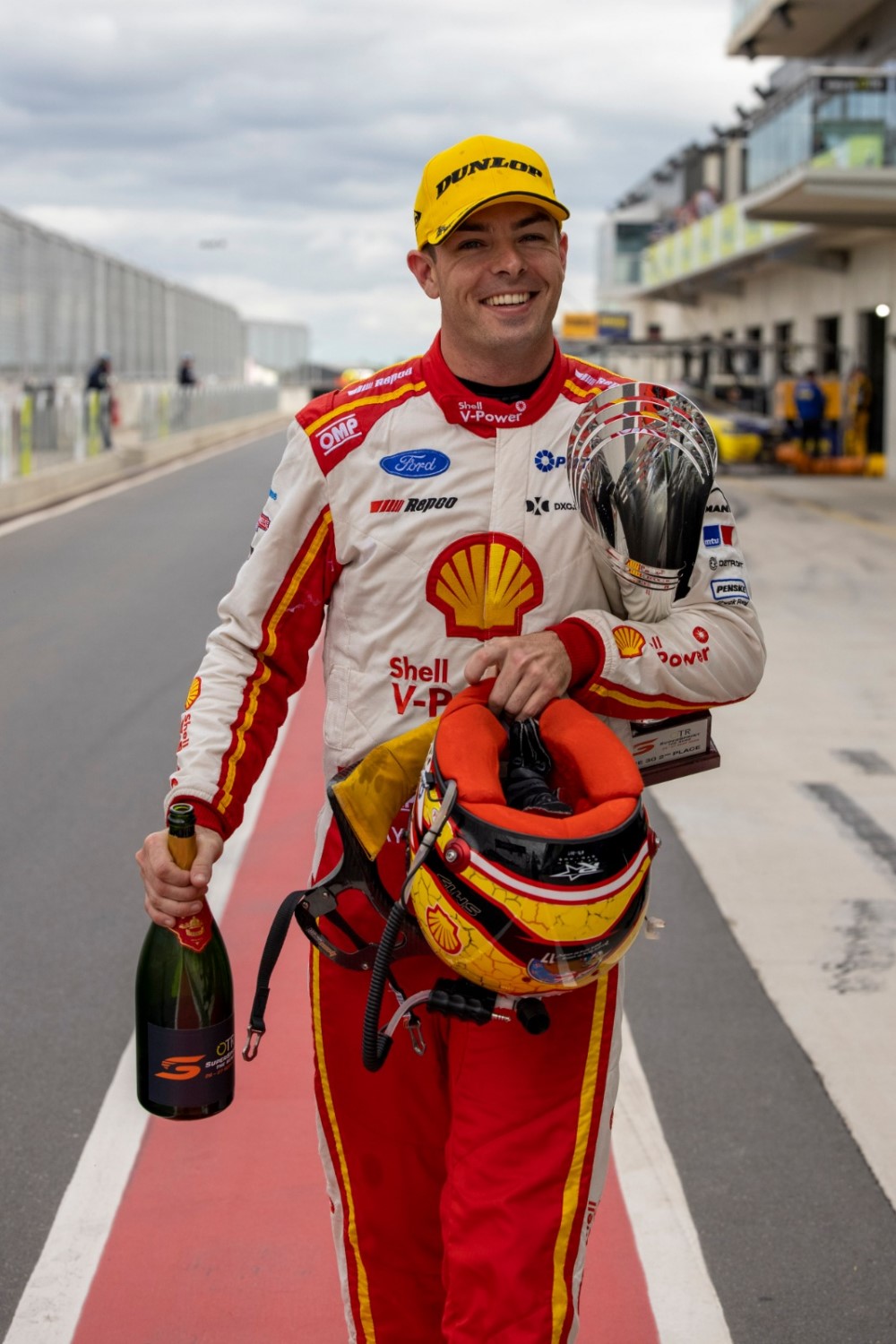 "There's not as much pressure now (on winning Bathurst) it's more just we want to win the race, we'll go hard and do what we need to win and have a crack.
"Bring it on, it's good to get a consecutive Championship now and hopefully we can go consecutive at Bathurst."
Following the race, Whincup was one of the first to congratulate McLaughlin on the third Championship victory.
Jamie Whincup quotes:
"Big congratulations to Scotty and his team for an amazing year," Whincup said.
"We did everything we could to try to take the Championship to Bathurst but we just weren't quite quick enough.
"You've got to be consistent as well but we just weren't quite there.
"That's ok, pretty proud of what everyone's done this year, looking forward to just going to Bathurst now in a few weeks' time and title fight is off, so we see who can get to the finish line first.
"As Ricky Bobby says if you're not first you're last so it doesn't really matter anymore, we'll just go to Bathurst now and go hard.
"Will be good to have Lowndesy back in the car and see what we can do.
"We feel like we worked hard this year, unfortunately not going to get the biggest trophy but we will try real hard to get the second biggest."
Race 2 Results
| | | | | |
| --- | --- | --- | --- | --- |
| POS | # | DRIVER | TEAM | TIME |
| 1 | 17 | McLaughlin | Shell V-Power Racing Team | 45:29.980 |
| 2 | 99 | A. de Pasquale B. Kostecki | Penrite Racing | +1.128 |
| 3 | 6 | C. Waters | Monster Energy Racing | +1.770 |
| 4 | 44 | Courtney B. Feeney | Boost Mobile Racing | +2.817 |
| 5 | 97 | Van Gisbergen | Red Bull Holden Racing Team | +3.144 |
| 6 | 8 | Percat T. Randle | R&J Batteries | +3.654 |
| 7 | 88 | Whincup | Red Bull Holden Racing Team | +3.987 |
| 8 | 25 | Mostert K. Kostecki | Mobil 1 TM Appliances Online | +4.572 |
| 9 | 15 | R. Kelly | Castrol Racing | +5.706 |
| 10 | 7 | Heimgartner | NED Whisky Racing | +8.956 |
| 11 | 14 | T. Hazelwood J. Boys | TRG Transport | +9.804 |
| 12 | 18 | Winterbottom | IRWIN Racing | +10.411 |
| 13 | 55 | J. Le Brocq | Supercheap Auto Racing | +11.416 |
| 14 | 3 | M. Jones | Team CoolDrive | +12.246 |
| 15 | 22 | C. Pither | Team SYDNEY | +12.703 |
| 16 | 34 | J. Kostecki | UNIT Racing | +15.145 |
| 17 | 4 | J. Smith | SCT Motor Sports | +19.960 |
| 18 | 2 | B. Fullwood | Mobil 1 TM Middy's Racing | +25.993 |
| 19 | 20 | S. Pye | DEWALT Racing | +1:44.520 |
| NC | 12 | Coulthard | Shell V-Power Racing Team | +11 Laps |
| NC | 9 | Reynolds | Penrite Racing | +11 Laps |
| NC | 35 | G. Jacobson | Yellow Cover Racing | +28 Laps |
| NC | 5 | Holdsworth | Truck Assist Racing | +30 Laps |
| | | | | |
| --- | --- | --- | --- | --- |
| POS | # | DRIVER | TEAM | TIME |
| 1 | 6 | C. Waters | Monster Energy Racing | 41:58.092 |
| 2 | 17 | McLaughlin | Shell V-Power Racing Team | +3.359 |
| 3 | 88 | Whincup | Red Bull Holden Racing Team | +4.953 |
| 4 | 8 | Percat T. Randle | R&J Batteries | +7.360 |
| 5 | 97 | Van Gisbergen | Red Bull Holden Racing Team | +7.703 |
| 6 | 25 | Mostert K. Kostecki | Mobil 1 TM Appliances Online | +10.536 |
| 7 | 14 | T. Hazelwood J. Boys | TRG Transport | +11.347 |
| 8 | 12 | Coulthard | Shell V-Power Racing Team | +11.942 |
| 9 | 5 | Holdsworth | Truck Assist Racing | +14.248 |
| 10 | 44 | Courtney B. Feeney | Boost Mobile Racing | +20.733 |
| 11 | 99 | A. de Pasquale B. Kostecki | Penrite Racing | +21.264 |
| 12 | 20 | S. Pye | DEWALT Racing | +21.461 |
| 13 | 2 | B. Fullwood | Mobil 1 TM Middy's Racing | +24.165 |
| 14 | 7 | Heimgartner | NED Whisky Racing | +25.074 |
| 15 | 15 | R. Kelly | Castrol Racing | +27.052 |
| 16 | 18 | Winterbottom | IRWIN Racing | +27.762 |
| 17 | 9 | Reynolds | Penrite Racing | +28.579 |
| 18 | 3 | M. Jones | Team CoolDrive | +30.351 |
| 19 | 55 | J. Le Brocq | Supercheap Auto Racing | +30.633 |
| 20 | 34 | J. Kostecki | UNIT Racing | +32.752 |
| 21 | 35 | G. Jacobson | Yellow Cover Racing | +39.065 |
| 22 | 4 | J. Smith | SCT Motor Sports | +43.577 |
| 23 | 22 | C. Pither | Team SYDNEY | +47.552 |