NASCAR: Kurt Busch holds on for win at Las Vegas
On older tires, veteran Kurt Busch used all his experience to survive two late restarts in his #1 Monster Energy Chip Ganassi Chevy and win the South Point 400 NASCAR Cup race at Las Vegas Motor Speedway over Matt DiBenedetto and Denny Hamlin.
Martin Truex Jr. and Alex Bowman rounded out the top-5.
With his first win at his home track, the 2004 NASCAR Cup Champion Kurt Busch moves on to the Round of 8 in the playoffs. Busch grew up racing on the dirt track outside this track and an emotional Busch said he could not be happier.
"I pulled out some of my drag racing skills on the restarts and I could feel my team owner Chip Ganassi (up in the suites) breathing down my neck – I want a win, I want a win," said Busch.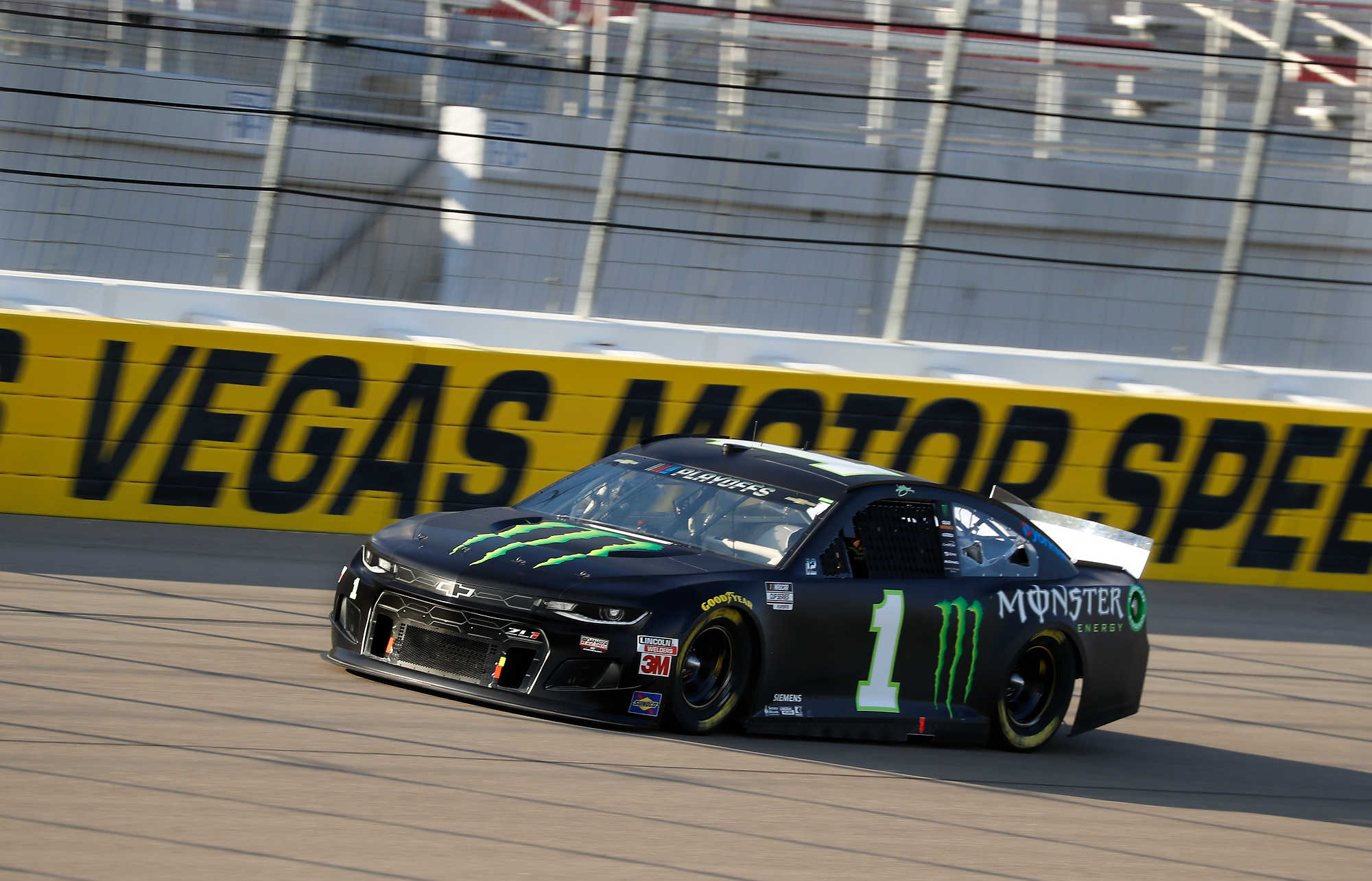 Matt DiBenedetto finished second in the Wood Brothers No. 21 Ford. Denny Hamlin led a race-high 121 laps and took third in the Joe Gibbs Racing No. 11 Toyota, just ahead of teammate Martin Truex Jr. in fourth and Alex Bowman closing out the top five.
A caution flag with 32 laps remaining jumbled the running order, with debris from a shredded right-rear tire on Jimmie Johnson's No. 48 Chevrolet splitting up a pit-stop cycle. DiBenedetto inherited the lead, and Busch was the only championship-eligible driver on the lead lap when the yellow flag flew.
Other playoff contenders ran into trouble. A collision between Kyle Busch and Joey Logano early in Stage 2 hurt the latter the most. Logano pulled the No. 22 Team Penske Ford to pit road with a tire rub and he resumed the race in 32nd place, one lap down. He rallied to finish 14th, and Kyle Busch continued to place sixth.
After trading barbs this past week, Joey Logano and Kyle Busch didn't quite mend fences in Sunday's South Point 400 Cup Series playoff race at Las Vegas Motor Speedway.
Contact between the two longtime rivals and former teammates while racing for the lead on Lap 88 led to damage for both, significantly derailing the race for the No. 22 Team Penske driver.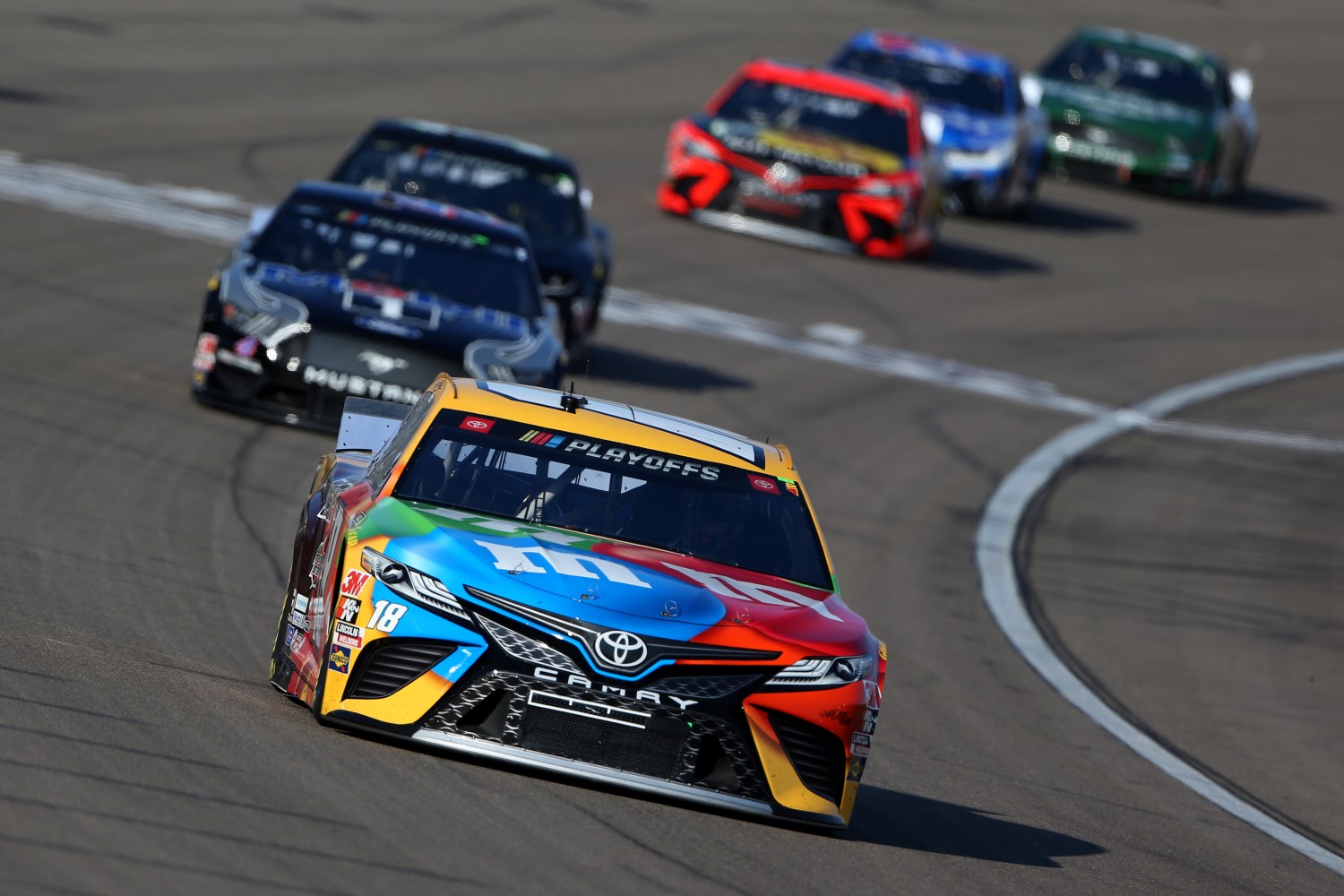 Logano had taken the lead on the restart but got into the No. 18 Toyota of Busch as Stage 1 winner Denny Hamlin slipped past in a three-wide pass for the lead. Logano incurred a left-rear tire rub, necessitating a trip to pit road and putting him a lap down.
After last week's race at Bristol Motor Speedway, Busch said "(Logano's) nobody's friend for a reason," expressing his displeasure with how a lapped Logano was racing him.
Austin Dillon, who had a strong showing in the opening Round of 16, endured a rocky start to the next round with a pair of pitfalls in the final stage. Dillon lost ground with a pit-road penalty after a crewman toppled over the pit wall, then lost several laps while his Richard Childress Racing crew changed a broken power-steering belt on the No. 3 Chevrolet. He was 32nd at the finish.
Quotes
KURT BUSCH, NO. 1 MONSTER ENERGY CAMARO ZL1 1LE – Race Winner
YOU GREW UP RACING AT THE BULLRING OUTSIDE OF THE 1.5 TRACK HERE AT LAS VEGAS MOTOR SPEEDWAY, DREAMING OF THIS MOMENT. AND NOW YOU HAVE DONE SOMETHING YOU COULDN'T DO IN 21 PREVIOUS TRIES HERE IN LAS VEGAS, AND THAT IS TO WIN AT YOUR HOME TRACK. AND TO WIN DURING THE PLAYOFFS HAS GOT TO RANK RIGHT NEAR THE TOP
"This is what kids dream of when they grow up racing. You dream of winning at your hometown track. And for two decades it's kicked my butt. And tonight, with this Monster Energy Chevy, I'm in awe. I knew the race would come to us. We needed to get to nightfall and one of those quirky Mac McCall (crew chief) pit sequences finally unfolded. We got lucky. You've got to be lucky. And you have to be lucky in any race, but we did it tonight with teamwork and pulling through and just not giving up.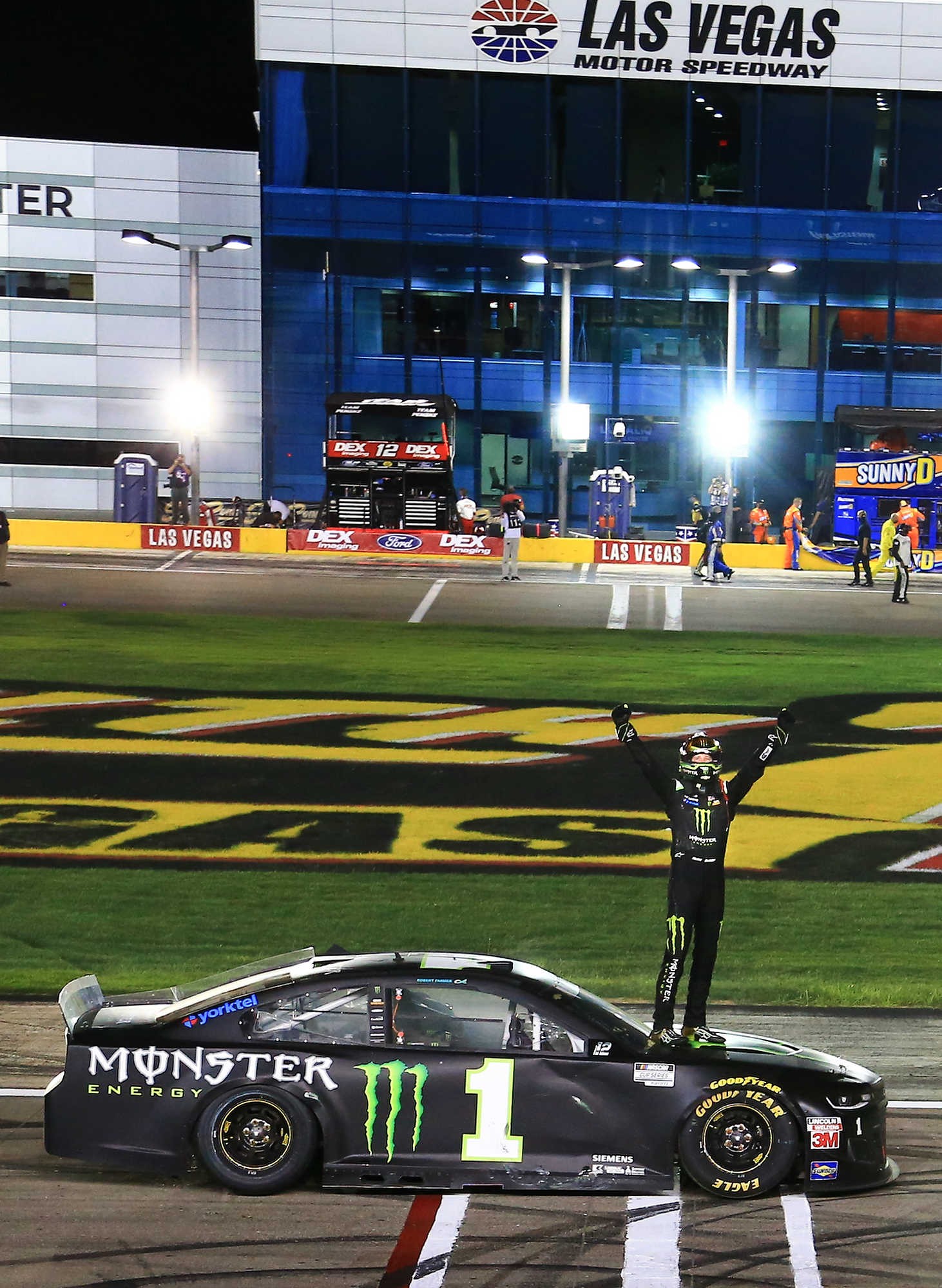 "This is Vegas and I miss the fans. I miss them so much. My dad and my mom, they were there every day at the track pushing. And Brexton, my nephew, won last night. Those thoughts were running through my head because my hometown is special. This Vegas place is special. So, thanks to Brendan Gaughan and South Point and everybody that makes this happen at Las Vegas Motor Speedway. I couldn't be happier."
YOU SAID YOU'VE GOT TO BE LUCKY BUT YOU ALSO HAVE TO BE GOOD. HOW DID YOU MANAGE TO HOLD OFF THE NO. 21 (MATT DIBENEDETTO) AND THE NO. 11 (DENNY HAMLIN), WHO HAD FRESHER TIRES THERE AT THE END?
"Yeah, the No. 11 (Hamlin) had a ton of speed. I was wide-open. And you just have to manipulate the draft. I pulled out some old drag racing skills on the restarts. I knew that was our strong suit. We just put ourselves in position and we held off. Chip Ganassi was up in the suite somewhere and I could feel him breathing over my neck, I want to win. And we did it."
EVERYONE HAS BEEN SORT OF DREADING THIS ROUND OF THE PLAYOFFS GIVEN THE TWO TRACKS AHEAD, TALLADEGA AND THE ROVAL. YOU CAME IN AT THE BOTTOM OF THE PLAYOFF STANDINGS AND YOU'RE GOING TO LEAVE AT THE TOP OF THEM. WHAT DOES IT MEAN TO SECURE THE WIN SO EARLY?
"That's part of the system. It's an incredible feeling to not have; well, it's sinking in. No Talladega worries. No Roval worries. But we're still going there to get points. We're still going there to add up what we need to do to win this championship. So, thanks to Chevrolet. Thank you guys, and Jim Campbell, and everybody at the Ganassi shop. This Monster Energy Chevy was fast."
DENNY HAMLIN, No. 11 FedEx Office Toyota Camry, Joe Gibbs Racing
Finishing Position: 3rd
How was your race today overall?
"We had a dominant car today and I'm proud of the whole FedEx team for giving me such a great car. By far the best car I've had in Las Vegas in a long time. It was really, really good. Happy with it and this new tire here. We'll run that a few more times this year. Really encouraged by the way we ran, but very disappointed that we didn't get a win. It's just been the way that the Playoffs have gone. Whoever stays out the longest puts themselves in a great spot to win."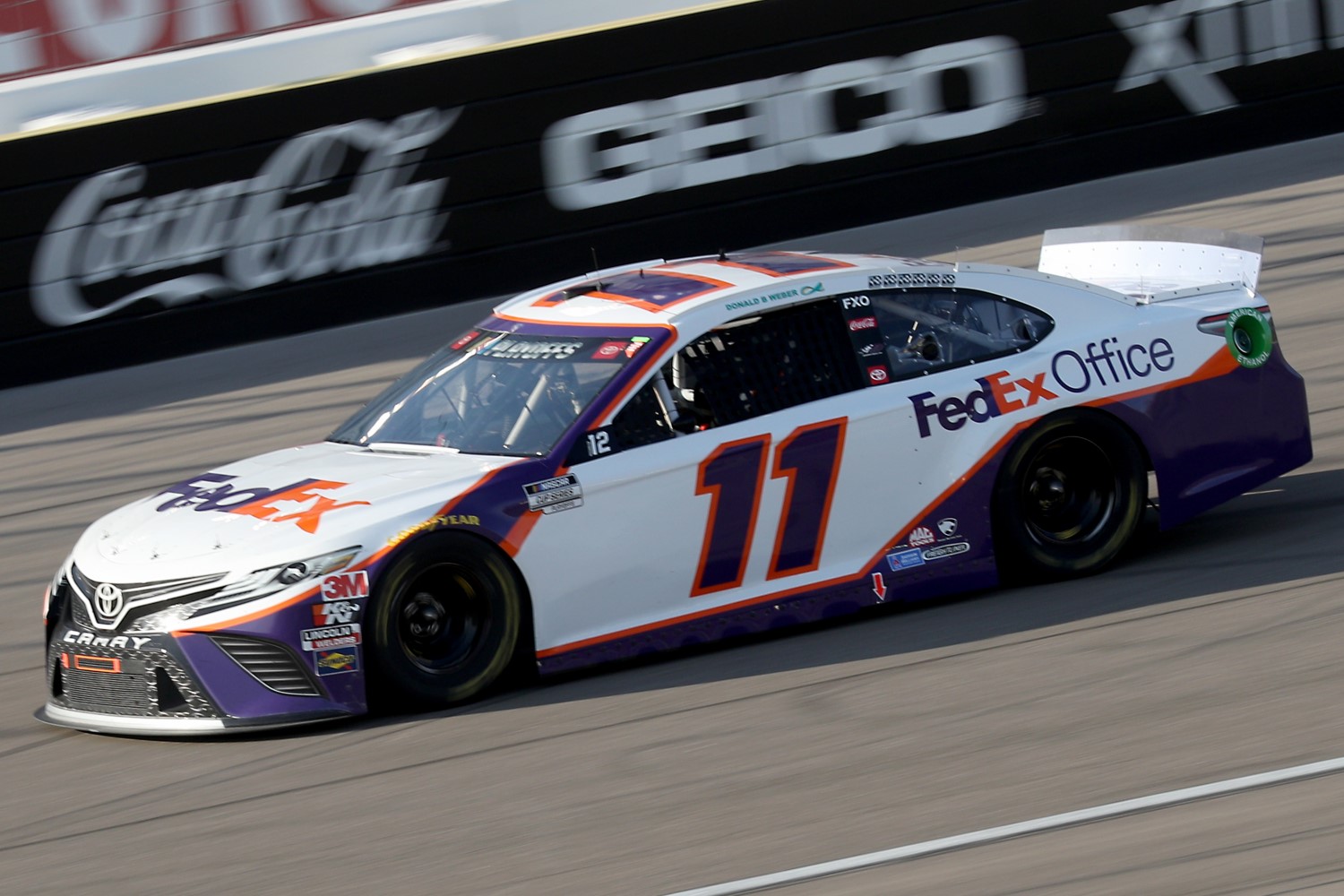 Do you feel better leaving Las Vegas with a third-place finish heading to Talladega?
"I feel good about it. I certainly had a great day. It's something I'm happy about, it's about how we ran and how fast we were. We restarted 13th there with just a few laps and then the top got shuffled and we were able to make some ground on the bottom. If either one of the cautions don't happen, we're still in great shape, but it took them like seven laps to get a piece of debris off and then we had debris right in the fuel window. Just really unfortunate circumstances for our FedEx team that's keeping us out of victory lane. Really happy with the way we're running."
How crazy were the restarts?
"It's tough to try to figure out where to be. When my car is on the bottom, I'm faster than everyone, but when the train gets going up top and the draft gets going and you can't overcome it. I was really happy with the push that I got. I don't know if I would have done a different move or not. I just drove to the bottom there and I got all the way beside the 21 (Matt DiBenedetto), it was just that nobody was on the bottom there to help us push and that was all she wrote."
MARTIN TRUEX JR., No. 19 Bass Pro Shops Toyota Camry, Joe Gibbs Racing
Finishing Position: 4th
How would you sum up your race tonight?
"We were right there in the hunt coming down after the last pit stop there under green. We were third and we were tracking them down just a little bit at a time. Felt like we were maybe going to have a three-way race for the win and then that caution came out and put us all the way to the back. To be able to battle through that and ended up pitting again for tires because we weren't going anywhere and restarted like 24th there on not the last caution, but the one before that. To be able to drive back up to fourth is really something. The Bass Pro Toyota was really strong tonight. We needed just a little bit to be as good as the 11 (Denny Hamlin) and maybe the 88 (Alex Bowman), but we were a third-place car, no question. Just missed it a tiny little bit. Decent night. Just needed a little bit more, but happy with the team and the job they're doing. See what we can do next week at Talladega."
Race Results
| | | | | | |
| --- | --- | --- | --- | --- | --- |
| POS | CAR | DRIVER | MAKE | DELTA | LAPS |
| 1 | 1 | Kurt Busch (P) | Chevy | — | 268 |
| 2 | 21 | Matt DiBenedetto | Ford | 0.148 | 268 |
| 3 | 11 | Denny Hamlin (P) | Toyota | 0.274 | 268 |
| 4 | 19 | Martin Truex Jr. (P) | Toyota | 0.403 | 268 |
| 5 | 88 | Alex Bowman (P) | Chevy | 0.428 | 268 |
| 6 | 18 | Kyle Busch (P) | Toyota | 0.596 | 268 |
| 7 | 12 | Ryan Blaney | Ford | 0.605 | 268 |
| 8 | 20 | Erik Jones | Toyota | 1.004 | 268 |
| 9 | 17 | Chris Buescher | Ford | 1.024 | 268 |
| 10 | 4 | Kevin Harvick (P) | Ford | 1.182 | 268 |
| 11 | 48 | Jimmie Johnson | Chevy | 1.258 | 268 |
| 12 | 14 | Clint Bowyer (P) | Ford | 1.324 | 268 |
| 13 | 2 | Brad Keselowski (P) | Ford | 1.398 | 268 |
| 14 | 22 | Joey Logano (P) | Ford | 1.515 | 268 |
| 15 | 6 | Ryan Newman | Ford | 1.558 | 268 |
| 16 | 41 | Cole Custer # | Ford | 1.710 | 268 |
| 17 | 10 | Aric Almirola (P) | Ford | 1.737 | 268 |
| 18 | 42 | Matt Kenseth | Chevy | 1.862 | 268 |
| 19 | 37 | Ryan Preece | Chevy | 2.063 | 268 |
| 20 | 38 | John Hunter Nemechek # | Ford | 2.065 | 268 |
| 21 | 34 | Michael McDowell | Ford | 2.155 | 268 |
| 22 | 9 | Chase Elliott (P) | Chevy | 2.305 | 268 |
| 23 | 47 | Ricky Stenhouse Jr. | Chevy | 2.907 | 268 |
| 24 | 95 | Christopher Bell # | Toyota | 2.949 | 268 |
| 25 | 24 | William Byron | Chevy | 3.071 | 268 |
| 26 | 13 | Ty Dillon | Chevy | -1 | 267 |
| 27 | 32 | Corey LaJoie | Ford | -2 | 266 |
| 28 | 43 | Bubba Wallace | Chevy | -2 | 266 |
| 29 | 96 | * Daniel Suarez | Toyota | -3 | 265 |
| 30 | 15 | Brennan Poole # | Chevy | -3 | 265 |
| 31 | 27 | Gray Gaulding(i) | Ford | -6 | 262 |
| 32 | 3 | Austin Dillon (P) | Chevy | -7 | 261 |
| 33 | 77 | JJ Yeley(i) | Chevy | -7 | 261 |
| 34 | 00 | Quin Houff # | Chevy | -9 | 259 |
| 35 | 51 | Joey Gase(i) | Ford | -13 | 255 |
| 36 | 53 | Josh Bilicki(i) | Ford | -41 | 227 |
| 37 | 66 | * Timmy Hill(i) | Toyota | -108 | 160 |
| 38 | 8 | Tyler Reddick # | Chevy | -111 | 157 |
| 39 | 49 | * Chad Finchum(i) | Toyota | -249 | 19 |
# DENOTES ROOKIE
(i) NOT ELIGIBLE FOR POINTS
(*) REQUIRED TO QUALIFY ON TIME
CAUTIONS
| | | | |
| --- | --- | --- | --- |
| # | LAP | CAR | REASON |
| 1 | 25 | 77 | Competition Caution |
| 2 | 80 | 32 | Stage 1 Conclusion |
| 3 | 160 | 47 | Stage 2 Conclusion |
| 4 | 189 | 48 | Debris |
| 5 | 235 | 88 | Debris |
| 6 | 249 | 22 | #20, 38, 47 Incident Turn 3 |
| 7 | 260 | 37 | #24, 32, 95 Incident Frontstretch |