NHRA Gatornationals: Torrence, Capps, Laughlin win
"Big Daddy" Don Garlits didn't lose many races during his Hall of Fame driving career and he was just about unstoppable at Gainesville Raceway, his home track. Reigning and two-time Top Fuel world champ Steve Torrence provided a not-so-subtle reminder of Garlits' Gatornationals on Sunday at the Amalie Motor Oil Gatornationals when he drove to his 39th career victory. With his Capco Contractors dragster cloaked in a special tribute paint scheme honoring Garlits' historic Swamp Rat 14 dragster, Torrence drove to a final round win against his father, Billy. The Torrence family has a history of close races whenever the father-son duo square off and this race was not much different with Steve taking the lead at the start, and winning by a 3.809 to 3.810 count.
"Don, I just want to say thanks for giving us an opportunity to run your car and to just celebrate the greatness of Don Garlits," Torrence gushed after winning his third race of the season.  "I never won here at Gainesville before, never even been to a final.  But today, we had magic.  We were racing 'Big Daddy's' car and we got a win for ol' Dom [a reference to friend and Capco crewman Dom Lagana who remains hospitalized with injuries suffered last month in a traffic accident.]"
The stars aligned perfectly for Torrence as he looks to win his third-straight championship. Incoming points leader Doug Kalitta suffered a rare round one loss against Terry McMillen and Torrence took care of business himself against challenger Leah Pruett in the semifinals. Torrence drove to a 3.772 to take care of Pruett's 3.812. Torrence was the No. 4 qualifier but did not have an easy path to the final. His day began with a tough battle against eight-time world champion Tony Schumacher and also included a quarterfinal race against Doug Foley. Torrence has now won three of the seven races held this season and is the championship leader with four events remaining on the schedule.
Billy won the first Indy event held in July and then cooled off with a string of early losses including a tough round one exit at the U.S. Nationals against rookie Justin Ashley. The Capco captain quickly bounced back in Gainesville when he drove past Todd Paton, Indy winner Shawn Langdon, and the Amalie flagship of Terry McMillen. Billy's consistent 3.817 effort was just enough to hold off McMillen's 3.841. Earlier in the day, McMillen set low E.T. of the weekend with a 3.74 7 run in his round one win over Kalitta.
Pruett remained in the championship picture with a semifinal finish in her Dodge/Pennzoil dragster. The former Factory Stock and Heritage Series champ topped low qualifier Clay Millican in a close battle that was decided on the starting line. Both cars recorded matching 3.788-second elapsed times with Pruett's .023-second starting line advantage providing the difference.
Ron Capps spins, then wins in wild Funny Car battle
It took two race cars to do it, but Ron Capps extended the Don Schumacher Racing win streak in the Funny Car class to ten races following his final round win over Tim Wilkerson at the Amalie Motor Oil NHRA Gatornationals. Celebrating crew chief Rahn Tobler's birthday, Capps drove his NAPA Dodge to a close 3.937 to 3.945 victory, but in this case the numbers don't begin to tell the story. Capps ran the final with a new and untested car after damaging his primary race car in his semifinal win against teammate Matt Hagan.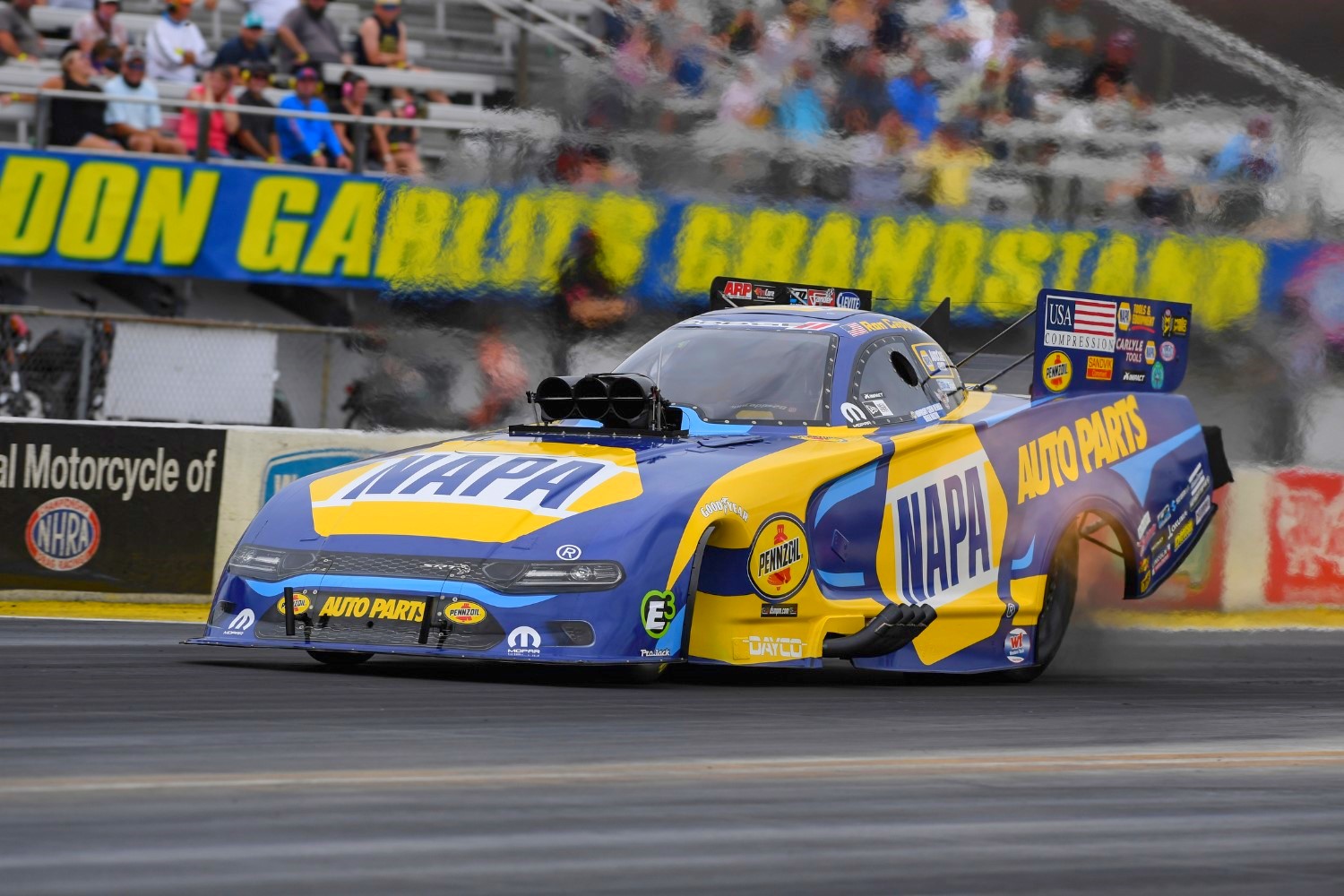 Capps made a monster run in the semifinals with a 3.89 that stood for low elapsed time of the weekend, but it came with a steep price tag after he wounded an engine at the finish line. Sliding in his own oil, Capps did a masterful job keeping the car away from the wall and avoiding Hagan but the team elected to roll out a spare car in order to contest the final. The thought of racing new car with a couple of half-track test runs on it in a final round didn't scare Tobler or Capps, who has now won 66 races in his career, including two of the last three this season.
"To be able to win four (Gatornationals) is pretty wild," Capps said. "We put a spare car together that went out on its first full run and went 3.93 and won the Gatornationals. To run that well and have it be in the final round of the Gatornationals, it's unbelievable. Rahn had it perfect and I felt pretty good about it. The best part is keeping the streak alive for Don Schumacher Racing. The guys on this team bring out on the best in me, and those semifinals were a big round. We had to make points up and we came through."
Capps' win also extends a lenghty win streak for the DSR team that extends back to last season's fall Charlotte event. Teammates Capps, Hagan, Johnson Jr. and Beckman have managed to shut out the opposition over the last ten events. The last non-DSR driver to win was Robert Hight.
Prior to his semifinal drama, Capps was cruising through eliminations with victories against John Smith and Alexis DeJoria. Capps ran a 3.999 in round one and needed almost all of it since Smith made one of the quickest runs of his career with a 4.025. Capps' win against DeJoria's RoKit/ABK Beer was also close with the NAPA team posting a 3.968 to DeJoria's 4.014.
Wilkerson, most recently a winner at the 2016 Charlotte Four-Wide race, probably deserved a better fate after putting together a consistent string of three-second runs in his wins against Terry Haddock, Tommy Johnson Jr., and Bob Tasca III. Wilkerson defeated Tasca's Motorcraft Quicklane Ford on a slight holeshot, 3.958 to 3.955, crossing the finish line first by just .001-second.
The battle for the Mello Yello championship took a turn in the quarterfinal round when Hagan topped incoming leader Jack Beckman for the fourth time in four races this season. Hagan came into the Gainesville event 35-points behind Beckman with Tommy Johnson Jr. holding down third, 57-points back.
Alex Laughlin wins in Pro Stock
Other than a semifinal finish in Phoenix, Alex Laughlin hasn't had much to cheer about this season in Pro Stock but he was able to put the slow start behind him in Gainesville by beating Aaron Stanfield in a final-round match-up between Elite Performance teammates. In one of the crazier final rounds in recent memory, both racers shook the tires hard at the start, but Laughlin was able to recover first and drove his Havoline Camaro to a 7.06 to win for the fourth time in his career in eight final-round appearances. For Laughlin, the victory helped ease the pain of last year's Amalie Gatornationals final where he broke on the starting line and had to watch Bo Butner make a solo run for the title.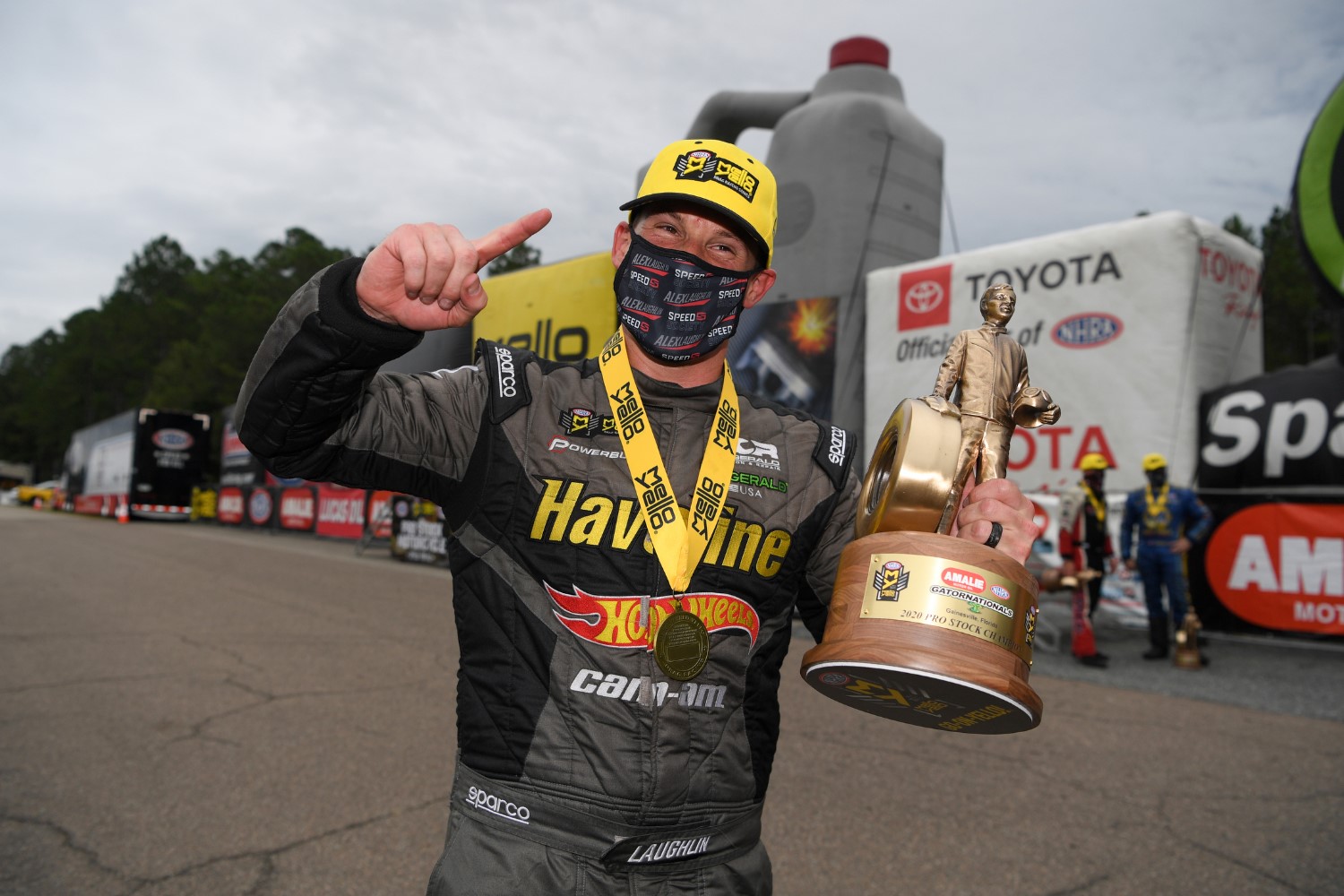 "After the first qualifier, I thought we were going to win the race this weekend," Laughlin said. "This track has always been really good to me. I was amped (in the finals) and I just went nuts when I saw the win light come on. What a weekend. More than anything, I just needed that this year with how awful a year it's been. We had a completely brand new crew this weekend and we were just trying to find a routine. Everything just paid off."
The entire Pro Stock field was separated by just six-hundredths of a second which meant that anyone in the field was capable of winning and a performance advantage was hard to come by. Laughlin's car was as good as any in the class and he did his part with a string of competitive reaction times. From the No. 4 starting spot, Laughlin posted wins against Kenny Delco, rookie Kyle Koretsky, and low qualifier Deric Kramer. Laughlin drove past Koretsky's Nitro Fish Camaro, 6.619 to 6.640 and then used a sizable holeshot to stop Kramer, winning by a 6.641 to 6.613 count.
Three weeks after winning his first event in the SAM Tech.edu Factory Stock Showdown, Stanfield made it to his first Pro Stock final when he drove the Janac Bros. Camaro to wins against Butner, Cristian Cuadra, and Jason Line. Stanfield blistered the Tree with a .008 light and then ran a 6.634 to oust Line, who fell off his earlier low 6.6-second pace with a 6.659. Stanfield's busy day also included a trip to a second-straight final round in the Factory Stock class. He is scheduled to face teammate David Janac in the final, but that race was postponed due to rain and will be completed next weekend in St. Louis.
The points picture in Pro Stock is not much clearer now than when teams arrived in Gainesville on Friday. Erica Enders, Jeg Coughlin Jr., and Jason Line all came in separated by just 11-points but none of them were able to size an opportunity to distance themselves from their rivals. Coughlin lost in round one while Enders, the No. 2 qualifier, made the quickest run of the round with a 6.608. Enders, in turn lost in the quarterfinals to Line, who took over the lead with four races remaining.
Smith takes Pro Stock Motorcycle victory
There is parity throughout almost every professional class in the NHRA Mello Yello Drag Racing series but occasionally, some racers are capable of dominant performances. Matt Smith is one of those racers and his latest victory at the Amalie Motor Oil Gatornationals will go down as one of his most impressive performances. Smith qualified his Denso EBR in the top spot with a 6.814, four-hundredths ahead of the rest of the field and maintained that edge during Sunday's eliminations to win for the 25th time in his career.
"I've tried since 2006 to win this race and I've never been able to do it," said Smith, a three-time world champ. "I've watched my dad do it a couple times and it means a lot to win it. I've always wanted to win Gainesville and leave with the points lead, and I was able to do it. Right now, I think Team MSR has the best team out here and we have the power to win this thing. We've just to keep everything together, but we have the power to win races and win a championship."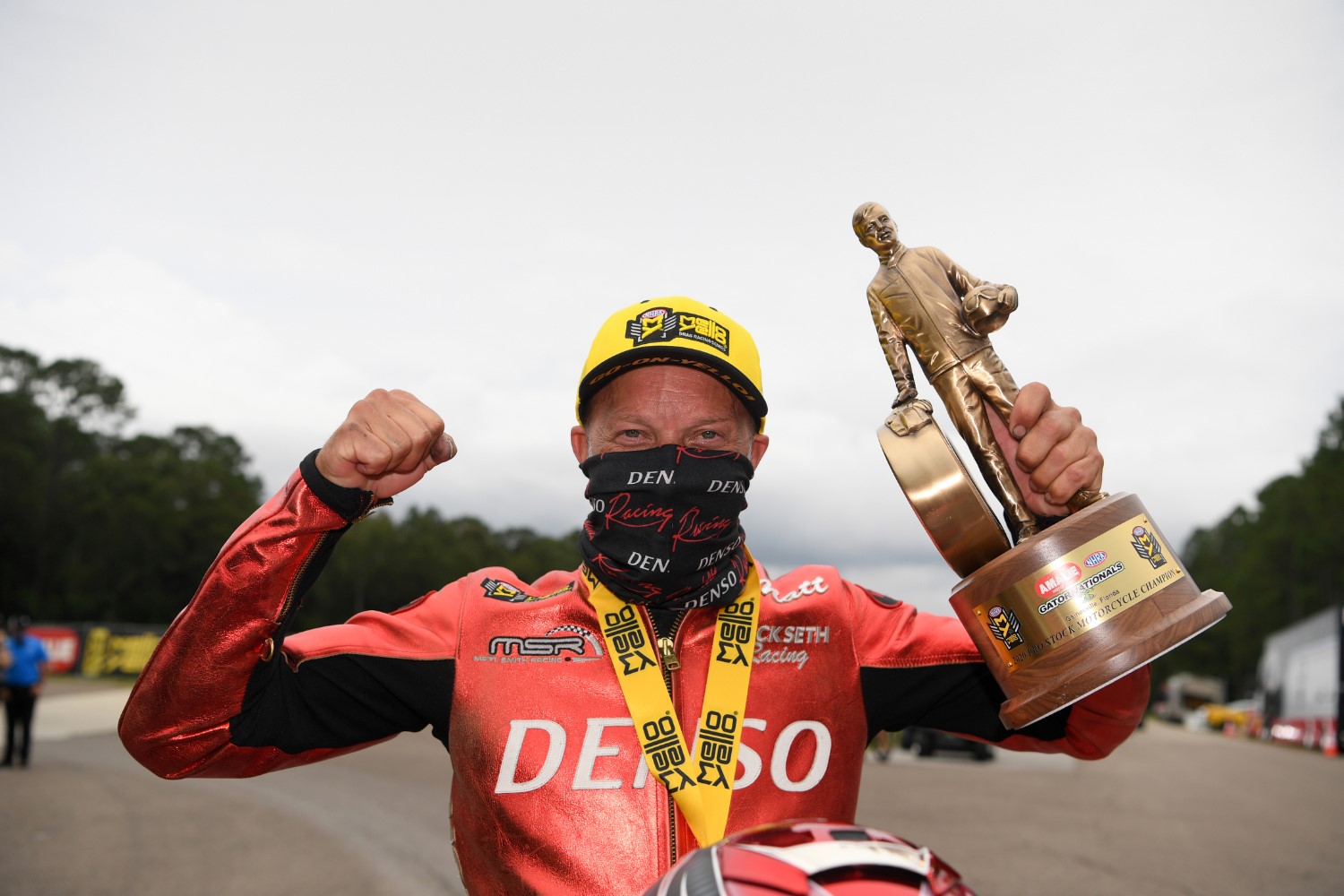 Historically, Smith hasn't had much luck against arch-rival and six-time world champ Andrew Hines with just 14 wins in 49-career races. Smith was also 0-6 in finals against the Harley rider but enjoyed perhaps his most significant advantage of his career this time and made it stick for a one-sided 6.843 to 6.927 victory. As an added bonus, Smith also got to share the winner's circle celebration with his father Rickie, who won in the E3 Spark Plugs Pro Mod series.
Smith has had arguably the best bike in the class this season but putting together four competitive runs on race day has been a challenge. He came into the final of the season's first Pro Stock Motorcycle event with a significant edge over first-time finalist Ryan Oehler in both performance and experience, but came away empty-handed. This time, Smith did not miss the mark with overpowering wins against Kelly Clontz, John Hall, and his teammate, Scotty Pollacheck. Smith was solidly in the 6.8s all day including a 6.859 against Indy winner Pollacheck, who ran 6.903.
Hines is the sport's most successful Pro Stock Motorcycle racer with 56-career victories including two in Gainesville, but his Harley-Davidson FXDR appeared to be off a tick this weekend. Hines, who also made history at Gainesville Raceway in 2005 when he recorded the sport's first six-second elapsed time, qualified sixth. His most impressive performance came in the quarterfinals where he took a holeshot win over teammate Eddie Krawiec. Hines other teammate, Angelle Sampey, outran him by a tenth of a second in their semifinal match, but Sampey's run came with a -.006 red-light.
With just three events in the books before Gainesville the Pro Stock Motorcycle points battle was very much up in the air with the top six riders separated by just 47-points. Smith obviously did the most damage with his victory, but Hines, Pollacheck, Sampey, Krawiec, and Oehler are still very much in the hunt.