Power wins pole for IndyCar Harvest GP Race #2
Penske Chevy driver Will Power turned a lap of 1m08.9767s to win the pole position for the IndyCar Harvest GP Race #2.  It was Power's 61st IndyCar pole as he closes on Mario Andretti's record of 67 poles.
"We haven't been converted the poles to wins, though Mid-Ohio we did," said Power, who is second to Mario Andretti's 67 on the all-time IndyCar pole list.
"It's a two-stop race so it's a bit more of a straightforward strategy. I'll do my best. I definitely have the team around me to do it and the car, so let's get it done."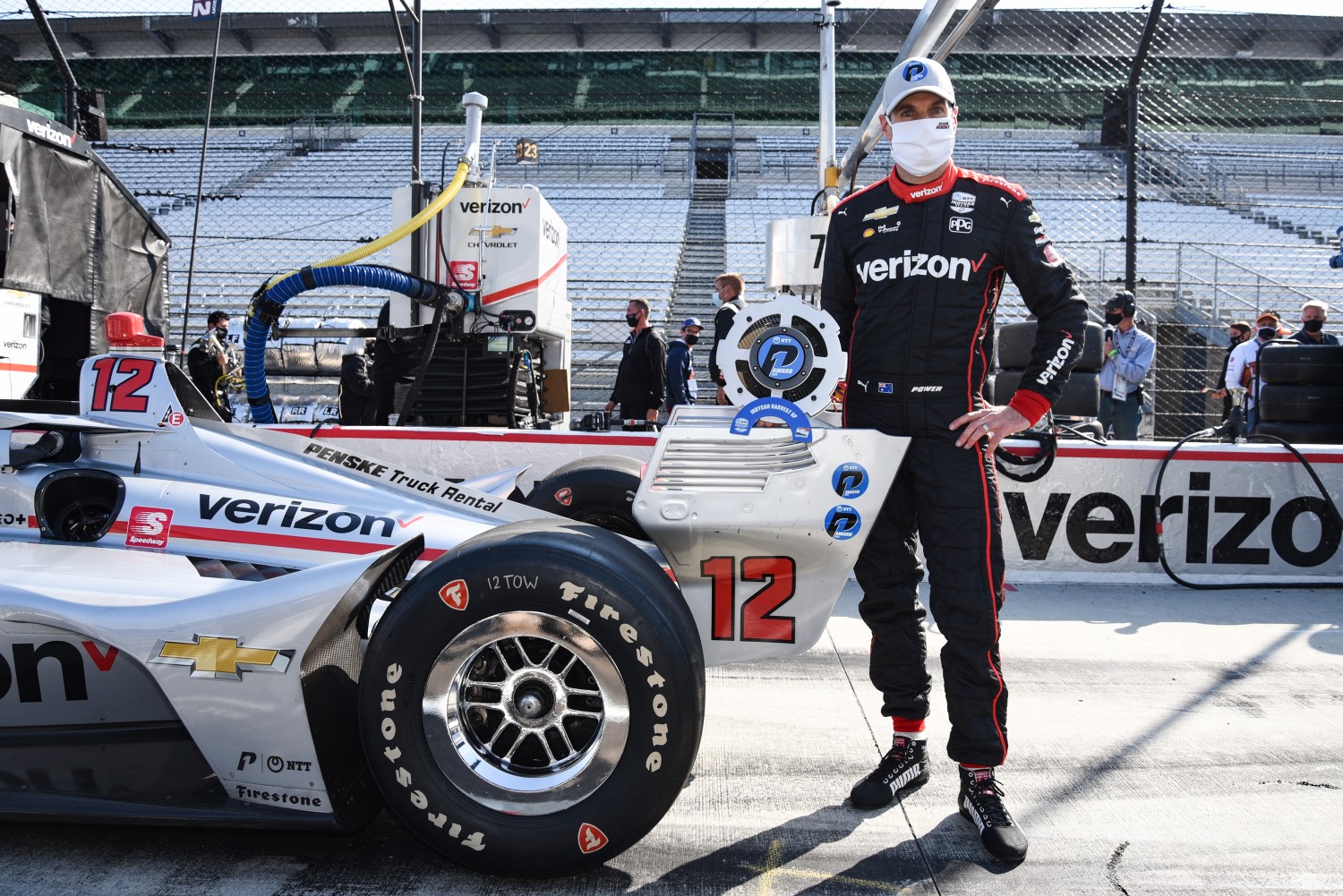 Andretti Honda driver Colton Herta was fastest in Group 1 qualifying and will start on the outside of the front row.
The 2nd row will be Andretti Autosport Honda driver Alexander Rossi and on the outside Dale Coyne Honda's Alex Palou.
Choking were the two drivers battling for the 2020 title – leader Scott Dixon will only start 15th and 2nd place Josef Newgarden 9th who won from 3rd yesterday in Race #1.
Group 1 Times
| | | | | | | | | |
| --- | --- | --- | --- | --- | --- | --- | --- | --- |
| Pos | No | Name | Time | Diff | Gap | Speed | Engine | Team |
| 1 | 88 | Colton Herta | 1:09.102 | 0.000s | 0.000s | 127.065 | Honda | Andretti Harding Steinbrenner Autosport |
| 2 | 55 | Alex Palou | 1:09.158 | 0.0567 | 0.0567 | 126.961 | Honda | Dale Coyne Racing with Team Goh |
| 3 | 28 | Ryan Hunter-Reay | 1:09.176 | 0.0738 | 0.0171 | 126.929 | Honda | Andretti Autosport |
| 4 | 10 | Felix Rosenqvist | 1:09.299 | 0.1971 | 0.1233 | 126.703 | Honda | Chip Ganassi Racing |
| 5 | 15 | Graham Rahal | 1:09.326 | 0.2241 | 0.0270 | 126.654 | Honda | Rahal Letterman Lanigan Racing |
| 6 | 98 | Marco Andretti | 1:09.373 | 0.2713 | 0.0472 | 126.568 | Honda | Andretti Herta with Marco & Curb-Agajanian |
| 7 | 21 | Rinus VeeKay | 1:09.406 | 0.3040 | 0.0327 | 126.508 | Chevy | Ed Carpenter Racing |
| 8 | 8 | Marcus Ericsson | 1:09.411 | 0.3092 | 0.0052 | 126.499 | Honda | Chip Ganassi Racing |
| 9 | 59 | Max Chilton | 1:09.674 | 0.5722 | 0.2630 | 126.021 | Chevy | Carlin |
| 10 | 7 | Helio Castroneves | 1:09.776 | 0.6744 | 0.1022 | 125.837 | Chevy | Arrow McLaren SP |
| 11 | 24 | Sage Karam | 1:09.916 | 0.8142 | 0.1398 | 125.585 | Chevy | Dreyer & Reinbold Racing |
| 12 | 4 | Charlie Kimball | 1:09.966 | 0.8644 | 0.0502 | 125.495 | Chevy | AJ Foyt Enterprises |
| 13 | 41 | Dalton Kellett | 1:10.196 | 1.0943 | 0.2299 | 125.084 | Chevy | AJ Foyt Enterprises |
Group 2 Times
| | | | | | | | | |
| --- | --- | --- | --- | --- | --- | --- | --- | --- |
| Pos | No | Name | Time | Diff | Gap | Speed | Engine | Team |
| 1 | 12 | Will Power | 1:08.977 | –.—- | –.—- | 127.295 | Chevy | Team Penske |
| 2 | 27 | Alexander Rossi | 1:09.232 | 0.2548 | 0.2548 | 126.827 | Honda | Andretti Autosport |
| 3 | 5 | Pato O'Ward | 1:09.248 | 0.2710 | 0.0162 | 126.797 | Chevy | Arrow McLaren SP |
| 4 | 60 | Jack Harvey | 1:09.422 | 0.4449 | 0.1739 | 126.479 | Honda | Meyer Shank Racing |
| 5 | 1 | Josef Newgarden | 1:09.456 | 0.4790 | 0.0341 | 126.417 | Chevy | Team Penske |
| 6 | 18 | Santino Ferrucci | 1:09.479 | 0.5024 | 0.0234 | 126.375 | Honda | Dale Coyne Racing with Vasser Sullivan |
| 7 | 26 | James Hinchcliffe | 1:09.575 | 0.5987 | 0.0963 | 126.200 | Honda | Andretti Autosport |
| 8 | 9 | Scott Dixon | 1:09.582 | 0.6057 | 0.0070 | 126.187 | Honda | Chip Ganassi Racing |
| 9 | 30 | Takuma Sato | 1:09.608 | 0.6310 | 0.0253 | 126.141 | Honda | Rahal Letterman Lanigan Racing |
| 10 | 22 | Simon Pagenaud | 1:09.922 | 0.9449 | 0.3139 | 125.575 | Chevy | Team Penske |
| 11 | 14 | Sebastien Bourdais | 1:09.943 | 0.9660 | 0.0211 | 125.537 | Chevy | AJ Foyt Enterprises |
| 12 | 20 | Conor Daly | 1:09.953 | 0.9764 | 0.0104 | 125.518 | Chevy | Ed Carpenter Racing |
Race 2 Lineup
| | | | | | | |
| --- | --- | --- | --- | --- | --- | --- |
| Pos | Car | Driver Name | Engine | Time | Speed | Session |
| 1 | 12 | Power, Will | Chevy | 01:08.9767 | 127.295 | Qualifications / Group 2 |
| 2 | 88 | Herta, Colton | Honda | 01:09.1017 | 127.065 | Qualifications / Group 1 |
| 3 | 27 | Rossi, Alexander | Honda | 01:09.2315 | 126.827 | Qualifications / Group 2 |
| 4 | 55 | Palou, Alex (R) | Honda | 01:09.1584 | 126.961 | Qualifications / Group 1 |
| 5 | 5 | O'Ward, Pato | Chevy | 01:09.2477 | 126.797 | Qualifications / Group 2 |
| 6 | 28 | Hunter-Reay, Ryan | Honda | 01:09.1755 | 126.929 | Qualifications / Group 1 |
| 7 | 60 | Harvey, Jack | Honda | 01:09.4216 | 126.479 | Qualifications / Group 2 |
| 8 | 10 | Rosenqvist, Felix | Honda | 01:09.2988 | 126.703 | Qualifications / Group 1 |
| 9 | 1 | Newgarden, Josef | Chevy | 01:09.4557 | 126.417 | Qualifications / Group 2 |
| 10 | 15 | Rahal, Graham | Honda | 01:09.3258 | 126.654 | Qualifications / Group 1 |
| 11 | 18 | Ferrucci, Santino | Honda | 01:09.4791 | 126.375 | Qualifications / Group 2 |
| 12 | 98 | Andretti, Marco | Honda | 01:09.3730 | 126.568 | Qualifications / Group 1 |
| 13 | 26 | Hinchcliffe, James | Honda | 01:09.5754 | 126.200 | Qualifications / Group 2 |
| 14 | 21 | VeeKay, Rinus (R) | Chevy | 01:09.4057 | 126.508 | Qualifications / Group 1 |
| 15 | 9 | Dixon, Scott | Honda | 01:09.5824 | 126.187 | Qualifications / Group 2 |
| 16 | 8 | Ericsson, Marcus | Honda | 01:09.4109 | 126.499 | Qualifications / Group 1 |
| 17 | 30 | Sato, Takuma | Honda | 01:09.6077 | 126.141 | Qualifications / Group 2 |
| 18 | 59 | Chilton, Max | Chevy | 01:09.6739 | 126.021 | Qualifications / Group 1 |
| 19 | 22 | Pagenaud, Simon | Chevy | 01:09.9216 | 125.575 | Qualifications / Group 2 |
| 20 | 7 | Castroneves, Helio | Chevy | 01:09.7761 | 125.837 | Qualifications / Group 1 |
| 21 | 14 | Bourdais, Sebastien | Chevy | 01:09.9427 | 125.537 | Qualifications / Group 2 |
| 22 | 24 | Karam, Sage | Chevy | 01:09.9159 | 125.585 | Qualifications / Group 1 |
| 23 | 20 | Daly, Conor | Chevy | 01:09.9531 | 125.518 | Qualifications / Group 2 |
| 24 | 4 | Kimball, Charlie | Chevy | 01:09.9661 | 125.495 | Qualifications / Group 1 |
| 25 | 41 | Kellett, Dalton (R) | Chevy | 01:10.1960 | 125.084 | Qualifications / Group 1 |
Mark C. reporting for AUtoRacing1.com