Kalitta Takes Toyota To victory in NHRA Midwest Nationals
Toyota Top Fuel driver Doug Kalitta registered a dominating performance in winning the NHRA Midwest Nationals at World Wide Technology Raceway, Sunday. Kalitta's closest margin of victory on the day was .045 seconds, with his four winning passes averaging 3.710 seconds.
The Mac Tools Toyota driver defeated teammate Shawn Langdon in the opening round with a 3.731-second run and then ran even quicker in round two, knocking off T.J. Zizzo with a 3.709. In the semifinals against fellow Toyota driver Tony Schumacher, Kalitta would end up running an unopposed 3.711 after Schumacher appeared to have his throttle stick during his burnout.
In the finals, he would square off with championship rival Steve Torrence. Kalitta took the lead by the 60-foot mark and pulled away to the victory with his best run of the weekend, a 3.690-second pass at 322.58 mph. With the win, Kalitta closed to within two points of Torrence in the championship with just three races remaining.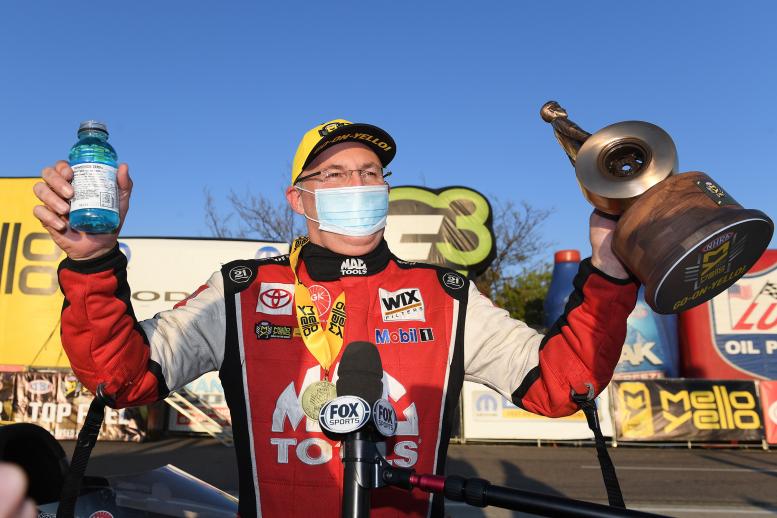 Before the incident in the semifinals, Schumacher enjoyed his best weekend of the year.  The all-time leader in Top Fuel wins earned his 88th career number one qualifier on Saturday. He proceeded to eliminate Kebin Kinsley in round one and then defeated Leah Pritchett in the second round.
The World Wide Technology Raceway, located just east of the gleaming stainless steel St. Louis Gateway Arch, returned to the NHRA Mello Yello Drag Racing Series schedule in 2012 and quickly became known for record-setting performance. After 2020's NHRA Midwest Nationals, it will also be known for atmospheric conditions that made racing cars challenging and required the NHRA to constantly adjust the schedule to allow for the most possible racing action.
"This win means a lot, my dad won this race back in 1976. That was his only national event when he ever won. And I was in the winner circle with him, so I've always wanted to win this race. I grew up like four hours from here, so we raced here a lot and it just means a lot to win this race. And it means a lot to stay in the points chase! You know, [I] had to win and stay in this hunt. I can't thank everybody enough, man. It's been a weird year, but it's been a great year for our team and the Mopar Express Lane Midwest Nationals. I drove the Mopar Express Lube Top Fuel dragster years ago. So it's a great association with Pennzoil, Hangsterfer's metalworking lubricants, and everybody that helps our team."—Tommy Johnson Jr.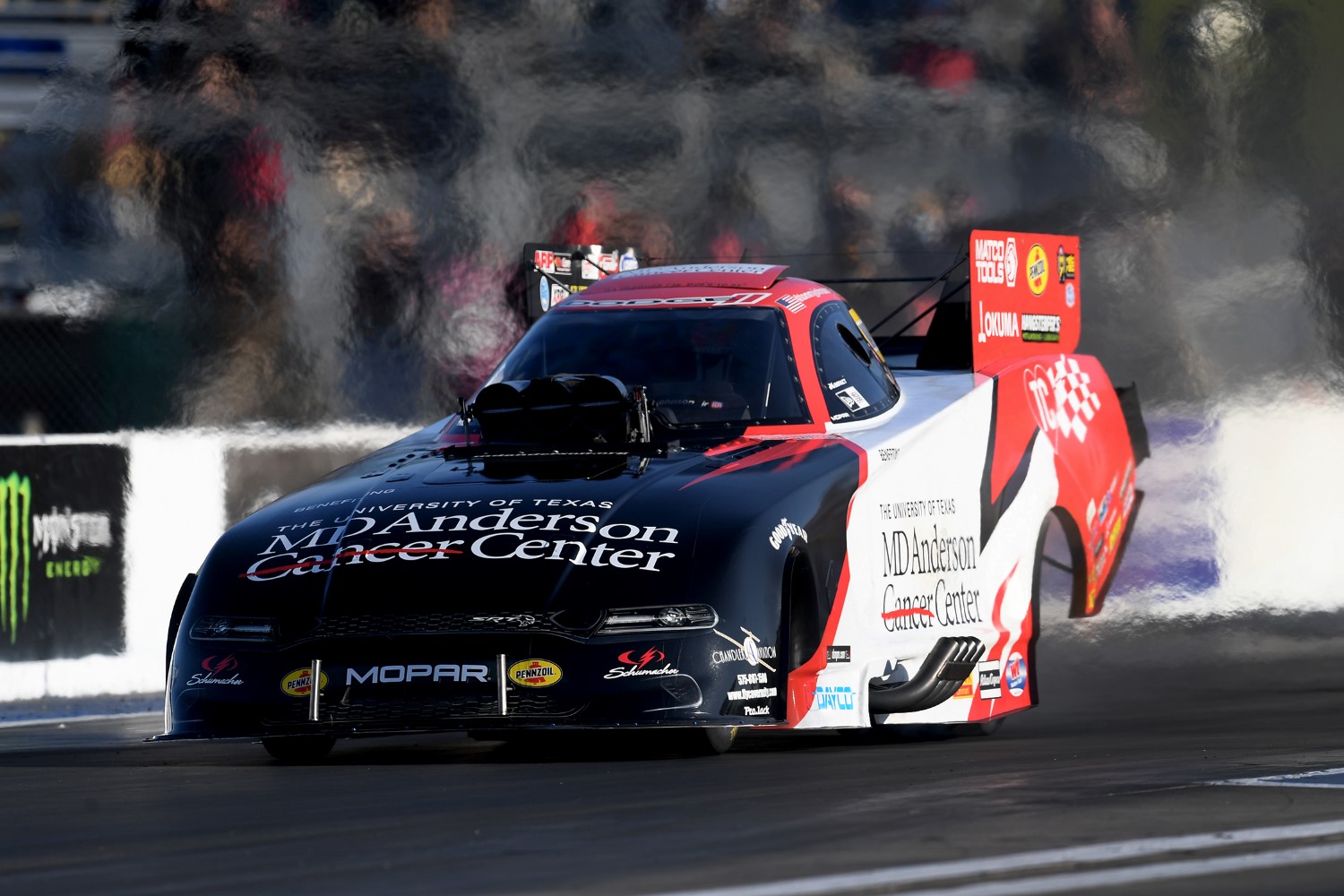 With track temperatures cooling into the mid-70s, the two Don Schumacher Racing teams who share technology, shop space, and information brought their cars to the line as brutal competitors. Matt Hagan's Mopar/Pennzoil/Sandvik Dodge Charger SRT Hellcat was first to the line in the left lane when the MD Anderson Cancer Center Dodge Charger SRT Hellcat team of Tommy Johnson Jr. raced their car to the water box and fired their Hemi before Hagan's crew. Was there a technical delay that caused Johnson's team to be held up? Or was it a strategic move to catch Hagan's team off-guard? We don't know. Whatever it was Johnson, seized the starting line advantage with a .047-second reaction time to Hagan's .058-second time and powered through the quarter-mile in 3.884 seconds at 326.08 mph, just two-thousands of a second quicker than Hagan's 3.886-second run at 333.00 mph. It was Hagan's best run of the day and the top speed of the event, but it still came up short against Johnson.
Both racers needed the win in a year when every round counts, but in the celebration in the winner's circle it was clear Johnson was thrilled with the victory. "This is seven years I've been driving because of Terry and Doug Chandler, and I can't thank them enough and hopefully something comes along. Because I mean, I'm not dead yet. Winning makes you young, and I'm ready to go" said Johnson.
After qualifying 8th in the one-and-done Saturday evening session, Johnson dispatched Terry Haddock who made a clean run in round one with a starting line advantage that he sustained for the win. In round two Johnson met the No.1 qualifier Paul Lee where he scored a hole-shot before his car made a quick move toward the wall, but Johnson reeled it in.
In the semifinals Johnson met is brother-in-arms Jack Beckman, both Johnson's and Beckman's cars are sponsored by the Terry Chandler Foundation. In a clean race Johnson took the starting line advantage and drove straight down the groove for the win. The victory over Beckman also gave Johnson lane choice in the final over Hagan.
Hagan's car qualified one slot better than Johnson and matched up against Bob Bode in round one. Bode took the starting line advantage all the way to the top end but Hagan was able to chase him down when Bode's engine exploded. In round two Hagan conceded lane choice to Ron Capps, who was 34 – 27 against Hagan in prior events. Hagan had the starting line advantage and started to haze the tires on the top end, but held on for the win. Capps banged the supercharger on his Hemi just past half-track with a quick flash of flame. In the semi's, Hagan went to the line against Alexis DeJoria, who he was 10 – 5 against in prior events. DeJoria rattled the tires early and clicked it off, allowing Hagan to secure the finals matchup against Johnson.
This is Johnson's second win and fourth final appearance in the 2020 season.