Bottas beats Hamilton to win pole for Eifel GP
For only the third time this season Valtteri Bottas beat Mercedes F1 teammate Lewis Hamilton to win the pole for the Eifel GP at the Nurburgring by 0.256s.
Mercedes remains perfect in 2020 locking out the front row for every race in their superior car.
That is Bottas' first pole since the 70th Anniversary Grand Prix in August incidentally. And it isn't a long run down to Turn 1, so it isn't a bad track to have pole on… His championship charge really is well and truly reignited, but barely as Hamilton pretty much has a lock on the title.
"The lap was really nice, really enjoyed it. Of course, I can take the win, that's what I'm here for," said Bottas.
"He did a great job, congrats to him," said Hamilton. "It's an amazing track, but the graining, the conditions being so cool, how long the tires will go, whether there'll be Safety Cars – there's a lot to play for tomorrow, so I need to keep my head down."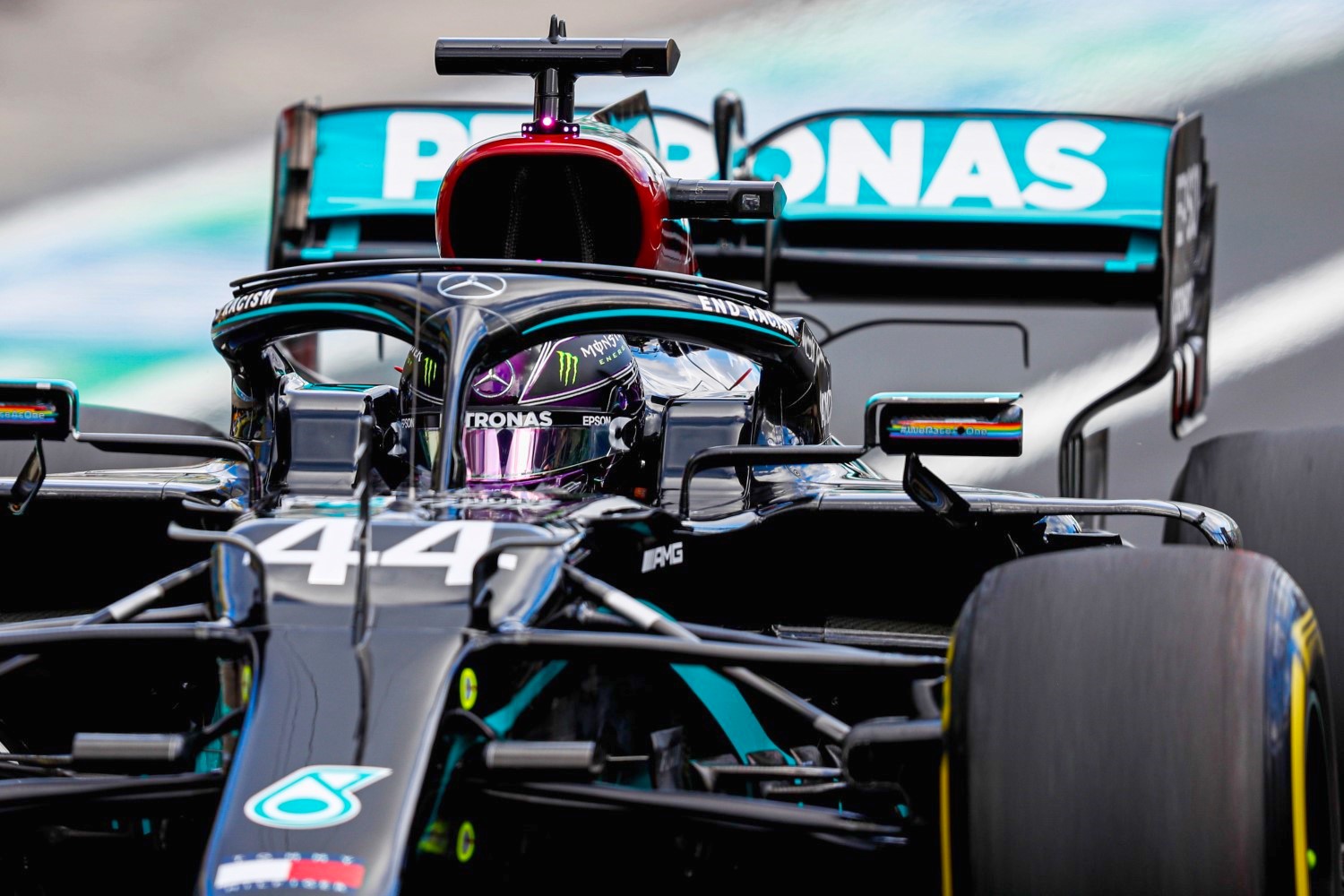 Max Verstappen was third quick for Red Bull with a time that almost beat Hamilton – 0.293s behind Bottas. Verstappen said he just did not have the grip on his 2nd run.
While Bottas sounded confident, and has successfully negotiated the first hurdle here and carried that momentum gained in Russia, the Finn knows that the race is still a very unknown quality.
No team has enough data from just the one practice session to feel fully confident on race strategies – not to mention that only Magnussen down at Haas has tried out the hard compound tires here. Add in weather uncertainties and the win is not quite assured yet for Bottas.
Hamilton did look to be smarting from not just being beaten, but from being comprehensively outclassed by over two tenths. That will be the part he won't like, and he already admitted that he'll be going through the data later and trying to work out where he could have improved.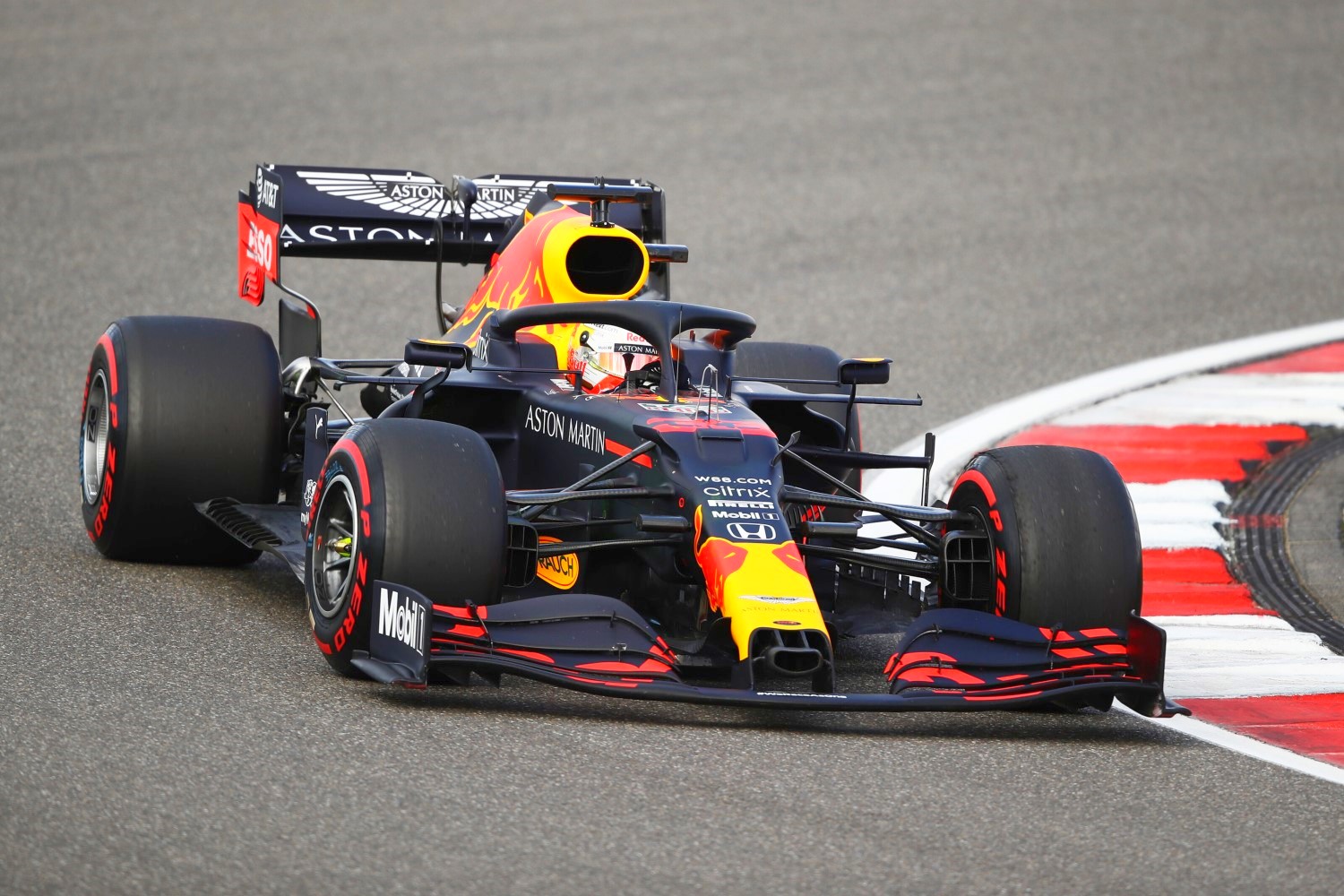 Charles Leclerc split the two Red Bulls by qualifying 4th in his Ferrari. Alex Albon rounded out the top-5 in the 2nd Red Bull.
"Every time we are bringing something on the car, it is working," said a happy Leclerc. "It's going to be an interesting race, we haven't done any high fuel runs yet. We'll have to take care of the tires."
Ferrari looked to have made a big stride in FP3, with both drivers looking quick. When it mattered, Vettel missed out but the German is set to start 11th at his home race and thus has free tire choice at his disposal.
Leclerc though managed to grab fifth and as Lando Norris put it, "that isn't a surprise to us, they are great through the corners."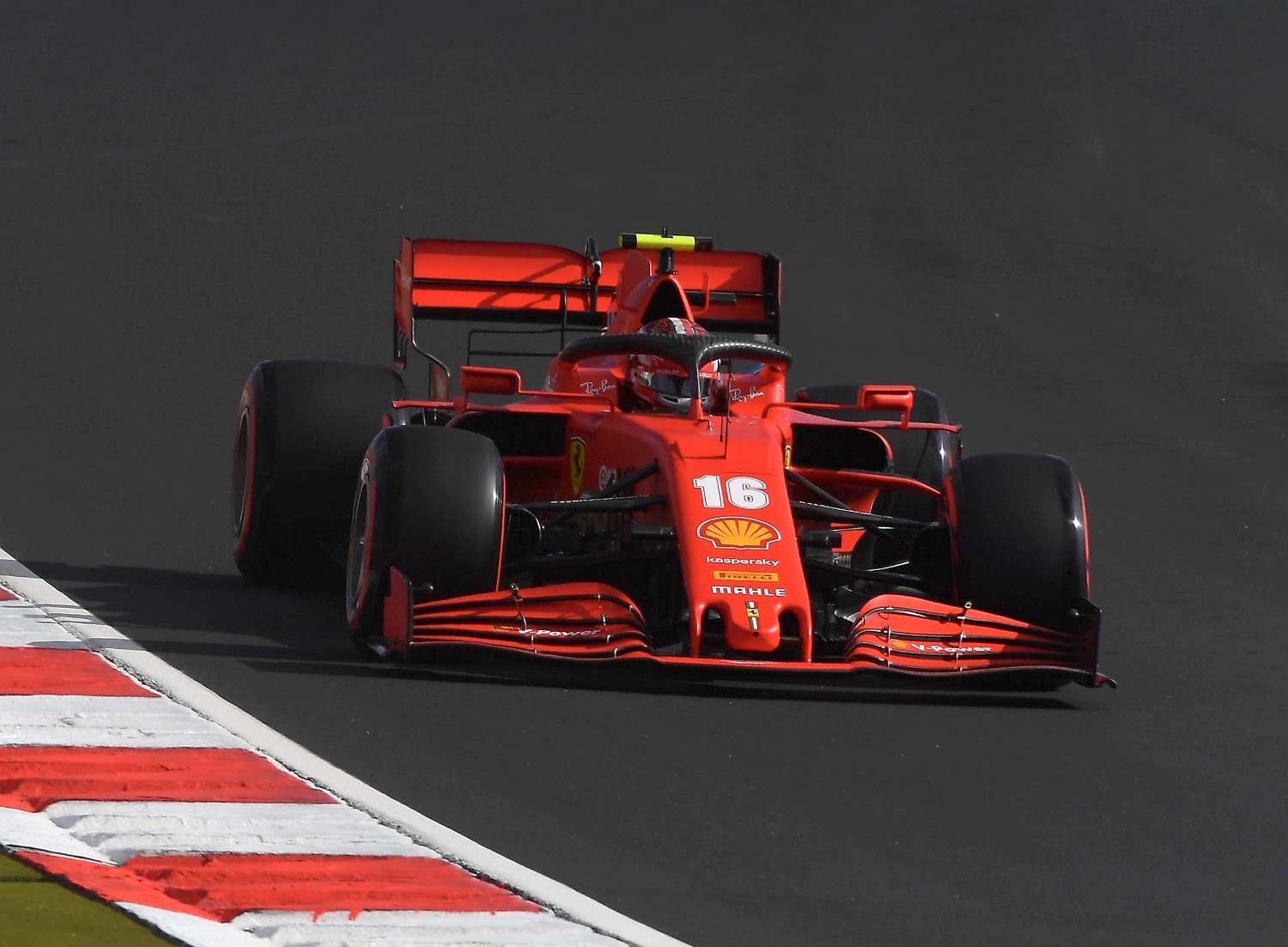 The Nurburgring doesn't have the big long straights of some more modern tracks – and it is those straights that have been hurting Ferrari, given they are down on power. Could Leclerc make a big impression tomorrow? He's been in the points in the last couple of races – but that last podium was seven races ago.
Nico Hulkenberg, who filled in at Racing Point for a sick Lance Stroll, with zero practice time, was dead last.
Quotes
Mercedes AMG Petronas Motorsport
Valtteri Bottas (1st, 1:25.269): "It feels great to be on pole position here and I really enjoyed that session. It's such a nice feeling when you get it with your last chance in Q3. That final lap was spot on. I was struggling a little in the first sector beforehand, but I managed to get it right in the end. Obviously, it was pretty tricky with just one practice session and the cold conditions, so getting the tires in the sweet spot on the outlap was really important and I managed to get them in the window. It's a new day tomorrow and is going to be an interesting race, especially with the lack of running we've had here and the temperatures. I've only got one goal for tomorrow, so hopefully I can have a good start and we'll see what happens from there."
Lewis Hamilton (2nd, 1:25.525): "This is an amazing circuit and it's great to be back here, but it just wasn't my day today. The car felt good in Q2 but in Q3, I lost a little bit of pace so we'll look through the data to see where I could find more time. Valtteri did a great job out there so congratulations to him. I think there will be lots of opportunities in tomorrow's race, we'll need to see what happens with the weather and what the temperatures are like. How the tires behave will be crucial, as will the start and if there are any Safety Cars. It's still all to play for, so I'm looking forward to tomorrow and I'll get my head down tonight to make sure we're in the best shape possible."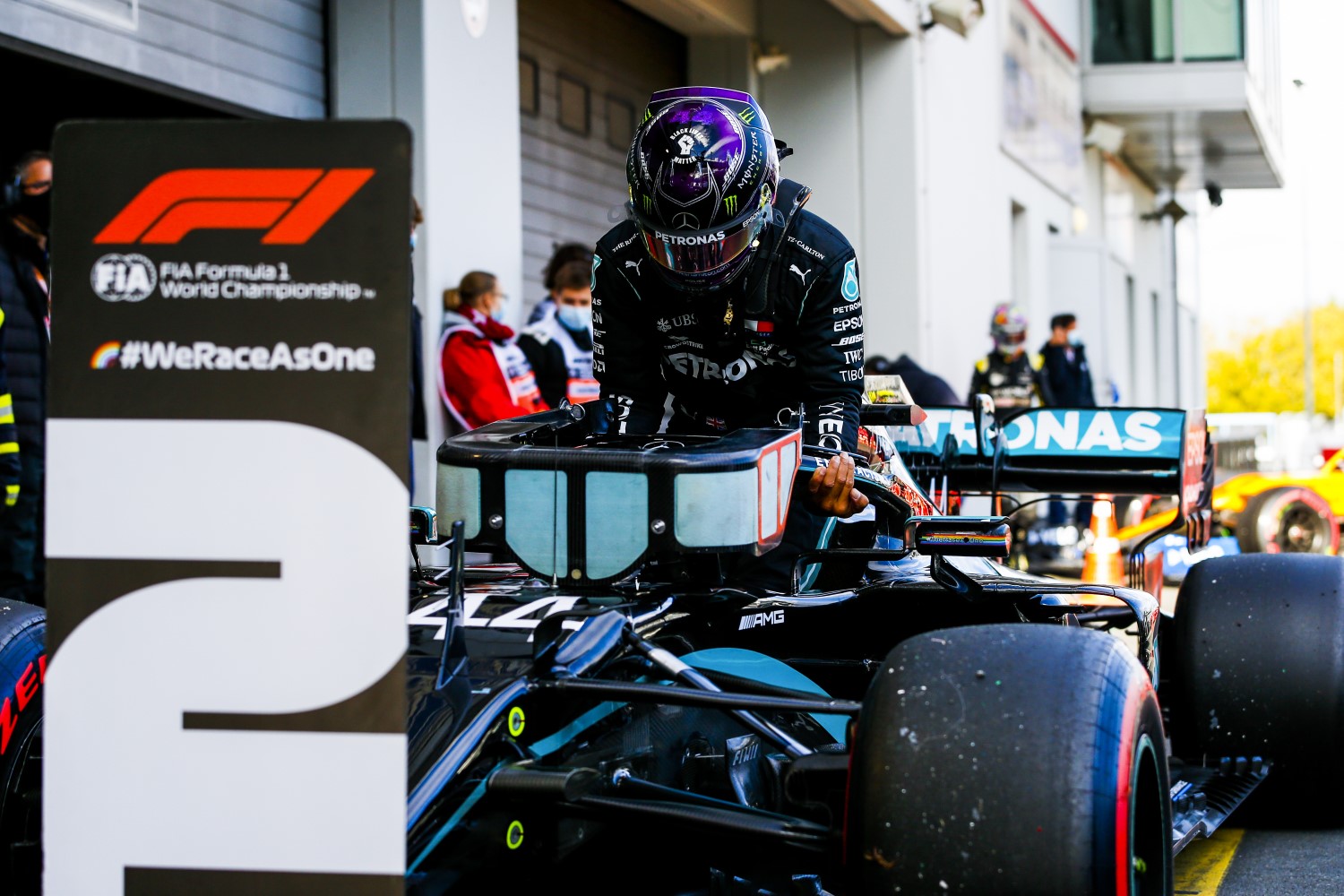 Toto Wolff, Team Principal: "We couldn't ask for much better than a one-two on the grid at the Nürburgring, in the Baltic temperatures that we are all experiencing this weekend. It was very close with Max and at some stages during that Qualifying session, it looked like they may have had the edge over us. But it was a perfect performance from Valtteri around here, he did a brilliant job to secure pole position for tomorrow and Lewis wasn't far behind to lock out the front row. It puts us in a good position for the race, but there are still some unknowns due to the limited running we've had and these cold temperatures. So, that should make tomorrow a fun race and I'm excited to see how it plays out."
Andrew Shovlin: "Well done to Valtteri for a great pole lap, he certainly saved his best till last. It's great to be able to start with both cars on the front row. Lewis was putting in some really strong laps earlier in the session, but like Max, his best was in the second session and he wasn't finding the same grip when it really mattered in the final session. It's been a busy day for us; the morning programme was pretty packed with a mix of long runs at high fuel and low fuel work. Both drivers were happy with the car balance, but the cold conditions were making it quite a challenge to generate the tire temperature we need on a single lap. That remained one of the factors in Qualifying that was causing the pace to jump up and down a bit. The race itself will be a bit of a voyage of discovery, we don't know how fast our competitors are on a long run and we don't really know how the tires will perform. The Soft at least seemed to hold up pretty well this morning, so we're happy to be starting the race on it but we'll be looking at degradation during the first stint to understand whether it's a one or two-stop race."
Scuderia Ferrari
Charles Leclerc (4th, 1:26.035): "This qualifying result is possibly better than we expected, especially in these cold conditions, but we brought some updates here, which maybe made a small difference in the right direction, which is nice to see. I am happy about the way we are working and how things went today. I quite liked the fact we had just one FP session and went straight into qualifying. We made the most of the situation, even if we don't have much information about the long runs with high fuel. Especially in Q3 there was quite a strong wind, which made the car unpredictable. For tomorrow, we are all a bit in unknown territory, but one thing I know is that it'll be important to manage these soft tires because they are pretty difficult in terms of graining. It's going to be a tricky race but that's what makes this weekend interesting."
Sebastian Vettel (11th, 1:26.738): "I tried everything, but I was really struggling with the car in the first sector and I was sliding a lot. It was a shame that we couldn't make it to Q3 even if I was feeling ok in the car and I think the pace was decent. I hope that with the free choice of tires, we will have a bit more luck tomorrow. I only ran the upgrades in the afternoon, as we had very little free practice time and therefore had to make a comparison using the two cars running different configurations, but I don't think they made a big difference. Today I'm happy for the fans because the weather was better and they finally were able to see some cars on track."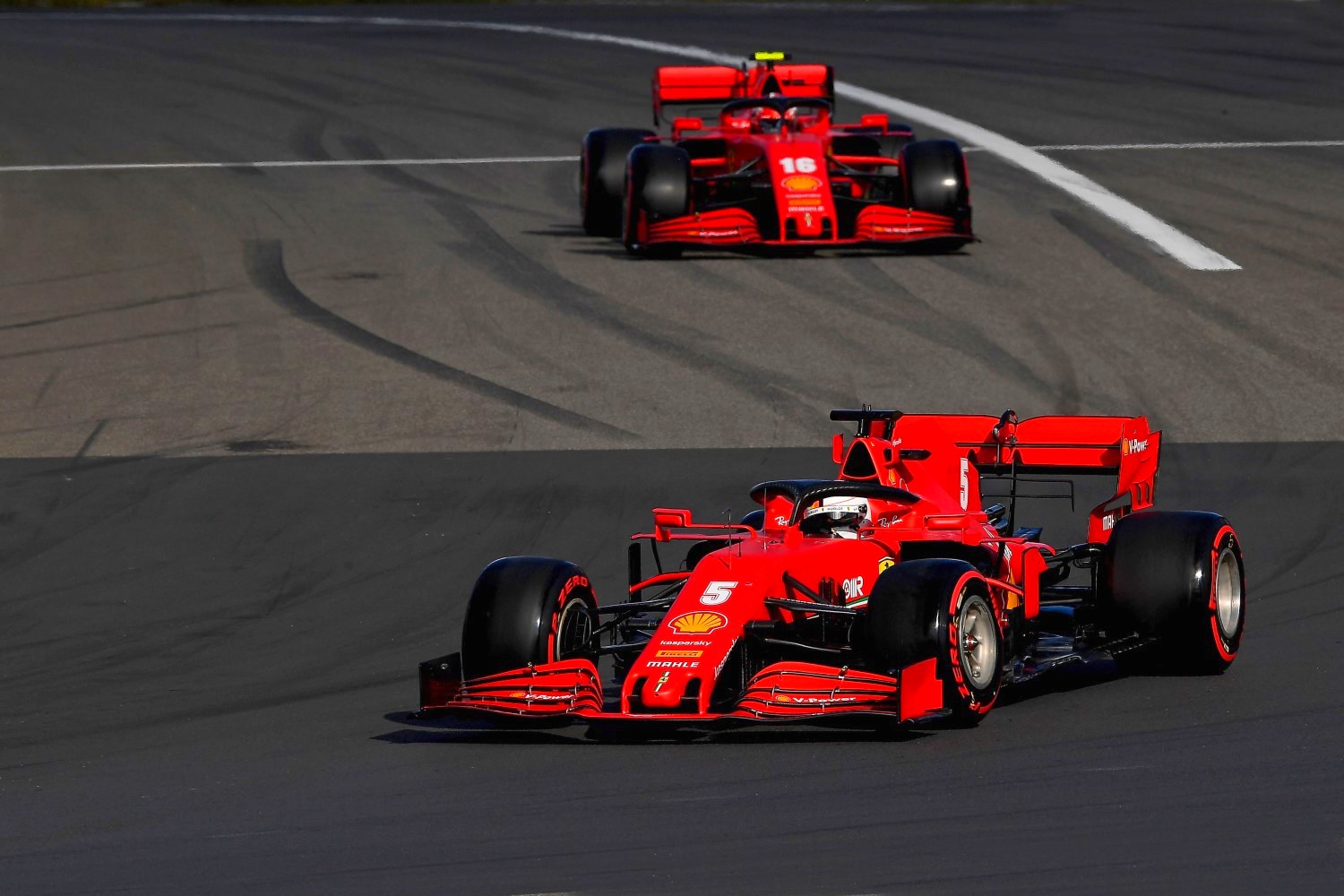 Laurent Mekies, Sporting Director: "This was our best qualifying since the mid-point of the season, not just in terms of the result, but also because of the overall performance. Charles did a fantastic job: he was soon at ease with the track and got consistently quicker, ending up equalling his best Saturday performance of the season, getting everything out of his SF1000. Sebastian struggled a bit and could not make the cut out of Q2, but at least he gets a free choice of tire for the first stint of the race. The minor updates we brought here and two weeks ago in Sochi have given us a bit more performance: nothing exceptional but when the gaps are so small, it doesn't take much to make a significant difference. The most important thing is that all these developments indicate that all the hard work taking place in Maranello is going in the right direction, which is a good thing for the final part of this season but especially for the next one. The outcome of tomorrow's race is even more uncertain than ever, as all the teams have far less data than usual, given that it's the first time in seven years that we have raced at this very nice track, added to which is the fact there was no running yesterday due to bad weather. Today's result means we can go for different strategies with our two drivers and we will try to make the most of any opportunity. Finally, I'd like to congratulate our reserve driver, Antonio Giovinazzi who secured his best qualifying result of the season, which is no doubt a welcome confidence boost for him."
Red Bull Racing
Max Verstappen (3rd, 1:25.562): "Today has been a good day and we can be happy to be on the second row of the grid. It was an interesting qualifying and after missing both practice sessions yesterday, it was busy for everyone today but overall I think it was positive. The car has been handling well and everything is a bit more stable. I felt quite comfortable but of course there are always a few balance areas you want to improve. In Q3 when it really mattered, I just started to understeer a bit too much and when it's so cold, you grain the front tires and just eat up the rubber so that cost me a bit of lap time. I think we are closing in on Mercedes which is positive and what we're working towards. We are usually closer to them on Sundays and tomorrow it will be even colder so it will be interesting to see what the tires do and how they're going to behave. It's a fun track to drive and tomorrow is a bit of a question mark for everyone but hopefully it is going to be exciting."
Alexander Albon (5th, 1:26.047): "I'm quite happy with my qualifying lap but there are still areas to improve. Even though we haven't had much time to practice, straight away the car was feeling hooked up. I've been enjoying this two-day format, it feels like F2 and F3. Obviously it would have been nice to have been in front of Charles, he did a good lap, but we got pipped right at the end. P5 is not a bad place to start and we can fight from there. We obviously have the two Renaults behind us so it won't be easy, we'll have to get our elbows out for Turn One! The real challenge will be when we start the long runs as we haven't had much practice for that. We'll see how it goes with the weather and there are plenty of opportunities to score some good points."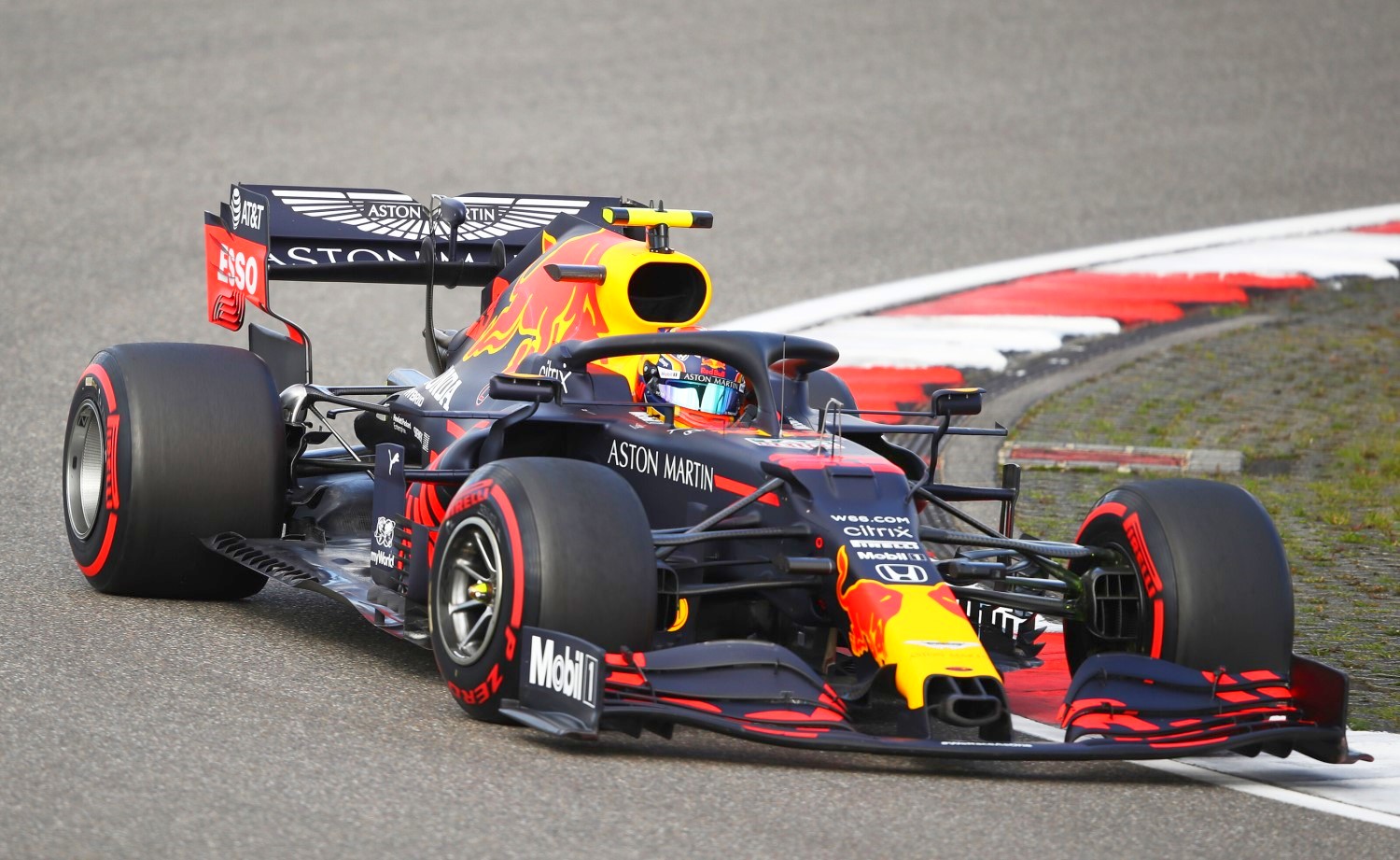 Christian Horner, Sporting Director: "Lining up third and fifth with Max and Alex for tomorrow's Eifel Grand Prix is a solid result which provides us with opportunities for the race. After losing all three hours of track action yesterday due to the poor weather, it was important to hit the ground running today, especially in these cold and tricky conditions, but Max and Alex were right there come qualifying. It is obviously encouraging to see our gap to Mercedes decreasing on Saturdays and the factory have been working hard to provide us with updates to bring to the track each weekend. Alex displayed another solid Saturday as he continues to better understand the car and it looked like a second row lockout had Leclerc not just pipped him at the very end of the session. It's game on for tomorrow as both drivers aim to take the fight to Mercedes in what look like challenging weather conditions."
Renault Sport Formula One Team
Daniel Ricciardo (6th, 1:26.223): "I'm happy enough with today's qualifying and sixth is a good starting position for us. It was a fun Saturday with a packed practice session and then a hectic qualifying. Everyone was on track at a similar time, so it was quite enjoyable. It's not the best preparation, but we know the car well enough and we'll figure it out for tomorrow. We know it will be close in the race, but I'm excited and I think we can be up there and aim for a top six finish. We'll see how the Soft holds up as it looks like it could be susceptible to graining. If it's dry or wet, it should be an interesting race and sixth isn't a bad place to be on the grid."
Esteban Ocon (7th, 1:26.242): "It was a good qualifying for us today, especially after just one practice session. I'm happy with seventh. We had very limited knowledge on the track after not driving yesterday and just the one session today. We put the car into qualifying and it performed really well from Q1, and I'm pleased with that. We're jumping into the unknown tomorrow as I only drove the Softs in practice and qualifying today. We'll see how the tires handle in the race and how long they last. We'll see how it goes but we're in a good position to score some good points for the championship."
Alan Permane, Sporting Director: "We're happy with that qualifying result. Sixth and seventh, ahead of our immediate championship rivals, gives us a very strong basis for the race. It's been an unusual weekend so far, with an amended programme today following the lack of running yesterday. We did some tire work in FP3 and we will of course be keeping one eye on the weather, even though we are expecting it to be a dry day. Overall it's been a positive start to this shortened weekend and are looking forward to a good race tomorrow."
Haas F1 Team
Kevin Magnussen (15th, 1:27.125): "I think we got the best out of the car in qualifying. It looked quite strong in Q1 but then other people found quite a bit more lap time than we seemed to. Ultimately, we fell back to our P15 spot again in Q2, but that's where we are, and we'll continue to try and do better. We'll try and do a good job tomorrow. This race weekend has been a bit odd so there could be some opportunities."
Romain Grosjean (16th, 1:27.552): "The track was good, it's a mega track to drive, it's a pleasure. Obviously with our car, we know we need to be flat out from the first lap in Q1 to be able to move into Q2. Sadly on the second set of tires, on my first lap I over did it and on the second I got traffic – so that was it. It's a bit of a shame but we'll do better tomorrow. I think the unexpected is our best chance in the race."
Guenther Steiner, Team Principal: "It was good to go out there today in FP3, which was really FP1 – however you want to call it, but it went well and we ran our program. We prepared as well as we could for qualifying. We almost achieved getting both cars into Q2. Unfortunately Romain (Grosjean) was a little bit over the line and his best time was disqualified. We got one into Q2, and at the least that's what we try to do. It's hard work. I appreciate how hard everybody works to achieve that little bit of success."
McLaren F1 Team
Lando Norris (8th, 1:26.458): "I think today was as good as we could do really. We weren't quick enough to make further improvement, so I think we maximised our performance – even if P8 is a bit disappointing. The car was feeling relatively good and we have a better feeling than we did in Sochi, which is the main thing. We thought we would have a little bit more in the bag for qualifying, but we didn't. Overall, not a bad day – the car feels relatively good – but tomorrow's going to be tricky due to the weather, so we'll see what we can do."
Carlos Sainz (10th, 1:26.709): "A very challenging Saturday for us – mainly because yesterday we didn't have the time to test the new package I'm running this weekend. FP3 was not enough to fine-tune the set-up properly and qualifying was a struggle. I did improve through the session, but I haven't felt like we've put the car into its optimal window yet. We need to look carefully into it because the other car seemed to extract a bit more from the other spec, so the target is to optimise the new parts as soon as possible. Hopefully we'll get there with more running. The points are tomorrow and we could have an interesting race due to the weather changes, so we'll keep an eye on the sky."
Andreas Seidl, Team Principal: "Quite a challenging Saturday today after a lack of time on track yesterday to test new parts. The focus of the only free practice session this morning was on giving the drivers as many laps as possible to get used to driving an F1 car on this track for the first time. In parallel, we introduced further aerodynamic updates on Carlos' car, but with the limited running we weren't able to optimise them yet. Finding this next step in performance is what we are looking for at the moment. Qualifying went pretty much as planned, progressing through the sessions finishing in P8 and P10, which reflects where we are right now in terms of performance and puts us again in a good position to fight for points. With the lack of Friday practice, we didn't do any long runs here at the Nürburgring which means we go a bit into the unknown tomorrow. Looking forward to another exciting race."
Racing Point F1 Team
Sergio Perez (9th, 1:26.704): "It was a tough day for the team. Not only did we have the Friday washout affecting all the teams, but we were without Lance and that limited what we could learn this morning in practice. I definitely think there was more on the table in qualifying because we didn't have another set of softs for Q3 to make a second run. But the positive is that we secured a top 10 starting position for the race tomorrow. It's going to be a race of unknowns, so if we have some good luck at the start – we can still aim for a strong result. I also hope Lance feels better and we have him back in the team soon. Nico did an excellent job in jumping into the car without any practice and getting familiar with the car and team again in a short amount of time."
Nico Hulkenberg (20th, 1:28.021): "Well, that was one for the storybooks! It's certainly been an interesting Formula 1 season. I got the call from Otmar at 11am: I was sitting with a friend having a coffee! I then ran to the car and got here as quickly as I could! I did the required COVID testing and I probably had around 40 minutes with the engineers before jumping into the car for qualifying. Obviously, the result wasn't amazing, but I had fun and I learned a lot of useful information. I know the track, but it's been a while since Formula 1 has raced here – and the RP20 has evolved a lot since I drove it at Silverstone too. I had to go out there and learn the car, feel the grip levels, and then find the limit as quickly as I could. To do all that in just a few laps is a big ask, but it's good experience for the Grand Prix. We'll let all of that sink in and come back tomorrow, go racing and give my best in this very unexpected home race!"
Otmar Szafnauer, Chief Operating Officer: "It's been an incredibly busy and challenging day. Lance was taken unwell this morning and we took the decision not to run him for the rest of the weekend. He's under the weather, but not showing symptoms to suggest COVID-19, but it was sensible to give him time to recover to full health so he can be ready for the next double-header in Portugal and Imola. Fortunately, Nico was in nearby Cologne and was able to easily step in for Lance. He was the logical choice given that he drove for us at the Silverstone races. He was always going to face a mammoth task to progress beyond Q1 because his first laps back in the car were during qualifying. With Checo, we had a pretty routine session, progressing to Q3, and ended the session P9. With such limited running for all the teams, there is little data, and so it will be a bit of a step into the unknown tomorrow. I'm confident we can still score some good points."
Alfa Romeo Racing
Antonio Giovinazzi (14th, 1:26.936): "I am really happy with what we did as a team. It's the first time we make it to Q2 this year, something I really wanted, and to do it in such challenging circumstances, with only one hour of practice and on a track I never drove in full before, is special. The car felt quite good from the beginning, so we can be confident we can put up a fight tomorrow. We expect the conditions to be difficult with the weather, but we will give it a good shot. Today we got the maximum we could, tomorrow we will give everything and hopefully bring home a good result."
Kimi Raikkonen (19th, 1:27.817): "I can't be happy with 19th but it's what we got. We just didn't have the speed to get more out of those three laps we did: they were not the greatest laps and there was nothing obviously wrong with how the car felt, but we expected more. We've got to do a better job tomorrow: we will try to make some progress, for sure, and see what we can do."
Frederic Vasseur, Team Principal: "First of all, congratulations to Antonio for a good qualifying session. He delivered a really good lap when it mattered and it's really nice to see him in Q2 for the first time this season. Unfortunately, it was a bit of a day of two halves for the team, as we lost Kimi in Q1, which is a disappointment after some promising signs in FP3 this morning. We have always said that we have to do a good job on both Saturday and Sunday to be in the fight for the top ten and this doesn't change here in Germany: we have a car in P14, one that needs to make up a bit more ground, but we will go out tomorrow to deliver a good race and see if that is enough to bring home some more points."
Red Bull AlphaTauri Honda
Pierre Gasly (12th, 1:26.776): "It's a bit disappointing to be only P12 today, but we knew it was going to be a difficult weekend and after FP3, I didn't feel like we managed to get the car in the right window. We tried to make some small changes in Quali and it improved, but ultimately not enough to really fight with our rivals, who were just faster today. We need to review what we could have done better, but on the positive side we have free tire choice tomorrow, so I'm quite confident we can have a strong race. Starting from P12 we'll try to do something different with our strategy which can hopefully play in our favour, so I'm excited about tomorrow's race."
Daniil Kvyat (13th, 1:26.848): "It was quite cold out there! We had to analyse everything very fast after FP3 to try and understand the best setup in these conditions – also the driving lines. I liked the challenge, it was quite enjoyable. Unfortunately, we didn't have excellent pace today, it was just OK. Having said this, I'm pretty happy with my lap as there wasn't much more on the table today, and the gap to Q3 was a bit bigger than normal. As for tomorrow, there is always a chance for points because we usually perform better in the race than in Qualifying, so hopefully it will be a good one here at the Nürburgring."
Jonathan Eddolls, Chief Race Engineer: "Yesterday's lack of running made FP3 very busy, but it was good preparation for Imola in a few weeks. We needed to try and learn more about the tires and complete our Qualifying preparation, as well as the other work to get the car in the optimum window, like brake cooling and getting the PU temperatures in the correct working range. This was all made more difficult by the fact we haven't been to this track since 2013, so it was a busy yet exciting session. We started off by going straight into the long runs, we split the tires across the two cars with Dany on the Option and Pierre on the Prime, just to understand the performance of the two in these very cold temperatures. We had concerns on the graining, particularly on the Option tire, but it didn't seem like a drama and the performance on the long run looked reasonable. Then we did our two low-fuel Qualifying preparation runs, tuning the balance between each run. We were quite limited on time, so we couldn't do as big a change as we would normally on a Friday, but the performance was looking good. Heading into Qualifying, we felt we could have potentially got a car into Q3, but unfortunately, even if both drivers did a good job given the circumstances, we didn't quite have the pace. However, we were very close to P11 in the end, and starting just outside the top 10 with a free tire choice gives us some potential advantages for the race tomorrow."
Williams Racing
George Russell (17th, 1:27.564): "I am a little bit disappointed; I think Q2 was possible if we had put everything together. It was tough in these cold conditions; the tires are really difficult to get working. In FP3 they were working well, and the car was feeling great, but I couldn't get the same feeling in qualifying. That was a shame as we were so close to Q2 and I think we had the potential today. In ordinary circumstances we know exactly where we are so I am really excited for what the weather may bring tomorrow, hopefully it will be mixed and create a bit of chaos. It will be an interesting race and I am ready to fight tomorrow."
Nicholas Latifi (18th, 1:27.812): "I think Q2 was achievable today. I wasn't completely happy with my laps on my second and third sets of tires. They were a bit messy with some snaps here and there that hurt the laptime, so I am a bit disappointed on that front. We made some sizable changes from FP3 to qualifying to get the balance more in the window, which I feel we did. I think tomorrow will be interesting regardless, it could be mixed conditions, so I am very much looking forward to it."
Dave Robson, Senior Race Engineer: "After a frustrating day on Friday, it was good to get out of the garage today. The track was busy throughout FP3 as everyone condensed their usual programmes into 60mins of running. We had a productive session and believe that we have got the car into a good window for the race tomorrow. Qualifying was a little disappointing as the car had the pace to qualify for Q2, but we couldn't quite put the lap together, missing the cut-off by around half a tenth. We are now in a battle to get ahead of the Haas cars early in the race and hope that something in front of us unfolds to allow us to make some extra places. The cold and possibly damp conditions tomorrow should help produce an interesting race and there is still a lot to play for this weekend."
Eifel GP Qualifying Results
| | | | | | | | |
| --- | --- | --- | --- | --- | --- | --- | --- |
| POS | NO | DRIVER | CAR | Q1 | Q2 | Q3 | LAPS |
| 1 | 77 | Valtteri Bottas | Mercedes | 1:26.573 | 1:25.971 | 1:25.269 | 19 |
| 2 | 44 | Lewis Hamilton | Mercedes | 1:26.620 | 1:25.390 | 1:25.525 | 18 |
| 3 | 33 | Max Verstappen | Red Bull Racing Honda | 1:26.319 | 1:25.467 | 1:25.562 | 15 |
| 4 | 16 | Charles Leclerc | Ferrari | 1:26.857 | 1:26.240 | 1:26.035 | 18 |
| 5 | 23 | Alexander Albon | Red Bull Racing Honda | 1:27.126 | 1:26.285 | 1:26.047 | 15 |
| 6 | 3 | Daniel Ricciardo | Renault | 1:26.836 | 1:26.096 | 1:26.223 | 18 |
| 7 | 31 | Esteban Ocon | Renault | 1:27.086 | 1:26.364 | 1:26.242 | 20 |
| 8 | 4 | Lando Norris | McLaren Renault | 1:26.829 | 1:26.316 | 1:26.458 | 18 |
| 9 | 11 | Sergio Perez | Racing Point Mercedes | 1:27.120 | 1:26.330 | 1:26.704 | 17 |
| 10 | 55 | Carlos Sainz Jr. | McLaren Renault | 1:27.378 | 1:26.361 | 1:26.709 | 20 |
| 11 | 5 | Sebastian Vettel | Ferrari | 1:27.107 | 1:26.738 |  – | 16 |
| 12 | 10 | Pierre Gasly | AlphaTauri Honda | 1:27.072 | 1:26.776 |  – | 16 |
| 13 | 26 | Daniil Kvyat | AlphaTauri Honda | 1:27.285 | 1:26.848 |  – | 16 |
| 14 | 99 | Antonio Giovinazzi | Alfa Romeo Racing Ferrari | 1:27.532 | 1:26.936 |  – | 14 |
| 15 | 20 | Kevin Magnussen | Haas Ferrari | 1:27.231 | 1:27.125 |  – | 16 |
| 16 | 8 | Romain Grosjean | Haas Ferrari | 1:27.552 |  – |  – | 10 |
| 17 | 63 | George Russell | Williams Mercedes | 1:27.564 |  – |  – | 9 |
| 18 | 6 | Nicholas Latifi | Williams Mercedes | 1:27.812 |  – |  – | 9 |
| 19 | 7 | Kimi Räikkönen | Alfa Romeo Racing Ferrari | 1:27.817 |  – |  – | 8 |
| 20 | 27 | Nico Hulkenberg | Racing Point Mercedes | 1:28.021 |  – |  – | 10 |