IMSA Charlotte Roval: Taylor, Telitz Each Collect Second Straight Pole of Season
Jordan Taylor and Aaron Telitz each made it back-to-back IMSA WeatherTech SportsCar Championship pole positions in qualifying today on the Charlotte Motor Speedway ROVAL. It remains to be seen if the GT drivers can turn it into consecutive race wins from the pole tonight.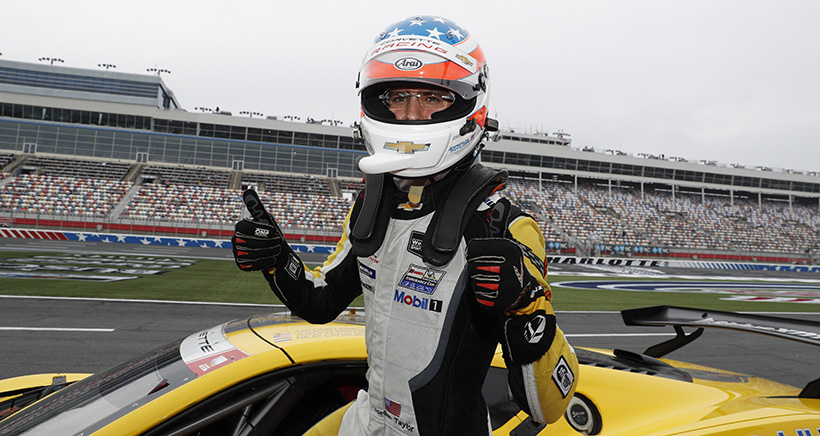 Taylor put the No. 3 Corvette Racing Corvette C8.R on the overall pole for the MOTUL 100% Synthetic Grand Prix in the GT Le Mans (GTLM) qualifying session on the 10-turn, 2.32-mile road course. In GT Daytona (GTD) qualifying that preceded, Telitz pushed the No. 14 AIM Vasser Sullivan Lexus RC F GT3 to the Motul Pole Award for his class.
The achievements marked the third pole position this season for each driver and second in a row, following the Acura Sports Car Challenge at Mid-Ohio two weeks ago. Both cars went on to earn class victories in the race at Mid-Ohio Sports Car Course on Sept. 27.
Taylor laid down the best lap of one minute, 14.278 seconds (112.442 mph) with just more than a minute remaining in a disjointed GTLM session that included a red flag after the No. 912 Porsche GT Team Porsche 911 RSR-19 made wall contact exiting the infield portion of the circuit that uses nearly all of the 1.5-mile, high-banked oval.
Taylor's effort was just enough to hold off Fred Makowiecki, who qualified was 0.056 seconds back in the No. 911 Porsche.
"It was a stressful session," Taylor admitted. "I think everyone was kind of waiting, knowing that it was only going to take a couple of laps to really maximize the tires and then you have a small drop-off.
"Then the red flag came out on our first timed lap, so it was very poor timing for us. … I think no one really knew what they had going back out. I think our car performed really well, the car really came alive. It's been good all weekend, no matter if it's dry or wet. Whatever the race brings tonight, we should be in good shape."
Taylor and co-driver Antonio Garcia are looking to expand their 17-point lead in tonight's race (8 p.m. ET, NBCSN) over teammates Oliver Gavin and Tommy Milner in the No. 4 Corvette. Bruno Spengler and Connor De Phillippi, driving the No. 25 BMW Team RLL BMW M8 GTE, qualified third and sit third in the GTLM standings, 22 points in arrears of the No. 3 Corvette.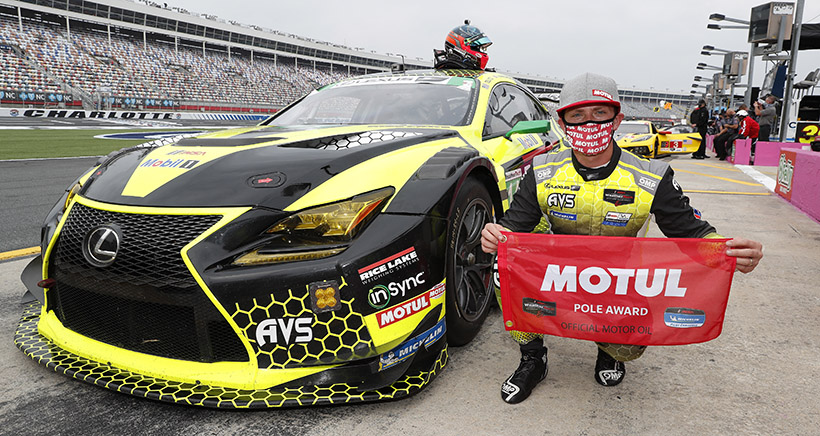 Telitz won the GTD pole with a harrowing final lap of 1:17.954 (107.139 mph) that included a brush with the outside wall as he crossed the finish line. Regardless, it held up by 0.123 seconds over Robby Foley in the No. 96 Turner Motorsport BMW M6 GT3.
As in GTLM qualifying, the GTD session included a red flag when the No. 57 Heinricher Racing with MSR Curb-Agajanian Acura NSX GT3 clipped the wall and sustained damage.
"That was the toughest qualifying session I've had in a while with that red flag coming out halfway through and then having to go back out and try to get the Michelin tires to turn back on there," Telitz said. "I pushed as hard as I could with all we had. I even put some love stripes down the right side of the car coming down to the checkered flag on the last lap to get pole."
Telitz trails No. 86 Meyer Shank Racing with Curb-Agajanian Acura drivers Mario Farnbacher and Matt McMurry by three points in the GTD standings. Jack Hawksworth, teammate of Telitz in the No. 14, is five points behind the No. 86 duo.
The forecast is calling for a 50 percent chance of rain tonight. It adds to the uncertainty of a race that is already unusual because it's the shortest on the schedule (100 minutes), the first IMSA race in Charlotte in 20 years and first time ever on the current ROVAL configuration.
"If it's dry, it's going to really come down to strategy and pit stops," Telitz said. "Passing on track is going to be tough if it's a dry race. If Mother Nature throws us a curveball and it's wet, I think it's wide open.
"Either way, it's going to put on a show."