IMSA: Garcia beats Edwards to win wet and wild Roval race
Antonio Garcia and Jordan Taylor's charmed season continued Saturday as they claimed another victory in the IMSA WeatherTech SportsCar Championship with a victory in their No. 3 Mobil 1/SiriusXM Chevrolet Corvette C8.R at Charlotte Motor Speedway Roval.
Garcia passed John Edwards for the lead with 21 minutes left and held on despite a late-race caution on a tricky and treacherous night at the Roval – the first time for Corvette Racing at the venue.. The duo extended their GTLM Drivers' Championship lead to 24 points over their Corvette Racing teammates Tommy Milner and Oliver Gavin, who finished fourth in the No. 4 Corvette C8.R.
Chevrolet also saw its lead grow in the Manufacturers standings to 14 points.
Garcia and Taylor have now won five of eight races this year and four of the last five in the first year of the mid-engine Corvette C8.R. Taylor began on pole position Saturday for the second consecutive race, but conditions were much different at the green flag with a steady rain having pelted the track since mid-afternoon. The first 16 minutes featured two full-course cautions, and both Corvettes came in at 20 minutes running for fuel, tires and driver changes – Taylor to Garcia and Gavin to Milner.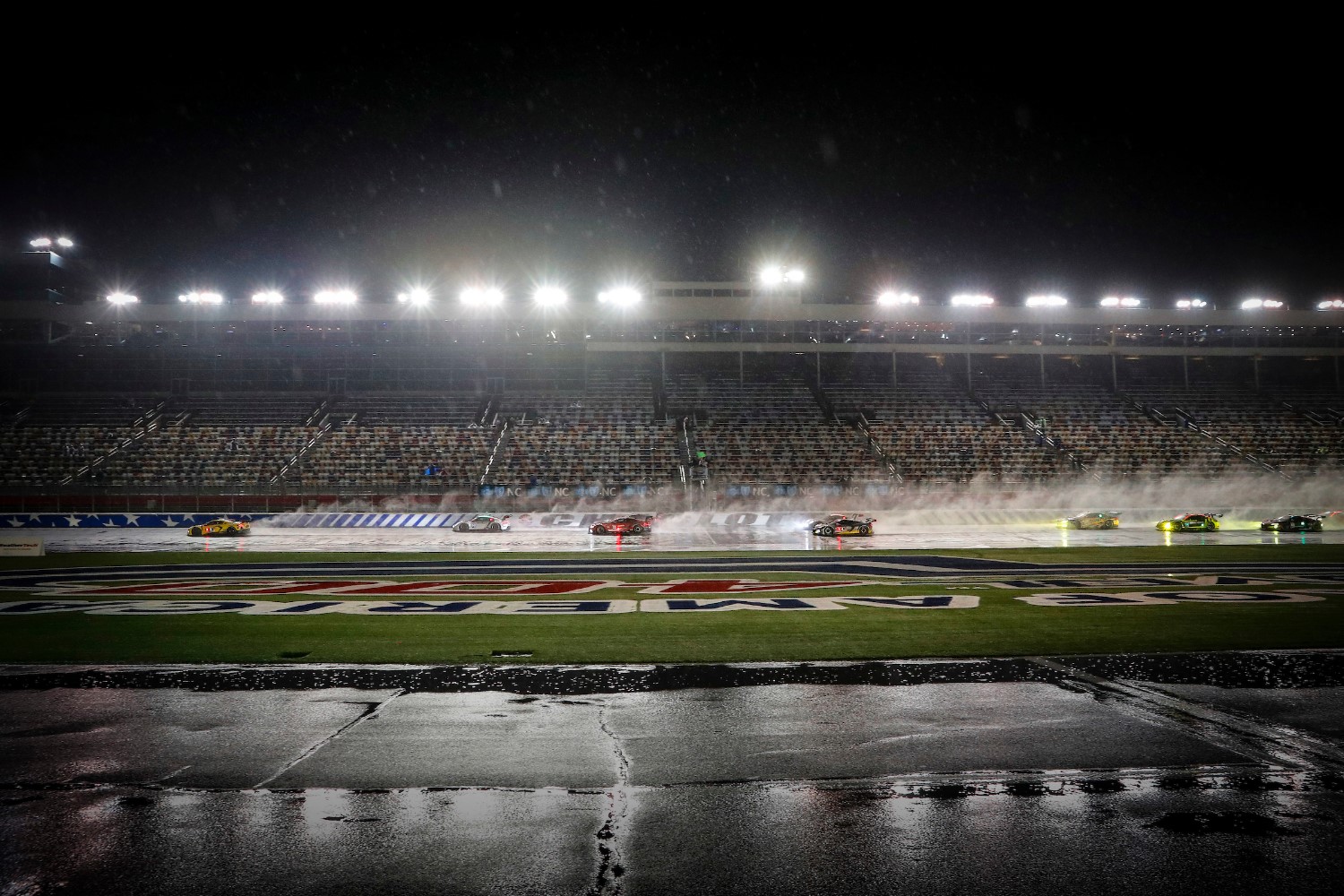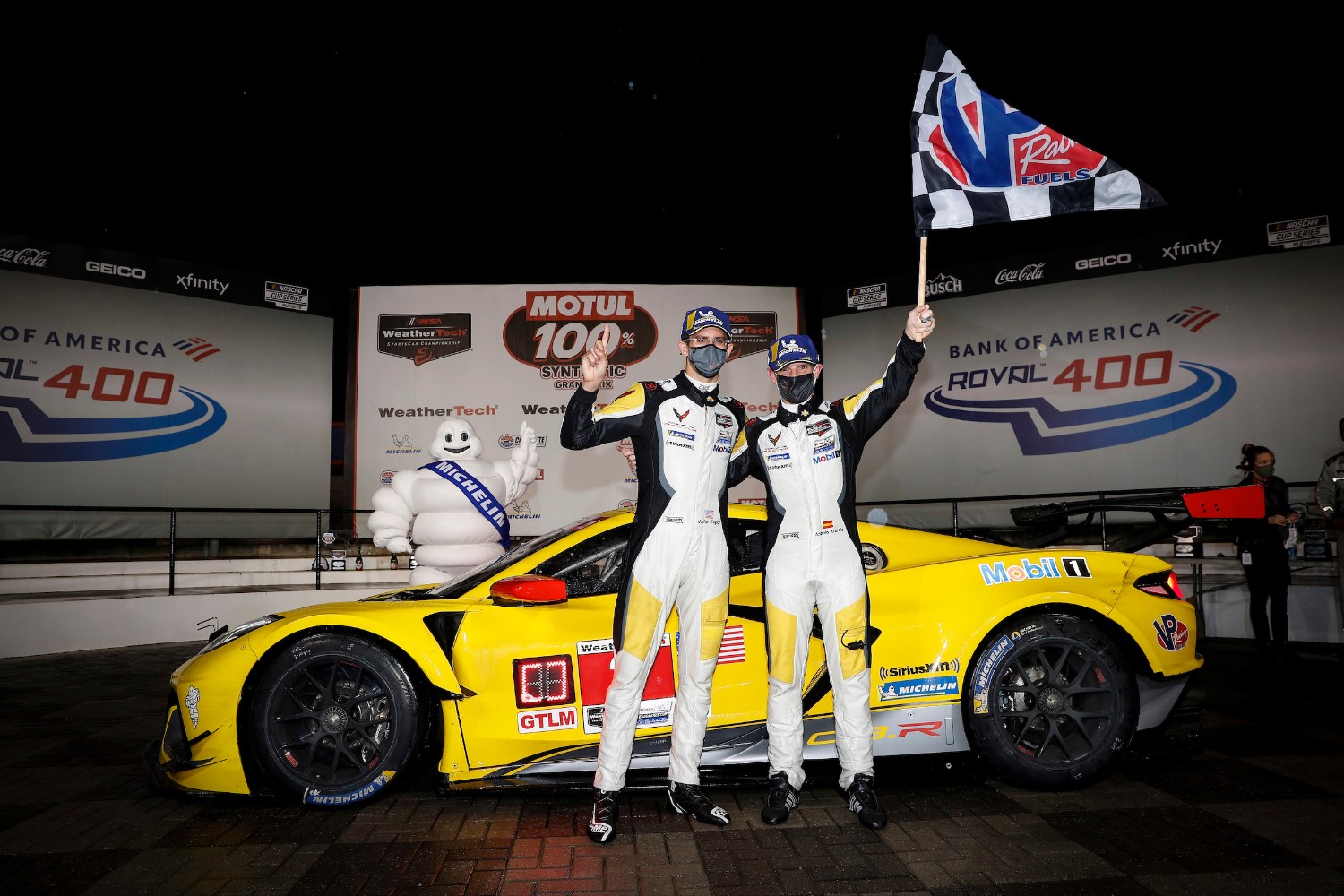 A high-speed crash by Tommy Milner in the No. 4 Corvette in NASCAR Turn 4, resulted in a six-minute shootout to the finish, with the positions up front remaining unchanged.
It marked Garcia and Taylor's fifth class win of the season, extending their points lead to 24 points over Milner and co-driver Oliver Gavin.
"That's a perfect, magnificent car out there," Garcia said of the mid-engine Corvette C8.R that debuted in competition this year, "and I'm glad to be driving for the best team out there – and winning."
BMW Team RLL claimed a pair of GTLM podium positions with the No. 24 driven by Bruno Spengler and Connor De Phillippi finishing third.
The WeatherTech Championship race for the two GT classes started an hour late – under the lights at 9:05 p.m. ET – after the NASCAR Xfinity Series race that preceded ran long after being red-flagged for heavy rain and pooling water on track. Taylor started the WeatherTech Championship event on pole but was passed for the lead soon after by Jesse Krohn, who willed the No. 24 BMW from fourth to first in the opening four laps under the most difficult conditions.
Garcia replaced Taylor in the No. 3 Corvette on an early pit stop during a full-course caution and drove the final 80 minutes without a break. He bided his time for almost an hour before completing the winning pass on Edwards where the track exits the tight infield section onto the first turn of the high-banked oval.
"As soon as I saw that they were struggling a little bit on tires … I just went for it," Garcia said. "I don't know if it was a risky move or not. I wanted to win the race and as soon as I saw the opportunity, I went for it. And then as soon as I passed, just head down and tried to open a gap, and it worked."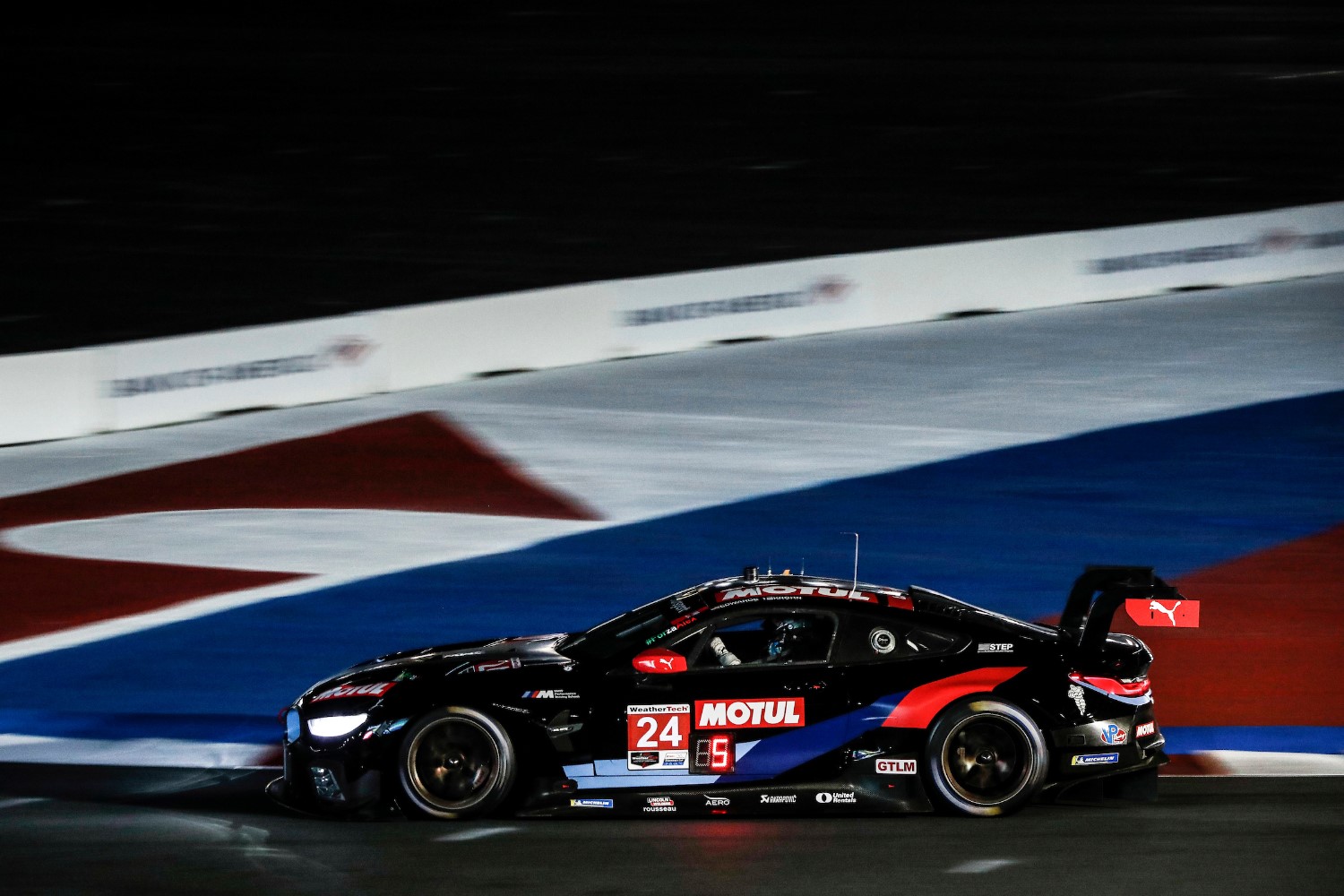 The Spaniard insisted it was anything but smooth sailing as he hounded Edwards before making the deciding pass, while also holding De Phillippi at bay in the No. 25 BMW.
"It was super, super stressful," Garcia said. "Even if it felt like I was just following, I was hanging (it) out and I almost crashed like everybody, I believe, like four or five times. … Once we got into the pace and into the rhythm, the track improved, for sure. But also at the end, with (older) tires and it started to rain again, so it was very, very tricky again. And being in the wet and in the dark, it's very difficult to spot where the standing water is."
Taylor earned career win No. 26 with his 20-minute stint. The American was delighted that he and Garcia expanded their championship lead unofficially to 24 points over No. 4 Corvette teammates Milner and Oliver Gavin with three races remaining.
"Really awesome to maximize the points here when we didn't expect it," Taylor said, "so we can kind of go into the next three races and race for the win as well. Just another great day for Corvette Racing with the fifth win for us in the C8.R and sixth for the team."
On the flip side, the disastrous season for the Porsche GT Team continued Saturday. The Nos. 911 and 912 Porsche 911 RSR-19s each sustained damage after sliding into barriers in separate incidents within 10 minutes of the race's start. Both cars retired after completing a combined total of 12 laps. Coming off a 2019 season that saw Porsche claim the GTLM driver, team and manufacturer titles, the German marque is winless in 2020.
Turner BMW takes GTD win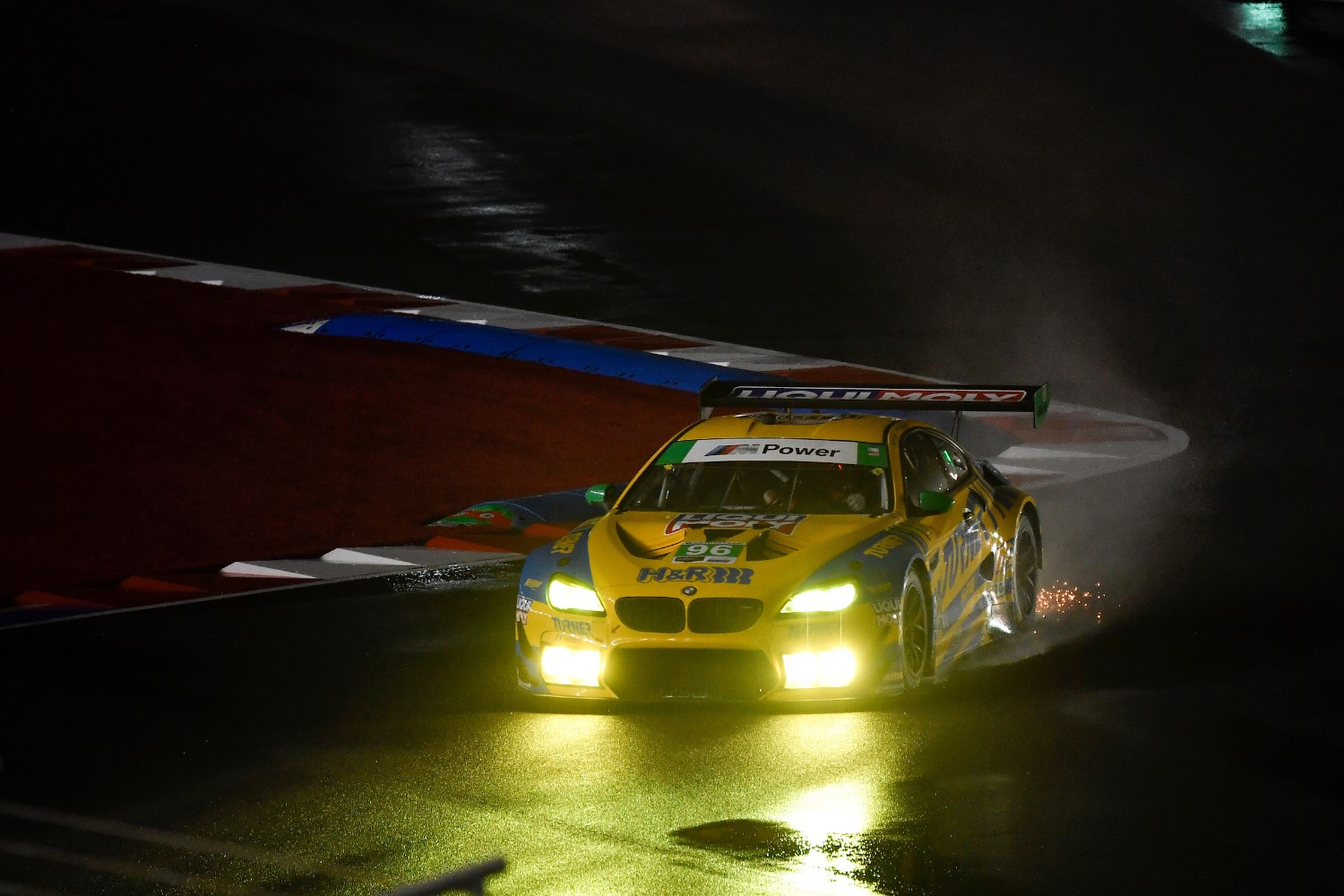 It didn't look easy to start with, but for the second half of Saturday night's MOTUL 100% Synthetic Grand Prix on a rainy Charlotte Motor Speedway ROVAL, the No. 96 Turner Motorsport BMW M6 GT3 and driver Bill Auberlen were in control of the IMSA WeatherTech SportsCar Championship GT Daytona (GTD) race.
Auberlen's co-driver, Robby Foley, started the race from second on the class grid, but the No. 96 fell victim to the treacherous conditions on the opening lap, when Foley tangled on the frontstretch chicane with the spinning GT Le Mans (GTLM)-class BMW driven by Bruno Spengler. It dropped Foley to second-to-last in the running order, but the No. 96 was plenty fast and he began carving his way forward throughout his stint before turning the car over to Auberlen just over 30 minutes into the 100-minute race.
"I think at the beginning it was sort of about keeping it out of the wall, which was easier said than done at the time," Foley said. "When we started, it was raining really, really hard. There was a lot of standing water, which our cars don't love so much because when the water gets sort of packed up, the car hydroplanes and you sort of lose control.
"So, I came through NASCAR Turn 4 (of the Charlotte oval), a couple cars did it before me, I managed to hit a puddle and just lost control immediately. Basically, the start was just about trying to sort of maintain pace and not making any mistakes, which I ultimately did. After that I sort of just settled in, tried to pick off one or two cars when I could."
By the time the pit-stop sequence was completed, Auberlen was up to third in the GTD class and closing fast. He made his way around Patrick Long's No. 16 Porsche and into second place with an hour remaining in the race. With just over 45 minutes left, Auberlen sped past Mario Farnbacher's No. 86 Acura on an oval portion of the ROVAL to take the lead.
Once he took over the top spot, Auberlen checked out, building an advantage of nearly 20 seconds. But it's never easy in rainy conditions, and the race's third and final full-course caution period when Tommy Milner's No. 4 GTLM Corvette crashed on the frontstretch eliminated Auberlen's lead.
"It was pretty much a flawless race until the very end, a yellow comes out," Auberlen said. "And I just couldn't believe it. It's like your heart falls. We knew we had a good car, and I knew the guy behind me was Pat Long. I've raced against him for many years. And he is not afraid to put a tire on your car to get to the front. I've had him do it many times. I was hoping he was going to be fairly nice."
The race was restarted with six minutes to go. Long made one attempt in Turn 1 just after the green flag flew, but Auberlen kept him at bay and crossed the finish line 1.497 seconds ahead. It was the second WeatherTech Championship win of the season for Auberlen and Foley – the duo also won August's Michelin GT Challenge at VIR – and was Auberlen's 62nd IMSA win, adding to his all-time record total.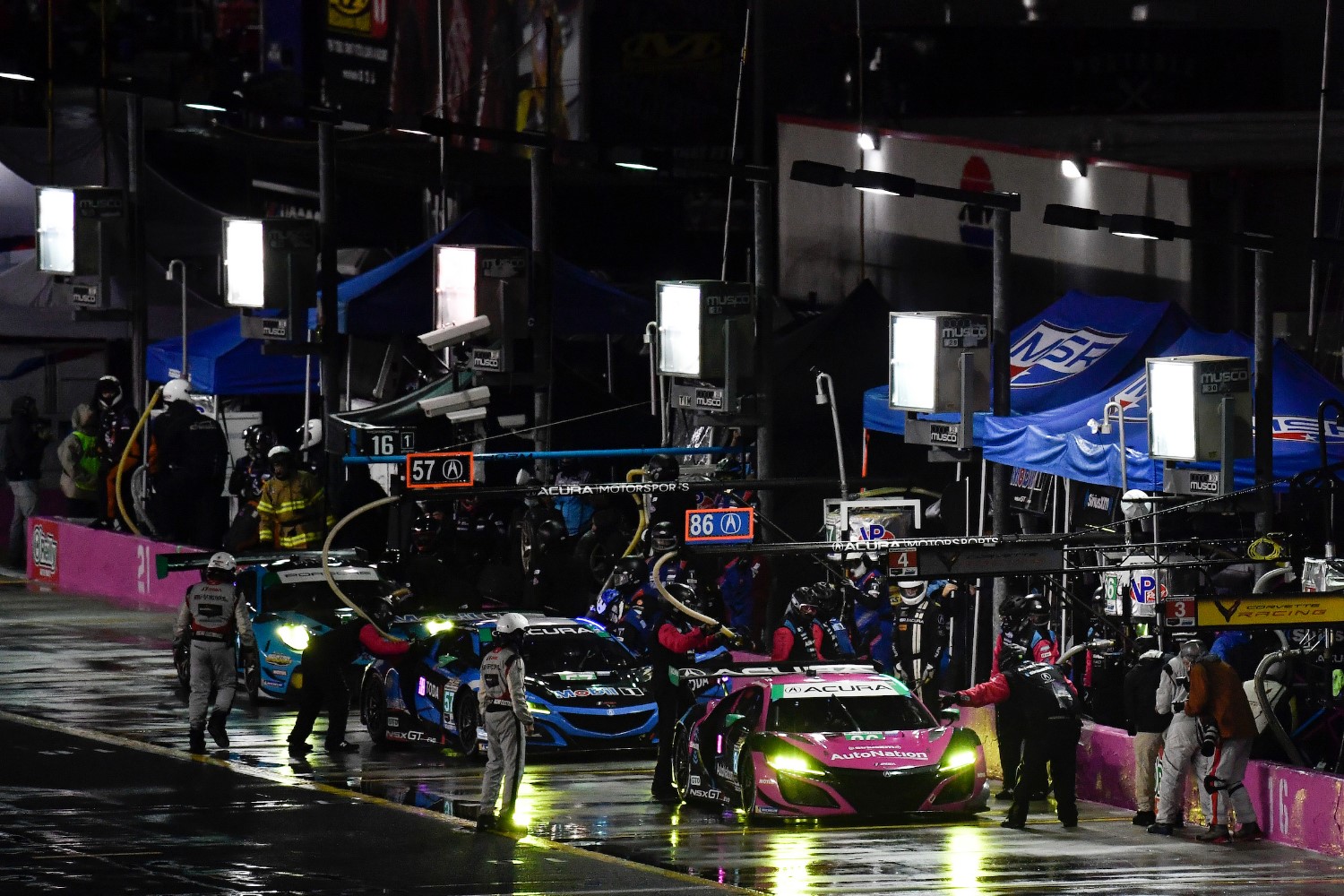 "That BMW was running like a missile the whole race," Auberlen said. "It loves that drying condition so as it's drying a little bit, it just puts the power down so well and makes the grip. And it does everything really right."
Long and co-driver Ryan Hardwick finished a season-best second in the No. 16 Wright Motorsports Porsche 911 GT3 R. It was their third consecutive podium finish after back-to-back third-place outings.
The performance also moved Hardwick and Long into a tie for second in the WeatherTech Championship GTD standings with Aaron Telitz – and just four points behind the leading No. 86 Meyer Shank Racing with Curb-Agajanian Acura duo of Farnbacher and Matt McMurry (200-196).
Ian James – who along with Auberlen were the only drivers to compete in IMSA's last Charlotte Motor Speedway appearance back in 2000 – combined with WeatherTech Championship rookie Roman De Angelis to score a season-best third-place result in the No. 23 Heart Of Racing Team Aston Martin Vantage GT3.
Telitz – who started the race from the pole position in the No. 14 AIM Vasser Sullivan Lexus RC F GT3 – and co-driver Jack Hawksworth lost a potential top-five result on the final restart. Hawksworth was called for incident responsibility with Farnbacher, who spun following contact in the frontstretch chicane coming to the final green flag. The No. 86 wound up seventh in class, one spot ahead of the No. 14.
Finish
Checkered flag 🏁 in GTLM at @CLTMotorSpdwy goes to the No. 3 @CorvetteRacing! #IMSA / #MOTULGP pic.twitter.com/fg06MNxIwJ

— IMSA (@IMSA) October 11, 2020
Winners Quotes
ANTONIO GARCIA, NO. 3 MOBIL 1/SiriusXM CHEVROLET CORVETTE C8.R – RACE WINNER: "It was super, super stressful. Even if it felt like I was just following the 24, I was really hanging on. I probably crashed four or five times, just like everyone else. Jordan gave me some very good indications before he jumped out and before we went green to give me confidence in following the BMW. They were really strong right away, but I didn't really give up. As soon as I felt like we stabilized on lap times, I kept pressuring him and using traffic to close up. They were very strong as you saw with their sister car. As soon as I saw they were struggling a little bit with tires – especially the 24 – I stayed patient even when the 25 was coming. I saw my opportunity and went for it. I don't know if it was risky move or not, but at that point I didn't think about the championship. I wanted to win the race. As soon as I got past, I put my head down, tried to open a gap and it worked. I'm very happy for Corvette Racing and Team Chevy. I'm glad Tommy is OK. We have a very fast car but also a very safe car. That's a magnificent combination of car here. It's great to be driving for the best team out there and keep winning races. We need to keep this mentality and go all the way to the end."
DID THE TRACK IMPROVE FROM THE START? "The first two laps was close to how we finish. It was very difficult at the beginning. There was a massive river going across at Turn Three, and I almost lost it two or three times there. The conditions definitely improved, but lap by lap you know where to place your car, and following someone opens the water a little bit for you. Once we got into a rhythm, the track improved for sure but it started to rain at the end. Being in the wet in the dark also makes it difficult to spot standing water."
JORDAN TAYLOR, NO. 3 MOBIL 1/SiriusXM CHEVROLET CORVETTE C8.R – RACE WINNER: "At the beginning of the race, there obviously was a lot of water on the track, and with the lighting it was hard to see where the standing water was. Considering our championship position, it was kind of damage control for me, trying to stay on the track and handing off the car in one piece. It was easy to get caught up in battling with people at that point of the race, but there was really no point. You weren't going to win the race in the first 20 or 30 minutes. I was glad to get through that phase and hand over the car to Antonio and let him go for it. He did a great job of keeping the car out of the wall for those first few laps and putting the pressure on the BMW. We would have been happy leaving here with a podium given the championship position with three races to go. But he kept the pressure on, never put a wheel wrong and was able to get by. It's really awesome to maximize the points when we didn't expect it. We can go into the last three races and race for the win, as well. It's another great day for Corvette Racing. It's good to see that Tommy walked away from that big hit at the end. It says a lot about Chevrolet and Corvette Racing and how safe they build the race cars and how strong they are. It give us a lot of confidence when we strap in that we're going to be safe."
ROLE OF THE CHEVROLET SIMULATOR IN RACE PREP: "If it wasn't for the simulator, we probably wouldn't have been able to put it on the pole and been able to stay out of trouble like that. So the simulator was a big tool for us. I'm glad this all worked out."
LOOKING TO PETIT LE MANS: "We're already thinking about it. It's at the top of Antonio's list of races to win. The focus has already shifted. The guys are driving to Atlanta tomorrow to prep the cars, but unfortunately they'll have a lot to prep on the 4 car. We did a test day there last week where Nicky (Catsburg) and Marcel (Fassler) were able to get some laps. At the Six-Hour, we struggled with a few things and I think we found a few things at the test for some long runs and working on the different compounds of tires. This weekend was good to get in some mixed conditions. We haven't had a lot of rain and mixed conditions in a race setting other than Road America. It was good to get a bit of everything. Now no matter what we see at Petit Le Mans, we feel pretty well prepared."
DID THE ADDITIONAL INFIELD LIGHTING HELP? "Yes, we tested here about a month ago and the lighting was pretty difficult to see where you were going. They've definitely made some nice improvements. If it had been a dry race, the visibility would have been great. When you add in the water with the type of surface they have here, it's very reflective when there's a lot of water on it. It's hard to distinguish what's a damp section and what's a deep section. It's hard to pick out what's what at night. It took some getting used to, but it probably made a good show on TV. It looked pretty spectacular when I got out and watched all the headlights reflecting off everything. This was definitely a cool event, and I'm glad we were able to win the first one back here."
Results
| | | | | | | | | | |
| --- | --- | --- | --- | --- | --- | --- | --- | --- | --- |
| Pos | PiC | No. | Class | Drivers | Team | Car | Laps | Behind | Gap |
| 1 | 1 | 3 | GTLM | A. Garcia / J. Taylor | Corvette Racing | Chevrolet Corvette C8.R | 62 | 0.000s | 0.000s |
| 2 | 2 | 24 | GTLM | J. Krohn / J. Edwards | BMW Team RLL | BMW M8 GTE | 62 | 1.474 | 1.474 |
| 3 | 3 | 25 | GTLM | B. Spengler / C. De Phillippi | BMW Team RLL | BMW M8 GTE | 62 | 2.059 | 0.585 |
| 4 | 1 | 96 | GTD | B. Auberlen / R. Foley | Turner Motorsport | BMW M6 GT3 | 61 | 1 Lap | 1 Lap |
| 5 | 2 | 16 | GTD | R. Hardwick / P. Long | Wright Motorsports | Porsche 911 GT3R | 61 | 1 Lap | 1.497 |
| 6 | 3 | 23 | GTD | I. James / R. De Angelis | Heart Of Racing Team | Aston Martin Vantage GT3 | 61 | 1 Lap | 8.137 |
| 7 | 4 | 12 | GTD | T. Bell / M. De Quesada | AIM VASSER SULLIVAN | Lexus RC F GT3 | 61 | 1 Lap | 2.151 |
| 8 | 5 | 57 | GTD | A. Parente / M. Goikhberg | Heinricher Racing w/MSR Curb-Agajanian | Acura NSX GT3 | 61 | 1 Lap | 1.060 |
| 9 | 6 | 30 | GTD | R. Ferriol / S. Pumpelly | Team Hardpoint | Audi R8 LMS GT3 | 61 | 1 Lap | 1.644 |
| 10 | 7 | 86 | GTD | M. Farnbacher / M. McMurry | Meyer Shank Racing w/Curb-Agajanian | Acura NSX GT3 | 61 | 1 Lap | 0.094 |
| 11 | 8 | 14 | GTD | A. Telitz / J. Hawksworth | AIM VASSER SULLIVAN | Lexus RC F GT3 | 61 | 1 Lap | 13.377 |
| 12 | 9 | 76 | GTD | J. Kingsley / P. Holton | Compass Racing | McLaren 720S GT3 | 60 | 2 Laps | 1 Lap |
| 13 | 10 | 74 | GTD | G. Robinson / L. Aschenbach | Riley Motorsports | Mercedes-AMG GT3 | 60 | 2 Laps | 10.414 |
| 14 | 4 | 4 | GTLM | O. Gavin / T. Milner | Corvette Racing | Chevrolet Corvette C8.R | 54 | DNF | |
| 15 | 11 | 44 | GTD | J. Potter / A. Lally | GRT Magnus | Lamborghini Huracan GT3 | 25 | DNF | |
| 16 | 12 | 22 | GTD | T. Bechtolsheimer / M. Miller | Gradient Racing | Acura NSX GT3 | 9 | DNF | |
| 17 | 5 | 911 | GTLM | N. Tandy / F. Makowiecki | Porsche GT Team | Porsche 911 RSR – 19 | 8 | DNF | |
| 18 | 6 | 912 | GTLM | E. Bamber / L. Vanthoor | Porsche GT Team | Porsche 911 RSR – 19 | 4 | DNF | |