DTM: Rast sweeps Zolder races
Fire in his car prior to the start, fireworks in the race: René Rast is making the DTM exciting. After his second win at Zolder, the Audi driver has moved up to second in the drivers' standings. With two race weekends remaining, the two-time DTM champion is only ten points down on his Swiss fellow Audi driver Nico Müller, who has been leading the drivers' standings since winning the season opener at Spa-Francorchamps at the beginning of August. On Sunday, Müller had to make do with merely two points. For Robin Frijns, things were even worse: the Dutchman crashed into the barriers on cold tires while exiting the pit lane, and he had to park his Audi a few meters further up the road. His non-score made Frijns drop to third in the standings. Behind Mike Rockenfeller (GER, Audi) in second place, BMW driver Lucas Auer (AUT) completed the podium in third. In qualifying, ex-Formula 1 driver Timo Glock (GER) had claimed pole position, the first of the season for BMW, and the 75th DTM pole position for the brand in its DTM history.
Rast:
"A crazy race. First, we had flames coming out of the engine bay, which our mechanics solved quickly. At the start, I moved up from third to first, which was decisive for me. I could see in my rearview mirror that Timo almost hit me as he slid off. Later, I was lucky to be in the pit lane during the safety car intervention. After the restart, I had contact with Marco Wittmann, Lucas Auer and Robert Kubica, but all in all, it was a super day with side effects and a perfect result. It was so unlikely that we almost scored maximum points as the opposition falters. We have two more races at Zolder ahead of us. The track seems to suit my driving style and my car. But this weekend, we have also seen that things can change really quickly here at Zolder, so we have to remain focused and concentrated and try to make maximum use of our potential."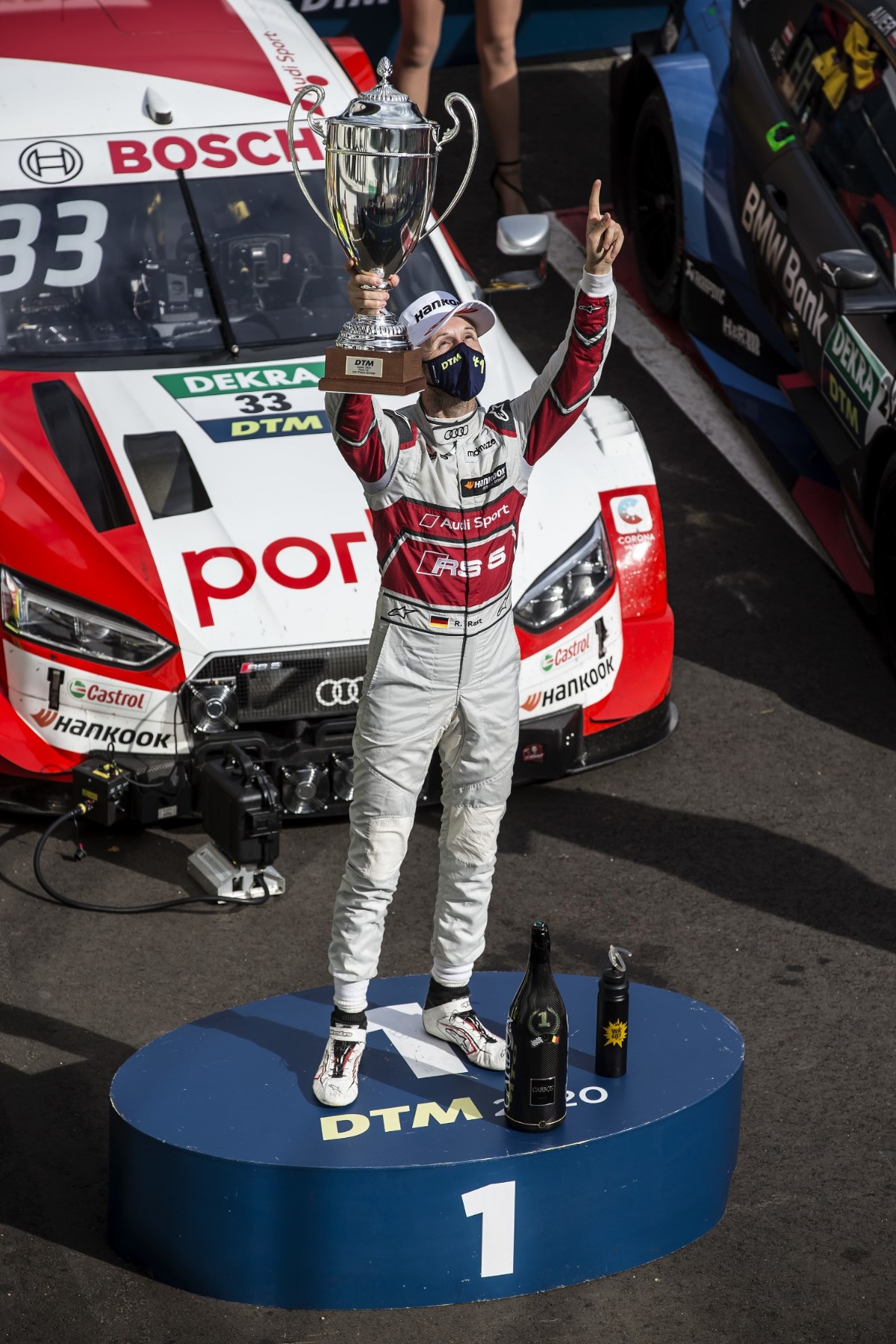 A bang at the start: pole sitter Glock in the gravel bed of the first corner
On the starting grid, things were already heating up: Rene Rast's Audi RS 5 DTM had smoke coming out of it and tiny flames could be seen under the bonnet. All of a sudden, his participation was in doubt, but the mechanics of the Audi Sport Team Rosberg got the #33 Audi ready again in time for the race. Then, there was even more hot action. With a rocket start, Rast squeezed his way through in between the two BMWs with Glock and Sheldon van der Linde (RSA) and charged into the lead. Ferdinand Habsburg (AUT, Audi) also overtook both BMWs, but Glock hit the rear of his car and both landed in the gravel bed. Instead of leading the race, Glock was last in the field behind Habsburg. Initially, Rockenfeller, Frijns and Müller benefited from this contact, with Rast and Rockenfeller pulling a slight gap from the rest of the field.
Pit lane exit fatal for Robin Frijns
Having started eighth on the grid, Robin Frijns headed into the pit lane on lap ten to have fresh tires mounted during his mandatory pit stop. DTM regulations stipulate that pre-heating these tires is forbidden. Local hero Frijns underestimated the grip of the cold tires and slid into the Armco barriers in the left-hand bend of the long pit lane exit. With damaged right front suspension, the frustrated 29-year-old had no other option but to park his Audi, which led to a safety car intervention. As racing resumed with an Indianapolis-style double-file restart, the field was pretty much mixed up as around half of the drivers had already made their mandatory stops while the others still had to pit. Thus, Marco Wittmann initially led. The BMW driver had made his stop during the safety car intervention and therefore, it didn't count as a mandatory stop. As a result, he had to come in once more. All drivers having completed their mandatory stops, Rast was leading once more from Rockenfeller, while Müller found himself down in ninth place and, in spite of spirited attacks, was unable to find a way past eighth-placed Wittmann until the finish.
Successful weekend for Belgian WRT Team Audi Sport
Behind the BMW duo of Lucas Auer and Timo Glock in third and fourth place, Belgian Audi customer team WRT shone. Fabio Scherer (SUI), Harrison Newey (GBR) and Ferdinand Habsburg (AUT) ended up in fifth, sixth and seventh place with the three WRT-Audis. Scherer scored his first-ever DTM drivers' points. Newey had already shone on Saturday with the fifth place as Habsburg repeated his seventh-place finish from the previous day.
Audi Sport Team ABT Sportsline wraps up teams' title
Notwithstanding Frijns's retirement and Müller only finishing ninth, Audi Sport Team ABT Sportsline already sealed the title in the DTM teams' standings. The team from Kempten in Germany is leading from Audi Sport Team Rosberg and is now beyond reach. The battle for the drivers' title, meanwhile, is more exciting than ever: the points' gap between the 'big three' Müller, Frijns and Rast was 47 points prior to this weekend, but now, Müller has 259 points, Rast 249, and Frijns 243. As a result, the Audi trio is separated by only 16 points and will decide the battle for the title between them. It is getting closer upfront.
75th pole position for BMW
BMW had a weekend with ups and downs. In qualifying, Timo Glock ended up just ahead of his fellow BMW driver Sheldon van der Linde, claiming the 75th pole position for BMW in DTM history. Moreover, it was BMW's first pole position of the current season and the sixth for Glock in his DTM career. That ended Audi's dominance after 20 consecutive pole positions. The race, however, didn't result into BMW's long-awaited victory. At least it was Auer who secured his twelfth DTM podium finish and the 306 podium result for BMW.
DTM Zolder race two result
| | | | | |
| --- | --- | --- | --- | --- |
| POS | DRIVER | TEAM | CAR | GAP |
| 1 | Rene Rast | Rosberg | Audi | 0.000s |
| 2 | Mike Rockenfeller | Phoenix | Audi | 5.433s |
| 3 | Lucas Auer | RMR | BMW | 22.272s |
| 4 | Timo Glock | RMG | BMW | 31.603s |
| 5 | Fabio Scherer | WRT | Audi | 32.018s |
| 6 | Harrison Newey | WRT | Audi | 33.787s |
| 7 | Ferdinand Habsburg | WRT | Audi | 34.304s |
| 8 | Marco Wittmann | RMG | BMW | 40.627s |
| 9 | Nico Muller | Abt | Audi | 41.182s |
| 10 | Sheldon van der Linde | RBM | BMW | 54.280s |
| 11 | Jonathan Aberdein | RMR | BMW | 1m07.911s |
| 12 | Robert Kubica | ART | BMW | 1m19.380s |
| 13 | Loic Duval | Phoenix | Audi | 1 Lap |
| 14 | Philipp Eng | RBM | BMW | 1 Lap |
| 15 | Jamie Green | Rosberg | Audi | 1 Lap |
| – | Robin Frijns | Abt | Audi | Retirement |