Will da Costa get RLL IndyCar Seat?
(2nd Update)
A vocal supporter of IndyCar, its cars and its racing, da Costa looked to be seriously in the mix for a race seat with RLL but then other opportunities closer to home came up and those appear to have taken priority.
However, the Portuguese driver has revealed to The Race that another opportunity – not at Rahal – almost persuaded him to make the switch.
"I've had a couple of offers in IndyCar. One, which is known was with Bobby Rahal, and then a couple more," says da Costa.
"I have to say that there was one that really, really got me thinking and for just packing up my bags and going stateside.
"I was super close to accepting and doing it.
"But in the end with Formula E I want to see it through, I want to see what it can become with this new Gen 3 car.
"I'm super close to endurance and the WEC as well. I want to see those things through also.
"There were too many things on the plate here in Europe to not just pack the bags and just leave it all behind.
"Who knows if the IndyCar chances can pop back up in a year or two from now where I see things a little bit clearer."
---
August 12, 2021
This rumor is downgraded to 'false' today.
Da Costa told Autosport:  "I will not be racing IndyCar next year, or at least if there's still something on the table, I'm 90 percent sure that I will not be racing IndyCar next year.
"Definitely not with Bobby's team, which I have to thank a lot for giving me the test and then they really pursued the opportunity to have been in a full-time car next year.
"But unfortunately things did not work out between us, mainly because of timing, to be honest. They wanted an answer in the time where I could not provide one, and unfortunately, they had to move in a different direction.
"It's something that at least with Bobby, it will not happen for next year."
Three-time IndyCar champion Rahal told Autosport that he would remain interested in hiring Da Costa in the future.
"Obviously he's very good, but I think he's got opportunities in Europe and not necessarily in Formula E that are interesting to him," the 1986 Indianapolis 500 winner said.
"I think if you've done one particular series for a while, you're always looking for something different, and maybe something that's also better than what you have already.
"IndyCar is definitely interesting to him, but it's one of a few series that interest him and he has opportunities because his track record speaks for itself. He's a sought-after driver by several teams in several series, and with good reason.
"I'm disappointed that we couldn't put something together with him. He did a good test for us at Barber, he's a very personable young man – he just basically checks off all the boxes of what a team owner is looking for in a driver, right?
"But you never know: maybe some day we can put a deal together."
Last Updated August 12, 2021
2022 IndyCar Silly Season Page


Team

Engine

No.

Driver

Primary Sponsor

Rating

Comments

AJ Foyt Racing




Chevy




4

Dalton Kellett

K-Line

Strong

14

Sebastien Bourdais

ROKIT

Speculation
Likely to re-sign

14

Tatiana Calderon

ROKIT

Speculation
Could replace Bourdais

11

 Charlie Kimball

 Tresiba

Speculation



Andretti Autosport






Honda




25

Stefan Wilson

Lohla Sport

Speculation
Indy 500 Only

26




Colton Herta

Gainbridge

Fact
Signed

27

Alexander Rossi

NAPA and AutoNation

Strong

Signed, but Penske beckons

28

Romain Grosjean

NAPA and Miami Breeze Car Care

Strong

replace RHR

29

Alex Albon

Money from Thailand

Speculation
F1 reserve driver itching for real racing

Arrow McLaren SP

Chevy

5

Pato O'Ward

Arrow

Fact

Signed

7

Felix Rosenqvist

Arrow

Speculation
Has to step up his game

7

Nico Hulkenberg

Arrow

Speculation
Eying IndyCar

6

Juan Montoya

TBD

Speculation
Indy 500 only

Carlin Racing

Chevy

59

Max Chilton

Gallagher Insurance

Strong

Likely to re-sign

Chip Ganassi Racing

Honda

8

Marcus Ericsson

Huski Chocolate

Strong

Likely to re-sign

9

Scott Dixon

PNC Bank

Fact

Signed

10

Alex Palou

NTT Data

Fact

Signed

48

Jimmie Johnson

Carvana

Strong

May run full season

Dale Coyne Racing w/Vasser Sullivan

Honda

18

Ed Jones
Sealmaster
Strong
Likely to re-sign

Dale Coyne Racing w/Rick Ware Racing

Honda

51

Romain Grosjean

Miami Breeze Car Care

Speculation

Andretti Bound?

52

Ryan Norman

Koinu Inu Cryptro

Speculation

52

Cody Ware

TBD

Speculation

Dreyer Reinbold

Chevy

24

Sage Karam

Wix

Strong
Indy 500 Only

67

JR Hildebrand

Salesforce

Strong
Indy 500 Only

Ed Carpenter Racing




Chevy




21

Rinus Veekay

Sonax

Fact
Signed

20




Ed Carpenter

US Space Force

Fact
Ovals Only

Nico Hulkenberg

TBD

Speculation

Road and Street Only

Conor Daly

US Air Force

Strong
Looking for $

Meyer Shank Racing

Honda

60

Kevin Magnussen

AutoNation and SiriusXM

Speculation
Would Ganassi let him go?

60

Simon Pagenaud

AutoNation and SiriusXM

Strong
Penske may cut him loose

60

Kyle Kirkwood

AutoNation and SiriusXM

Speculation
Would bring Lights $1 million
06

Helio Castroneves

TBD

Fact
Signed

Paretta Autosport

Chevy

16

Simona De Silvestro

 

Strong
Indy 500 Only

Rahal Letterman Lanigan

Honda

15

 Graham Rahal

United Rentals

Fact
Signed

30





Takuma Sato

Panasonic, Mi-Jack

Speculation
May Retire

Christian Lundgaard

TBD

Strong
Has given up on F1 dream
45
Antonio Felix da Costa


TBD

False
Will not happen

Jack Harvey

HyVee

Strong
Leaving MSR

Santino Ferrucci

HyVee

Speculation

Team Penske

Chevy

2

Josef Newgarden

Hitachi

Fact
Signed

3

Scott McLaughlin

Shell, PPG

Strong
Penske may send him to IMSA unless he steps up his game

3 or 22

Alexander Rossi

TBD

Speculation
Depends on what Penske does with McLaughlin and Pagenaud

12

Will Power

Verizon

Fact
Signed

22

Simon Pagenaud

Menards

Speculation
Not expected back. IMSA or MSR Bound

Top Gun Racing

Chevy

 

RC Enerson

US Navy?

Fact
Indy 500 Only?
---
August 12, 2021
Rahal Letterman Lanigan Racing (RLL) announced today that it is scheduled to test reigning FIA Formula E champion Antonio Félix da Costa, 29, on November 2 at Barber Motorsports Park (BMP).  It will be the first time for the five-time FIA Formula E race winner to drive an Indy car.
"I have never hidden the fact that it's a big dream of mine to come try out an Indy car," said Antonio Félix da Costa, a native of Cascais, Portugal. "I am a big fan of how America, and INDYCAR in particular, goes about the sport and have been a huge fan for many years. I have known Bobby for a few years. We always met at the BMW Christmas dinners and every year I kept saying 'Come on, let me have a go' and finally now I got the call to come meet the team and test. It's very exciting times for me and something I have been looking forward to a lot. The first contact with the team has been very positive and everyone has been friendly. I can see there is a high level of professionalism in the team which was to be expected. I'm excited to get on track."
The NTT INDYCAR SERIES was unable to hold the Honda Indy Grand Prix of Alabama at BMP this season on April 5. RLL driver Takuma Sato is the most recent race winner at BMP after also having won pole and heading up the first 1-2 start for the team since 2005 with teammate Graham Rahal, who started second. Sato went on to lead 74 of 90 laps en route to victory.
"We were unable to maximize a full team test using one of our three days, since Graham is waiting for the arrival of his first child so this enables us to test a young and very accomplished driver in Antonio Félix da Costa," said Bobby Rahal, co-owner of Rahal Letterman Lanigan Racing with David Letterman and Mike Lanigan. "Through our partnership with BMW on the sports car side, we have followed his career and are excited to see what he can do in an Indy car."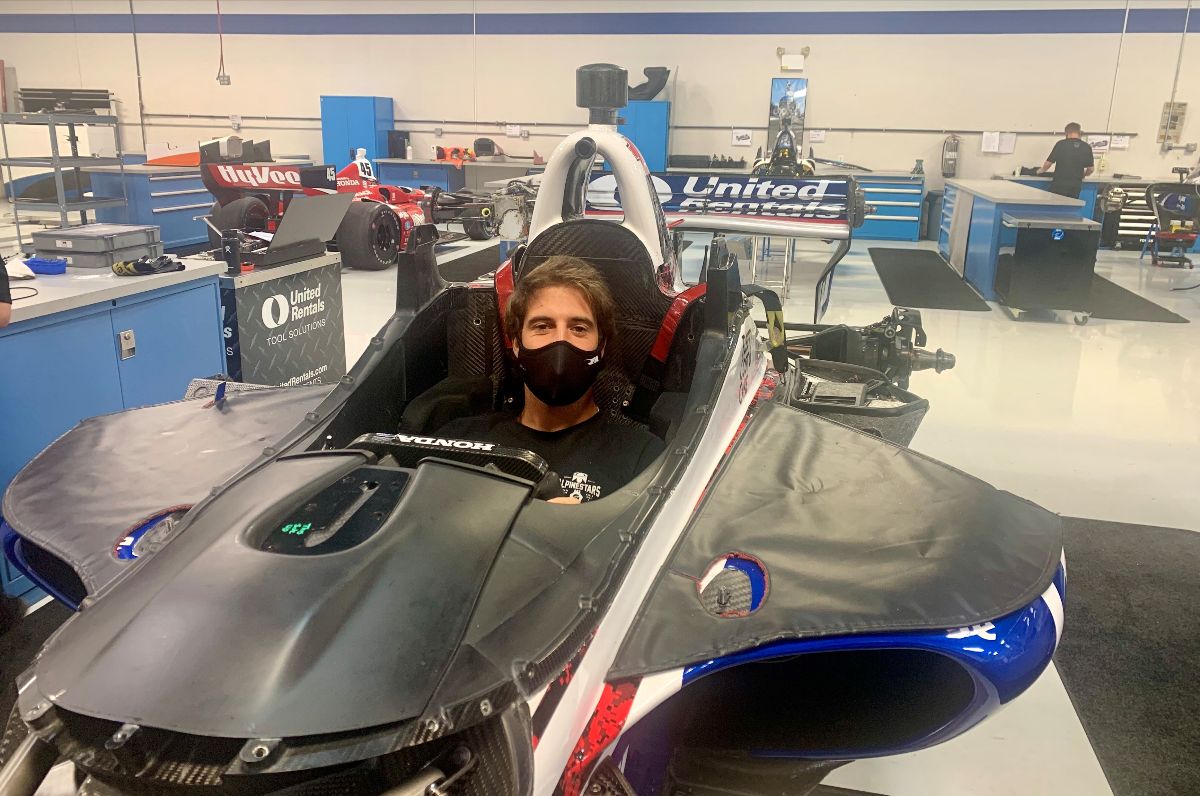 "We have heard a lot of great things about this young man's talent and look forward to good results from our test at Barber Motorsports Park. It always adds value to get another perspective and we are confident he can provide good insight," added Mike Lanigan, co-owner of Rahal Letterman Lanigan Racing.
A large INDYCAR SERIES contingent is expected at the one-day test at Barber Motorsports Park on Monday, November 2. The 2020 NTT INDYCAR SERIES season concludes with the Firestone Grand Prix of St. Petersburg on October 24-25. Live coverage of the race begins on NBC at 2:30 p.m. on Sunday, October 25.
About Antonio Félix da Costa
With six seasons of all-electric single seater racing under his belt, da Costa is one of the most experienced Formula E drivers on the grid. Coming from a racing family, da Costa started karting at the age of nine, racing in a number of Portuguese championships against more experienced and older competitors. In 2007, he progressed into single-seaters in Formula Renault 2.0 and, after gaining attention in both Formula 3 Euro Series and GP3, he would eventually join the Red Bull program.
After making his Formula One test debut for Force India in 2010, the Portuguese driver went on to pilot four of Adrian Newey's title-winning Red Bull Racing machines. Moving to Formula E, da Costa started his career in the series as a driver for Team Aguri in 2014, where he raced for two seasons. After securing an early win in Buenos Aires during season one, the top step of the podium proved elusive for the Portuguese driver until a win in the opening round of the 2018/19 season in Saudi Arabia.
In the third season, da Costa moved to Andretti where he raced for two seasons, benefiting from the team's technical partnership with BMW in 2017/18. In 2017, the team grew into a full manufacturer works team — BMW i Andretti Motorsport — with da Costa and teammate Alexander Sims announced as the team's debut driver line up. He finished the season sixth after briefly challenging for the title before moving to reigning champions DS Techeetah where he brought them back-to-back titles in 2019/20. In total, he has earned five Formula E wins and 11 podiums in six seasons of competition.