Bathurst 1000: Waters tops Thursday practice
Cameron Waters (above), driving the Tickford Racing's #6 entry, turned the fastest lap of Day 1 of the Supercheap Auto Bathurst 1000 with a time of 2:04.1696s which saw him better Scott McLaughlin by almost three tenths of a second in Practice 3.
Co-driver Will Davison was also fourth-quickest in Practice 2, the co-driver hit-out which saw James Moffat prevail in the Supercheap Auto Tickford Mustang.
"It was great, obviously a good start to the weekend," said Waters.
"The car was really good and Will fit it in quite well as well.
"(It was a) Productive day; the car is straight, which is the main thing. The only hiccup was running out of fuel.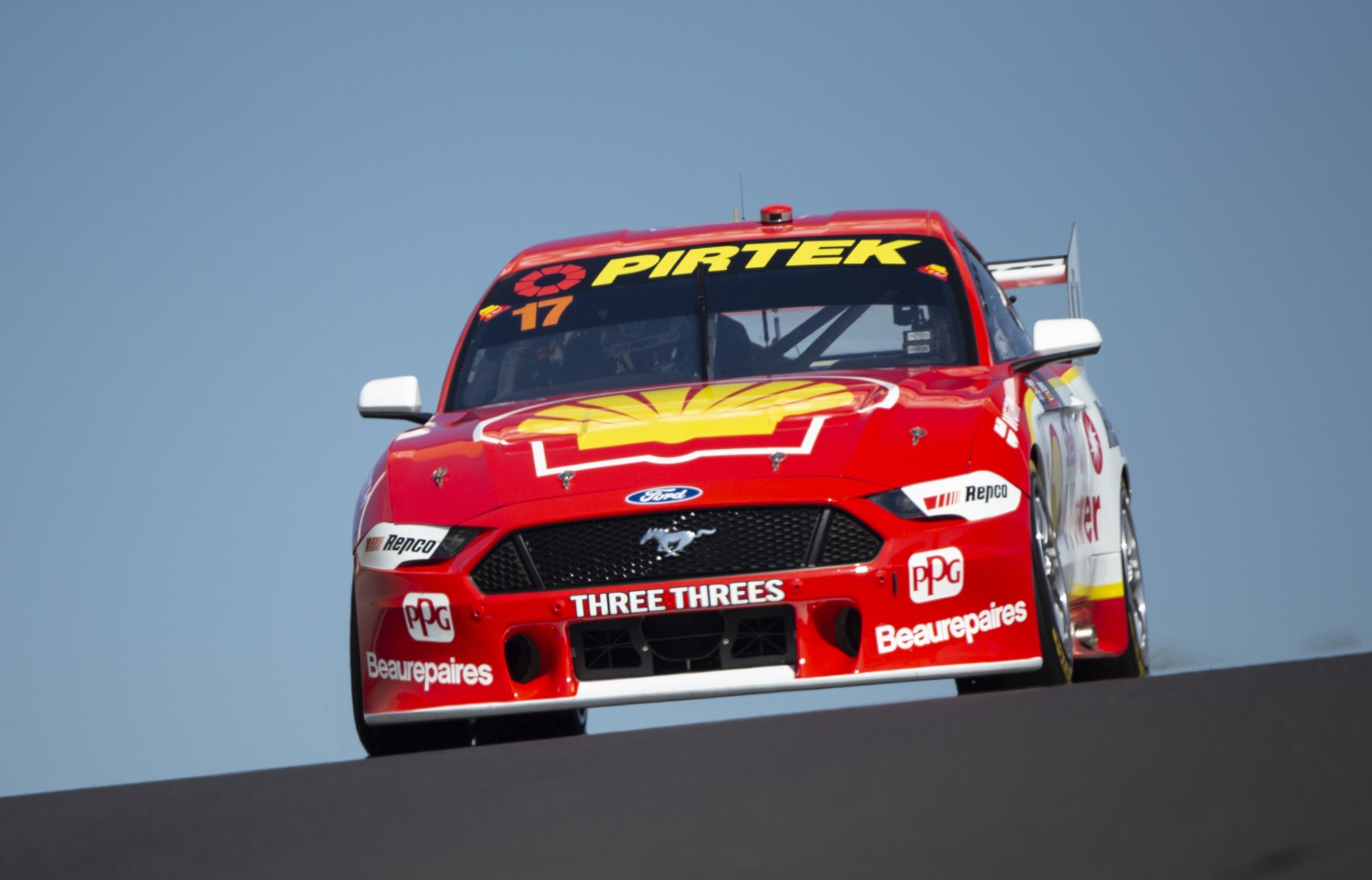 "I was debating with my engineer (Sam Potter) that whole flying lap to try and let me finish it.
"He wanted me to pit, and I was like, 'Nah, come on, it'll be 'right', and luckily he let me finish it, but I thought I would've had enough to get back, but obviously not."
Thursday  Times
| | | | | | |
| --- | --- | --- | --- | --- | --- |
| POS | # | DRIVERS | TEAM | TIME | GAP |
| 1 | 6 | C. Waters Davison | Monster Energy Racing | 2:04.170 | +0.000 |
| 2 | 17 | McLaughlin Slade, T. D'Alberto | Shell V-Power Racing Team | 2:04.463 | +0.294 |
| 3 | 97 | Van Gisbergen Tander | Red Bull Holden Racing Team | 2:04.494 | +0.324 |
| 4 | 7 | Heimgartner D. O'Keeffe | NED Whisky Racing | 2:04.741 | +0.571 |
| 5 | 8 | Percat T. Randle | R&J Batteries | 2:04.993 | +0.823 |
| 6 | 12 | Coulthard Slade, T. D'Alberto | Shell V-Power Racing Team | 2:05.073 | +0.903 |
| 7 | 5 | Holdsworth Caruso | Truck Assist Racing | 2:05.097 | +0.927 |
| 8 | 99 | A. de Pasquale B. Kostecki | Penrite Racing | 2:05.132 | +0.962 |
| 9 | 44 | Courtney B. Feeney | Boost Mobile Racing | 2:05.143 | +0.973 |
| 10 | 2 | B. Fullwood K. Kostecki | Mobil 1 TM Middy's Racing | 2:05.144 | +0.974 |
| 11 | 18 | Winterbottom J. Golding | IRWIN Racing | 2:05.320 | +1.151 |
| 12 | 20 | S. Pye D. Fiore | DEWALT Racing | 2:05.385 | +1.216 |
| 13 | 55 | J. Le Brocq Moffat | Supercheap Auto Racing | 2:05.568 | +1.398 |
| 14 | 25 | Mostert W. Luff | Mobil 1 TM Appliances Online | 2:05.581 | +1.412 |
| 15 | 14 | T. Hazelwood J. Boys | Cub Cadet Mowers | 2:05.660 | +1.490 |
| 16 | 888 | Whincup Lowndes | Red Bull Holden Racing Team | 2:05.720 | +1.551 |
| 17 | 35 | G. Jacobson Z. Goddard, D. Russell | Yellow Cover Racing | 2:05.957 | +1.787 |
| 18 | 9 | Reynolds W. Brown | Penrite Racing | 2:06.000 | +1.831 |
| 19 | 34 | J. Kostecki Z. Goddard | UNIT Racing | 2:06.029 | +1.860 |
| 20 | 15 | R. Kelly Wood | Castrol Racing | 2:06.139 | +1.970 |
| 21 | 19 | A. Davison J. Webb | Local Legends Racing | 2:06.165 | +1.995 |
| 22 | 3 | M. Jones J. Perkins, Blanchard | Team CoolDrive | 2:06.261 | +2.091 |
| 23 | 4 | J. Smith J. Perkins | SCT Motor Sports | 2:07.111 | +2.942 |
| 24 | 22 | C. Pither J. Webb, S. Owen | Team SYDNEY | 2:07.651 | +3.481 |
| 25 | 40 | T. Everingham J. Ojeda | Team Valvoline GRM | 2:08.054 | +3.884 |