Lee Holdsworth grabs provisional pole for Bathurst 1000
After 16 years of trying, Lee Holdsworth has himself in his best position yet to claim the Peter Brock Trophy, after nabbing provisional pole position for Sunday's Supercheap Auto Bathurst 1000.
In the traditional fashion of the Great Race, today's qualifying result was unexpected for many – with rain a key factor at Mount Panorama.
The Truck Assist Mustang driver recorded his hot lap late in the session, before light rain hit Mount Panorama, effectively ending any other drivers' hopes of toppling Holdsworth's time.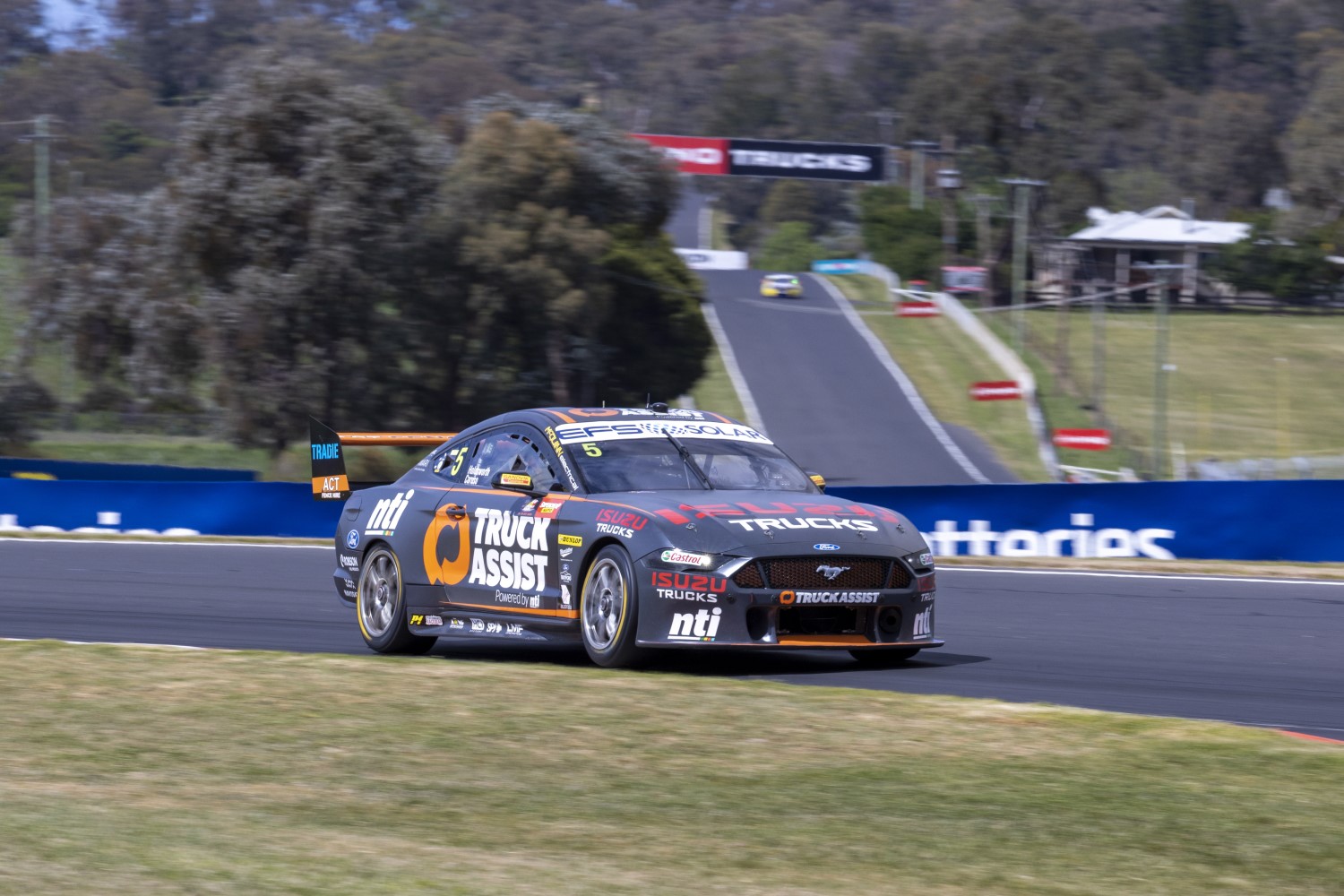 Once the rain set in it was a done deal, with Holdsworth claiming his first-ever provisional pole for the Great Race and earning the right to go last in tomorrow's ARMOR ALL Top 10 Shootout.
Holdsworth has teamed up with long-time friend and fellow SUpercars veteran Michael Caruso. The pair claimed a 3rd place finish in the 2009 Bathurst 1000 together.
Behind the Ford of Holdsworth was Red Bull Holden's Shane van Gisbergen and defending King of the Mountain Scott McLaughlin in the Shell Ford.
In order, tomorrow's ARMOR ALL Top Ten Shootout will go:
Nick Percat (Holden), James Courtney (Ford), Chaz Mostert (Holden), Anton De Pasquale (Holden), Fabian Coulthard (Ford), Jamie Whincup (Holden), Cam Waters (Ford), Scott McLaughlin (Ford), Shane van Gisbergen (Holden) and finally Holdsworth (Ford).
Last year McLaughlin claimed provisional pole, before going quickest in the Shootout and going on to win the Great Race.
Drivers who missed the Shootout include former Bathurst 1000 Champions David Reynolds, Mark Winterbottom and Rick Kelly.
There was one crash in qualifying, rookie Jake Kostecki coming unstuck at The Cutting making for a long night for his Matt Stone Racing team.
There will be two practice sessions tomorrow morning before the Shootout which begins at 5:05pm local time.
Earlier today it was announced Sunday's Great Race will be moved half an hour forward to avoid expected weather delays with rain due to hit Mount Panorama all weekend.
Provisional Qualifying Results
| | | | | | | |
| --- | --- | --- | --- | --- | --- | --- |
| POS | NO. | DRIVERS | TEAM | TIME | GAP | LAPS |
| 1 | 5 | Holdsworth B. Feeney, Caruso | Truck Assist Racing | 2:04.024 | +0.000s | 11 |
| 2 | 97 | Van Gisbergen Lowndes, Tander | Red Bull Holden Racing Team | 2:04.035 | +0.011 | 11 |
| 3 | 17 | McLaughlin Slade, T. D'Alberto | Shell V-Power Racing Team | 2:04.104 | +0.079 | 12 |
| 4 | 6 | C. Waters Moffat, Davison | Monster Energy Racing | 2:04.106 | +0.081 | 11 |
| 5 | 888 | Whincup Lowndes, Tander | Red Bull Holden Racing Team | 2:04.266 | +0.242 | 11 |
| 6 | 12 | Coulthard Slade, T. D'Alberto | Shell V-Power Racing Team | 2:04.281 | +0.257 | 13 |
| 7 | 99 | A. de Pasquale W. Brown, B. Kostecki | Penrite Racing | 2:04.467 | +0.443 | 12 |
| 8 | 25 | Mostert K. Kostecki, W. Luff | Mobil 1 TM Appliances Online | 2:04.494 | +0.469 | 12 |
| 9 | 44 | Courtney B. Feeney, Caruso | Boost Mobile Racing | 2:04.549 | +0.524 | 12 |
| 10 | 8 | Percat J. Boys, T. Randle | R&J Batteries | 2:04.554 | +0.530 | 10 |
| 11 | 2 | B. Fullwood K. Kostecki, W. Luff | Mobil 1 TM Middy's Racing | 2:04.605 | +0.581 | 11 |
| 12 | 20 | S. Pye D. Fiore, J. Golding | DEWALT Racing | 2:04.632 | +0.608 | 13 |
| 13 | 9 | Reynolds W. Brown, B. Kostecki | Penrite Racing | 2:04.673 | +0.649 | 12 |
| 14 | 7 | Heimgartner D. O'Keeffe, Wood | NED Whisky Racing | 2:04.853 | +0.829 | 11 |
| 15 | 55 | J. Le Brocq Moffat, Davison | Supercheap Auto Racing | 2:04.905 | +0.881 | 12 |
| 16 | 14 | T. Hazelwood J. Boys, T. Randle | Cub Cadet Mowers | 2:04.973 | +0.949 | 10 |
| 17 | 3 | M. Jones J. Perkins, Blanchard | Team CoolDrive | 2:05.037 | +1.013 | 11 |
| 18 | 18 | Winterbottom D. Fiore, J. Golding | IRWIN Racing | 2:05.173 | +1.149 | 12 |
| 19 | 15 | R. Kelly D. O'Keeffe, Wood | Castrol Racing | 2:05.259 | +1.235 | 12 |
| 20 | 19 | A. Davison J. Webb, S. Owen | Local Legends Racing | 2:05.332 | +1.308 | 12 |
| 21 | 35 | G. Jacobson Z. Goddard, D. Russell | Yellow Cover Racing | 2:05.414 | +1.390 | 12 |
| 22 | 4 | J. Smith J. Perkins, Blanchard | SCT Motor Sports | 2:06.350 | +2.326 | 13 |
| 23 | 22 | C. Pither J. Webb, S. Owen | Team SYDNEY | 2:06.354 | +2.329 | 11 |
| 24 | 40 | T. Everingham J. Ojeda | Team Valvoline GRM | 2:06.681 | +2.657 | 13 |
| 25 | 34 | J. Kostecki Z. Goddard, D. Russell | UNIT Racing | 2:15.154 | +11.130 | 4 |