DTM at Zolder: Rast takes 3rd-in-row and points lead
A spectacular change in the plot in the battle for the DTM title: with his third consecutive win, Audi driver René Rast has moved up into the lead of the drivers' standings for the first time this season. The two-time DTM champion started the 15th race of the season at Zolder ten points down in the standings, but now, prior to the race on Sunday, he is even ten points ahead of Nico Müller.
Having finished sixth, the Swiss again missed out on valuable championship points and lost the lead in the drivers' standings for the first time since the season-opening race at Spa-Francorchamps.
At Zolder, Robin Frijns was the only one Rast had to worry about, the Dutchman having put Rast under attack several times, eventually ending up second. Next to Rast, another successful driver at Zolder was Ferdinand Habsburg. With the privately entered Audi RS 5 DTM, the Austrian scored his maiden podium finish with third place, also the first-ever podium in the DTM for Belgian Audi customer team WRT.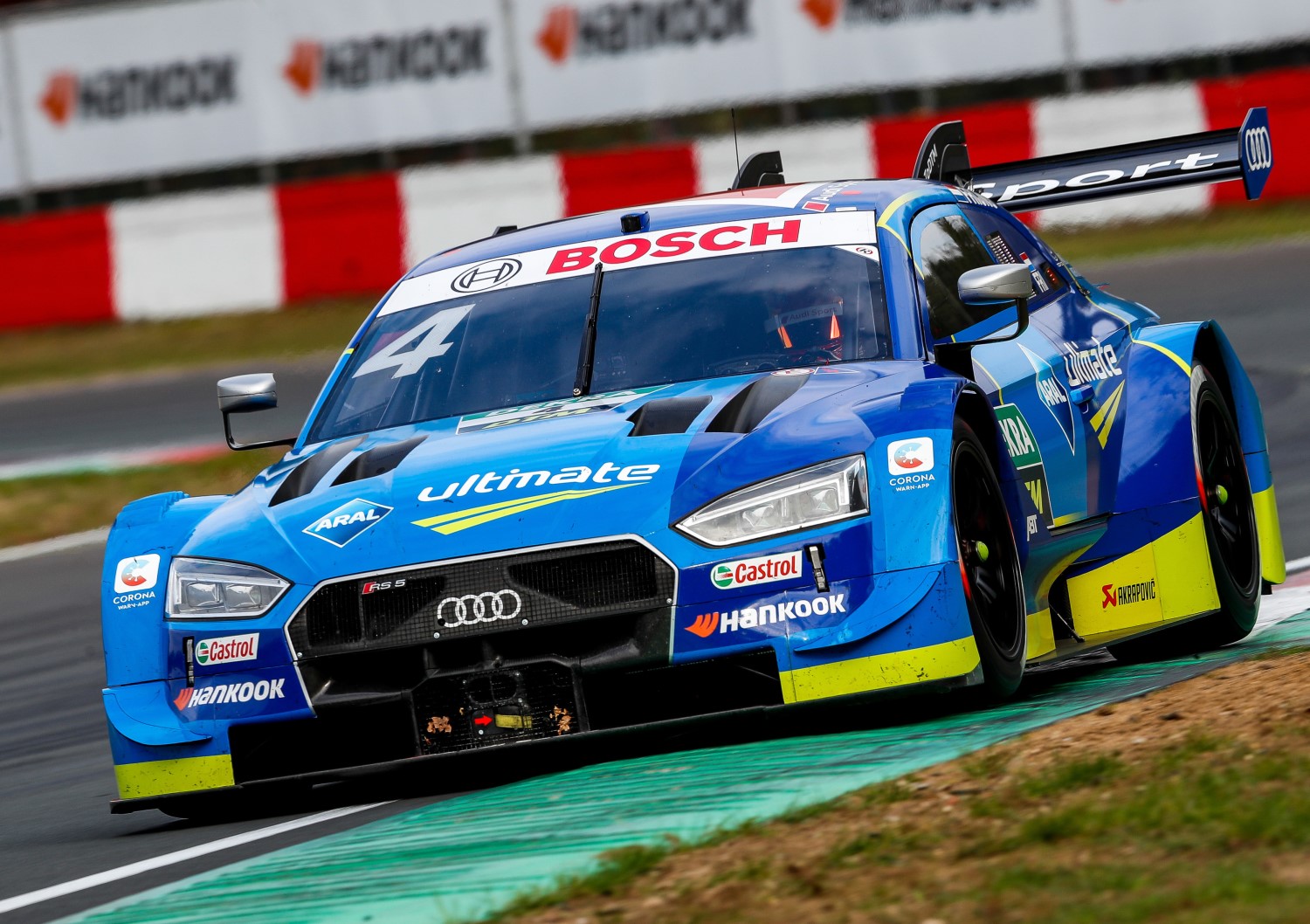 Drama around Müller, a three-way battle for a maiden podium
For Rast, who had claimed his fifth pole position of the season in qualifying, everything ran like clockwork at the start. The Audi driver skillfully defended the lead. Behind him, Habsburg, who had started second after a strong qualifying performance, defended his position from Frijns in third. The latter overtook the young Austrian at a later stage in the race.
Nico Müller, who had started the second race weekend at Zolder still in the lead of the drivers' standings, again had trouble in qualifying and only started from a disappointing eighth place. The race start didn't go according to plan for the Swiss either. After contact with the Audi of Harrison Newey (GBR), Müller dropped back to 14th, but managed to gradually work his way back up.
Further up, there was a three-way battle for the maiden podium finish in which, next to Ferdinand Habsburg, Jonathan Aberdein (RSA, BMW) and Fabio Scherer (SUI, Audi) were also fighting for their first-ever trophy for one of the first three positions. Although Aberdein, as the best-placed BMW driver, managed to make his way up into Habsburg's slipstream, it wasn't enough to secure a top 3 result.
After the 15th race of the season, Rast is the new leader in the drivers' standings at 277 points. Müller drops to second place and is ten points down on the defending champion. Frijns remains close at 262 points. The thrilling battle for the 2020 DTM crown will be going into its next round on Sunday, 18 October
Quotes – race 1, Zolder 2
René Rast, Audi, winner
"I made another good start and was able to defend first place. At the safety car and the restart, everything was okay as well. Then, I noticed who headed into the pits at what time. Robin Frijns once came pretty close to me after that, he applied some pressure. Later on, I was able to increase the gap again and save my tires until Robin again closed up towards the end. He had a very good pace. Ferdinand Habsburg was very strong, too, congrats to him on his maiden podium finish. Who would have thought only a few weeks ago that we would be leading the championship? Everything is open. Whoever is making a mistake now, is out of contention. All three of us have the pace to win the title."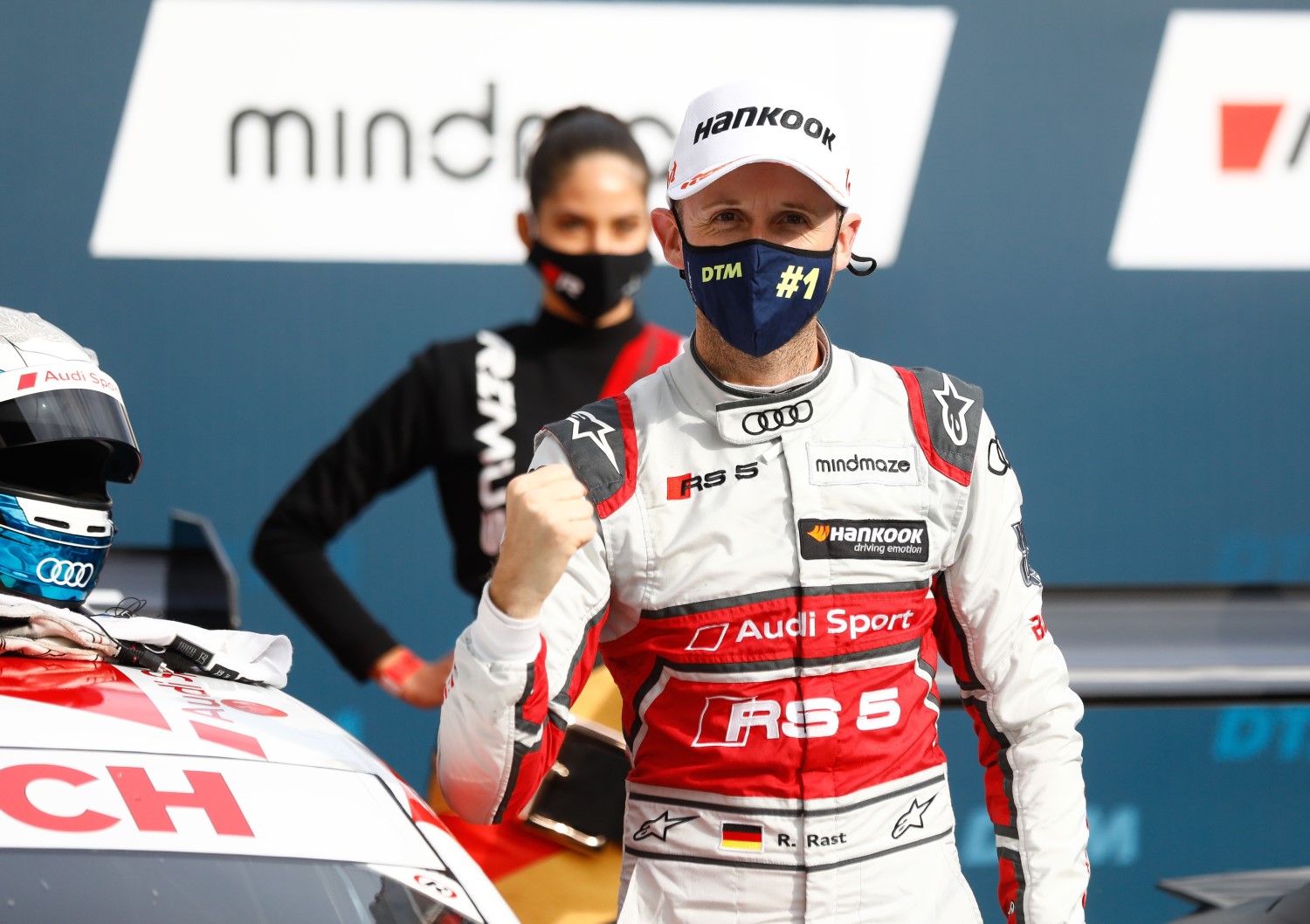 Robin Frijns, Audi, 2nd place
"My start was good. Then the safety car came out early, and I was happy that I wasn't the one who caused the neutralization, unlike a week ago. Once I got past Ferdinand Habsburg, I tried to attack René Rast. I was in the pits a little bit earlier, so my tires were already up to temperature when he came back from his pit stop. I was able to reduce the gap, but then I ran slightly wide in turn 2. After that, I backed off a bit and tried to save my tires to be able to mount a challenge at the end. That worked out. I was focussed on the final lap, but somehow, I must have missed the 'Last Lap' panel."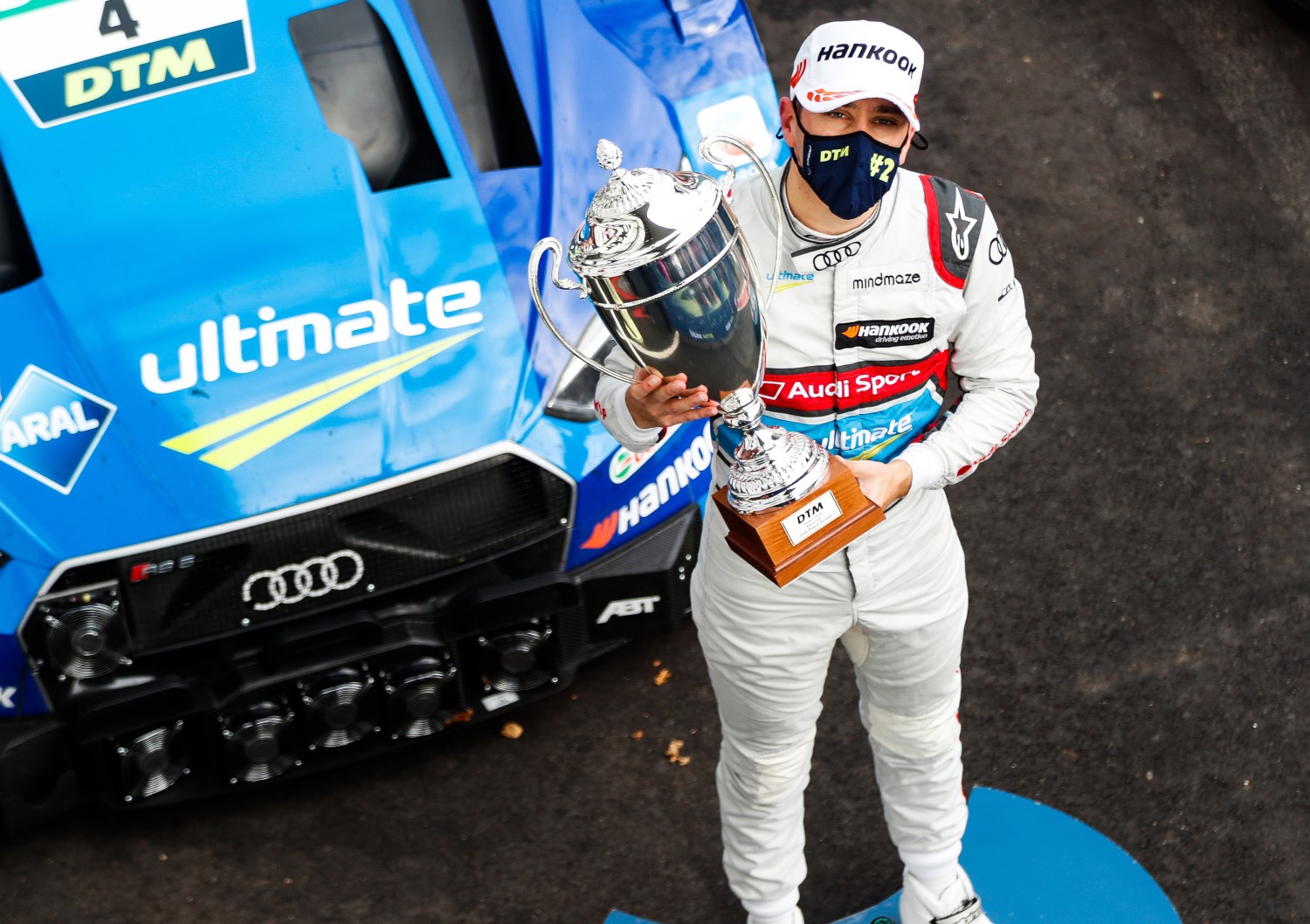 Ferdinand Habsburg, Audi, 3rd place
"Of course, I am overjoyed. I gave it my best and made very good use of my second place on the grid. At the end, I was counting down the laps, I wanted to avoid a mistake at all cost. Then, finally, the panel for the final lap was displayed. When crossing the finish line, I just kept pushing the radio button, shouting out loud for sheer joy. Surely, my team will have a headache because of that tonight! And it is also the maiden podium finish for my team WRT. We will celebrate this accordingly!"
Results – race 1, Zolder 1
| | | | | |
| --- | --- | --- | --- | --- |
| POS | DRIVER | TEAM | CAR | GAP |
| 1 | Rene Rast | Rosberg | Audi | 0.000s |
| 2 | Robin Frijns | Abt | Audi | 0.877s |
| 3 | Ferdinand Habsburg | WRT | Audi | 22.790s |
| 4 | Jonathan Aberdein | RMR | BMW | 26.462s |
| 5 | Fabio Scherer | WRT | Audi | 34.695s |
| 6 | Nico Muller | Abt | Audi | 35.154s |
| 7 | Harrison Newey | WRT | Audi | 36.041s |
| 8 | Jamie Green | Rosberg | Audi | 42.515s |
| 9 | Timo Glock | RMG | BMW | 42.982s |
| 10 | Marco Wittmann | RMG | BMW | 1m11.634s |
| 11 | Lucas Auer | RMR | BMW | 1m14.729s |
| 12 | Philipp Eng | RBM | BMW | 1m17.833s |
| 13 | Sheldon van der Linde | RBM | BMW | 1m18.323s |
| 14 | Benoit Treluyer | Phoenix | Audi | 1 Lap |
| 15 | Robert Kubica | ART | BMW | DNF |
| 16 | Mike Rockenfeller | Phoenix | Audi | DNF |
Fastest lap: René Rast (GER), Audi RS 5 DTM, 1m 20.396s
Pole position: René Rast (GER), Audi RS 5 DTM, 1m 18.843s
Weather conditions: 10°C, cloudy
Track conditions: 17°C, dry surface