Petit Le Mans Hour 3: Pagenaud has #6 Acura in lead
Simon Pagenaud has the #6 Penske Acura out front after 3 Hours of the 10-Hour Petit Le Mans at Road Atlanta, but the #31 Whelan Cadillac with Felipe Albuquerque behind the wheel is closing.
Olivier Pla has the #77 Mazda in third while Team Penske's slowest driver, Alexander Rossi, runs 4th in the #7 Acura, around 20 seconds behind and losing ground.
In GTLM the #24 RLL BMW is out front with the two Corvettes in 2nd and 3rd, having just disposed of the #912 Porsche of Earl Bamber as we type this.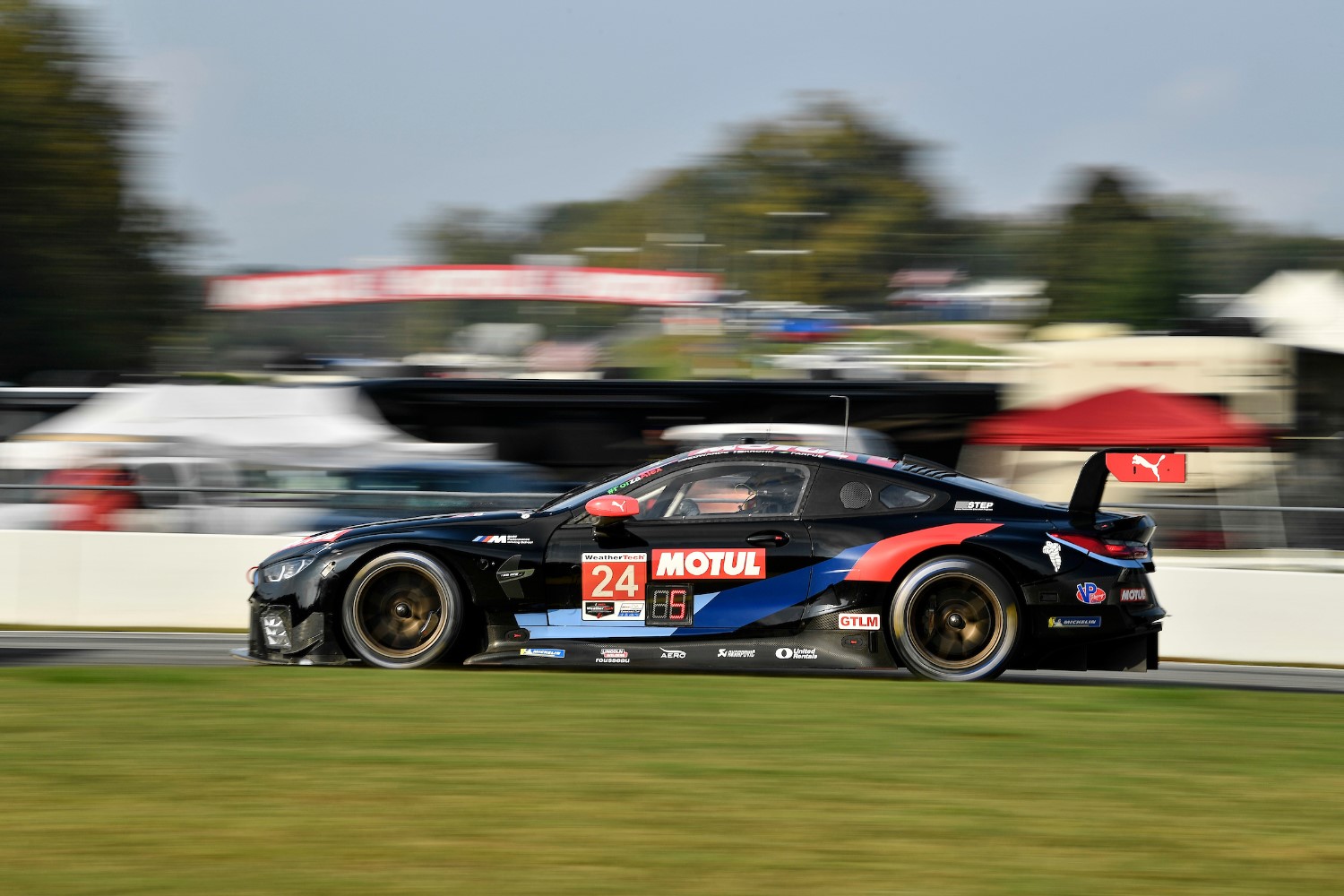 In GTD the #86 Meyer Shank Racing Acura leads the #63 Ferrari after the #48 Lamborghini finally made its 3rd pit stop.
Hour 3 Standings
| | | | | | | | |
| --- | --- | --- | --- | --- | --- | --- | --- |
| Pos | Pic | No. | Class | Drivers | Team | Car | Laps |
| 1 | 1 | 6 | DPi | J. Montoya / D. Cameron / S. Pagenaud | Acura Team Penske | Acura DPi | 142 |
| 2 | 2 | 31 | DPi | F. Nasr / P. Derani / F. Albuquerque | Whelen Engineering Racing | Cadillac DPi | 142 |
| 3 | 3 | 77 | DPi | O. Jarvis / T. Nunez / O. Pla | Mazda Motorsports | Mazda DPi | 142 |
| 4 | 4 | 7 | DPi | A. Rossi / H. Castroneves / R. Taylor | Acura Team Penske | Acura DPi | 142 |
| 5 | 5 | 10 | DPi | van der Zande / R. Briscoe / Dixon | Konica Minolta Cadillac DPi-V.R | Cadillac DPi | 142 |
| 6 | 6 | 5 | DPi | T. Vautier / S. Bourdais / L. Duval | Mustang Sampling Racing / JDC-Miller MotorSports | Cadillac DPi | 142 |
| 7 | 1 | 52 | LMP2 | P. Kelly / S. Trummer / S. Huffaker | PR1 Mathiasen Motorsports | ORECA LMP2 07 | 139 |
| 8 | 7 | 55 | DPi | J. Bomarito / H. Tincknell / R. Hunter-Reay | Mazda Motorsports | Mazda DPi | 137 |
| 9 | 2 | 8 | LMP2 | J. Farano / M. Jensen / J. van Uitert | Tower Motorsport by Starworks | ORECA LMP2 07 | 137 |
| 10 | 3 | 51 | LMP2 | A. McCusker / J. Smiechowski / R. Hodes | Inter Europol Competition | ORECA LMP2 07 | 136 |
| 11 | 4 | 38 | LMP2 | J. McGuire / M. Bell / C. Braun | Performance Tech Motorsports | ORECA LMP2 07 | 134 |
| 12 | 1 | 24 | GTLM | J. Krohn / J. Edwards / A. Farfus | BMW Team RLL | BMW M8 GTE | 132 |
| 13 | 2 | 911 | GTLM | N. Tandy / F. Makowiecki / M. Campbell | Porsche GT Team | Porsche 911 RSR – 19 | 132 |
| 14 | 3 | 4 | GTLM | O. Gavin / T. Milner / M. Fassler | Corvette Racing | Chevrolet Corvette C8.R | 132 |
| 15 | 4 | 3 | GTLM | A. Garcia / J. Taylor / N. Catsburg | Corvette Racing | Chevrolet Corvette C8.R | 132 |
| 16 | 5 | 912 | GTLM | E. Bamber / L. Vanthoor / M. Jaminet | Porsche GT Team | Porsche 911 RSR – 19 | 132 |
| 17 | 1 | 48 | GTD | B. Sellers / M. Snow / C. Lewis | Paul Miller Racing | Lamborghini Huracan GT3 | 127 |
| 18 | 2 | 86 | GTD | M. Farnbacher / M. McMurry S. Michimi | Meyer Shank Racing w/Curb-Agajanian | Acura NSX GT3 | 127 |
| 19 | 3 | 63 | GTD | C. MacNeil / A. Balzan / J. Westphal | Scuderia Corsa | Ferrari 488 GT3 | 126 |
| 20 | 4 | 9 | GTD | D. Olsen / Z. Robichon / L. Kern | Pfaff Motorsports | Porsche 911 GT3R | 126 |
| 21 | 5 | 12 | GTD | F. Montecalvo / T. Bell / K. Kirkwood | AIM VASSER SULLIVAN | Lexus RC F GT3 | 126 |
| 22 | 6 | 23 | GTD | I. James / R. De Angelis / D. Turner | Heart Of Racing Team | Aston Martin Vantage GT3 | 126 |
| 23 | 7 | 57 | GTD | A. Parente / M. Goikhberg / T. Hindman | Heinricher Racing w/MSR Curb-Agajanian | Acura NSX GT3 | 126 |
| 24 | 8 | 44 | GTD | J. Potter / A. Lally / S. Pumpelly | GRT Magnus | Lamborghini Huracan GT3 | 126 |
| 25 | 9 | 16 | GTD | R. Hardwick / P. Long / J. Heylen | Wright Motorsports | Porsche 911 GT3R | 126 |
| 26 | 10 | 74 | GTD | G. Robinson / L. Aschenbach / B. Keating | Riley Motorsports | Mercedes-AMG GT3 | 125 |
| 27 | 11 | 96 | GTD | B. Auberlen / R. Foley / D. Machavern | Turner Motorsport | BMW M6 GT3 | 125 |
| 28 | 12 | 14 | GTD | A. Telitz / J. Hawksworth / M. De Quesada | AIM VASSER SULLIVAN | Lexus RC F GT3 | 125 |
| 29 | 13 | 30 | GTD | R. Ferriol / M. Winkelhock / A. Davis | Team Hardpoint | Audi R8 LMS GT3 | 124 |
| 30 | 6 | 25 | GTLM | Spengler / C. De Phillippi / Herta | BMW Team RLL | BMW M8 GTE | 101 |
| 31 | 8 | 85 | DPi | C. Miller / M. Leist / G. Aubry | JDC-Miller MotorSports | Cadillac DPi | 96 |