MotoGP: Rins beats Alex Marquez in magnificent MotorLand battle
Eight winners, nine races. MotoGP in 2020 delivered once again as Alex Rins (Team Suzuki Ecstar) took Gran Premio Michelin de Aragon honors in a stunningly tense premier class encounter. Alex Marquez (Repsol Honda Team) picked up his second consecutive MotoGP podium to finish 0.2 seconds behind Rins in P2, as the Championship takes another almighty twist. Joan Mir (Team Suzuki Ecstar) now leads the overall standings, the first Suzuki rider to do that since 2000 after polesitter Fabio Quartararo (Petronas Yamaha SRT) takes the checkered flag in P18.
Off the starting line like a bat out of hell was Maverick Viñales (Monster Energy Yamaha MotoGP) as the Spaniard and Quartararo almost came into contact heading into Turn 1. Up the inside of the duo was Morbidelli into the opening left-hander but the Italian was wide, allowing Viñales and Quartararo to come through as the Monster Energy Yamaha man took to lead – and started to take off. Rins made a blinding start and was up to P4 on the opening lap, just ahead of Jack Miller (Pramac Racing), with Mir staying put in P6. Cal Crutchlow (LCR Honda Castrol) got shuffled down to P12 on the opening lap from Row 1 as Andrea Dovizioso (Ducati Team) had made good early progress into P8 from P13.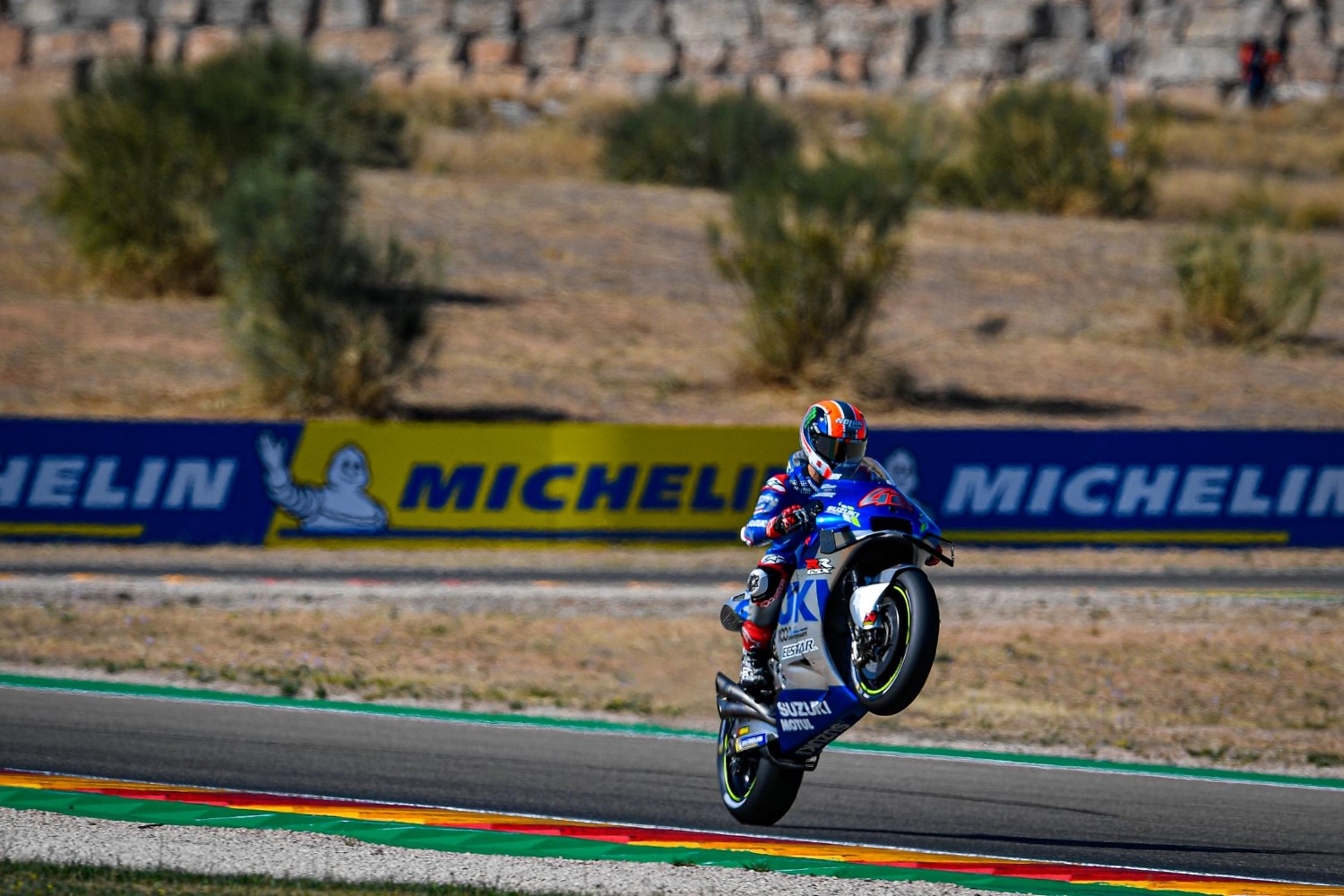 Viñales' gap was up to 0.7 on Lap 1 but Quartararo went quicker on Lap 2 to close it down to half a second. Meanwhile, Rins was up the inside of Morbidelli at Turn 1 as the Suzuki star set his sights on the leading two Yamahas. Morbidelli was then dropped slightly by Rins and Quartararo as the latter then lost out to Rins at the final corner, Quartararo running slightly wide. Viñales' gap had been up to 0.8 seconds but Rins was flying and the gap was soon under half a second, with Morbidelli gaining pace to creep up to the tailpipes of his teammate. Fifth place Mir was the fastest man on track on Lap 5 and just behind, Miller and Alex Marquez were having a belting scrap.
On Lap 6, Rins was 0.6 seconds faster than Viñales and heading onto the seventh lap of 23, Rins was breathing down his compatriot's neck. Quartararo had been dropped slightly and had Morbidelli right behind him, with Mir swarming also. Morbidelli then passed Mir and the Petronas Yamaha SRT teammates were alongside each other down the straight and not wanting to hand the position over, both were wide at Turn 16. Mir said thank you very much and swept through to P3, Morbidelli held P4 as Quartararo dropped to P5. And just behind, Le Mans podium finisher Marquez was the fastest man on track – right behind Quartararo.
On Lap 8 at the final corner, Rins passed Viñales for the race lead. A smooth, clean and easy looking sweep up the inside heading onto the home straight as Marquez grabbed P5 off Quartararo – the Repsol Honda man was the fastest man on circuit once again. Marquez then picked off Morbidelli and on Lap 9, the Spaniard was the only rider in the 1:48s – awesome from Marquez, he was 0.2 quicker than Mir just ahead of him.
Quartararo looked in big trouble. The Frenchman was in the 1:50s and Takaaki Nakagami (LCR Honda Idemitsu) was harrowing the number 20, with Miller, Dovizioso and Crutchlow all coming to make his day go from bad to worse. Nakagami was through at Turn 16 with Quartararo unable to hold a tight line – that medium front tire not working for Quartararo with Miller and Dovizioso dropping him down to P9.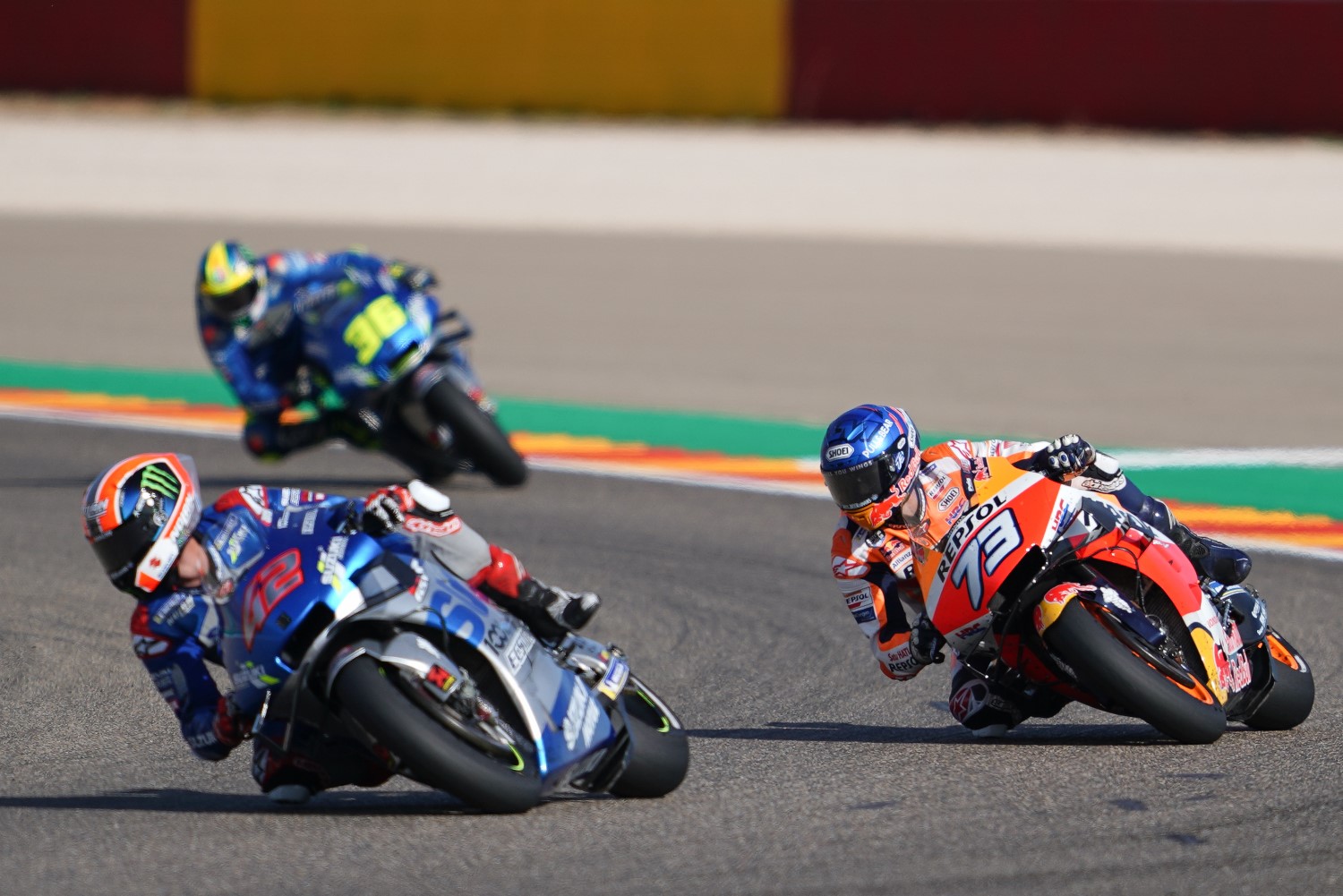 Up front, the leading four were split by just 1.2 seconds with Rins leading. Marquez was harassing Mir and the rookie was well in the victory fight in Aragon, fifth place Morbidelli had no answer for the quartet's pace. Mir then shot up the inside of Viñales at Turn 15, Viñales got the cutback but down into Turn 16, Mir swept through. Then, at Turn 1, Marquez was into P3 with 10 to go. Now, it was a Suzuki 1-2. Further back, Quartararo was having a disaster and was down to P15 – Johann Zarco (Esponsorama Racing), Danilo Petrucci (Ducati Team), Aleix Espargaro (Aprilia Racing Team Gresini) and the Red Bull KTM Factory Racing duo of Pol Espargaro and Brad Binder were through – unbelievable scenes.
Back at the front, Marquez was the only rider in the 1:48s still and Viñales had no answer for the leading three. On Lap 16 of 23, Mir and Marquez closed Rins down and the gap was 0.6 covering the trio. Quartararo was then down to P17, Miguel Oliveira and Red Bull KTM Tech3 teammate Iker Lecuona were through and Quartararo was in the 1:51s. With seven laps to go, Viñales was nearly two seconds off the front guys and it seemed it was just between the two Suzukis and Alex Marquez for Aragon GP victory. How much rear soft tire had Marquez used in fighting his way to the front, and could he match the Suzukis that are always good with tire saving? We'd soon find out.
With six to go, Rins' lead was three tenths. Marquez was still right there and showed no signs of slowing down. It almost looked like Mir was holding the number 73 up. Down into the penultimate corner, Marquez then cut past Mir like a hot knife through butter and now, Marquez was P2. The former Moto3™ teammates Rins and Marquez were 1-2 and the gap was coming down – in one lap, Marquez over three tenths quicker. Queue the Jaws music guys, a rookie revelation was hungry for the race lead with four laps remaining.
Marquez could turn it so much tighter around the double apex last corner with the medium front tire. Rins was holding station and looking good but Marquez was looking absolutely stunning on his brother's stomping ground. A major warning came Marquez' way at the final corner though with two laps and a corner to go, Marquez was out the seat as he squeezed on the gas – the black tire mark left was mind-boggling. Marquez was then slightly wide at Turn 1 with Mir not in the fight for victory now.
Two laps to go! Rins had a three tenth lead over Marquez and coming onto the last lap, it remained at 0.3 seconds. Mir had to keep an eye out for Viñales and Morbidelli had Nakagami for company in the battle for the top five. All eyes were on the battle at the front though and Marquez was right there! The tension was palpable, Marquez had to try and get close enough to get into the slipstream down the back straight. It was all about the drive down the 1km long run but Rins got his GSX-RR hooked up nicely. Marquez wasn't close enough to try his inside sweeping move and Rins made no mistake. Rising over the brow of the hill, Rins took victory by 0.2 seconds ahead of Marquez, another stunning ride by the HRC rider.
"Honestly I didn't expect to get a podium from starting in 11th but I was able to recover well," said Marquez. "
I found myself in a good position, so we did what we could! I knew I could take quite good care of my tires for the end of the race. I enjoyed every overtake, but I was really on the limit with the front tire. Even so, it's great to be back on the podium and to do it in the dry, we really showed our potential all weekend. We still need to work on Qualifying, but we can enjoy what we achieved today. I want to again say thank you to the Repsol Honda Team for believing in me, supporting me, guiding me and never giving up. They gave me an amazing bike and I enjoyed the whole race."
Race Results
| | | | | | | | |
| --- | --- | --- | --- | --- | --- | --- | --- |
| Pos. | Points | Num. | Rider | Nation | Team | Bike | Gap |
| 1 | 25 | 42 | Alex RINS | SPA | Team SUZUKI ECSTAR | Suzuki | +0.000s |
| 2 | 20 | 73 | Alex MARQUEZ | SPA | Repsol Honda Team | Honda | +0.263 |
| 3 | 16 | 36 | Joan MIR | SPA | Team SUZUKI ECSTAR | Suzuki | +2.644 |
| 4 | 13 | 12 | Maverick VIÑALES | SPA | Monster Energy Yamaha MotoGP | Yamaha | +2.880 |
| 5 | 11 | 30 | Takaaki NAKAGAMI | JPN | LCR Honda IDEMITSU | Honda | +4.570 |
| 6 | 10 | 21 | Franco MORBIDELLI | ITA | Petronas Yamaha SRT | Yamaha | +4.756 |
| 7 | 9 | 4 | Andrea DOVIZIOSO | ITA | Ducati Team | Ducati | +8.639 |
| 8 | 8 | 35 | Cal CRUTCHLOW | GBR | LCR Honda CASTROL | Honda | +8.913 |
| 9 | 7 | 43 | Jack MILLER | AUS | Pramac Racing | Ducati | +9.390 |
| 10 | 6 | 5 | Johann ZARCO | FRA | Esponsorama Racing | Ducati | +9.617 |
| 11 | 5 | 33 | Brad BINDER | RSA | Red Bull KTM Factory Racing | KTM | +13.200 |
| 12 | 4 | 44 | Pol ESPARGARO | SPA | Red Bull KTM Factory Racing | KTM | +13.689 |
| 13 | 3 | 41 | Aleix ESPARGARO | SPA | Aprilia Racing Team Gresini | Aprilia | +14.598 |
| 14 | 2 | 27 | Iker LECUONA | SPA | Red Bull KTM Tech 3 | KTM | +15.291 |
| 15 | 1 | 9 | Danilo PETRUCCI | ITA | Ducati Team | Ducati | +15.941 |
| 16 | 0 | 88 | Miguel OLIVEIRA | POR | Red Bull KTM Tech 3 | KTM | +18.284 |
| 17 | 0 | 6 | Stefan BRADL | GER | Repsol Honda Team | Honda | +20.136 |
| 18 | 0 | 20 | Fabio QUARTARARO | FRA | Petronas Yamaha SRT | Yamaha | +21.498 |
| 19 | 0 | 38 | Bradley SMITH | GBR | Aprilia Racing Team Gresini | Aprilia | +25.300 |
| 20 | 0 | 53 | Tito RABAT | SPA | Esponsorama Racing | Ducati | +25.558 |
| DNF | 0 | 63 | Francesco BAGNAIA | ITA | Pramac Racing | Ducati | 21 Laps |