NHRA: Torrence, Hagan, Kramer, and Smith will lead FallNationals fields into battle
Steve Torrence (Top Fuel), Matt Hagan (Funny Car), Deric Kramer (Pro Stock), and Matt Smith (Pro Stock Motorcycle) led their respective fields at the close of qualifying for the AAA Texas NHRA FallNationals at Texas Motorplex. The event is the ninth off 11 races on the NHRA Camping World Drag Racing Series season in 2020.
Torrence, who lost the final round at the Mopar Express Lane NHRA Midwest Nationals and almost his points lead to challenger Doug Kalitta, reasserted his dominance Saturday with a 3.662 to take "dem Capco boys" to the No. 1 spot for the second time this season.
Torrence's final dash bumped rookie of the year favorite Justin Ashley and the Strutmasters.com team from the perch he held after Q1 with a 3.687 but it's still a career best for the first-year driver, whose previous best was a No. 5 starting spot in Phoenix.
"You have to go out and make those runs, and make them count," Torrence said. "You have to be able to run hard when you can and try to get every point possible. We came in here with a two-point lead (over Doug Kalitta), so we just have to keep chipping away at it. We're trying to capitalize on every opportunity we get. When you have that support from everyone and it's your home state crowd, I don't know if it does anything to make us run better, but it definitely gives you that sense of everybody here cheering for you. Now you've got to go out there and go four rounds on Sunday, and not make any mistakes."
Transplanted Texan Tony Schumacher grabbed the No. 3 spot with the Okuma/Sandvik machine an impressive outing with a newly refurbished car after having to give his primary ride back to Leah Pruett after her St. Louis crash. Pruett is fifth with the repossessed rail with a 3.732, just a few ticks behind fourth-ranked Shawn Langdon's 3.727.
Kalitta rebounded from a subpar first pass to chalk up a 3.761, but it's only good for the No. 7 spot.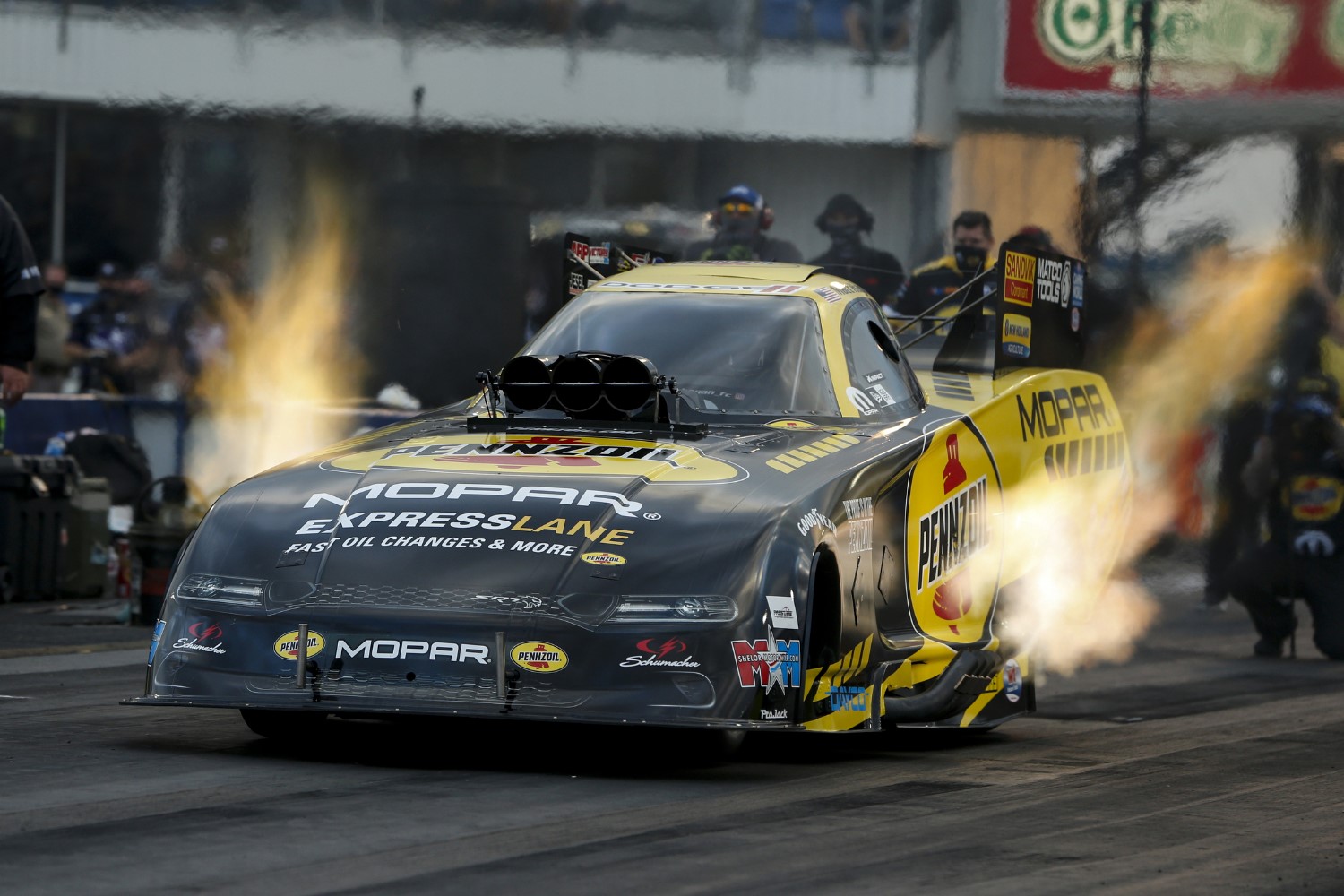 Hagan collected his class-leading fourth No. 1 qualifying effort of the season, powering his special-wrap Pennzoil Dodge to a 3.860 to steal the no. 1 spot from teammate Tommy Johnson Jr., whose first-session 3.871 previously held the top spot,
Just five three-second passes were recorded in the tricky opening session and the number nearly doubled with nine sub-four-second passes in the evening session, led by Hagan's blast.
"We've got a really great car and it's been running great all season long," Hagan said. "Our confidence has just grown with each race. It's getting so tough and it just shows you how competitive these crew chiefs and these drivers are out here. There's no opportunity to come in and slack off in one round. You have to learn something every time, but I really love our mojo right now. All our guys are working great together and I'm having fun. (Crew chief) Dickie (Venables) is the man and he's put a heck of a car under me, and I'm just trying to drive the wheels off. To see the fans in the stands, that pumped me up. It's a great feeling to be back here and see the fans come out."
After having to abort his opening pass, Ron Capps and the NAPA Auto Parts team got it dialed in for Q2 and ripped off a 3.885 to roar from No. 14 to Capps 14 to 2, though he was bumped down a spot Hagan and also by Tim Wilkerson, who ran an identical 3.885 but at a faster speed, 328.94 to Capps' 326.79, to take the position.
The top 10 cars in the field all ran in the threes, with Alexis DeJoria, Jack Beckman, Bob Tasca III, J.R. Todd, Paul Lee, and Blake Alexander all making strong runs.
Texan Todd Simpson, who had to be shut off on his first attempt, qualified No. 16 with an 8.528 and will face Hagan in the first round Sunday.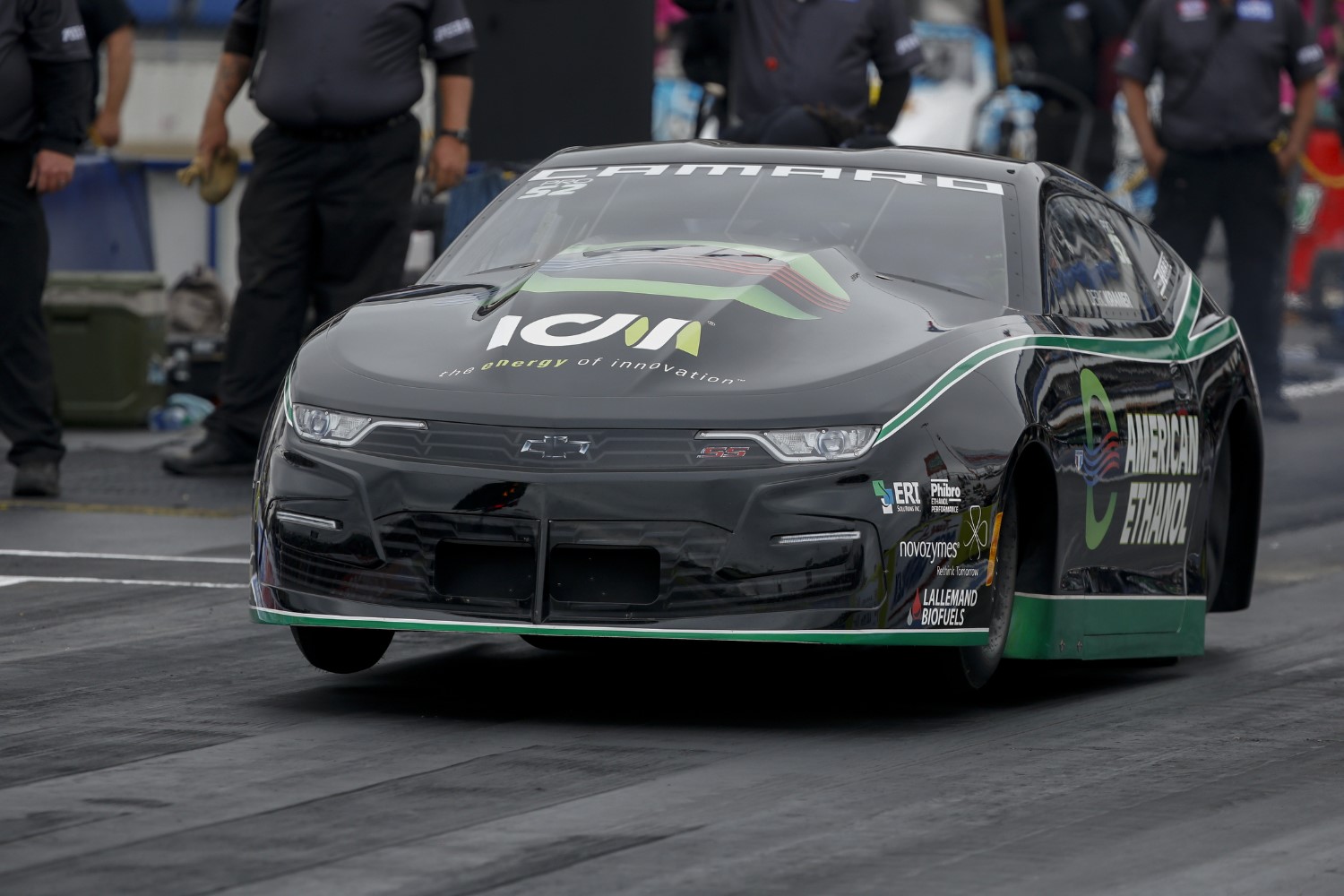 Deric Kramer claimed his second straight No. 1 qualifier in Pro Stock, backing up his poles-sitting effort from the Amalie Motor Oil NHRA Gatornationals with a 6.541 recorded in the first session.
Because qualifying for the Mopar Express Lane NHRA Midwest Nationals was decided by points, it's back to back in performance-based qualifying for Kramer and the American Ethanol Camaro team. Gatornationals champ Alex Laughlin is qualified No. 2 with a 6.544, and is followed in the top four by  Jason Line (6.548) and Bo Butner (6.552).
Despite the cooler afternoon conditions, most of the Pro Stock cars did not improve in the event's second qualifying session.
"Once I saw a few pairs of Pro Stock go down in that second session, I knew there was a good chance we'd keep the No. 1 for race day," Kramer explained.  "First round is always just [Michael] Hiner and I racing against ourselves," he added. "We try not to worry about who is the other lane when we race and just focus on our lane. We focus on doing the best we can to turn on the win light each round."
Aaron Stanfield, who earlier in the day locked up his second straight SAMtech.edu NHRA Factory Stock Showdown win by defeating teammate David Janac in the delayed final round from the Amalie Motor Oil NHRA Gatornationals, qualified No. 6 with a 6.558.
Kenny Delco, making his comeback from a top-end tumble two weeks ago at the Mopar Express lane NHRA Midwest Nationals, qualified Fernando Cuadra's new Mustang in the show with a 6.591 in the No. 12 spot. Cuadra himself was one of three DNQs. Delco's teammate, Val Smeland, ended up in the field's final spot with a 6.641 on his opening pass and will take on low qualifier Kramer in the opening round Sunday.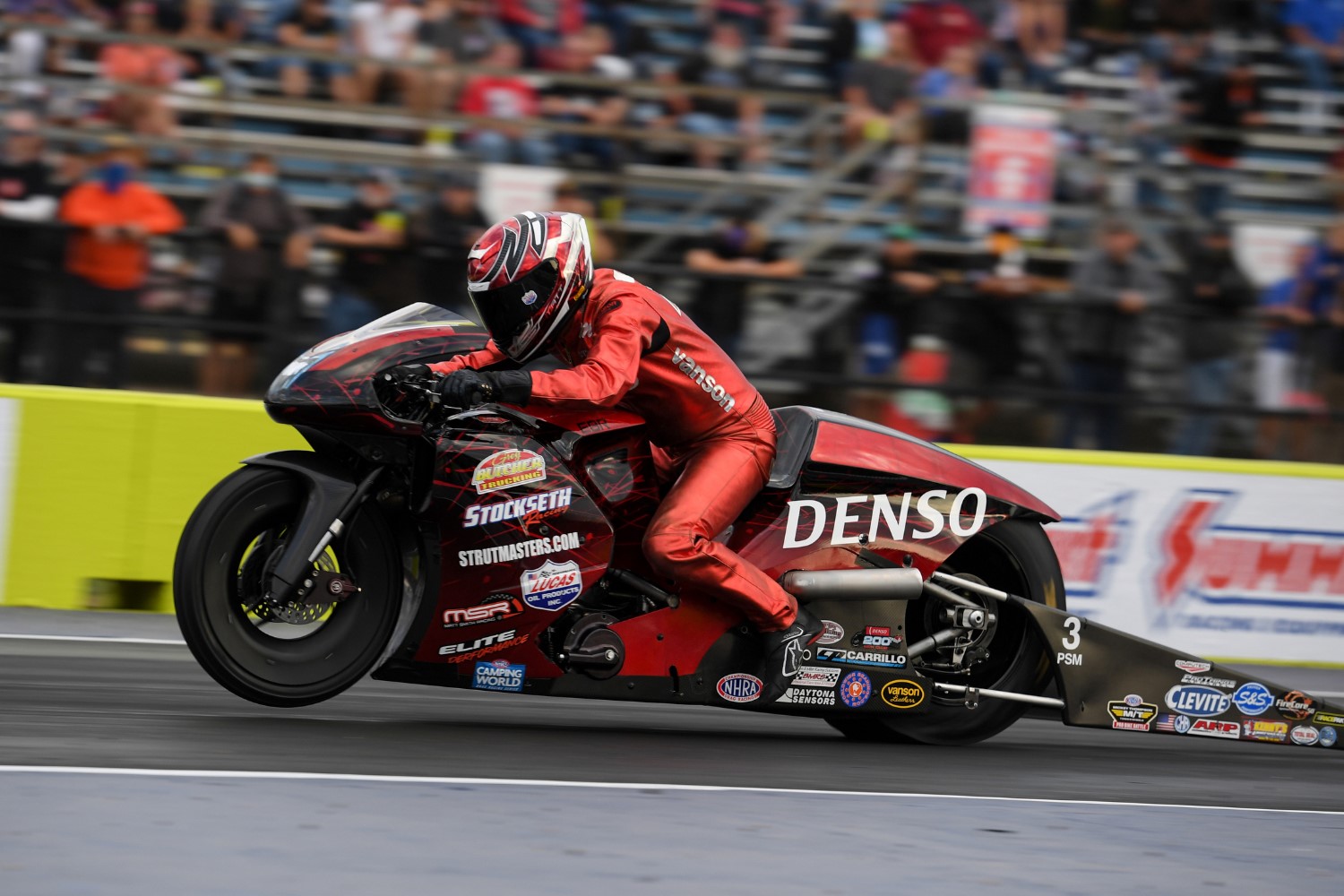 Smith and his Denso EBR collected their third straight No, 1 in pro Stock Motorcycle and did it in style, running more than 200 mph on both Saturday passes, including a first-session 6.808 that nudged him one-thousandth of a second ahead of his wife, Angie, who joined the Denso 200-mph Club in that first session.
Former world champ Jerry Savoie, who cracked the top-eight qualifying sheet for the first time in Gainesville (No. 5), continued that upward trend with his White Alligator Racing Suzuki, posting a 6.829 for the No. 3 spot.
While most of the Pro Stock Motorcycles, like their four-wheeled brethren, did not improve in the evening session there were two notable improvements by Harley Davidson teammates Angelle Sampey and Eddie Krawiec. Sampey improved from a 6.986 to a 6.847 to jump from No. 12 all the way to No. 4 while Krawiec, who was not in the field when he pulled to the line in Q2 after a troubled opening pass of 7.056, rocketed to the No. 7 spot with a 6.870.
Local favorite Michael Phillips anchored the field with a 6.984 on his final attempt and will square off with Smith in round one.