Logano punches ticket to final-four in Kansas
Joey Logano landed a Championship 4 berth, scoring his third victory of the season in Sunday's NASCAR Cup Series event at Kansas Speedway.
Logano led 47 of 267 laps in the Hollywood Casino 400, the first of three races in the Round of 8 elimination round. The driver of the No. 22 Team Penske Ford netted his third win at the 1.5-mile Kansas City track and the 26th of his Cup Series career.
"Hell, yeah," Logano told his crew over the No. 22 radio. "Racing for a championship!"
"You come into this race knowing that if you can win this thing you have an amazing advantage. The same thing happened in 2018 when we raced for the win at Martinsville knowing that we have two races to battle for nothing but the championship. I can't believe it. Especially the way the beginning of the race was going and running back there not scoring stage points. It was a good strategy by Paul and good pit stops and now this Shell Pennzoil Mustang is going to race for a championship at Phoenix."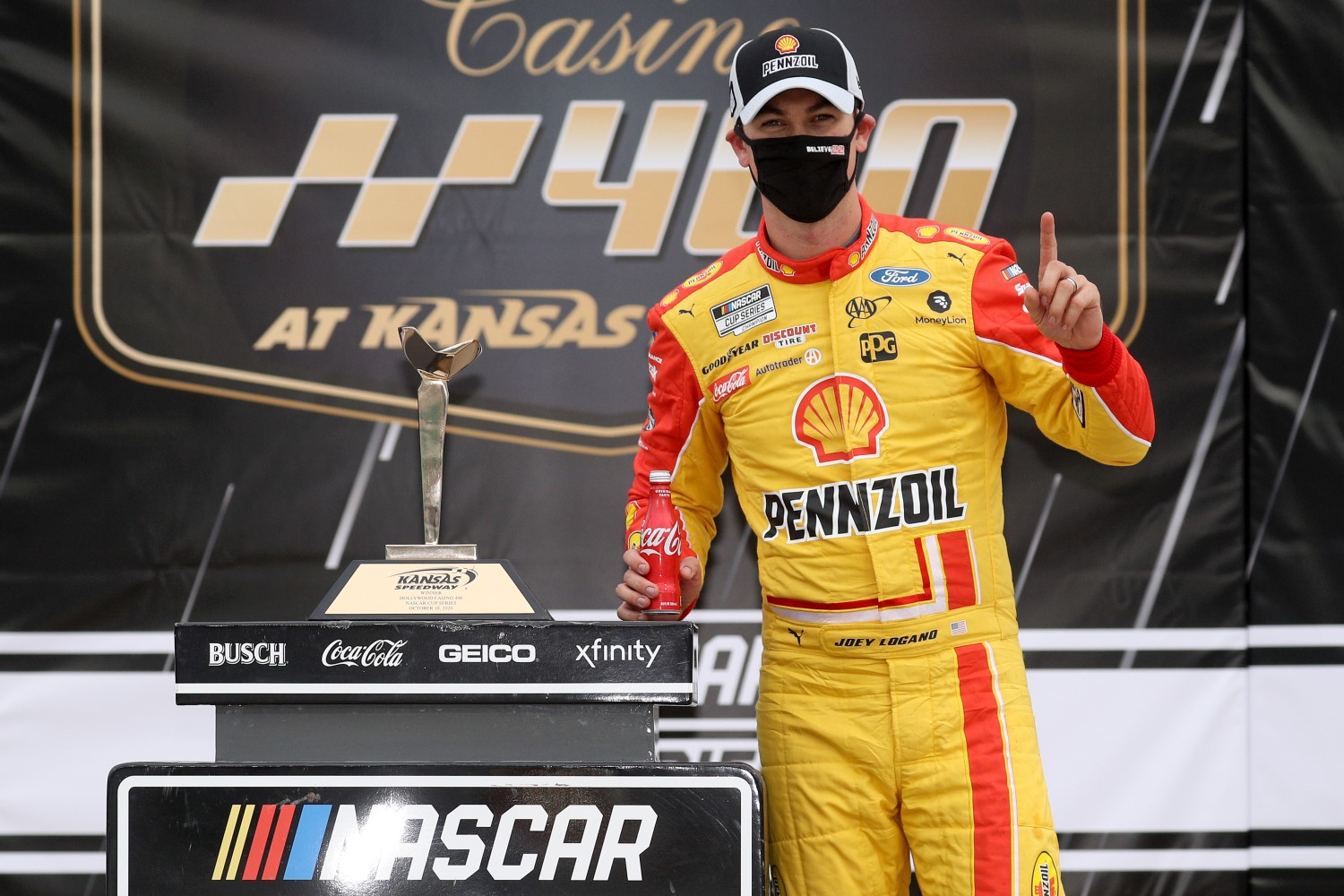 Kevin Harvick led the most laps (85) and claimed second place in the No. 4 Stewart-Haas Racing Ford, crossing the start-finish line .312 seconds off the lead at the checkered flag. Alex Bowman corralled third place with Brad Keselowski fourth and Kyle Busch finishing out the top five.
The event was the first of three races in the Round of 8, the final elimination bracket that will determine the final four drivers who will contend for the Cup Series crown in the Nov. 8 finale at Phoenix Raceway. Logano automatically advanced to the championship race with Sunday's victory.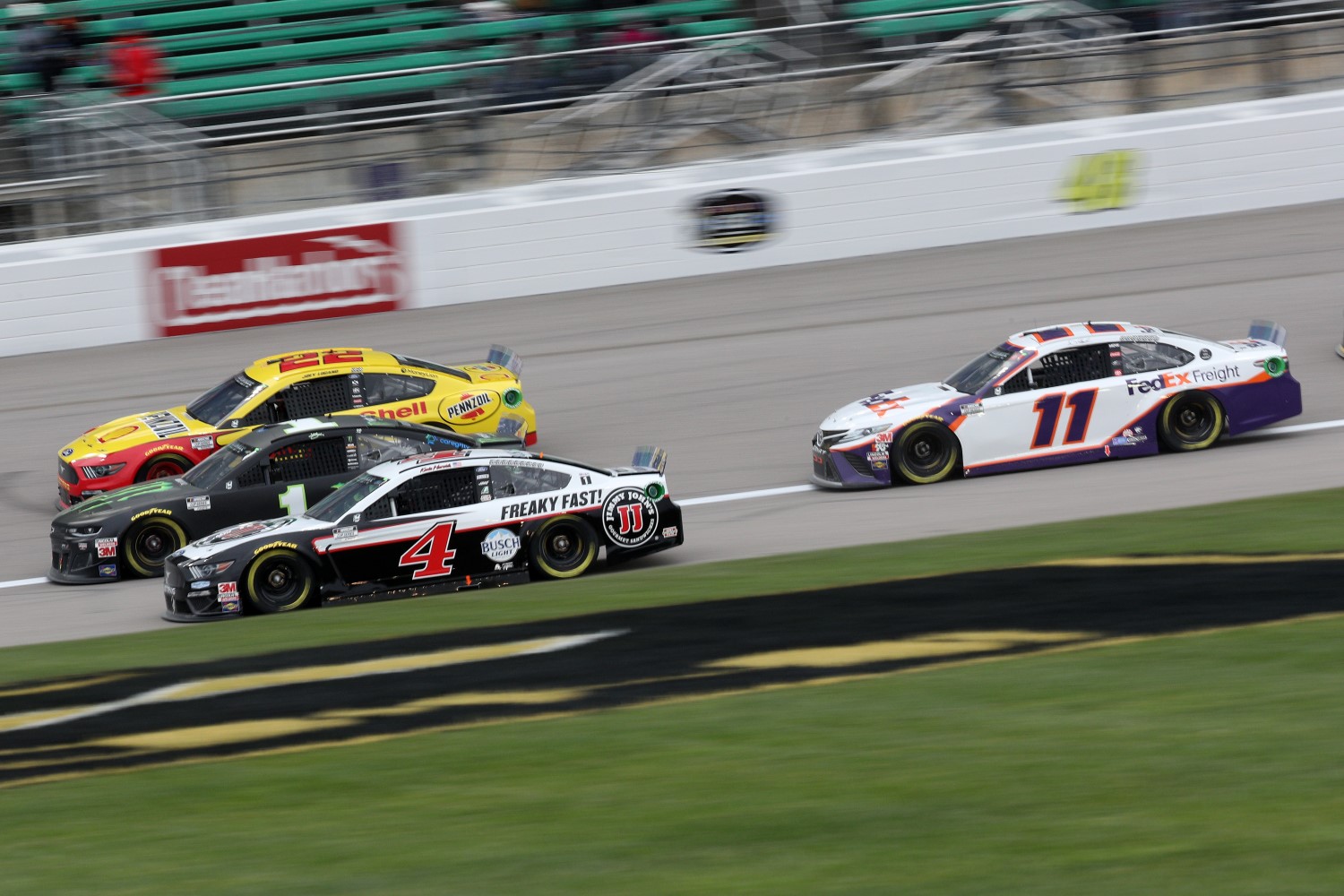 A handful of the eight remaining title-eligible drivers encountered trouble in Sunday's 400-miler. Faring worst was Kurt Busch, who was sidelined after 197 laps after the engine in his No. 1 Chip Ganassi Racing Chevrolet expired. He entered the Round of 8 in eighth place and will exit Kansas with a major points deficit after a 38th-place finish.
"Yeah, usually there's no warning," said Busch. "Everything is so buttoned up these days in the engine department. I haven't seen an engine problem in years. No fault of anybody at Hendrick engines. We're running hard here. We were running top-five and there's a ton of RPM down the front-straightaway with the tail wind. We were right in the mix. We were doing the deal. I just couldn't quite clear some guys to get into that top-three or four and then our car would come back to us on the long run after about lap 30."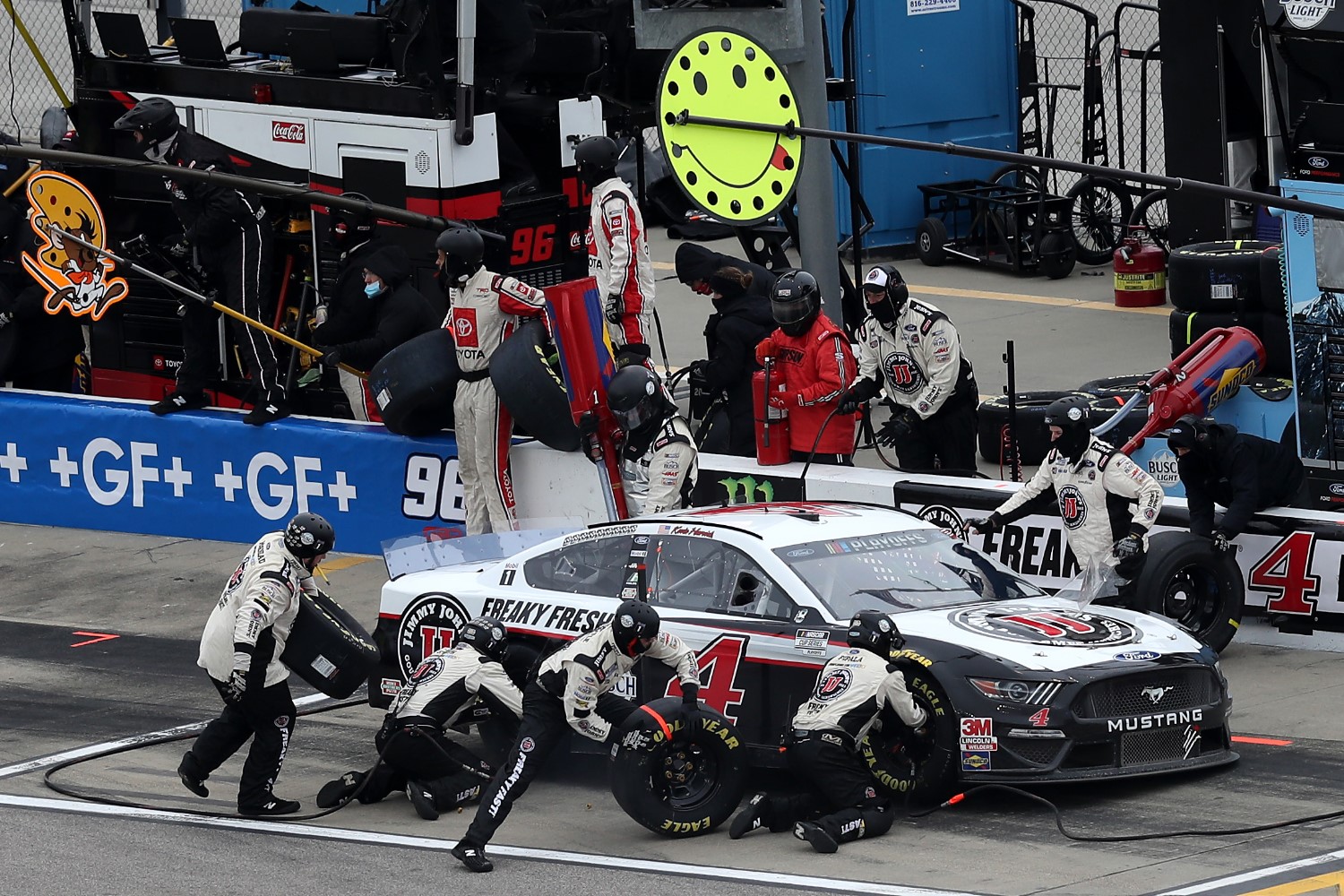 "It's a shame for everybody at Chip Ganassi Racing. Having an engine failure in the Playoffs – it's just like a huge parachute that slows you up. We'll pack that parachute up, throw it away and we'll go to Texas to win. We knew we were going to have to win either here or Texas. Martinsville we have a shot at it, too. The odds are stacked against us, but hey, we're in the top-eight for a reason. I have a great crew chief, Matt McCall, and we'll bounce back. Thanks to Monster, GEARWRENCH, Chevrolet. It's just one of those things where you have an engine failure and there's nothing we can do about it."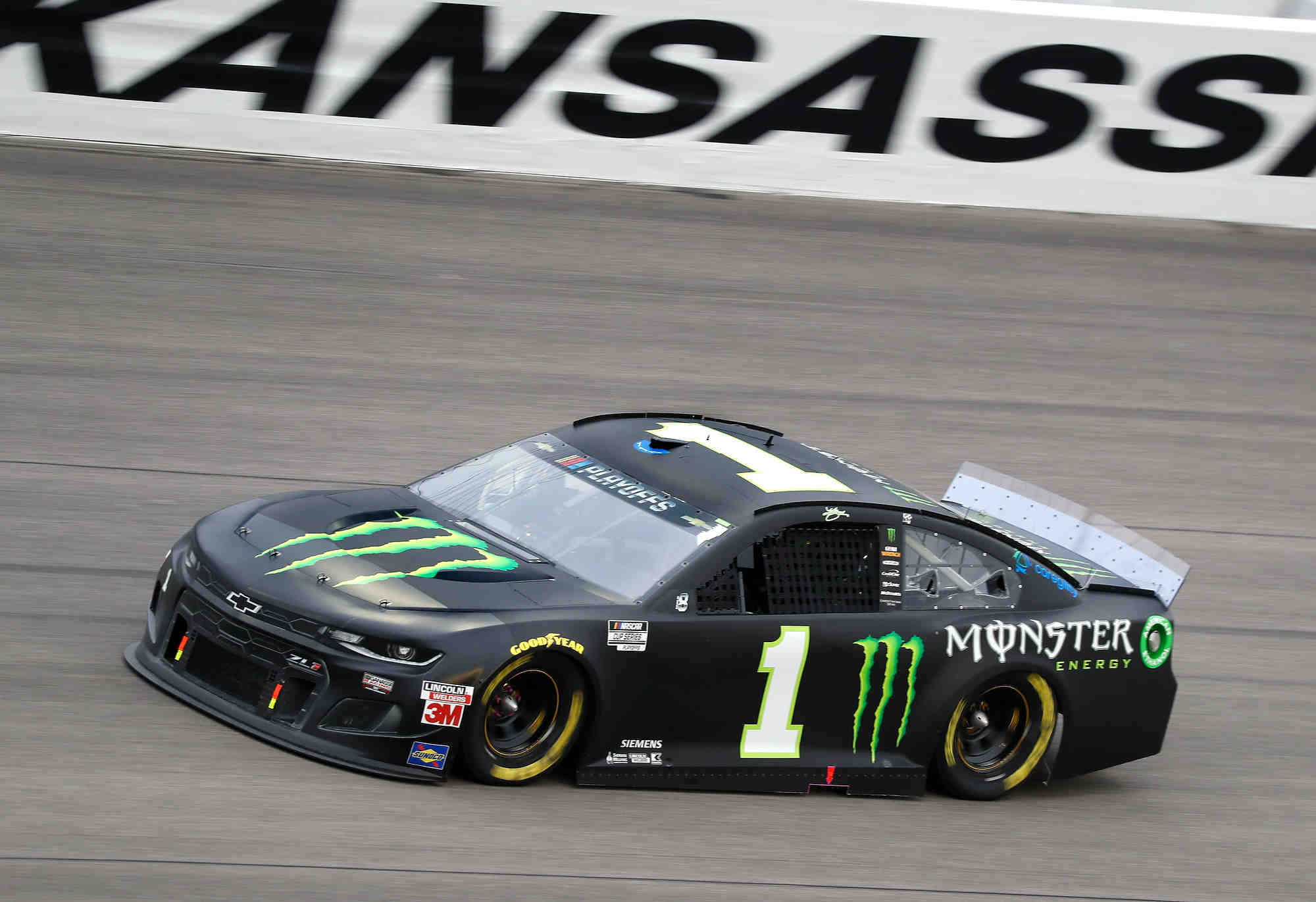 Chase Elliott (Stage 1) and Denny Hamlin (Stage 2) divided the stage wins to add one playoff point each to their season-long totals, but each ran into their own pitfalls. Elliott started from the Busch Pole and led 48 laps but battled radio communications issues through most of the event. Hamlin pitted on Lap 180 after a scrape of the Turn 4 retaining wall, losing one lap and falling to 29th place before a final-stage rally. Elliott finished sixth with Hamlin 15th.
Race Results
| | | | | | |
| --- | --- | --- | --- | --- | --- |
| POS | CAR | DRIVER | MAKE | BEHIND | LAPS |
| 1 | 22 | Joey Logano (P) | Ford | 0.000s | 246 |
| 2 | 4 | Kevin Harvick (P) | Ford | 0.153 | 246 |
| 3 | 2 | Brad Keselowski (P) | Ford | 0.563 | 246 |
| 4 | 88 | Alex Bowman (P) | Chevy | 0.970 | 246 |
| 5 | 9 | Chase Elliott (P) | Chevy | 1.271 | 246 |
| 6 | 18 | Kyle Busch | Toyota | 2.292 | 246 |
| 7 | 12 | Ryan Blaney | Ford | 2.710 | 246 |
| 8 | 24 | William Byron | Chevy | 3.100 | 246 |
| 9 | 19 | Martin Truex Jr. (P) | Toyota | 3.996 | 246 |
| 10 | 21 | Matt DiBenedetto | Ford | 4.726 | 246 |
| 11 | 95 | Christopher Bell # | Toyota | 4.931 | 246 |
| 12 | 3 | Austin Dillon | Chevy | 5.789 | 246 |
| 13 | 10 | Aric Almirola | Ford | 6.334 | 246 |
| 14 | 41 | Cole Custer # | Ford | 6.707 | 246 |
| 15 | 47 | Ricky Stenhouse Jr. | Chevy | 7.053 | 246 |
| 16 | 11 | Denny Hamlin (P) | Toyota | 7.415 | 246 |
| 17 | 38 | John Hunter Nemechek # | Ford | 9.279 | 245 |
| 18 | 43 | Bubba Wallace | Chevy | 10.145 | 245 |
| 19 | 17 | Chris Buescher | Ford | 10.813 | 245 |
| 20 | 34 | Michael McDowell | Ford | 11.618 | 245 |
| 21 | 6 | Ryan Newman | Ford | 12.167 | 245 |
| 22 | 20 | Erik Jones | Toyota | 12.397 | 245 |
| 23 | 32 | Corey LaJoie | Ford | 13.118 | 245 |
| 24 | 13 | Ty Dillon | Chevy | 16.432 | 245 |
| 25 | 8 | Tyler Reddick # | Chevy | -1 | 244 |
| 26 | 96 | * Daniel Suarez | Toyota | -2 | 244 |
| 27 | 14 | Clint Bowyer | Ford | -2 | 244 |
| 28 | 15 | Brennan Poole # | Chevy | -4 | 242 |
| 29 | 37 | Ryan Preece | Chevy | -5 | 241 |
| 30 | 27 | JJ Yeley(i) | Chevy | -5 | 241 |
| 31 | 48 | Jimmie Johnson | Chevy | -6 | 240 |
| 32 | 53 | James Davison | Ford | -8 | 238 |
| 33 | 00 | Quin Houff # | Chevy | -9 | 237 |
| 34 | 66 | * Timmy Hill(i) | Toyota | -10 | 236 |
| 35 | 7 | * Josh Bilicki(i) | Chevy | -11 | 235 |
| 36 | 77 | Reed Sorenson | Chevy | -15 | 231 |
| 37 | 51 | Joey Gase(i) | Ford | -38 | 208 |
| 38 | 1 | Kurt Busch (P) | Chevy | -49 | 197 |
| 39 | 49 | * Chad Finchum(i) | Toyota | -92 | 154 |
| 40 | 42 | Matt Kenseth | Chevy | -102 | 144 |
# DENOTES ROOKIE
(i) NOT ELIGIBLE FOR POINTS
(*) REQUIRED TO QUALIFY ON TIME