NHRA: Torrence, Beckman, Hartford, Savoie win in Fall Nationals
Steve Torrence scored his fourth win of the 2020 season in Top Fuel, beating father Billy in front of his home-state fans at the AAA Texas NHRA FallNationals to expand his points lead heading into the final two events of the season,
After sitting out the season opener in Pomona, Steve reached his fifth final in eight starts this season from the No. 1 qualifying spot, starting with a first-round conquest of Cameron Ferre, with whom Torrence famously became embroiled in a post-run dust-up after the first round of the 2019 Auto Club NHRA Finals.
Torrence won this time cleanly and handily with a 3.704, then took a second-round bye for the 14-car field. He then stopped Shawn Langdon and the DHL/Kalitta machine in the semifinals, 3.72 to 3.78, to reach the final round, the 60th of his Top Fuel career.
Billy, the defending event champ, was appearing in his third final of the season, his most recent coming two event sago in Gainesville, Fla., where he lost to his son. The Capco patriarch started his run to the final by stopping Clay Millican with a 3.71, then powered to a 3.74 to defeat Top Fuel's winningest driver, Tony Schumacher.
Billy then assured an all-Capco final round and gave his son a big boost in his bid for a third straight title by beating second-place Doug Kalitta, who smoked the tires 300 feet into his run and could only watch Torrence race to the finish line with a 3.745.
Don Schumacher Racing's 12th straight win was assured when both Matt Hagan and Jack Beckman reached the final round, and Beckman closed the gap on his points-leading teammate by winning the final round, 3.90 to 3.94.
Beckman continued to cling to Hagan's points-leading coattails by reaching the final round for the fifth time this season with the Infinite Hero Dodge. Beckman's purple terror beat Cruz Pedregon in round one with a 3.93, then pounded out a 3.90 in round two to stop Tim Wilkerson.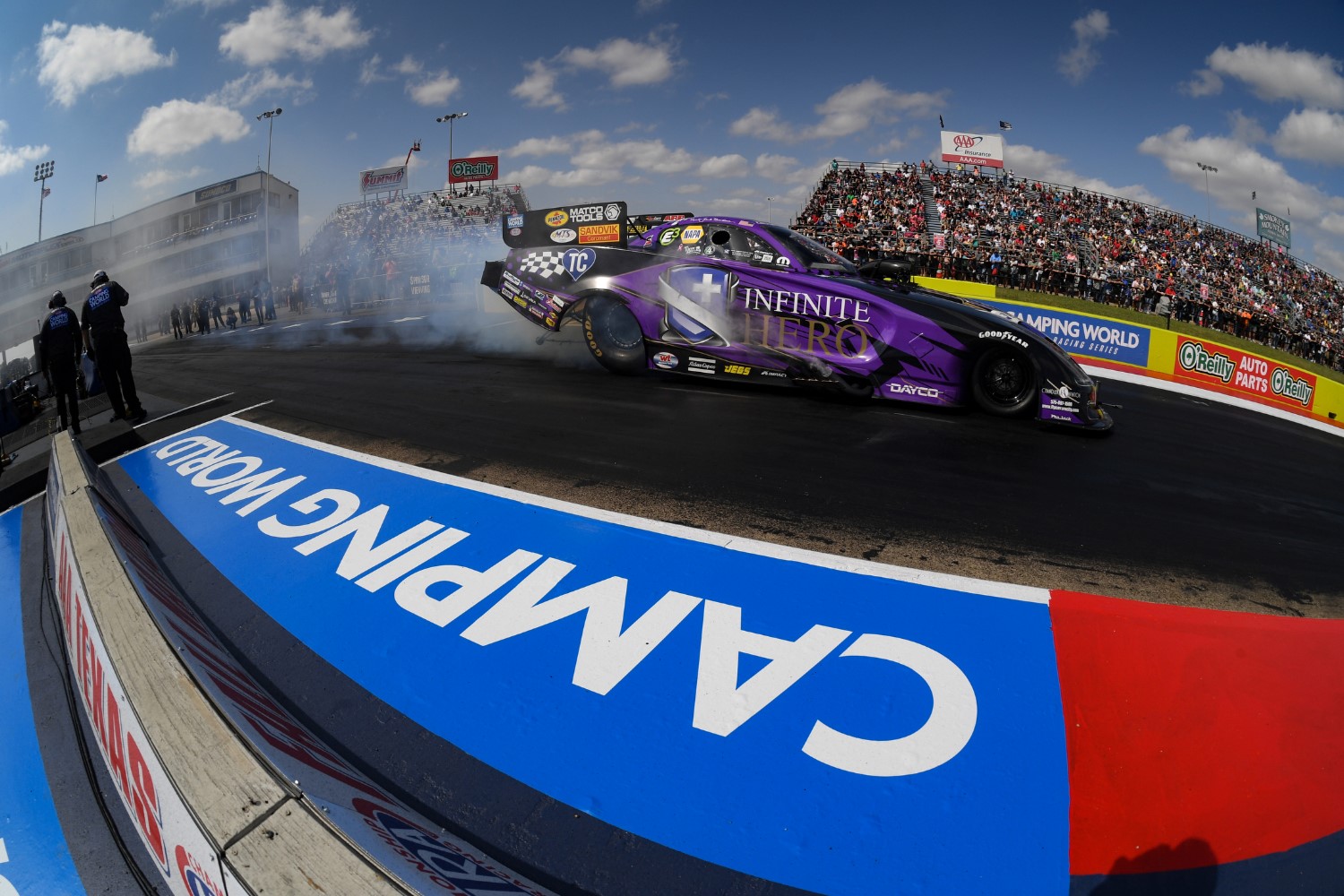 Beckman made sure that DSR would dominate the winner's circle again by stopping last year's runner-up, Bob Tasca III, in the semifinals with another 3.90 to Tasca's 3.93.
Hagan, winner of this event in 2019 and 2016, raced his special-edition Pennzoil Dodge to the final round from the No. 1 spot. His opening blast of 3.885 to beat Texan Todd Simpson was bettered only by future second-round opponent J.R. Todd's 3.885, but Todd's DHL Toyota could not match that pace in the next frame and fell to Hagan's 3.928.
Hagan reached the final, his second straight, fourth of the season, and 64th final round of his career by beating DSR stablemate Ron Capps, 3.90 to 3.95.
Hagan's final-round loss continued a No. 1 qualifier jinx as no low qualifier in Funny Car has won this season.
Three Pro Stock races at the 2020 AAA Texas NHRA FallNationals were decided by .001-second, two of which played a major part in the event's outcome and one of them may have a major impact on the season championship.
Few people gave Matt Hartford much of a chance against Erica Enders in the semifinals. The points leader was hot off of her win the previous evening in the rain-delayed Midwest Nationals final and intent on doubling up in front of the partisan Texas crowd.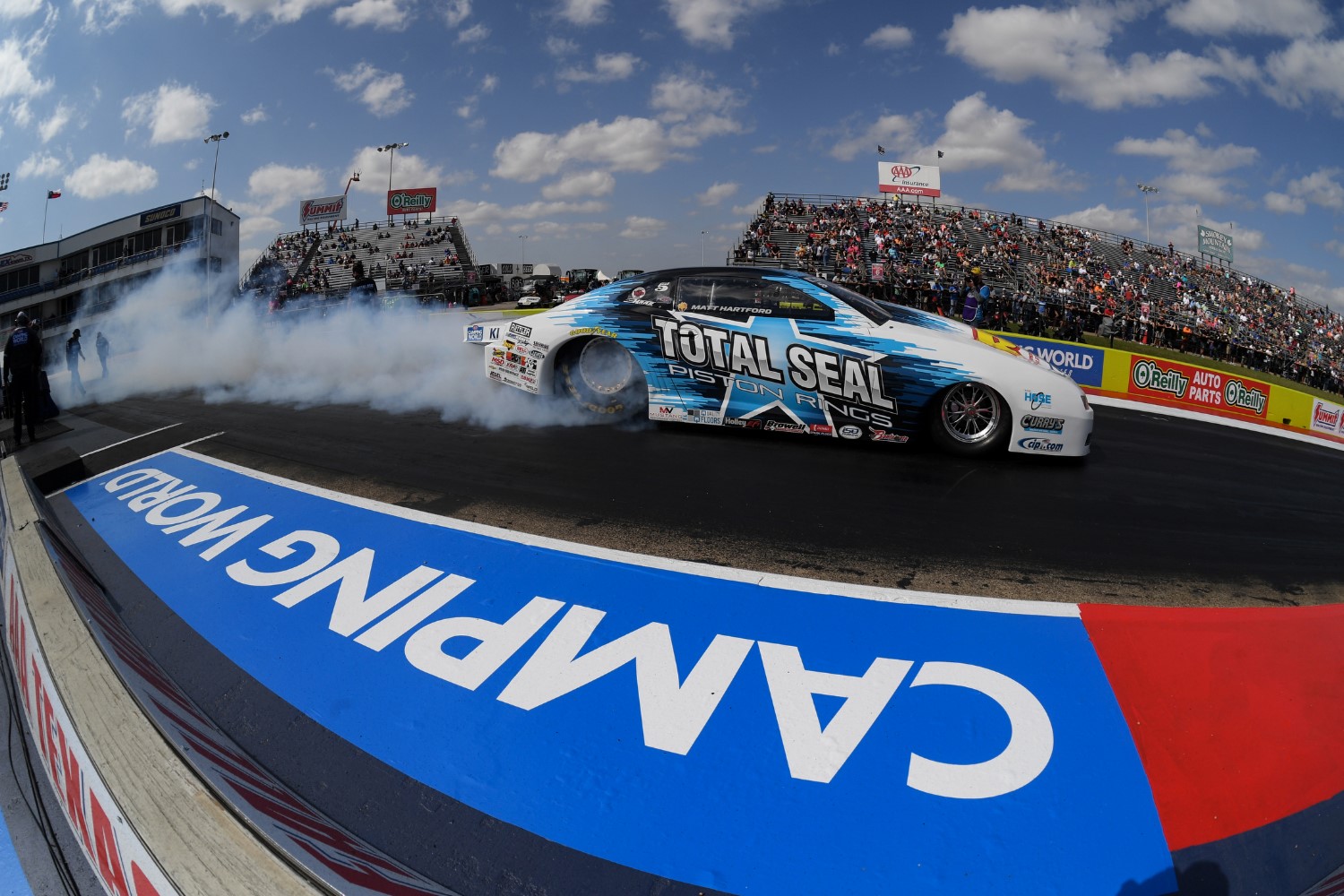 Neither driver was in a hurry to pre-stage or stage, with Enders going in first each time, and the ploy paid off for Hartford with a .008 reaction time to her .025 and paid off with a 6.641 to 6.625 holeshot victory by just .001-second to avenge his final-round loss to her at the U.S. Nationals.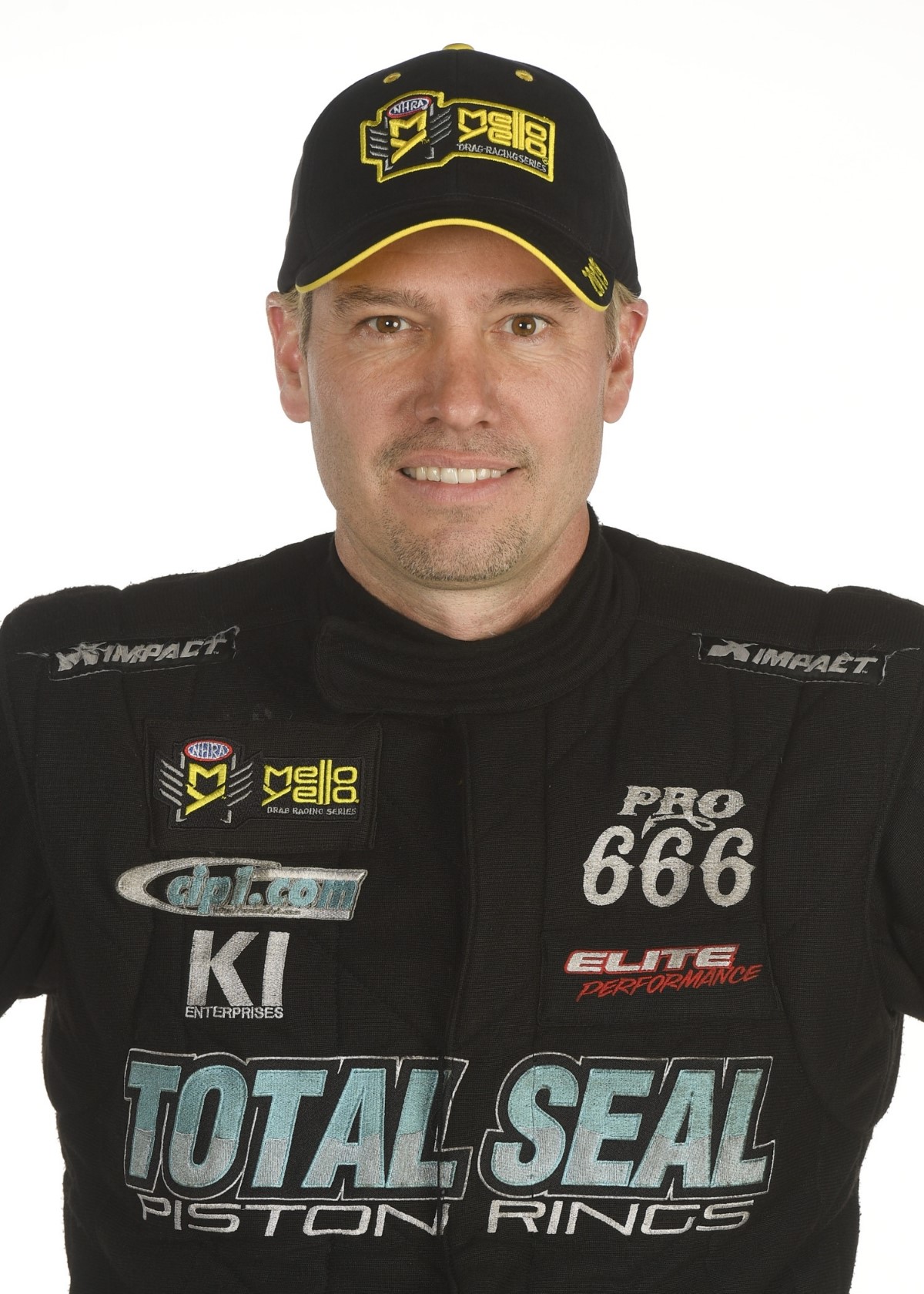 Prior to the semifinals, Hartford had defeated another Texas favorite, Chris McGaha, in the Reher-Morrison-Shepherd tribute car with a 6.609 and former world champ Bo Butner in round two with a 6.629.
Hartford was quick on the light again in the final round against Greg Anderson, reacting with a .018 light to Anderson's .066 and pushed his Total Seal Camaro to a holeshot victory over the former world champ, 6.625 to 6.588.
Runner-up Anderson barely escaped his first-round race with rookie of the year finalist Kyle Korestky, surrendering a starting-line holeshot to the second-generation driver, only to eke past him at the stripe by .001-second with a 6.56. Anderson raced past Gatornationals champ Alex Laughlin in the second round with a 6.59, then defeated Erica Enders' Elite teammate, Jeg Coughlin Jr., in the semifinals, 6.61 to 6.62, to reach his 16th career final.
Jerry Savoie continued his love affair with Texas Motorplex, scoring the Pro Stock Motorcycle title at the AAA Texas FallNationals for the third time in the last six years, defeating first-time finalist Joey Gladstone for the title, 6.91 to 7.00. The final round was Savoie's sixth straight at the event with three runner-ups sandwiched between wins in 2015 and 2019.
Savoie, riding his White Alligator Suzuki, continued his resurgence this season. After three straight first-round losses to start the season, Savoie has clawed his way back to the top of the pack.
Savoie qualified No. 3 and sat down Mark Ingwersen, Cory Reed, and, in the semifinals, former world champ Eddie Krawiec on a 6.92 to 6.94 decision. Krawiec, one of the class' top riders, remains winless since the 2018 Brainerd event.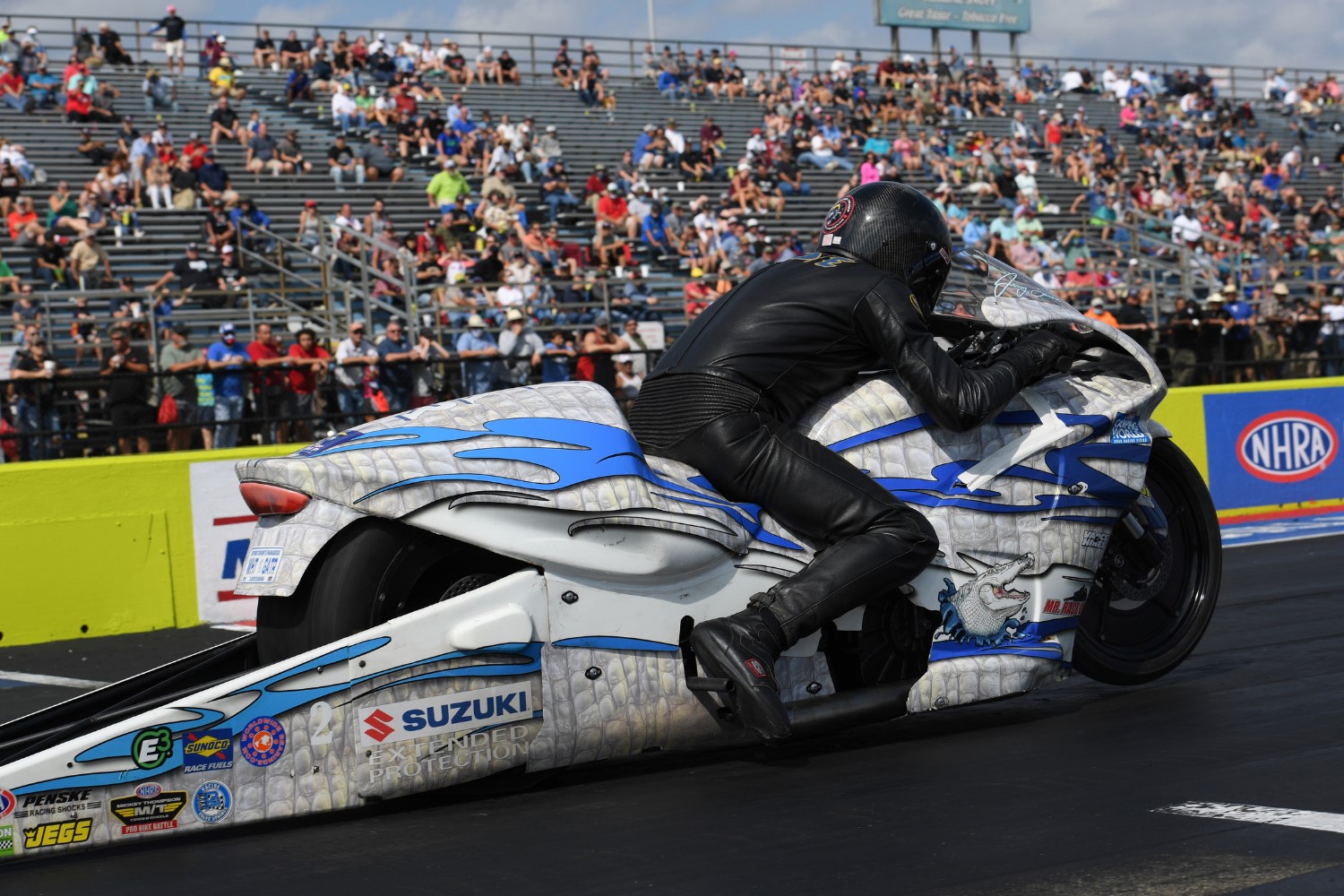 Gladstone raced his way to his first career final round on the heels of some good luck and fortunate placement on the ladder, After Hector Arana Jr. red-lighted to him in round one, Gladstone should have been facing the points leader and 200-mph monster in Matt Smith, but Smith's Denso EBR had refused to fire for his first-round race with No. 16 qualifier Michael Phillips, so Gladstone got the opportunity to face the field's slowest bike and took full advantage to advance to the semifinals. In the semi's against three-time world champ Angelle Sampey, both drivers red-lighted but Sampey moved first with a -.039 reaction time to his less-egregious -.006 foul to send Gladstone to the final round.