Rumor: George Russell to lose Williams F1 seat
(4th Update)
This rumor is now confirmed 'false.' George Russell is staying at Williams next year, contrary to speculation that interim team boss Simon Roberts was flirting with Sergio Perez and his Mexican backers for 2021.
"George and Nicholas (Latifi) will remain our drivers in 2021," Roberts clarified at Imola on Friday.
"That was always the plan and it remains the plan. I probably caused a bit of confusion last week with my statements and I'm sorry about that."
Earlier, Russell's management at Mercedes led by Toto Wolff insisted the Perez rumor was being led by "commercial and political" forces within Williams.
"Of course it's not nice to hear rumors like that," said the 22-year-old British driver on Friday. "But I was always confident that nothing would change." (GMM)
---
October 28, 2020
This rumor is downgraded to 'false' today. 'Mercedes Junior' Russell has spoken to RaceFans.com and said that Mercedes Boss Toto Wolff told him "not to worry" and that "everything will be fine".
"He said listen, I've got your back," Russell told the media.
"He said you'll be on the grid next year, so don't worry. Everything will be fine and I'd say 100% clarified from the team's perspective probably no later than the end of next week."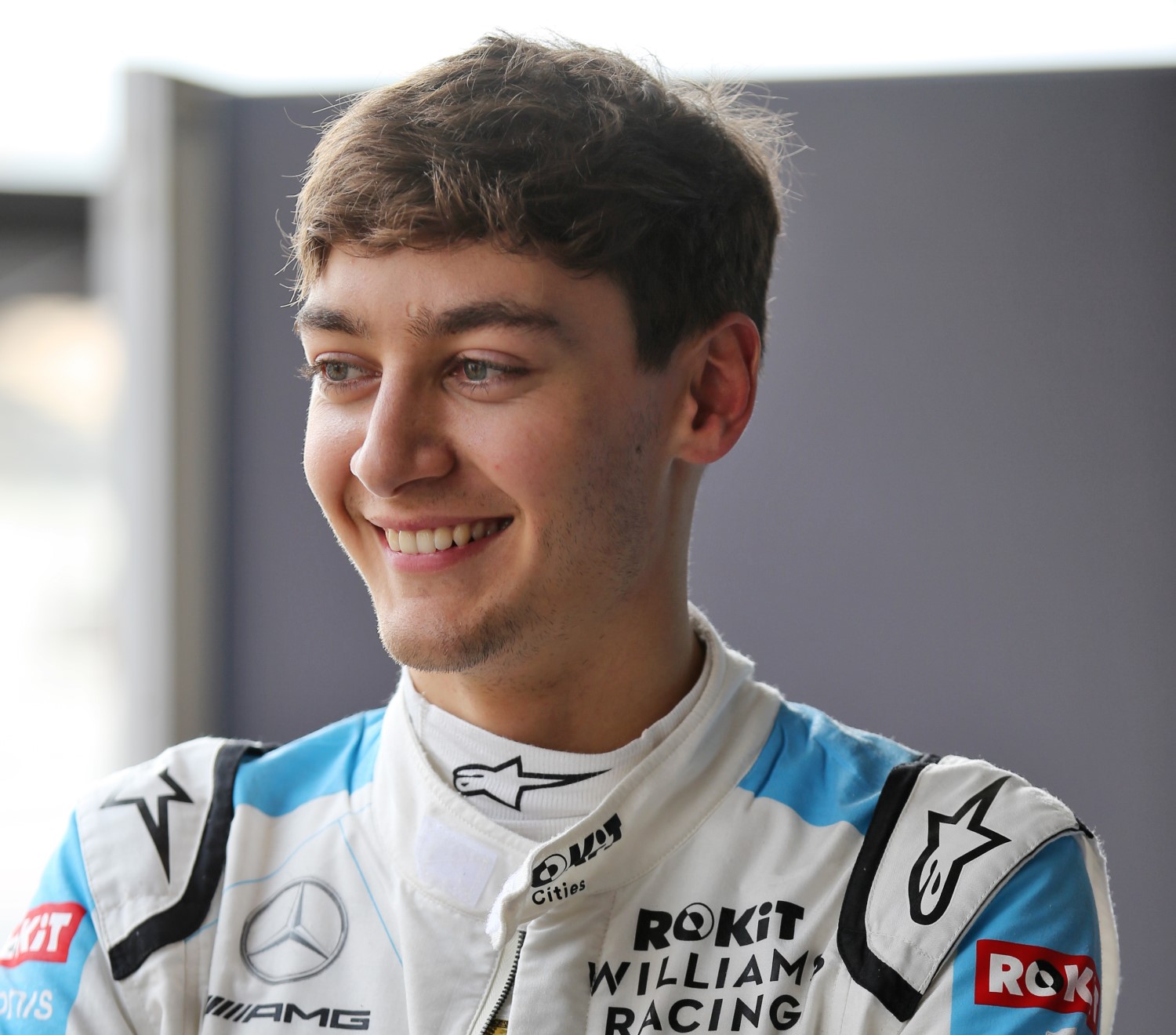 Russell also confirmed he had spoken to the new owners of Williams, Dorilton Capital.
"They've been here, I spoke with them, they said don't worry, everything's going to be fine.
"We had a small chat about it and moved on to talk about the rest of this year moving into next year and how we're going to push the team further forward, which is enough for me."
---
October 26, 2020
(GMM) George Russell thinks rumors about his potential axing by Williams are being fuelled by the Sergio Perez camp.
Throughout the Portimao weekend, speculation indicated that Williams' new owners Dorilton Capital may expel Russell and replace him with Sergio Perez and his powerful Mexican backers.
Russell is backed by the team's engine supplier Mercedes, whose boss Toto Wolff advised Williams to keep the 22-year-old on board.
"The new owners want to bring the team forward," Wolff said in Portugal. "That is only possible with good drivers.
"In their place, I would keep Russell."
However, he insisted that if Williams does dump Russell, Mercedes will not punish the Oxfordshire based team.
"We wouldn't be happy, but it wouldn't damage our relationship with Williams. The engine deal isn't tied to Russell," said Wolff.
"We have a contract with Williams until 2025, and Mercedes is known for respecting contracts. And we respect Williams' independence. You have to make the decisions that are best for your team," he added.
Wolff said that Russell is dumped, Mercedes will use him as a "sensational reserve driver and give him as many test opportunities as possible to prepare him for 2022 and beyond".
For his part, Russell suspects the Perez rumors are highly political, and perhaps being fuelled "by the Perez camp" to pressure other teams.
"Probably Red Bull. That's just my opinion," said the British driver.
"I talked to the new owners here, and they told me not to worry. Then we talked about the rest of the season, next year and the team's development. That's enough for me," Russell revealed.
Mexican Perez, to be replaced at Aston Martin by Sebastian Vettel for 2021, said on Sunday that the decision about his future will be made "soon".
---
October 25, 2020
George Russell says rumors he could be replaced at Williams next season have been fed to the media by "the [Sergio] Perez camp" as it attempts to pressure Red Bull into a decision about its 2021 driver line-up.
Perez and sometime Racing Point team-mate Nico Hulkenberg have both been named as candidates for a seat alongside Max Verstappen at Red Bull should Alex Albon be axed by the team for 2021.
---
October 22, 2020
(GMM) Also set to lose his Formula 1 race seat for 2021 is the Mercedes-backed George Russell, who appears to have been priced out of the running at Williams.
Jean-Michel Desnoues, editor of France's Auto Hebdo, said of Williams' new owner: "Dorilton Capital probably doesn't want to embark on the Formula 1 adventure without the help of Michael Latifi, who is also the father of Nicholas Latifi."
Russell's seat looks set to be filled for 2021 by the strongly Mexican-backed Sergio Perez.
Desnoues continued: "It seems almost impossible that a boy (Russell) with so much potential in the sport will have to leave, but didn't we say the same about Esteban Ocon?"
Yet another potential 2021 refugee is Alex Albon, with Red Bull's Dr Helmut Marko saying the British-born Thai driver's seat is only secure for the rest of 2020.
"Thanks to Max and the fact that Renault, McLaren and Racing Point are all taking points from one another, our second place in the championship is not in danger," he said.
"So we don't necessarily have to take action this year," Marko added.