Portuguese GP: Bottas sweeps both Friday practice session
Valtteri Bottas topped the 2nd practice session for the Portuguese GP with a lap of 1m17.940s in his Mercedes to lead Max Verstappen's Red Bull Honda by 0.595s, but the true pecking order won't be known until tomorrow due to the session being disrupted by red flags.
Lando Norris was third quick for McLaren, followed by Leclerc, Sainz Jr. and Vettel (an encouraging sixth, albeit around three-tenths off Leclerc's pace.)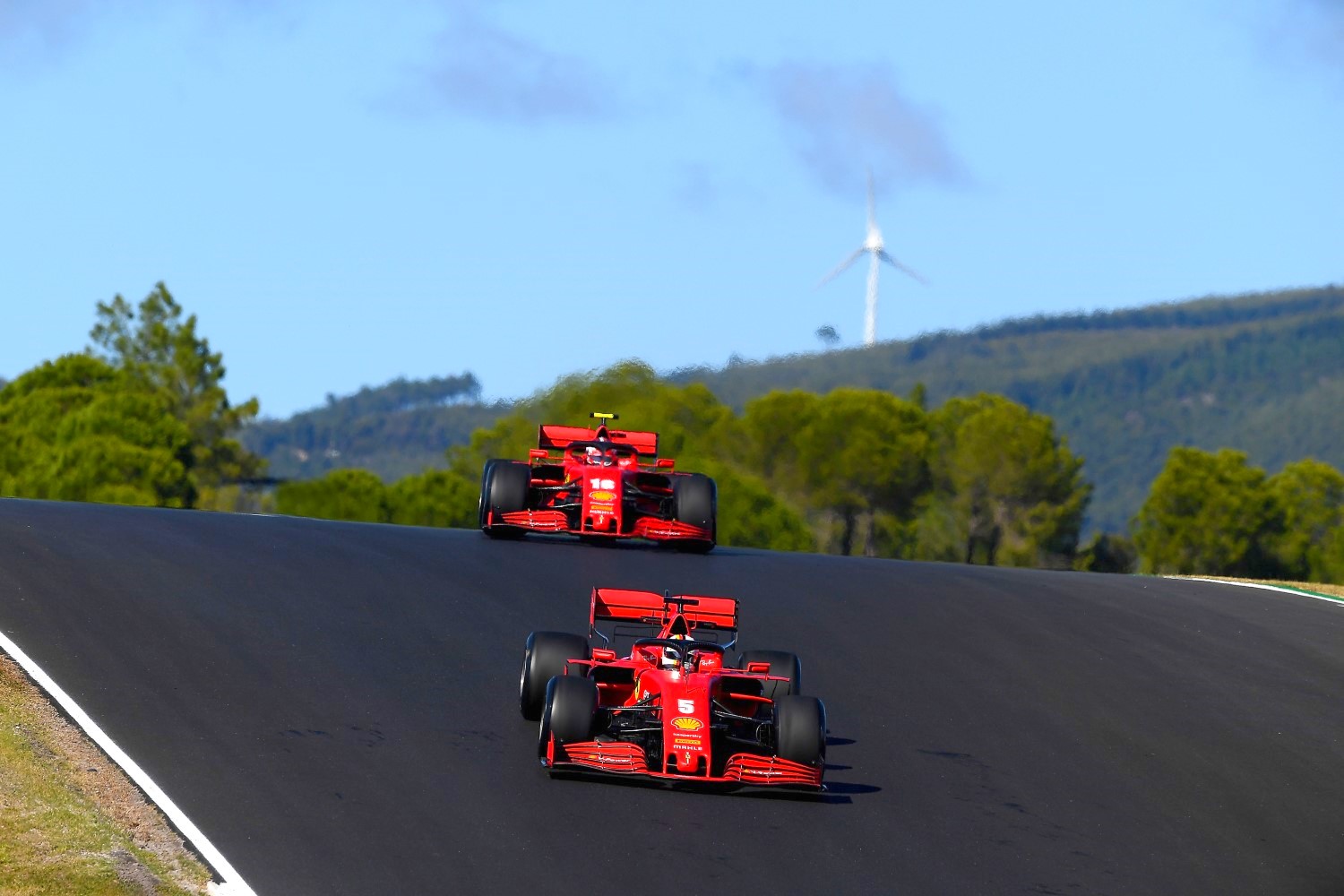 Lewis Hamilton was 6th, a full 1.3 seconds off the pace of Bottas, but he spent most of the session on used hard tires to test their longevity.
Verstappen ended up 2nd despite banging wheels with Lance Stroll's Racing Point and spinning.
It was a dramatic moment, but not as dramatic as what happened when the session restarted with 29 minutes left to go. With drivers keen to get their qualifying simulation laps in, Verstappen on his out-lap let Stroll, on a flying lap, through at Turn 14.
Verstappen pulled out to overtake Stroll down the main straight, he had the inside line but wasn't fully alongside. Stroll turned in for the first corner, and the two collided as a result. Stroll wound up beached in the gravel, while Verstappen limped home to the pits.
The stewards are going to be the ones making a judgement on this one as Racing Point are blaming Verstappen and Verstappen blaming Stroll.
The first 30 minutes of Free Practice 2, meanwhile, were utilized by Pirelli for a blind tire test of the company's 2021 prototype compounds, meaning there were no meaningful lap times being set – although it did ensure plenty of action, with the likes of Sainz and Perez suffering spins on the experimental rubber.
⚡️ Flashpoint ⚡️#PortugueseGP 🇵🇹 #F1 pic.twitter.com/FXyeclMMGt

— Formula 1 (@F1) October 23, 2020
Quotes
Valtteri Bottas
It's been a good day today. The sun was shining, this is a great track for driving; it could definitely be worse! It was quite slippery out on track, it reminded me a lot of when we went to Sochi or Austin for the first time, and we drove on the new tarmac there. This type of tarmac is tricky in terms of getting grip. Once you lose the grip, you can drop the car quite quickly, and I think that's the reason why we have seen so many spins today. The track was evolving lap by lap, and it got better throughout the day, but maybe it was reset slightly in between the two sessions, and with red flags in second practice there wasn't that much useful running. So, I'm still expecting an increase in grip over the rest of the weekend. The balance of the car was also pretty good. I was mainly struggling in the slow speed corners with the rear end of the car but it is not too far away from where I want it, as the lap times would also suggest. But as always, there will be more work to do tomorrow.
Lewis Hamilton
The elevation changes on this track are incredible. There's a lot of places where you just can't see where you are going, so that's very challenging and the surface is also very smooth. I think track conditions didn't change that much throughout the day. The wind picked up, and I don't know if it changed direction, but it made it tricky out there. Unfortunately we ended up sitting in the garage for much longer than we'd hoped for with the two red flags in FP2. I think FP1 was the better session for me, even though the car didn't feel that great. We then made some changes, and it felt quite bad in FP2, so we need to take a few steps back and figure out where we went wrong with the set-up and see if we can improve tomorrow. Looking ahead, it is not going to get any easier to get a clear gap out there on the track, because it is really tough to get the tires in the right window for the first lap here, even with the soft, which is actually pretty hard for a soft compound. Q1 will be exciting, with a lot of cars out there, it's going to be a dog fight to get a clear position and get a time in. But that's what we do and everyone is in the same boat!
Andrew Shovlin
We had a reasonable morning but a messy afternoon with the red flags, although that's probably the same story up and down the grid. The circuit is really good with some challenging corners and the car seems reasonably quick but the balance isn't great. The tires are quite hard here so getting the single lap isn't easy and the warm-up all day has been a real challenge but hopefully that will improve as the track grips improves. We did a lot of laps in the afternoon but a good chunk of the mileage was the Pirelli tire test, which doesn't generate useful information for us and then the timing of the red flags meant we couldn't complete the long run work on the race tires. Valtteri got a pretty good low fuel lap in before the red flags but Lewis couldn't extract the same grip so there's something for us to understand there. In terms of the long runs it looks like the midfield cars are a bit closer than normal which also suggests we're not quite in the right window yet. Normally we have a car that is easy to balance, and we're not in that position right now, but we'll work hard to try and get on top of a few of those issues before tomorrow.
Charles Leclerc
"This track is amazing! It took quite a few laps to find the flow, because you don't really see any apexes but once you get into the rhythm, it's really good. The circuit is also extremely slippery and the rear of the car is moving everywhere but I think that makes it even better in terms of fun! The grip level didn't improve much throughout the sessions, which should make for an exciting race. Today looked quite good for us and, mainly on the qualifying side, it was fairly promising. Let's wait and see though, as we haven't had much high-fuel running with normal tires, as we did some with the prototype-tires instead. Running with high fuel was actually our weakness at the last race, so it'll be a bit of a surprise on Sunday, and we'll see where we are."
Sebastian Vettel
"Today the track was a big but very interesting challenge for everybody. At the beginning it was very slippery, mostly because of the resurfacing, but it is very smooth. It was my very first day and I liked it. It's good that we have plenty of tracks that are exciting. I think tomorrow will be better as the track itself will improve, and we will know it better.
It's a bit difficult to say how competitive we were in the afternoon session, because not all the drivers tried a qualifying lap. Today, what everybody needed was more running to get into a rhythm. The car felt a bit nervous, partly due to the elevation changes, but I suppose that is the same for everyone. We will see the true picture tomorrow."
Practice 2 Results
| | | | | | | |
| --- | --- | --- | --- | --- | --- | --- |
| POS | NO | DRIVER | CAR | TIME | GAP | LAPS |
| 1 | 77 | Valtteri Bottas | Mercedes | 1:17.940 | +0.000s | 31 |
| 2 | 33 | Max Verstappen | Red Bull Racing Honda | 1:18.535 | +0.595s | 33 |
| 3 | 4 | Lando Norris | McLaren Renault | 1:18.743 | +0.803s | 34 |
| 4 | 16 | Charles Leclerc | Ferrari | 1:18.838 | +0.898s | 33 |
| 5 | 55 | Carlos Sainz | McLaren Renault | 1:19.113 | +1.173s | 31 |
| 6 | 5 | Sebastian Vettel | Ferrari | 1:19.175 | +1.235s | 33 |
| 7 | 10 | Pierre Gasly | AlphaTauri Honda | 1:19.178 | +1.238s | 26 |
| 8 | 44 | Lewis Hamilton | Mercedes | 1:19.308 | +1.368s | 26 |
| 9 | 31 | Esteban Ocon | Renault | 1:19.496 | +1.556s | 31 |
| 10 | 23 | Alexander Albon | Red Bull Racing Honda | 1:19.643 | +1.703s | 36 |
| 11 | 63 | George Russell | Williams Mercedes | 1:19.821 | +1.881s | 32 |
| 12 | 11 | Sergio Perez | Racing Point BWT Mercedes | 1:19.901 | +1.961s | 33 |
| 13 | 3 | Daniel Ricciardo | Renault | 1:19.987 | +2.047s | 27 |
| 14 | 6 | Nicholas Latifi | Williams Mercedes | 1:20.465 | +2.525s | 32 |
| 15 | 7 | Kimi Räikkönen | Alfa Romeo Racing Ferrari | 1:20.490 | +2.550s | 33 |
| 16 | 20 | Kevin Magnussen | Haas Ferrari | 1:20.680 | +2.740s | 28 |
| 17 | 26 | Daniil Kvyat | AlphaTauri Honda | 1:20.729 | +2.789s | 32 |
| 18 | 8 | Romain Grosjean | Haas Ferrari | 1:20.867 | +2.927s | 31 |
| 19 | 18 | Lance Stroll | Racing Point BWT Mercedes | 1:20.983 | +3.043s | 26 |
| 20 | 99 | Antonio Giovinazzi | Alfa Romeo Racing Ferrari | 1:21.396 | +3.456s | 33 |