Saturday Morning IndyCar Report from St Pete
Good morning from the challenging 1.8-mile, 14-turn temporary street circuit in St Petersburg, Florida.  This is the second time this season that the IndyCar teams have set up their equipment to run the 100 lap race.  Due to COVID restrictions in March, everyone left the season opener without a wheel turning on the track.
This weekend, the St Pete event will have a new flavor, the final race of the season and the awarding of the 2020 series Champion on Sunday.  Normally this venue starts the season.  But then the 2020 season has been anything but normal.
One noticeable difference from being here in March vs. October is the temperatures.  It is predicted to be in the high 80s during the day this time of year.  And the humidity is extremely high.  Last night at 10 pm, it was still 79 degrees and humid.
Scott Dixon, the Chip Ganassi Number 9 PNC sponsored driver who has led the championship all season, was asked how he thought the weather was going to affect the cars this weekend.  "I think it could be a hot weekend.  I think we're looking at mid 80s. Typically, pretty humid down here. The only time we have had weather like that was for the Indy road course, where it was very hot in the car. They've made changes to the car to ease that issue since then as well."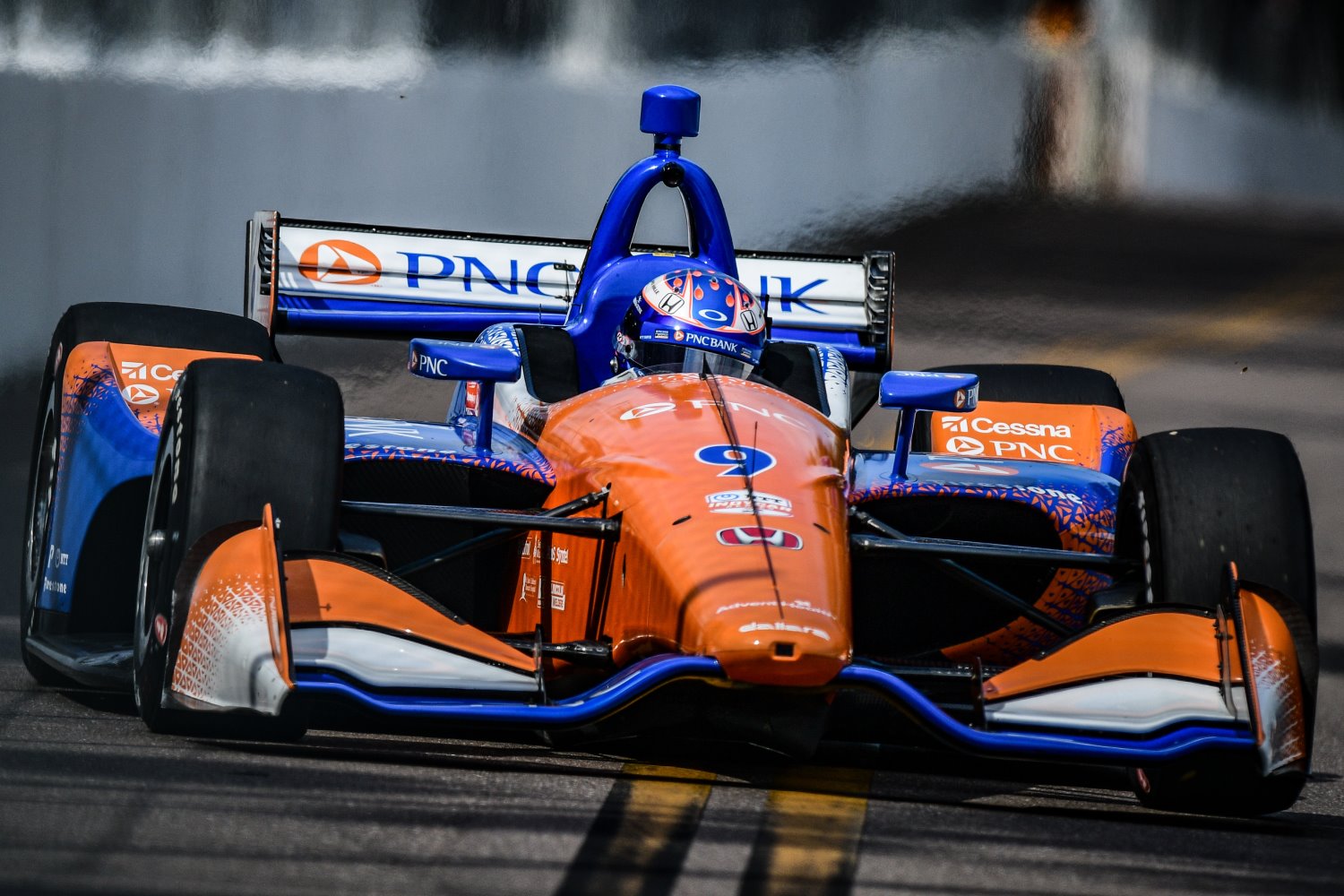 "I don't see the heat being any issue", the Kiwi continued.  "Hasn't been through rest of the season, so should be all good."
When asked about the new aeroscreen, which has not been run on a temporary street course yet, Dixon added, "Yeah, I don't know. Maybe the depth perception may be a little altered depending on the walls, where they are placed. Honestly, this year the aeroscreen has been very good in every situation."
Josef Newgarden, the Team Penske Number 1 Hitachi sponsored driver who is second in the points, was asked how he felt about the setup for the car this weekend.  "I guess I could say I felt like our street course car took a massive step in 2019. We were all pretty happy, I know I was very happy with our street course package in 2019. Tried to carry that through to 2020 with the aeroscreen, modify it a bit for the differences. Running this whole year with the Aeroscreen, running a lot of road courses, I don't think it's changed our outlook on what we want to do going into St. Pete."
All eyes will be on 4-time Supercar champion Scott McLaughlin who will be making his debut for Team Penske.
The schedule for today is an IndyCar practice session at 10:55 am EST.   The Firestone Fast Six Qualifying will start at 3:05 pm EST.
Lucille Dust reporting live from St Pete