Burton earns his third victory of the season at Texas Motor Speedway
Rookie of the Year leader Harrison Burton drove past leader Noah Gragson on the final corner to score the win in the O'Reilly Auto Parts 300 at Texas Motor Speedway on Saturday evening. Burton started the day by scoring his first career NASCAR Xfinity Series stage win in the second stage before suffering a spin, but that didn't get the 20-year-old driver down.
He drove back through the field and to Victory Lane for the third time in his career. With the victory, Burton and his father, Jeff Burton, become the first father-son duo to win at Texas Motor Speedway.
"We had such a fast race car," Burton said after climbing from his car on the frontstretch. "I've never driven anything harder than that last corner in my life. I don't know how it stuck. I lost my voice—I was screaming. Gosh, that's special. I've never spun out and come back and won, so that's cool.
"We were obviously pushing the limits all day… of speed. That's kind of what we came to do, to be fast, to win our first stage of the year, which was a good sign, and our speed—what we did on that last lap was incredible. I don't know how it happened, but I'm pretty damn glad it did. What a cool place to win. We're going home with cowboy hats."
After a multi-car wreck that KO'd the entries of playoff contenders Justin Allgaier, Brandon Jones and Ross Chastain, Gragson grabbed the lead from Austin Cindric on the restart lap when Cindric's No. 22 Ford broke loose in the outside lane. Alfredo took second and Burton followed into third.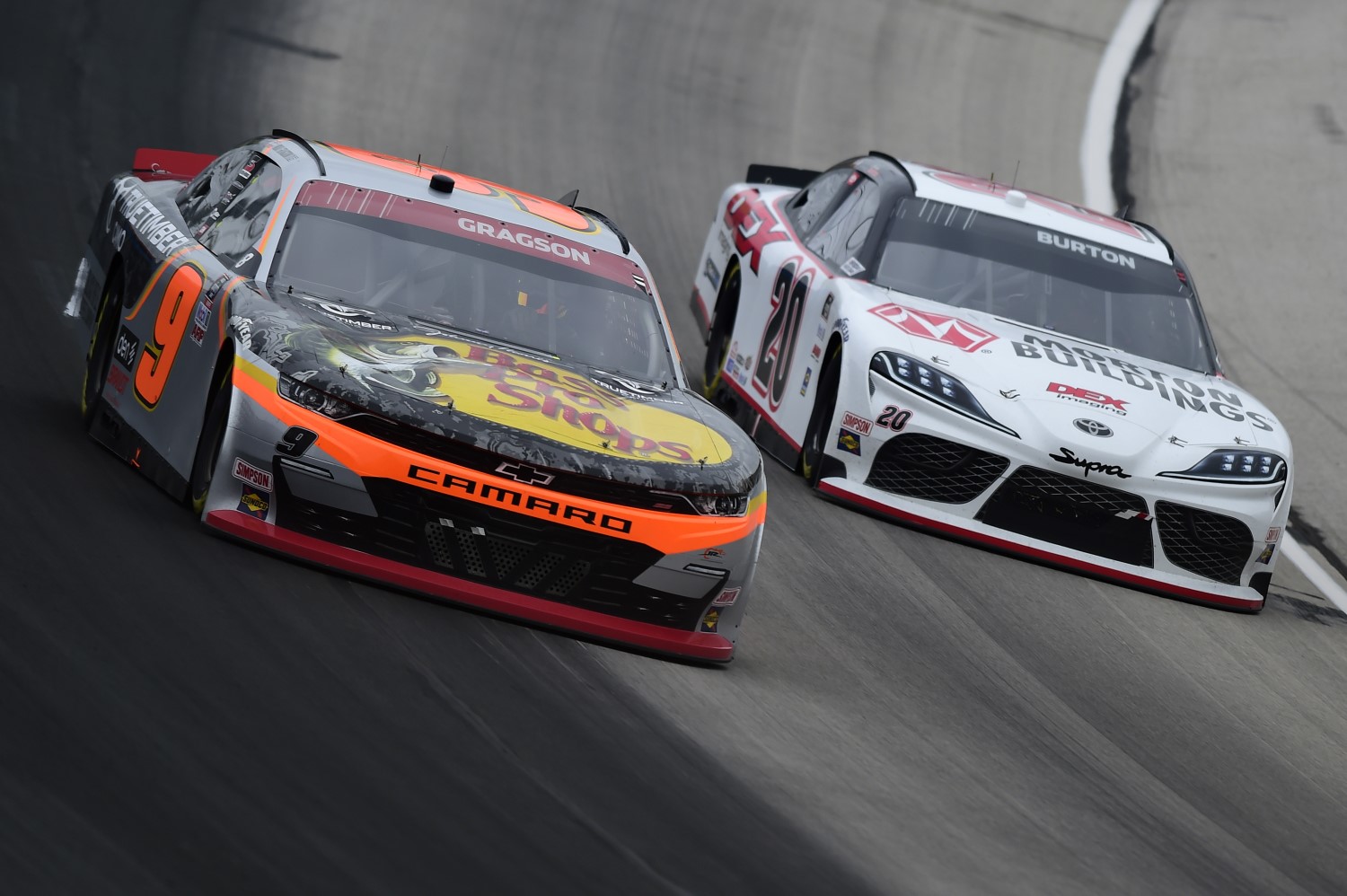 Though Burton, who was eliminated from the Xfinity Playoff in the Round of 12, had the fastest car on the track at the time, he had difficulty overtaking Alfredo. But once he took second with two laps left, he closed rapidly on Gragson.
"I feel like we had a fast car there," said a dejected Gragson. "I was a little tight on exit all day. Just frustrated at myself. I was pretty tight there at the end. I saw Alfredo holding Harrison off and thought we were getting away, I saw the 20 get by the 21 (Alfredo) and he ran me down in like two laps.
"I knew he was coming. I just didn't expect him to get there. I don't know. Frustrated. But thankful for my guys, (crew chief) Dave Elenz, and the rest of this team. We'll go to Martinsville (next Saturday), I like that track. It had to be make or breaking your season right there."
The race fell apart for Allgaier, Jones and Chastain after the Lap 186 restart. Six playoff drivers restarted in the top six positions, but, moments later, they were strewn through the field after Allgaier broke loose underneath Chastain to start a wreck that also collected Jones and Jeremy Clements.
"I tried to leave the 10 (Chastain) as much room as I could, but when he got to my quarter panel, I got loose," said Allgaier, who has had an antagonistic relationship with Chastain in the past. "(Then) he just decides to hang a left because he's aggravated and wrecks the whole field."
Jones and Allgaier were eliminated from the race and finished 25th and 26th, respectively. Chastain was able to continue and came home 16th.
But the wreck had a dramatic effect on the playoff standings.
Allgaier in third place is just eight points ahead of Jones in fifth, with seventh-place finisher Justin Haley between them. Chastain is 15 points below the cut line in sixth.
Chase Briscoe, who secured a spot in the Championship 4 with his win last week at Kansas, finished 24th after a shock mount broke on his No. 98 Ford. Gragson is seventh, 24 points behind Haley, likely needing a victory in the elimination race at Martinsville. Ryan Sieg, who suffered suspension problems and finished 31st, is 43 points behind Haley.
Cindric finished fourth behind Burton, Gragson and Alfredo, with Brandon Brown rolling home in fifth. Michael Annett, Haley, Ryan Vargas, Josh Williams and Tommy Joe Martins completed the top 10.
HARRISON BURTON QUOTES
Did you think with one lap to go that you would have a shot at Noah Gragson?
"We had such a fast race car. I've never driven anything harder than that last corner in my life. I don't know how it stuck. I think this might be my first win with Morton Buildings on the hood and with DEX as well. This Toyota Supra was so fast. I've never spun out and then come back and won so that's kind of cool. We were obviously pushing the limits all day with speed. That's just kind of what we came to do was to be fast and to win our first stage of the year was a good sign. To do what we did on that last lap was incredible. I don't know how it happened, but I'm pretty damn glad it did."
Did you talk yourself up knowing you had once chance coming to the checkered flag?
"That was kind of the only thing that was in my head. My team had talked to me about what the other guys were doing through three and four to get speed. I kind of timed that by about three or four and it stuck. I don't know. Hats off to the 9 (Noah Gragson) for racing me clean today and hats off to the rest of the competitors. That was such a fun race. What a cool place to win at – we get to go home with cowboy hats, that's awesome."
How were you able to make the last lap pass?
"That was the best corner I've ever driven in my life. I don't know, if I knew how to do it, I would do it every lap. Something about what happened with the 9 (Noah Gragson) and the lapped cars and the lane I took just stuck. We struggled after we won that stage and we spun. We were honestly pretty horrible. We were running 10th and we just kept tightening the car and tightening the car and then all of the sudden it came back alive. I don't know what happened in the middle there. I lost my voice, my throat hurts, I was screaming so loud. What a race. That was so much fun. To come from the back, to spin and come back and win – it's a testament to how strong this team is and hopefully what is more to come in the future."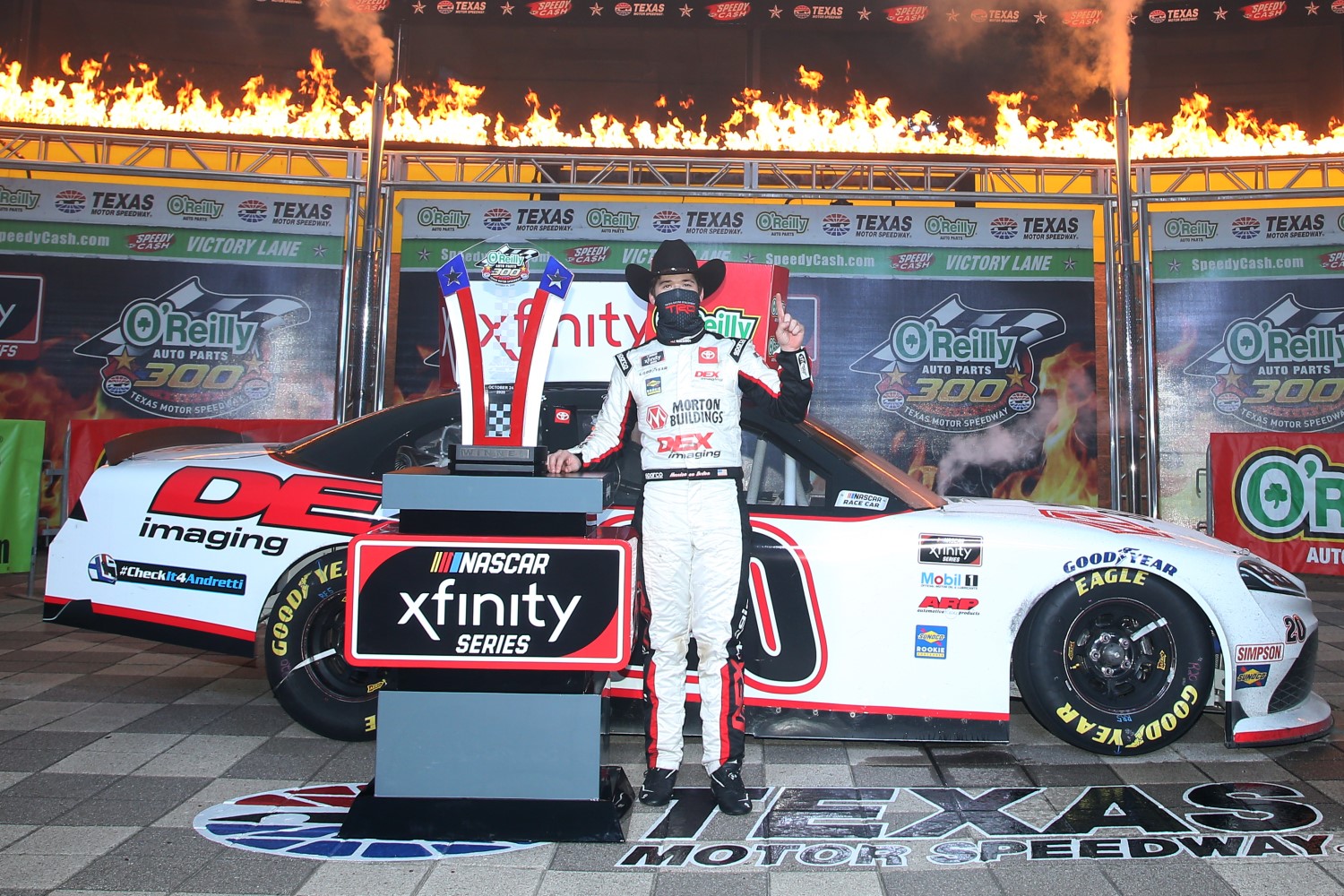 Did you have to mentally come back from the spin?
"A little bit. Obviously, when you spin out, you stepped over the boundaries. You kind of are nervous to get back on the edge of that boundary because you've already paid the price for it once. I've got grass all over me, there's grass in the race car. I don't know how we didn't tear the nose off of it in the grass, but I'm pretty happy we didn't because it worked out for us in the end.
What does it feel like to win in Texas?
"It's the best place. For whatever reason, I love this race track. It's so fun. The victory lane is amazing with all the fire and the cowboy hats and all that. It's somewhere my Dad (Jeff Burton) won his first race in a Cup car at so to add to that kind of legacy is awesome. My cousin (Jeb Burton) won his first truck race here. We've got a lot of good family history here and hopefully we can keep it going.
Was the line you used to make the pass the line you wanted to use?
"Honestly, the last few laps there behind the 21 (Anthony Alfredo), I was running the bottom through there and I was making good time, but once I went up to the PJ1, I felt that was the place to be. I'm in a position with us being out of the Playoffs now, where I can just say, 'Hey, if I wreck, I wreck, I'm going for the win.' I drove the car in probably too deep and got on the gas probably too soon and for whatever reason it stuck. If I could do that every lap, I wish I could, but I think we saw earlier in the race that I can't because I spun out trying to do the same thing. I'm not really sure how or why it stuck, but I'm pretty excited that it did."
How special is it to win at a track where your father (Jeff Burton) won during his Cup career?
"That's always cool. I love winning at places that I grew up either watching my Dad win at or seeing videos and pictures of my Dad winning. My Dad won his first Cup race here and I think it was the first Cup race here as well. Seeing pictures of my Mom crying and my Dad excited and all that. I grew up kind of watching that stuff. When my racing career kind of took off in a way where I had opportunities to come to the places that my Dad had raced at, it was always cool to kind of remember what I did here as a kid, playing on the playgrounds or eating at the race track or being in the motorhome lot with other kids in here. Now, to kind of write my own or be my own man and do my own thing here is awesome. Obviously, I haven't done it at the level that my Dad did yet and he will probably still hold that over me as much as he can, but hopefully one day I can do that as well."
Did you think you could catch Noah Gragson when you got around Anthony Alfredo?
"I knew it had to be a pretty special group of laps there. I looked at the gap and I knew that there was lapped traffic. That was something that I kind of factored in that maybe I could get through there better. I knew I just had to be perfect with hitting marks and just driving as hard as I possibly could. I've never really, I wish I could explain to you guys what it's like those last few laps. How locked in you are, how focused you are. It's like you're in your own world and all you can feel is the grip level of the car and there's definitely something to that. Being in that mental state of those last few laps to make it happen. I wish I could find a way to be that way throughout the whole race. I think that might be worth something. I need to look into that."
How much do you lean on your father (Jeff Burton) for advice versus gain your own experience?
"As far as actually driving goes, I kind of have to rely on my own experience. You feel things your own way, you drive the car your own way and you want the car to be a certain way so you can drive it yourself, not so someone else can drive it. For actually driving, once I got older, my Dad stepped back. What my Dad was always great at and what I want to be great at one day is the mental side of the game. My Dad was always trying to be the best he could be. It kept him up at night knowing that other people were working trying to beat him. I kind of have that same drive in me as well where if I hear someone is working hard, that makes me want to work harder than them. I don't know exactly what he was talking about, I haven't re-watched the race yet. The talks that mean the most between me and my Dad is digging deep. This is such a hard sport. There are so many things that can't go your way and so many things that can go your way and sometimes you can't explain why or why not they happen. Being mentally tough, something that my Dad always was, is really important to me and something that I'm really proud to have from my Dad. He's a hero to me so that's definitely cool."
When did you think you could get around Noah Gragson?
"Not until the last corner honestly. I knew that I had a shot. I never gave up, but not until the last corner did I think I had a real shot at passing him. I don't really know how it stuck. I drove the car and just decided that if I crashed, I crashed or if I won, I won. That's kind of a good place to be mentally I guess where you're able to say that or do that. I honestly didn't expect it until I was side-by-side with him and then I was worried about the drag race to the line, but we had so much momentum that we were gone. Then I was just excited."
Do you have your plans confirmed for 2021?
"I don't have anything to announce here yet, but I think we're heading in the right direction. I love where I'm at. My partners that I have are amazing. Morton Buildings, they've been with me for so long and I'm pretty sure this might be the first win I've ever had with them. For whatever reason, it worked out that all the races I've won have been the DEX car and now this weekend we're in the DEX and Morton's Supra. That's pretty cool. Hopefully, that kind of helps build those relationships. Those people that are on the car are why I can race and hopefully they're excited. I'm excited to go home and call and talk to all those guys."
Race Results
| | | | | | | | |
| --- | --- | --- | --- | --- | --- | --- | --- |
| Fin | Str | No. | Driver | Team | Laps | Status | Led |
| 1 | 12 | 20 | Harrison Burton # | Morton Buildings/DEX Imaging Toyota | 200 | Running | 24 |
| 2 | 9 | 9 | Noah Gragson (P) | Bass Pro Shops/TrueTimber Camo Chevrolet | 200 | Running | 43 |
| 3 | 18 | 21 | Anthony Alfredo | Maestro's Classic Chevrolet | 200 | Running | 0 |
| 4 | 7 | 22 | Austin Cindric (P) | Menards/Richmond Ford | 200 | Running | 10 |
| 5 | 15 | 68 | Brandon Brown | Jabs Construction Chevrolet | 200 | Running | 0 |
| 6 | 10 | 1 | Michael Annett | Pilot/Flying J Chevrolet | 200 | Running | 0 |
| 7 | 2 | 11 | Justin Haley (P) | LeafFilter Gutter Protection Chevrolet | 200 | Running | 3 |
| 8 | 31 | 6 | Ryan Vargas | TikTok Chevrolet | 200 | Running | 0 |
| 9 | 13 | 92 | Josh Williams | Alloy Employer Services Chevrolet | 200 | Running | 1 |
| 10 | 17 | 44 | Tommy Joe Martins | AAN Adjusters Chevrolet | 200 | Running | 0 |
| 11 | 20 | 36 | Alex Labbe | Can-Am Chevrolet | 200 | Running | 0 |
| 12 | 24 | 74 | Bayley Currey(i) | Hull Supply Company Chevrolet | 200 | Running | 0 |
| 13 | 26 | 5 | Matt Mills | JF Electric Toyota | 200 | Running | 0 |
| 14 | 11 | 2 | Brett Moffitt(i) | Golden Fox Footwear Chevrolet | 200 | Running | 0 |
| 15 | 27 | 4 | Jesse Little # | iMercata Chevrolet | 200 | Running | 0 |
| 16 | 6 | 10 | Ross Chastain (P) | Nutrien Ag Solutions Titan XC Chevrolet | 200 | Running | 30 |
| 17 | 30 | 90 | BJ McLeod | Work Pro/Verve Chevrolet | 199 | Running | 0 |
| 18 | 21 | 0 | Jeffrey Earnhardt | Contec Inc. Chevrolet | 197 | Rear Gear | 0 |
| 19 | 36 | 47 | Kyle Weatherman | FWPDA Chevrolet | 197 | Running | 0 |
| 20 | 34 | 78 | CJ McLaughlin | Surface Wise/Sci Aps Toyota | 197 | Running | 0 |
| 21 | 29 | 52 | Kody Vanderwal # | A-1 Performance Warehouse Chevrolet | 196 | Running | 0 |
| 22 | 28 | 8 | Joe Graf Jr # | Bass Reaper Bait Co/Bucked Up Energy Chevrolet | 194 | Running | 0 |
| 23 | 32 | 99 | Jesse Iwuji(i) | Notable Live Chevrolet | 190 | Running | 0 |
| 24 | 1 | 98 | Chase Briscoe (P) | Ford Performance Racing School Ford | 184 | Running | 34 |
| 25 | 3 | 19 | Brandon Jones (P) | Toyota Service Centers Toyota | 177 | Accident | 13 |
| 26 | 5 | 7 | Justin Allgaier (P) | Sam's Club/Hellmann's Chevrolet | 175 | Accident | 35 |
| 27 | 16 | 51 | Jeremy Clements | Kevin Whitaker Chevrolet Chevrolet | 175 | Accident | 0 |
| 28 | 33 | 15 | Colby Howard | NASCAR Foundation Chevrolet | 169 | Accident | 0 |
| 29 | 22 | 93 | Myatt Snider # | Superior Essex Chevrolet | 168 | Accident | 0 |
| 30 | 8 | 8 | Jeb Burton | State Water Heaters Chevrolet | 158 | Accident | 7 |
| 31 | 4 | 39 | Ryan Sieg (P) | CMRRoofing.com Chevrolet | 136 | Driveshaft | 0 |
| 32 | 19 | 18 | Riley Herbst # | Monster Energy Toyota | 132 | Accident | 0 |
| 33 | 14 | 61 | Austin Hill(i) | AISIN Group Toyota | 107 | Suspension | 0 |
| 34 | 35 | 66 | Chad Finchum | Garrison Homes Toyota | 55 | Fuel Pump | 0 |
| 35 | 23 | 7 | David Starr | Chasco/Steely Lumber Chevrolet | 40 | Engine | 0 |
| 36 | 25 | 13 | Timmy Hill(i) | RoofClaim.com Toyota | 6 | Engine | 0 |