NHRA SpringNationals: Torrence , Beckman, Laughlin, and Smith qualify fast
After a thrilling day of qualifying at the Mopar Express Lane NHRA Springnationals presented by Pennzoil, Steve Torrence (shown above), Jack Beckman, Alex Laughlin and Matt Smith emerged as the top qualifiers in Top Fuel, Funny Car, Pro Stock, and Pro Stock Motorcycle, respectively. The event, which was delayed by six months due to the COVID-19 pandemic, represents the 33rd year that the NHRA Camping World Drag Racing Series has visited Houston Raceway Park near Baytown.
Torrence, fresh off wins in two of his last three starts, and the incoming Camping World series points leader, added to his total by qualifying in the top spot for the third time this season and 27th time in his career after wheeling his Capco Contractors dragster to a quick 3.672 to edge the Okuma/Coromant Sandvik dragster of fellow Texan Tony Schumacher. The eight-time champion continues to improve in his return after a lengthy layoff with a 3.685. Schumacher also made the fastest run of the day on Saturday with a 330.07-mph blast.
"Today was a huge success and the car ran really well," said Torrence, who is seeking his third straight Top Fuel world championship. "It gives us a lot of confidence going into tomorrow and that puts a little pressure on the competition. We'll go out and do the best we can, and we just need to maintain that consistency. We've slowly become one of the teams that runs really quick when the conditions are good. We haven't been that guy in years past, and we've slowly but surely gotten to the point where we're confident to go out there and run really hard because you're trying to get every point possible."
The top six cars are all in qualified in the 3.7s or quicker with Billy Torrence, Antron Brown, Doug Kalitta, and Leah Pruett each earning top half starting spots. In the battle for the championship, Steve Torrence will have a round one bye due to the 15-car field while Kalitta will square off against Kebin Kinsley, who is driving the Worsham family dragster, and Pruett is scheduled to race nitro rookie Lee Callaway.
Another Sunday match-up that bears watching will pit rookie of the year favorite Justin Ashley against former world champion Shawn Langdon in a battle that features arguably two of the class' two best starting line drivers. Ashley and Langdon have already met five times in nine events this season with Langdon holding a 3-2 edge over the freshman driver.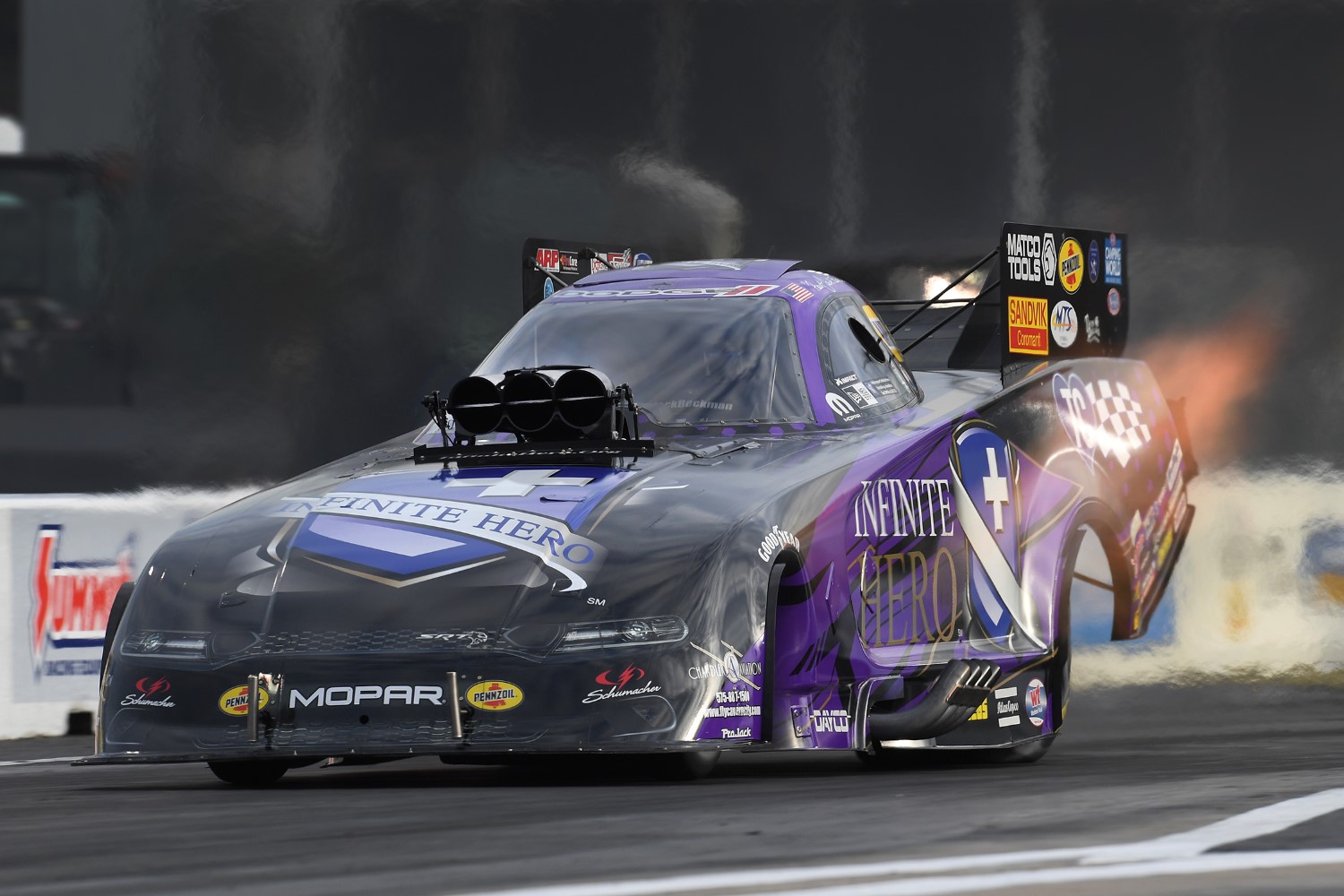 The big news in Funny Car is not so much who qualified No. 1, it's who he will race in round one. Beckman claimed the top spot for the 27th time in his career after wheeling his Infinite Hero Dodge to a 3.8847 in Q2, knocking teammate Matt Hagan to the second spot. Earlier, Hagan ran a 3.907 in his Mopar/Pennzoil Dodge to lead the field after Q1. Beckman's reward for the pole will be a round one match against his DSR teammate, Ron Capps. Beckman came into Houston facing a four-point deficit to Hagan in the standings. Hagan will race Dave Richards in round one.
J.R. Todd landed in the No. 3 spot with the DHL Toyota following a 3.923 while Bob Tasca III is just five-thousandths behind Todd with a 3.928 in his Motorcraft Quicklane Mustang. Tasca will also have a tough draw in round one when he's paired against Paul Lee's Global Electronic Technologies entry.
A week after destroying her RoKit/ABK Beer Toyota in a huge fire in Dallas, Alexis DeJoria returned with a very solid 3.958 qualifying effort that has her in the No. 5 spot.
Perhaps the most impressive performance of the day came from 18-year old rookie Bobby Bode III, who made his NHRA Camping World series debut in Houston. Bode, who recently stepped up from the Jr. Drag Racing League, put his family's Arbee entry into the top half of the field with a 4.024 at just 259-mph that was seventh-quickest. Bode is scheduled to race Blake Alexander in round one.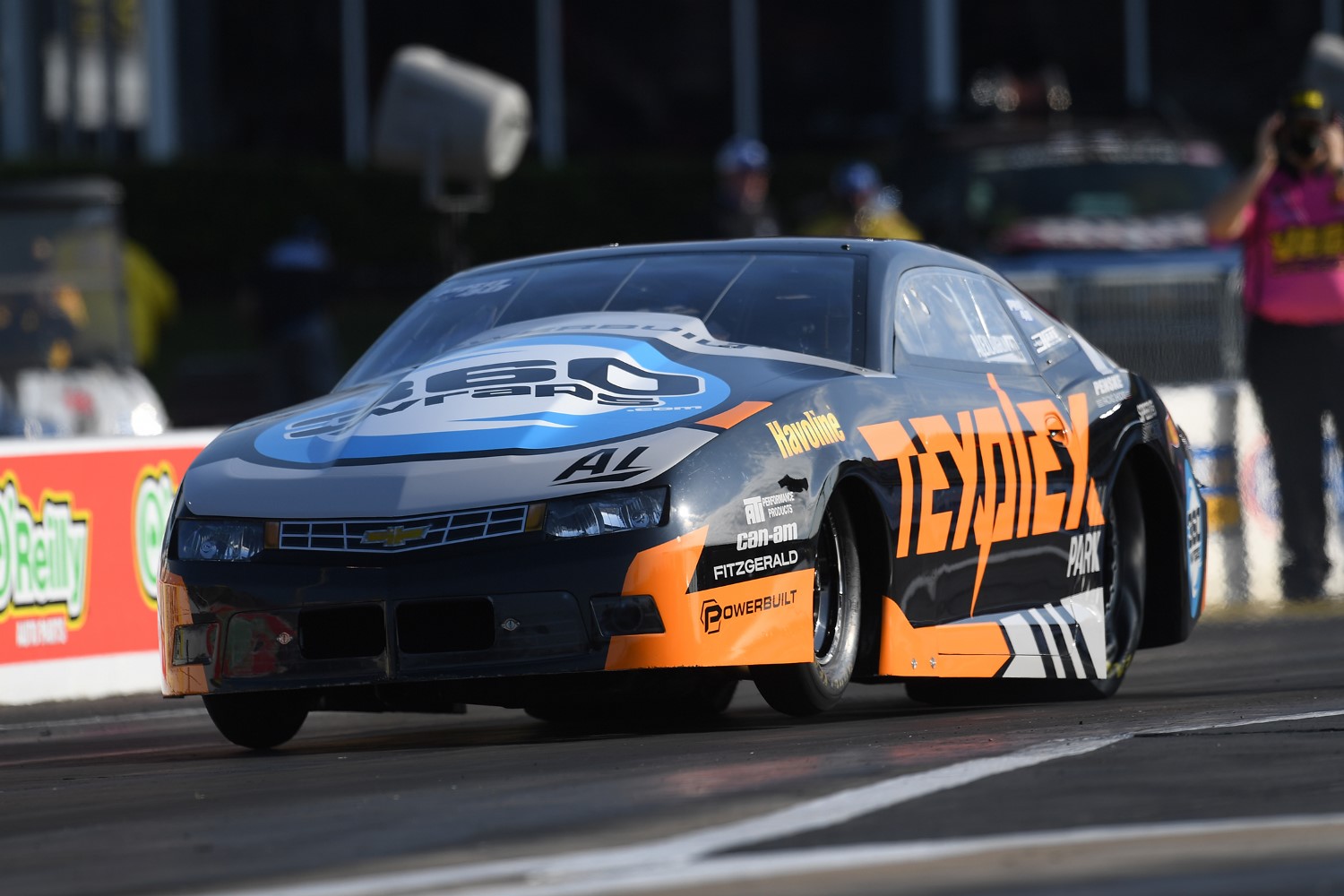 Not surprisingly, the Pro Stock field is extremely close with the top 12-qualifiers separated by just four hundredths of a second and just a tenth of a second covering the entire 16-car field. No one was quicker than Alex Laughlin, who captured the pole for the third time in his career, which now spans 92 professional races. Laughlin topped the field in Q1 by running a 6.506 in his Elite-powered Texplex Park Camaro, and his run was not bettered despite numerous attempts to do so.
Greg Anderson and Erica Enders, who have combined to win seven world championships, tied for the second spot with matching 6.517-second runs but the higher seed went to Anderson based on a faster speed. Anderson ran 212.23 in his Summit Camaro while Enders drove her Elite entry to a best of 211.36. As a result, the current points leader will face off against teammate Bruno Massel in round one on Sunday.
Aaron Stanfield, on the verge of clinching his first title in the SAM Tech.edu Factory Stock Showdown, will start from the No. 4 spot in his Janac Bros. Camaro after a 6.520 while Deric Kramer, last week's polesitter in Dallas, is fifth after a 6.527.
Jason Line, who is pursuing Enders for the Championship, is set to kick off eliminations from the No. 7 spot after running a 6.532 in his Summit Camaro. Line is prepared to battle Texan Chris McGaha in round one. McGaha's Camaro is still carrying the special Reher-Morrison-Shepherd tribute paint scheme honoring four-time world champ Lee Shepherd that has been a big hit with the fans.
The bump spot for the field is held by Fernando Cuadra with a 6.605 while Alan Prusiensky, Val Smeland, and Cristen Cuadra did not crack the tough Pro Stock field.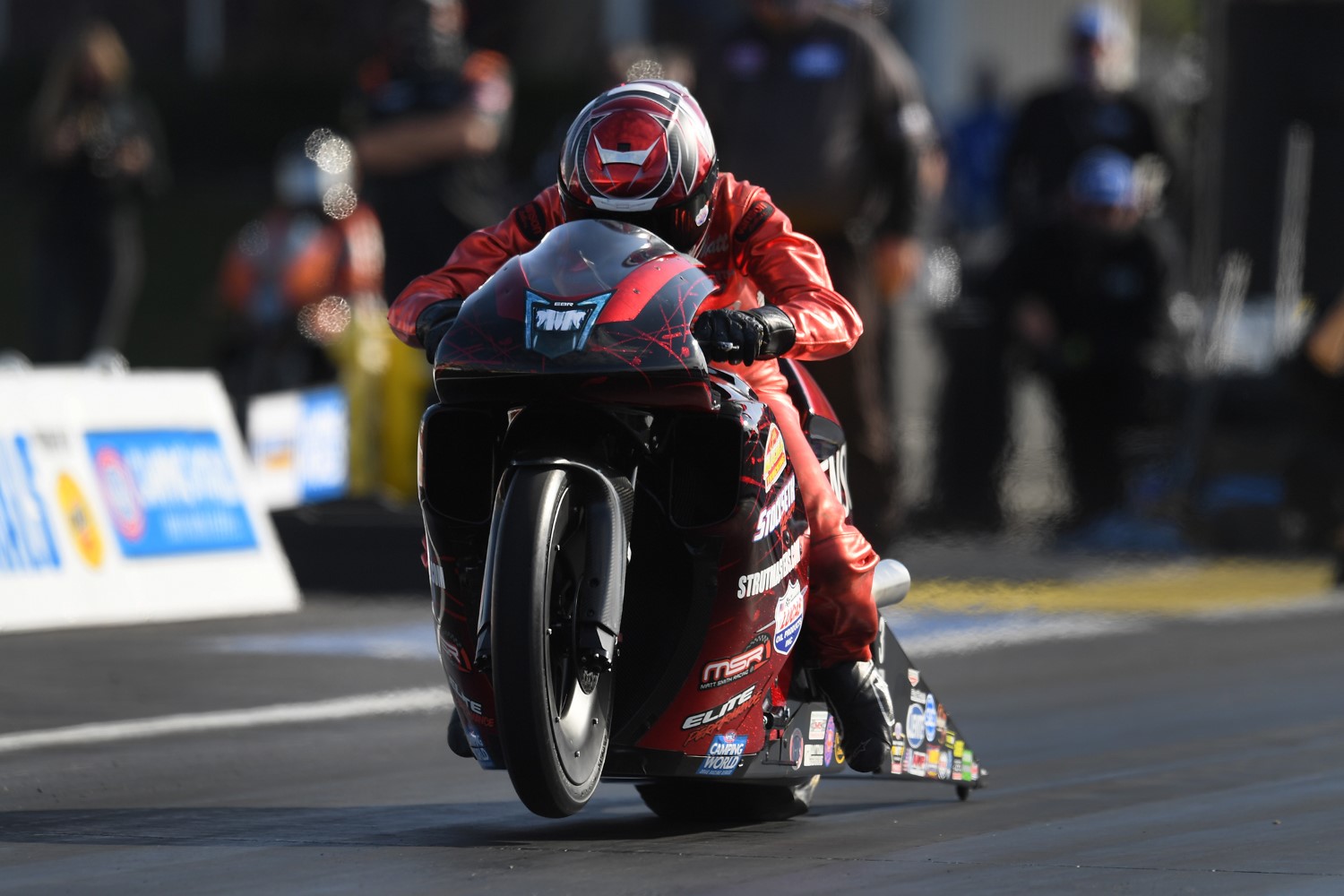 Matt Smith did not get down the track cleanly during Saturday's first session but he more than made up for it on Q2 with a 6.729, one of the quickest runs in the history of the class. Smith, and his Denso EBR, have now been on top of the qualifying sheets at the last four NHRA events. Smith also came tantalizingly close to another 200-mph pass with a 199.88-mph top speed, also the best of the day.
Smith has sizable advantage over the rest of the field with Harley-Davidson teammates Angelle Sampey and Eddie Krawiec also in the 6.7s with runs of 6.789 and 6.799, respectively. Sampey has made steady progress on the Harley FXDR this year. She has not only won an event this season but has also qualified well. She was also the No. 2 qualifier in Gainesville.
Ryan Oehler, who won his first race earlier this year in Indianapolis, was the top qualifier after Q1 with a 6.808 and that held up for the No. 4 spot, even though he did not improve in the second session, which had arguably better conditions. Oehler broke up the Harley-Davidson trio as reigning world champion Andrew Hines landed in the No. 5 spot following a 6.811 best. Hines entered the Houston race in third place in the Camping World standings, 59 points behind Smith.
The other championship contender, U.S. Nationals champ Scotty Pollacheck, landed in the No. 9 spot, setting up a potential showdown with teammate Smith in the second round of eliminations.
Former world champ Jerry Savoie, the winner a week ago in Dallas, finished as the quickest Suzuki rider in the field with a 6.836 on his White Alligator Suzuki that was good for the No. 6 spot.