IndyCar: Sunday morning update from the Petersburg GP
Good morning from the streets of St Pete.  It is the final race of the unusual 2020 season today.  Temperatures are expected to be in the upper 80s with a passing afternoon shower.
Today's starting grid was not exactly the positions most drivers were hoping for.  A timing and scoring glitch delayed the qualifying Q2 session yesterday for 45 minutes while cars were sorted out.
Will Power, the Team Penske number 12 Verizon sponsored driver, achieved yet another pole yesterday.  It is Power's ninth pole at St. Pete, and 62nd pole overall in his career.  The Aussie is within five poles of tying Mario Andretti's record.
Power remarked in the press conference yesterday regarding his outcome.  "It was a typical very tough qualifying session, the first few rounds. Made some slight changes. The car wasn't perfect at first. It does take a long time to turn on, so you could not do it like last year on your first lap. Your second and third lap are really the best laps on the tires."
"Yeah, I mean, when I saw what Colton (Herta) did on blacks in the first round, I saved some reds. I thought this is going to be really tough. But when I went out in the second round and made the car a bit better, made a mistake. I said, Okay, we're kind of close. Then I went all out in the Fast Six to get the most out of the car.  I am really, really happy with it.."
The two title contenders, Scott Dixon, driving the number 9 Ganassi Racing entry and Josef Newgarden, the number 12 Team Penske teammate to Power, were both not happy with their qualifying runs.  Newgarden will start 8th and Dixon 11th.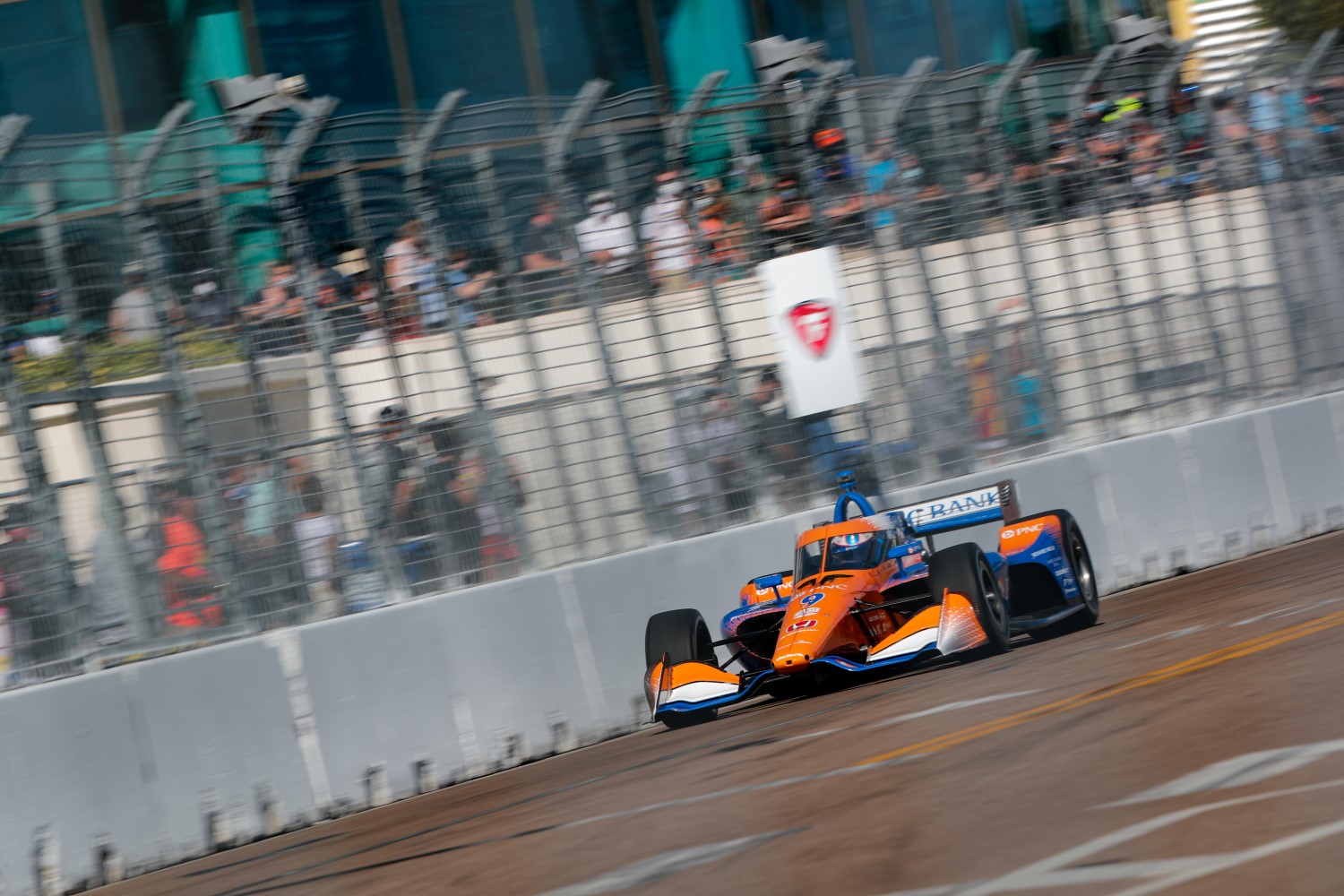 Dixon, disappointed that he did not advance to Q3, commented on the results.  "The first qualifying session the No. 9 PNC Bank Honda felt pretty good. We just didn't piece it together that well. We flip-flopped how we did it in the first run. In the first run we did three laps on blacks and four on reds. We thought the reds came in quick enough, but then with how the traffic was and having to slow down, there were really only two laps. The car was getting more grip in each corner, but we needed another lap."
Newgarden, also expecting more from his car yesterday, expressed his feelings.  "We took a swing at it for Q2, and it wasn't the right direction. I didn't get the most out of it. I definitely had a lot of slides and wasn't clean. I think just putting a clean lap together would have been good to transfer, and we just didn't do the job. It makes our program a little harder for the race, but we've still got to go for the win with the Hitachi Chevy boys."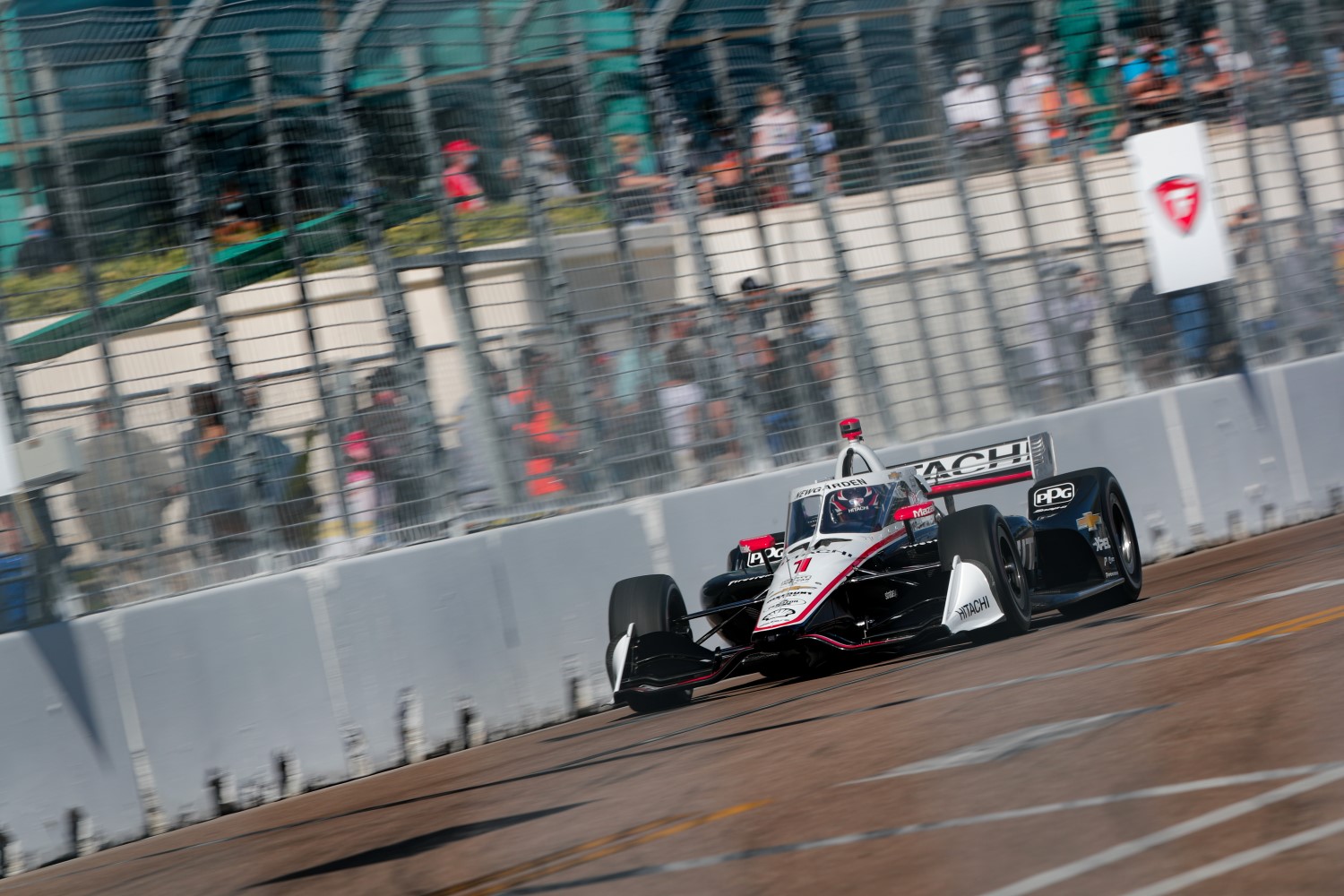 About those masks
With the current COVID health alert, everyone is wearing a face mask. Many IndyCar drivers have a team logo or their car number on their mask.   But not Scott Dixon or Felix Rosenqvist.  Their design is unique.
AR1.com talked today with Stefan Johansson, an agent for Dixon and a couple of other drivers, and asked about the colorful design of the mask, which Johansson was also wearing.  Turns out that the former race care driver has another talent that is not well known, painting.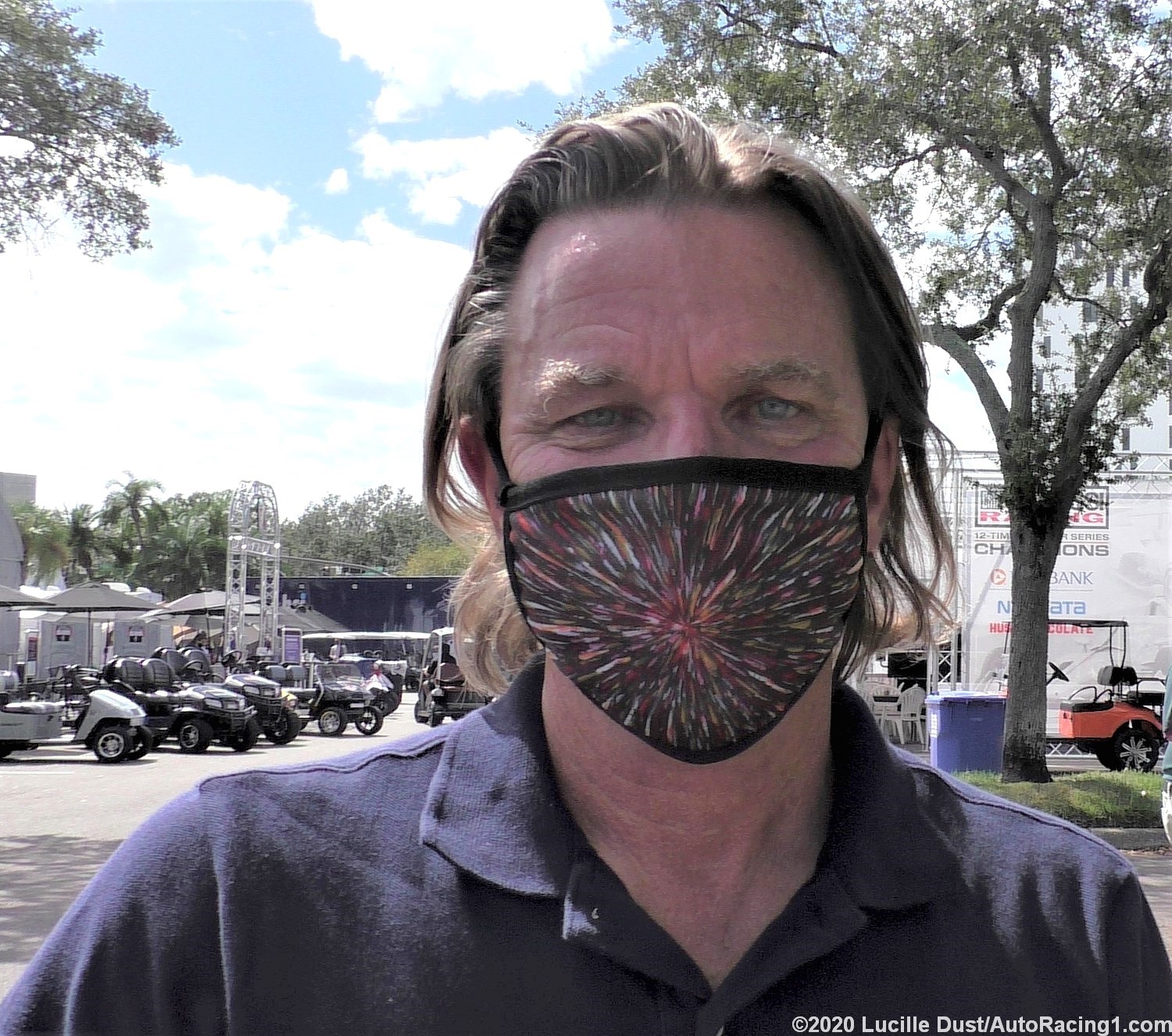 "I made the art (paintings) and we took images of some of them and made the design for the mask.  We are going to do some hats, t-shirts and jackets in the future with a few of my designs.  We will be doing a whole line of merchandise."
Johansson laughed as we took the picture of him in the mask.   "I don't know why I am smiling under the mask, no one can see it anyway!"
O'Ward wants more than just a podium
Pato O'Ward currently sits fifth in the points standings, and the young Mexican driver is not yet satisfied with his year. He needs to get a race win under his belt if he is to call this season a success.
"I'd be lying if I said I'd be ok with a podium here," said O'Ward. "I truly, really want that race win.
"There's been so many times, 4 or 5 times, where we've been so close and it just slips out of our hands. A win is so much different from second place.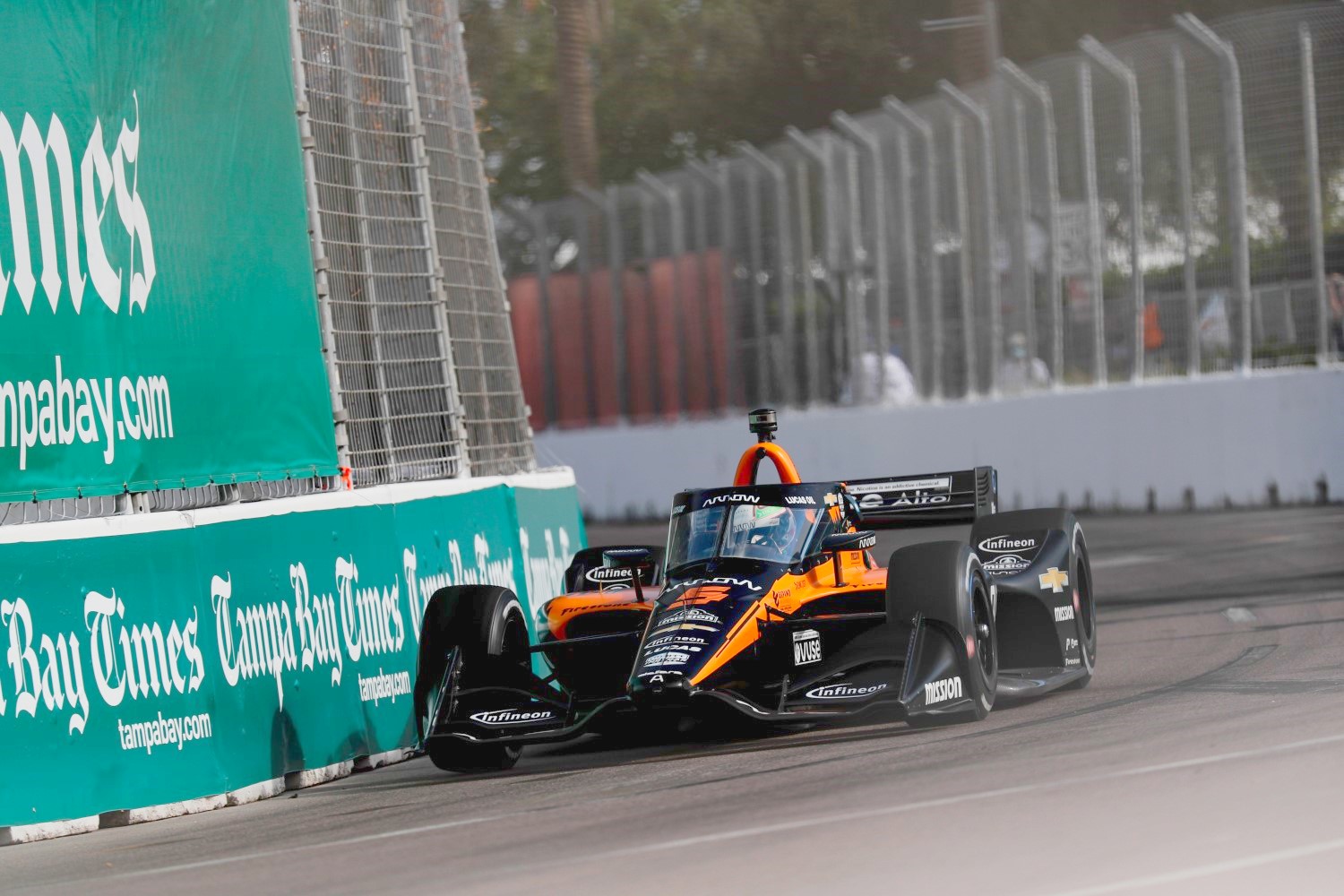 "I want to win this race. I'd be dishonest if I was saying something else.
"We've been so close this year. I truly feel like the team deserves it, and I want to give one to myself. End the season the best way possible and roll into 2021 with a lot of momentum.
"I will be trying to win this race on Sunday for sure."
A big thanks to Roger Penske
AR1 would like to thank Roger Penske and Penske Entertainment Corporation for all the hard work to get a full season in this year.   It was taxing on the teams to show up super early on a Saturday morning at some tracks, practice, qualify and race the same day.  As the season was winding down, double headers were run at several tracks to make sure there were enough races to make it a season.  Double headers are great for the fans but creates extra work for the teams.
Josef Newgarden, the 2019 IndyCar Champion said it best about his team owner.  "I don't know anyone in the world that has more energy or enthusiasm than Roger Penske. There is just nothing that's going to stop him when he's leading the charge on something, he's going to maximize everyone's capabilities around him and make the most of the situation."
"I think we're all pretty thankful that Roger has been in charge to lead us forward. I think the organization has done a tremendous job.   They've done everything possible. They did everything possible to run the 500 with a limited amount of fans."
"I think if people knew the energy that was put in, the constant evolution they had to work through. The world was changing every day, every week. They're constantly keeping up with it, trying to make it work. The same from the IndyCar Series the entire season. A tremendous amount of effort."
There is an IndyCar 30 minute warm up at 10:40 am EST.  Race Coverage today starts at 2:30 pm.
Lucille Dust reporting live from St Pete