MotoGP: Morbidelli earns phenomenal MotorLand victory
Faultless Franco Morbidelli (Petronas Yamaha SRT) didn't put a foot wrong on a formidable Sunday afternoon to claim his second victory of 2020 at the Gran Premio Liqui Moly de Teruel. It was a classy and faultless ride from the Italian as he leads Team Suzuki Ecstar's Alex Rins over the line by two seconds, with Joan Mir (Team Suzuki Ecstar) picking up another P3 at MotorLand to extend his Championship lead in yet another dramatic premier class race.
And that drama began right from the off on Lap 1. Polesitter Takaaki Nakagami (LCR Honda Idemitsu) got the launch he would have been hoping for and led into Turn 1, just holding off fellow front row starters Morbidelli and Rins. At Turn 2, both Brad Binder (Red Bull KTM Factory Racing) and Jack Miller (Pramac Racing) tumbled into the gravel after the South African tagged the back the Australian. Then, at Turn 5, race leader Nakagami made his first big mistake of the season. The Japanese rider lost the front and was down, sliding out of the race in heartbreaking fashion – no dream podium or victory today for Nakagami.
This left Morbidelli leading, closely followed by Rins as Mir made a glorious start from P12, the Spaniard was P5 on the opening lap and ahead of Fabio Quartararo (Petronas Yamaha SRT), who was struggling on the opening laps. The Frenchman has chosen a medium rear tire, was he just taking his time to get the temperature into the rear? Johann Zarco (Esponsorama Racing) was up to P3 as the Frenchman was holding off Maverick Viñales (Monster Energy Yamaha MotoGP) and Mir, with Quartararo slipping into the clutches of Cal Crutchlow (LCR Honda Castrol) and Alex Marquez (Repsol Honda Team).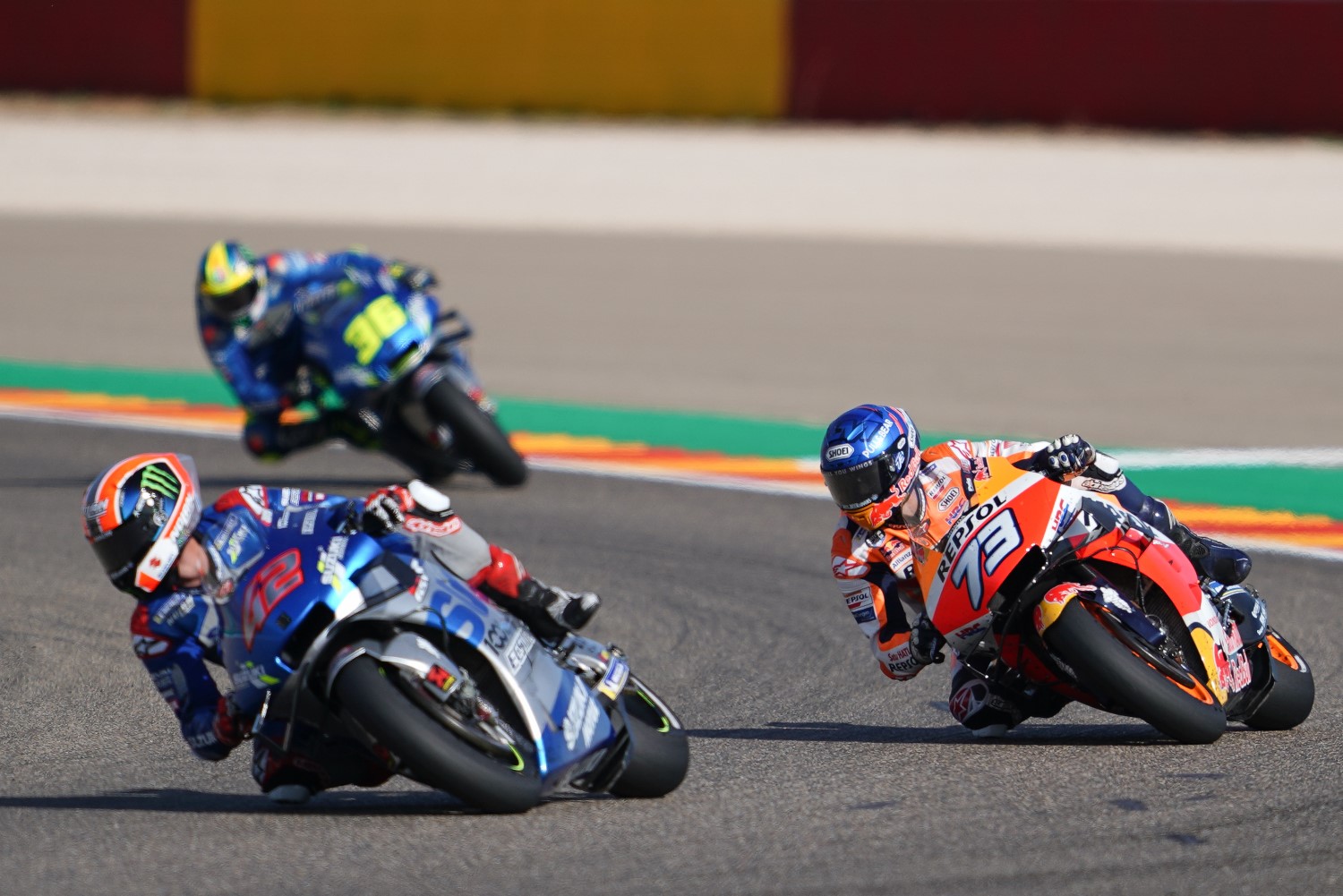 Soon, Marquez was past Quartararo and the Aragon GP podium finisher set the fastest lap of the race on Lap 4, with the reigning Moto2™ World Champion latching onto the back of Mir. Up front, Morbidelli set a 1:48.089 to take the race lap record at MotorLand, himself and Rins were now a second up the road from third place Zarco on Lap 6. On said lap, Mir made his move on Viñales at Turn 12 and the Championship leader was up to P4. Marquez wasted no time in getting past Viñales too, a classy move at Turn 15 came Marquez' way and now the Spanish duo had their sights firmly set on Zarco.
Seventh place Quartararo was nowhere near the pace of his race leading teammate, who was also on the medium Michelin rear. Pol Espargaro (Red Bull KTM Factory Racing), Crutchlow, Miguel Oliveira (Red Bull KTM Tech3), Aleix Espargaro (Aprilia Racing Team Gresini), Andrea Dovizioso (Ducati Team) and Iker Lecuona (Red Bull KTM Tech3) were all line astern behind El Diablo. On Lap 8, Morbidelli and Rins were now 1.7 seconds ahead of third place Zarco. Mir and Marquez had taken a second out of Viñales in just a couple of laps but the two could see Morbidelli and Rins clearing off into the distance.
Lap 9 then and the gap between Rins and Zarco was still hovering around the 1.7 second mark. No way through so far for Mir and Marquez who were shadowing by far the fastest Ducati on track, but with 15 to go, there was a long way to go. 10 laps in and Quartararo was now down to P8 as Pol Espargaro diced up the inside at Turn 1, Viñales was just a few tenths ahead as both Quartararo and Viñales were struggling in the opening exchanges. Oliveira was then climbing all over the back of Quartararo but the latter was strong on the brakes at the end of the back straight.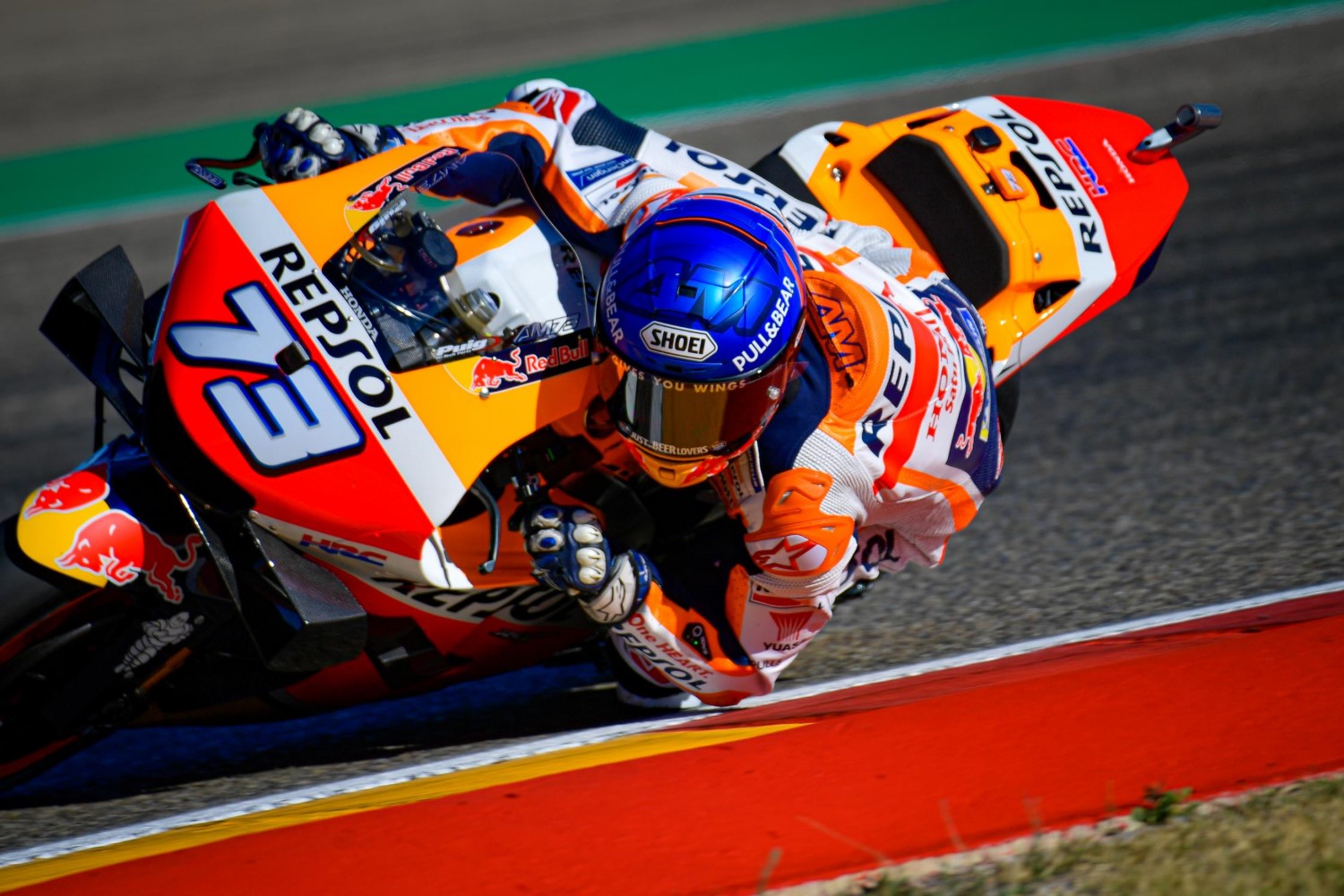 Further up the road, Mir pounced on Zarco at Turn 4. The gap between the top two and Mir stood at 2.2 seconds, 12 and a half laps for Mir to hunt down his teammate and Morbidelli. Marquez then didn't take long to follow through as he took that incredible inside line round the double left-hander at the end of the lap, but Zarco fought back at Turn 1. Marquez was back underneath the Ducati at Turn 4 but the small squabble cost Marquez time, with Mir currently making no indent into the leaders.
Morbidelli was holding off Rins well, but his teammate had an almighty scrap on his hands in P8. Oliveira briefly got through on Quartararo but the Yamaha was back under the Portuguese star at Turn 1. Crutchlow and Dovizioso were waiting to pick up any pieces, with Pol Espargaro now ahead of Viñales with 11 to go. This was incredibly tense and every single point and position counted, as another Honda crashed out. Alex Marquez fell victim to Turn 2, rider ok but that was a second consecutive podium at MotorLand out the window for Marquez. Nakagami and Marquez, the only two riders to finish every race, were out.
At the front, Morbidelli's lead over Rins was 0.6 seconds. Mir was 2.6 seconds behind with nine laps to go, Zarco was now P4 with Pol Espargaro fifth. Viñales and Quartararo were sixth and seventh heading into the closing stages, with Quartararo still fending off Oliveira. Less than a second behind Quartararo, Dovizioso was lurking. Oliveira then made his move and it stuck on Lap 15, with Dovizioso now right behind Quartararo – incredible scenes!
The quickest man on track with eight to go was second place Rins. He wasn't right onto the back of Morbidelli though as the Italian was still looking formidable out front. Further back, Aleix Espargaro made an aggressive move stick on Dovizioso at Turn 1 and Lap 17 was a relative disaster for Dovizioso, who ran in way too hot at Turn 8 and suddenly, Dovi was down to P12 after crossing the line in P8.
Attention then turned back to the front with six laps to go and Morbidelli was the only man still in the 1:48s, a couple of tenths faster than Rins as the gap rose to 0.8 seconds. Mir wasn't making any headway but third was great for his title hopes, because Viñales and Quartararo were under threat. Oliveira grabbed P6 at the final corner to demote Viñales to 7th, Quartararo's tailpipes had a face full of Aleix Espargaro. Morbidelli wasn't struggling though, the San Marino GP winner was now a second clear of Rins with five laps left on the clock, was that medium rear tire now really aiding the Italian? A second win of the year was well in sight and a 25-point haul would be huge for his title challenge.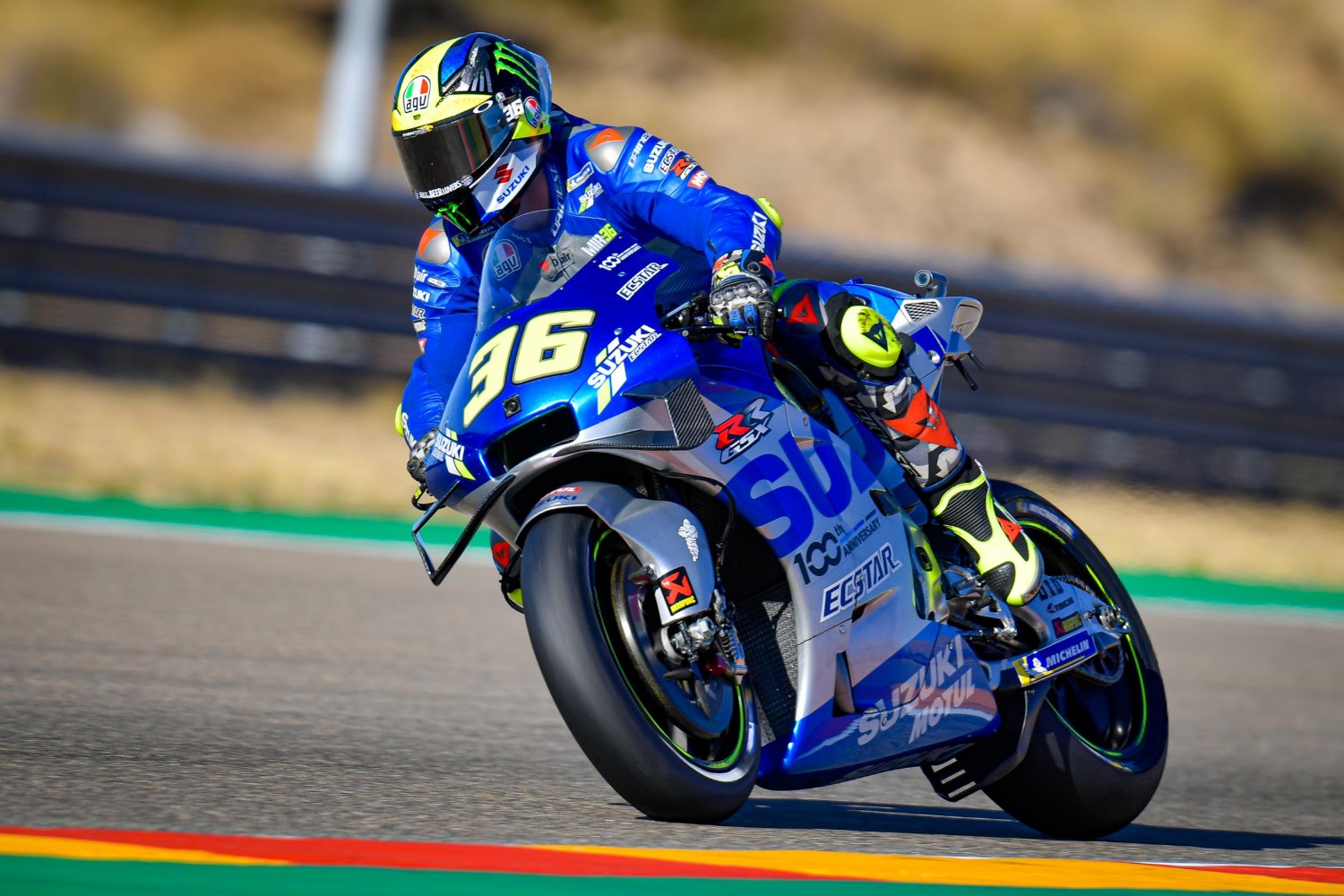 With three laps left, Morbidelli's lead rose to 1.2 seconds. Mir was 2.6 seconds back and it looked like he wasn't going to have a say in the victory challenge. The battle for fourth was raging between Pol Espargaro, Zarco and Oliveira. Espargaro climbed to P4 and Oliveira was soon through too, but Zarco wasn't giving it up that easy, the Ducati man fighting straight back at Turn 13.
Two to go, Morbidelli's lead had crept up to 1.4 seconds over Rins. The Italian was on rails and nobody had been able to lay a glove on the Yamaha star as the final lap of the race started. 1.9 seconds was Morbidelli's lead, it was his to throw away. Rins was well clear of teammate Mir, the title chase leader was a lonely third. Unsurprisingly, Morbidelli made no mistake on the final lap and it was an absolute masterclass from the number 21. Faultless from Franky at MotorLand and a second win of the season was his, the first non-Spanish Aragon winner since Casey Stoner in 2011.
Rins takes 45 points from 50 in Aragon as both Morbidelli and Rins bring themselves right into the title frame. From P12 on the grid to P3 was just about as good as he could have hoped for. Two P3s at MotorLand sees Mir extend his World Championship lead with three races to go, 14 points is his advantage over Quartararo. Pol Espargaro picks up a great P4 from ninth on the grid and just behind the Spaniard, Zarco vs Oliveira went right down to the wire. The Ducati eventually pipped the KTM by 0.038 as Zarco saves Ducati's blushes at MotorLand, Oliveira rode brilliantly to earn P6.
Then came Viñales. Not the race he would have been looking for as he and Quartararo never really got going in the Teruel GP, the Yamaha title contenders finishing P7 and P8 as they slip further away from Mir. Lecuona secured his third top 10 of the year in P9, Danilo Petrucci (Ducati Team) rounded out the top 10. Crutchlow and Stefan Bradl (Repsol Honda Team) finished P11 and P12, ahead of Dovizioso. A terrible final few laps for the Ducati man who had Quartararo in his sights, is that now title dreams fully over for the Ducati man? Well, no, but it's certainly another huge dent.
Tito Rabat (Esponsorama Racing) and Bradley Smith (Aprilia Racing Team Gresini) were the only other two riders to finish, the duo pick up P14 and P15 respectively. Aleix Espargaro was on for a top 10 but his RS-GP suffered an issue with a couple of laps remaining, unlucky for the Spaniard.
Race Results
| | | | | | | | |
| --- | --- | --- | --- | --- | --- | --- | --- |
| Pos. | Points | Num. | Rider | Nation | Team | Bike | Gap |
| 1 | 25 | 21 | Franco MORBIDELLI | ITA | Petronas Yamaha SRT | Yamaha | +0.000s |
| 2 | 20 | 42 | Alex RINS | SPA | Team SUZUKI ECSTAR | Suzuki | +2.205 |
| 3 | 16 | 36 | Joan MIR | SPA | Team SUZUKI ECSTAR | Suzuki | +5.376 |
| 4 | 13 | 44 | Pol ESPARGARO | SPA | Red Bull KTM Factory Racing | KTM | +10.299 |
| 5 | 11 | 5 | Johann ZARCO | FRA | Esponsorama Racing | Ducati | +12.915 |
| 6 | 10 | 88 | Miguel OLIVEIRA | POR | Red Bull KTM Tech 3 | KTM | +12.953 |
| 7 | 9 | 12 | Maverick VIÑALES | SPA | Monster Energy Yamaha MotoGP | Yamaha | +14.262 |
| 8 | 8 | 20 | Fabio QUARTARARO | FRA | Petronas Yamaha SRT | Yamaha | +14.720 |
| 9 | 7 | 27 | Iker LECUONA | SPA | Red Bull KTM Tech 3 | KTM | +17.177 |
| 10 | 6 | 9 | Danilo PETRUCCI | ITA | Ducati Team | Ducati | +19.519 |
| 11 | 5 | 35 | Cal CRUTCHLOW | GBR | LCR Honda CASTROL | Honda | +19.708 |
| 12 | 4 | 6 | Stefan BRADL | GER | Repsol Honda Team | Honda | +20.591 |
| 13 | 3 | 4 | Andrea DOVIZIOSO | ITA | Ducati Team | Ducati | +22.222 |
| 14 | 2 | 53 | Tito RABAT | SPA | Esponsorama Racing | Ducati | +26.496 |
| 15 | 1 | 38 | Bradley SMITH | GBR | Aprilia Racing Team Gresini | Aprilia | +31.816 |
| DNF | 0 | 41 | Aleix ESPARGARO | SPA | Aprilia Racing Team Gresini | Aprilia | 3 Laps |
| DNF | 0 | 73 | Alex MARQUEZ | SPA | Repsol Honda Team | Honda | 10 Laps |
| DNF | 0 | 63 | Francesco BAGNAIA | ITA | Pramac Racing | Ducati | 18 Laps |
| DNF | 0 | 30 | Takaaki NAKAGAMI | JPN | LCR Honda IDEMITSU | Honda | 0 Lap |
| DNF | 0 | 43 | Jack MILLER | AUS | Pramac Racing | Ducati | 0 Lap |
| DNF | 0 | 33 | Brad BINDER | RSA | Red Bull KTM Factory Racing | KTM | 0 Lap |