Schumacher Wins Thriller At NHRA SpringNationals
Tony Schumacher defeated Steve Torrence by 0.002 seconds to win the NHRA Camping World Drag Racing Series' SpringNationals at Houston Raceway Park, Sunday. His victory is the fourth of the season for a Toyota NHRA driver and Schumacher's first since returning to the seat of a Top Fuel dragster in July after being sidelined since the end of the 2018 season.
After qualifying second on Saturday, Schumacher opened his day with a first-round win over Cameron Ferre, then followed it up with victories over Doug Foley and Billy Torrence to advance to the finals against point leader Steve Torrence.
Both cars turned in strong reaction times with Torrence having a slight advantage, but Schumacher ran him down by the 330' foot mark. The two raced side-by-side through 600 feet, separated by just .001 seconds. The eight-time world champion then held off his rival with a margin of victory of just .002 seconds, winning with a 3.669-second pass at 330.63 mph – the quickest pass of the weekend.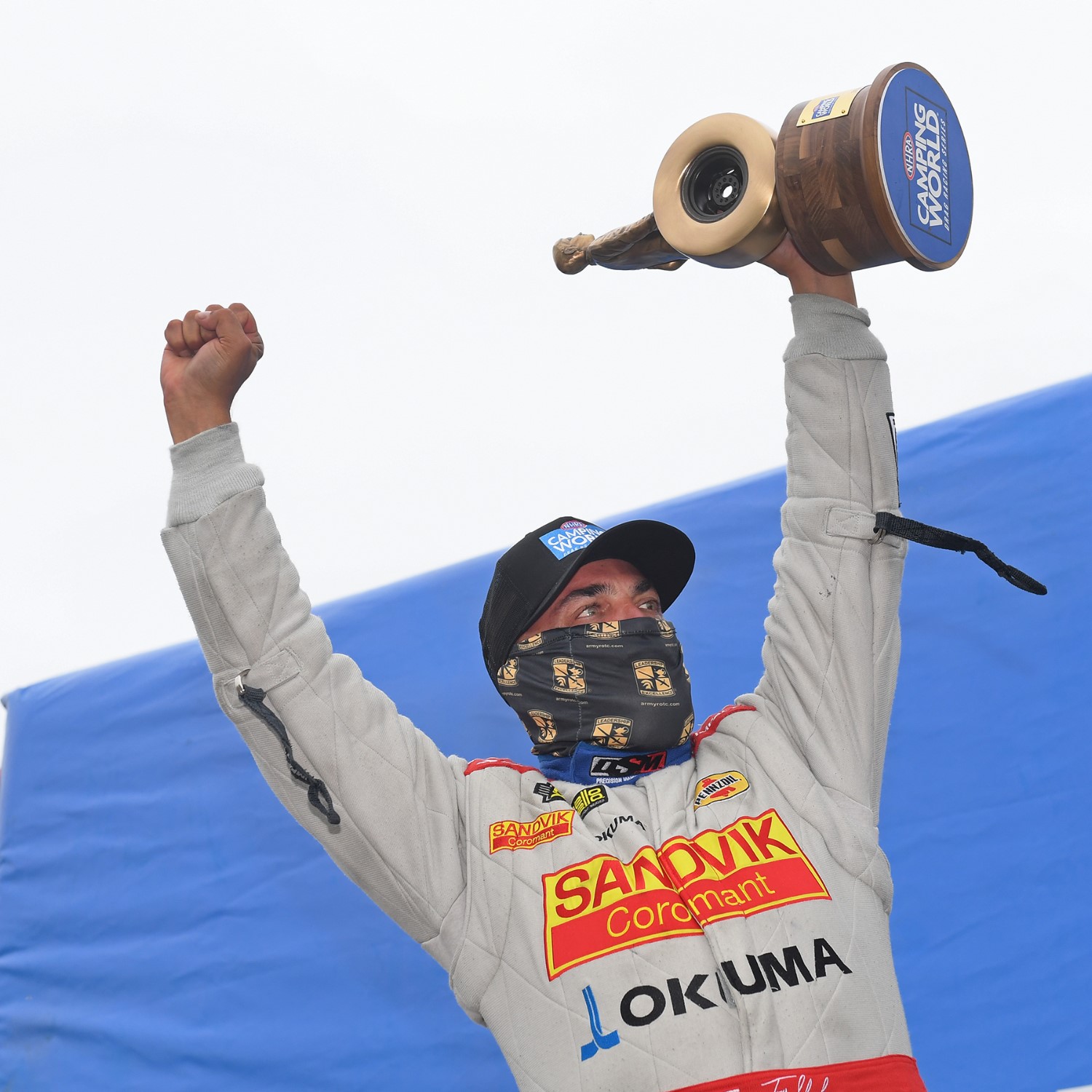 "We've only had a handful of races back as a team and they're doing a great job for Sandvik, Okuma and Toyota," said Schumacher who earned his NHRA record 85th Top Fuel win. "And Camping World thank you for stepping up. It feels unbelievable. Both the semis and the finals were outstanding races. That's about as rewarding of a day as anybody can have. We've been through three race cars in six races. We qualified excellent, then lost our car after Leah broke one. We had to take a new car out and that's just the second race on it. That car hasn't made two dozen runs down a racetrack and Mike Green and this Okuma/Sandvik Coromant Toyota team just went out and figured out how to win a race with it. Unbelievable."
"This is an incredible opportunity and I'm going to display this trophy proudly," said Schumacher, who won for the first time since the 2018 Bristol race. "I'm super happy for the guys. This is our home track. My fiancé [Summer] and her family are from here and they're all here today. Half of my neighbors in Austin have come out today and have never been here before. They just saw two of the best semifinal and final rounds you're ever going to see. I don't know what that came down to, but I'm guessing inches and thousandths of a second. That's what it's about. It's about the people who showed up here in the stands, the people who worked so hard on this car. We just love the opportunity. We've got one more in Vegas and I'm looking forward to that, it's one of my favorite tracks coming up. I want to win Vegas because you get the whole off-season to think about it."
Aaron Stanfield is just 25 years old and likely has a long career ahead of him but not matter how long he races he might never enjoy another afternoon like the one he had at the Mopar Express Lane NHRA SpringNationals. Stanfield not only won the race and the championship in the SAM Tech.edu Factory Stock Showdown, but for an encore, he also bagged his first Pro Stock race when he topped seven time world champion Jeg Coughlin in the final round. Stanfield wheeled his Janac Bros. Camaro to a 6.535, the quickest run of eliminations, to seal the deal after Coughlin's JEGS.com Camaro slowed.
Stanfield is now the 28th driver to double-up at an NHRA national event, and he's just the second to pull off the rare pro-sportsman double, following Pat Austin, who first accomplished the feat at the infamous '92 Phoenix race.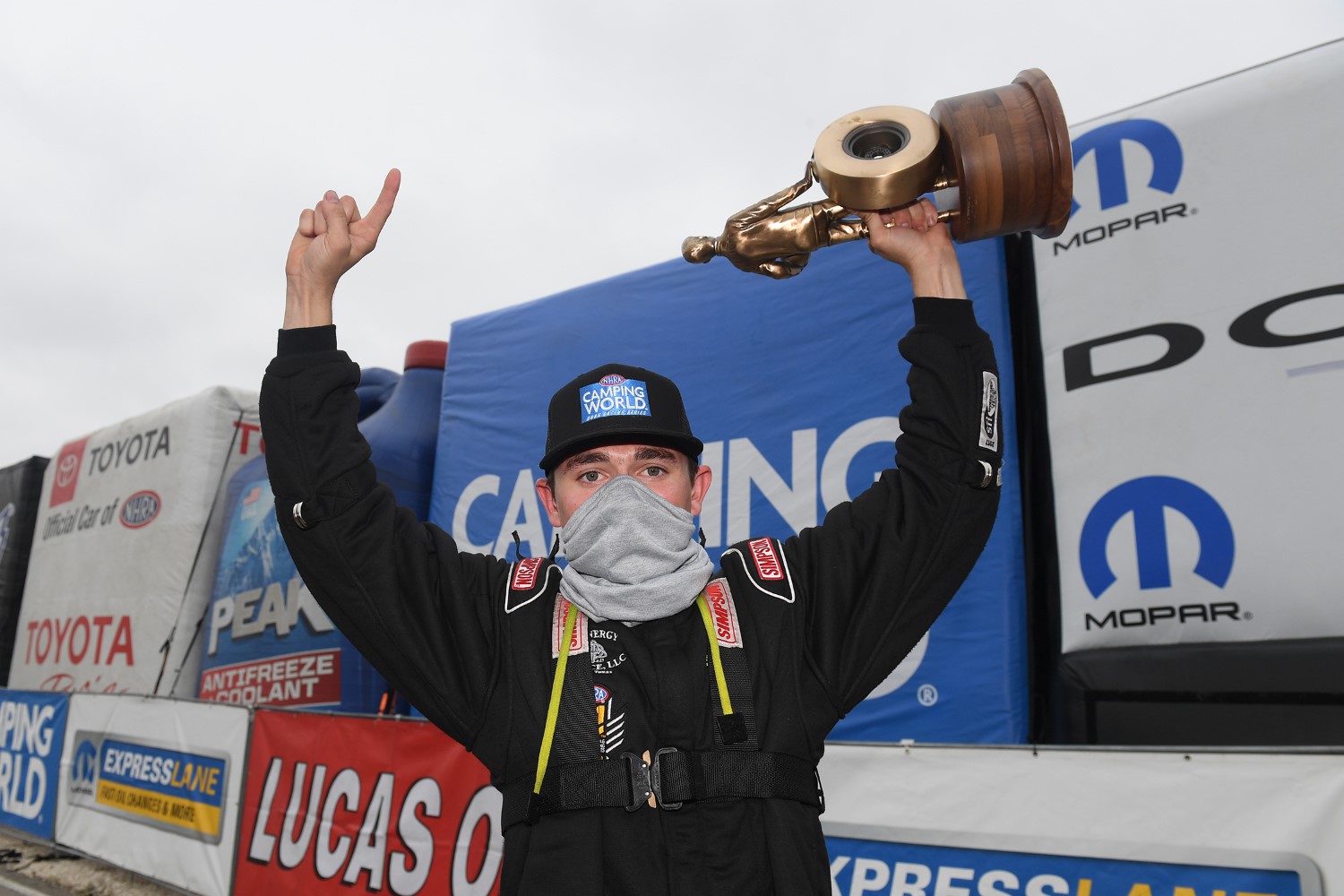 "I can't put this into words," said Stanfield. "I dreamed of the day I could hold up a Pro Stock Wally since I was a little kid watching my dad race. I tried to stay as calm as I could in the race car. I knew my guys had my best interest in mind. I stayed focused and we got it done. This whole day has been so crazy accomplishing huge dreams that I never thought I could accomplish. I haven't even processed this and that was a good thing because I felt calm throughout the entire day."
In both qualifying and eliminations, the entire Pro Stock field was close, but Stanfield's Janac Bros. Camaro appeared to be a tick better than most. From the No. 4 qualifying spot, Stanfield downed Kenny Delco, Troy Coughlin Jr., and fellow rookie Kyle Koretsky to make it to the final for the second time in the last four events. Stanfield got progressively quicker on race day beating Koretsky, 6.543 to 6.549, in a great side-by-side race between two of the class' brightest young stars.
Stanfield had little time to celebrate his Pro Stock win because he still had two rounds remaining in Factory Stock competition. After downing points rival Mark Pawuk in the semi's, Stanfield finished off his afternoon with another close 7.87 to 7.90 win over David Barton in Factory Stock. Stanfield has won the last four events in the SAM Tech.edu Factory Stock Showdown.
The battle for the Pro Stock championship took a lot of twists and turns on Sunday. Jason Line entered the event in the No. 2 spot, but suffered a round one loss that could have had devastating consequences. The damage was limited after leader Erica Enders fouled in round two against Coughlin, who kept his hopes alive with wins against Dallas champ Matt Hartford, and Greg Anderson. In that semifinal battle, Coughlin prevailed over his rival by just .002-second at the finish line.
When it comes to the 2020 Camping World Funny Car title, don't count out Tommy Johnson Jr. In danger of falling hopelessly behind teamamtes, Matt Hagan and Jack Beckman, Johnson put together a timley effort to win for the third time this season. In the final, Johnson drove the MD Anderson Cancer Center Dodge to a 3.929, sealing the win over teammate Ron Capps, who ran a 3.952 in his NAPA Dodge and was just three-thousandths of a second behind at the finish line.
Following the 22nd win of his career, Johnson has moved to second place in the standings with only the Las Vegas event remaining next week. He is 42-points behind leader Hagan while Jack Beckman is 43-points back making it a three-way battle for the title.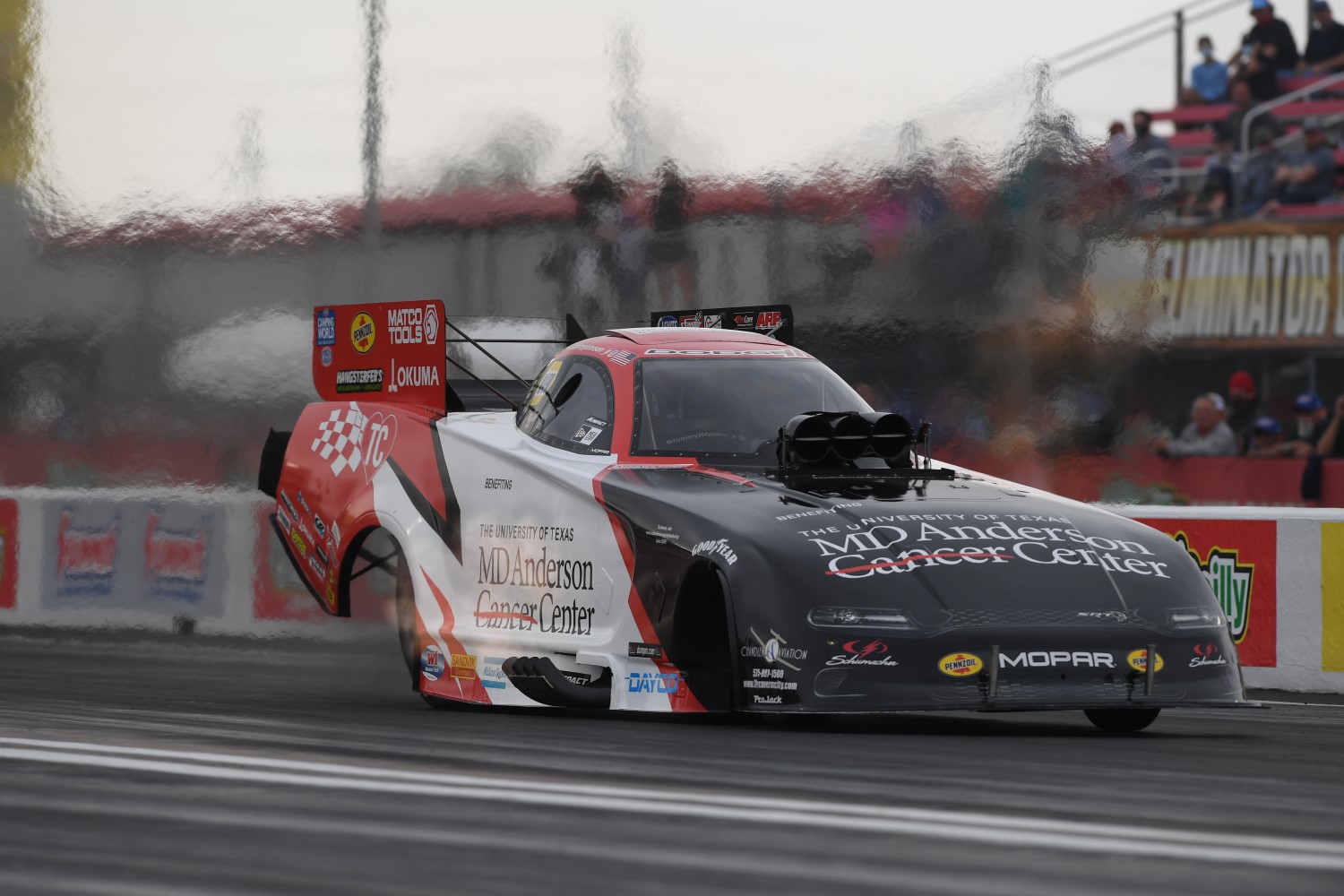 "It was a must-win," said Johnson. "We get close and then we stumble and I think we're out of it and then the next race here we come again. I think we've been a bit of a thorn in their side a little bit. It's like a heavyweight battle. We get knocked to the turf and then we get back up and here we come again and keep swinging. It's been a weird year, but it's been a good year for our team. I hate it because maybe we could have won a bunch more if we had more races. This has got drama written all over it for Las Vegas.
"I saw what [Capps] did in Gainesville so you can't think too much about it. They are a great team. They struggled and hadn't quite hit it. I actually screwed up and put on both bulbs in the final. That aggravated me a little but maybe that was a good thing. This is probably our best shot [at a championship]. This time, we're there with one to go."
Johnson won the second event of the season in Phoenix, and later scored two weeks ago in St. Louis, opened Sunday's final eliminations by beating Jim Campbell. He then followed with a close 3.934 to 3.979 win over J.R. Todd's DHL Toyota in the quarterfinals. Johnson's biggest win, by far, came in the semifinals when he defeated Hagan's Mopar/Pennzoil Dodge. In what might easily be a season-saving win, Johnson held on for a 3.941 to 3.981 victory to reach the final for the 56th time in his long career.
As for Capps, he was attempting to become just the fifth driver to win from the No. 16 qualifying spot and it was far from easy. Capps struggled in qualifying when he didn't get down the track on either of Sunday's qualifying runs. The NAPA team made a dramatic turn around on Sunday and scored wins against low qualifier Beckman, as well as Cruz Pedregon and Alexis DeJoria. In a scene reminiscent of his win in Gainesville last month, Capps went to a back-up car for the final after his primary entry was damaged in an engine explosion in the semifinals.
For the first time since the Brainerd event in 2018, a span of 26 months, Eddie Krawiec earned a Pro Stock Motorcycle Wally when he rode his Harley-Davidson FXDR to a final round win against Ryan Oehler at Houston Raceway Park. Appearing in his 85th career final, Krawiec nabbed career win No. 48 with a 6.801 to easily cover Oehler's 6.905.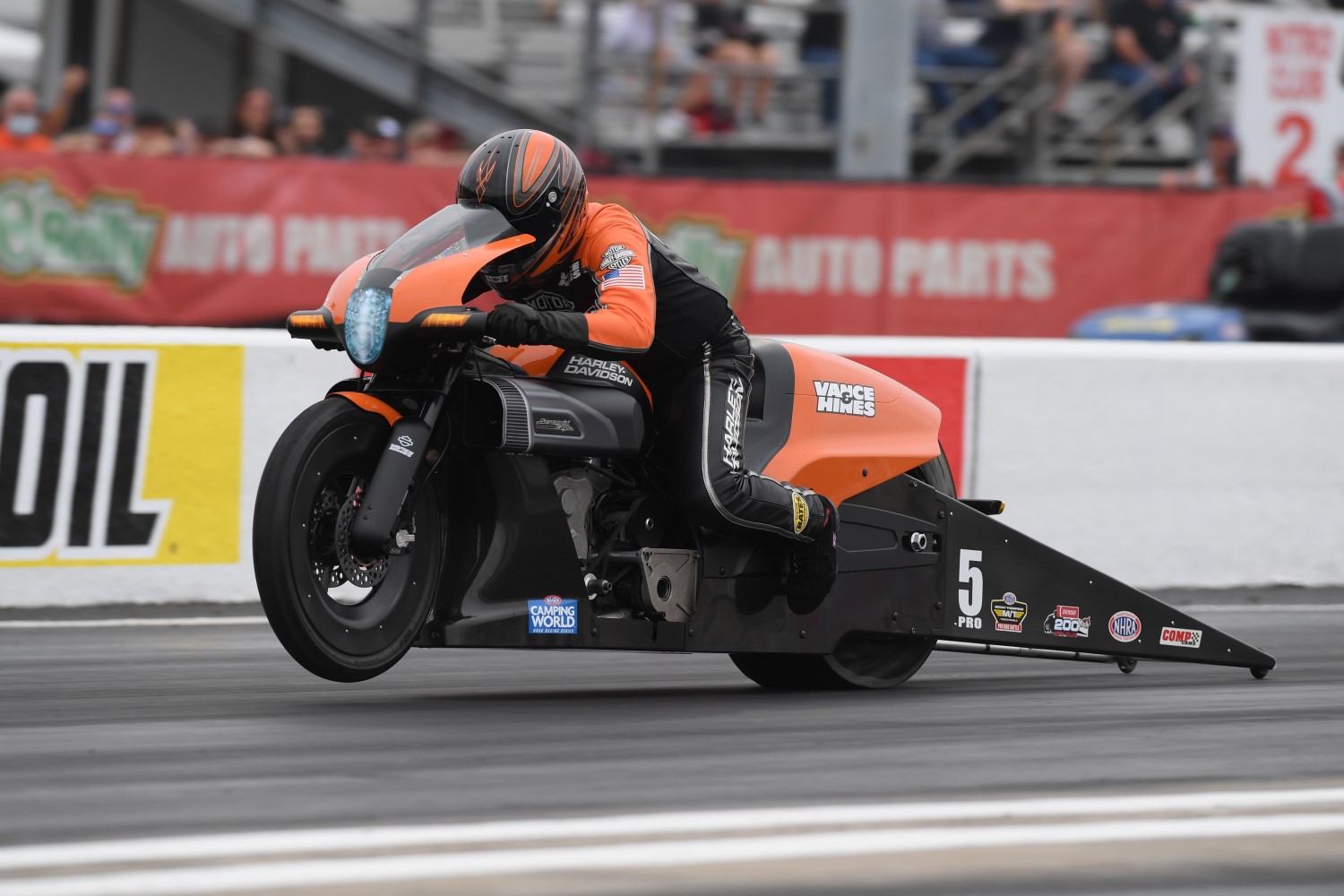 "I can tell you one thing; don't take a Wally for granted because sometimes they don't come," said Krawiec, who had lost nine-straight final rounds following his Brainerd win, including five-straight against his teammate, Andrew Hines. "Sometimes it's not what you because sometimes luck just rolls your way. With two plus years being out of it, it just feels good. I feel like I've accomplished everything I need to and don't have to prove anyting. but  it's nice just to get it done. There is a lot of great racers in the class and you can't take anyting for granted. Take every win for what it is and enjoy it. We now have four or five bikes fighting for the championship so it's great racing and it's the way it should be."
Krawiec has been a strong qualifier at the first six events held this season but had little to show for it on race day other than three semifinal finishes. That changed in Houston. Krawiec continued to qualify well with a 6.799 that was good for the No. 3 spot but this time he was able to carry that momentum through race day with a consistent performance that included four runs between 6.801 and 6.818 in his wins against Michael Phillips, Dallas winner Jerry Savoie, Hector Arana Jr., and Oehler.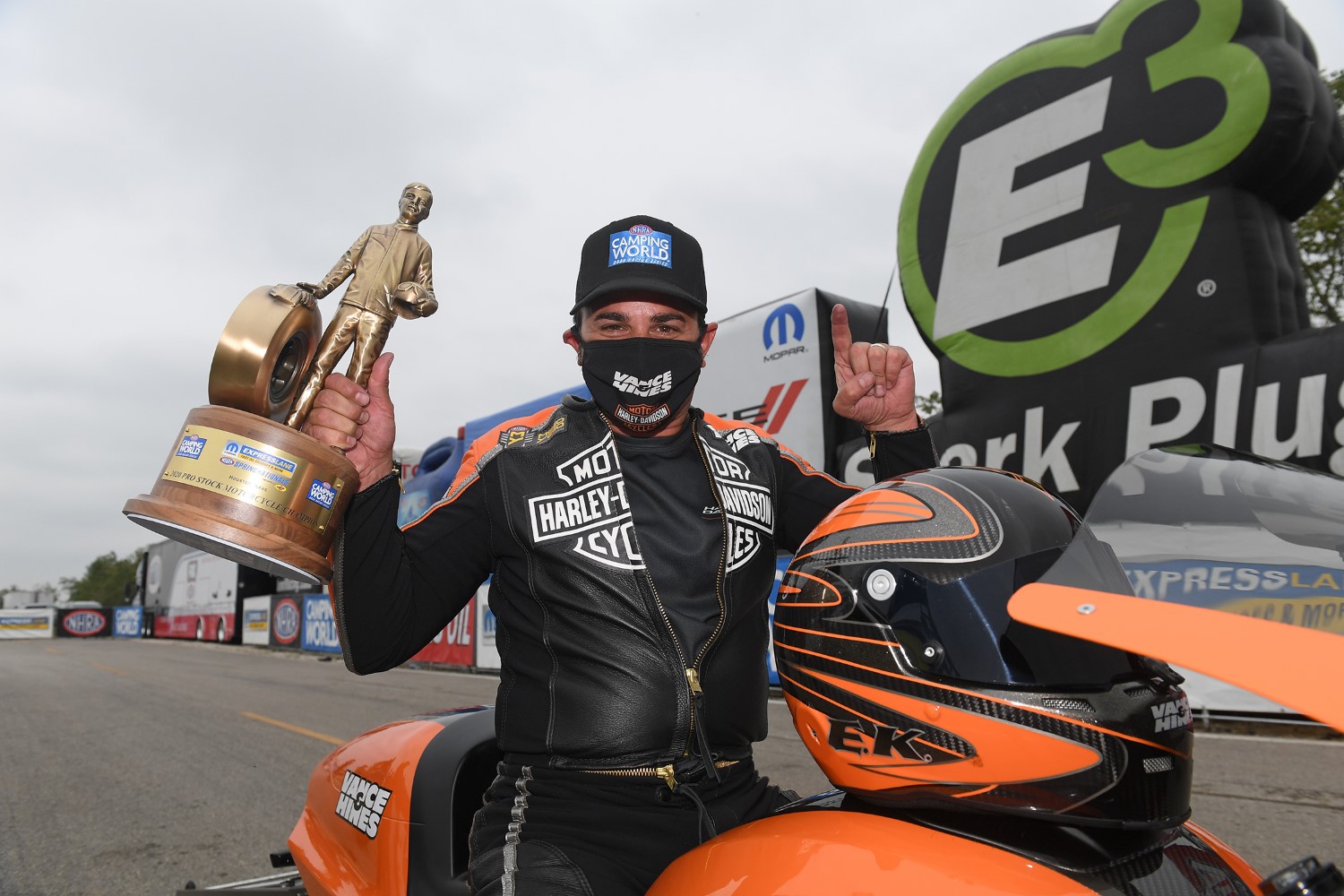 Coming into the Houston race, Krawiec probably didn't give much thought to the prospect of winning a fifth championship but he currently finds himself tied with Scotty Pollacheck for second place, 78-points behind leader Matt Smith with the points-and-a-half bonus available next week in Las Vegas.
As for Oehler, it's not as though anyone thought his first win earlier this year was a fluke, but just in case there was any doubt, the hard-charging privateer backed his Indy title up with a second final round appearance in Houston. Oehler was also very strong in qualifying with a fourth-best 6.808. Oehler then cleaned out some of the class' heaviest hitters on his side of the ladder with wins against Hines and Smith. He use a .007 light to take a 6.85 to 6.81 holeshot win over Hines and then went to the final with a 6.85 after Smith's Denso EBR slowed.