Van Uitert Claims Five from Five Pole Positions for United Autosports
The no32 United Autosports Oreca-Gibson will start the 4 Hours of Portimão at the head of the field after Job Van Uitert set the fastest lap in a nail-biting finish to the 10-minute session.
With the no22 United Autosports Oreca taking pole at the first four races, Van Uitert's 1m28 .627 lap gives the Anglo-American team a clean sweep of pole positions in the 2020 European Le Mans Series.
At the checkered flag four cars posted the fastest time in quick succession as they crossed the line with Will Stevens in the no31 Panis Racing Oreca coming out as the best of the rest with a 1m29.068 to push the no37Cool Racing Oreca of Nico Lapierre onto the second row, with the no28 Idec Sport Oreca of Paul Loup Chatin in fourth.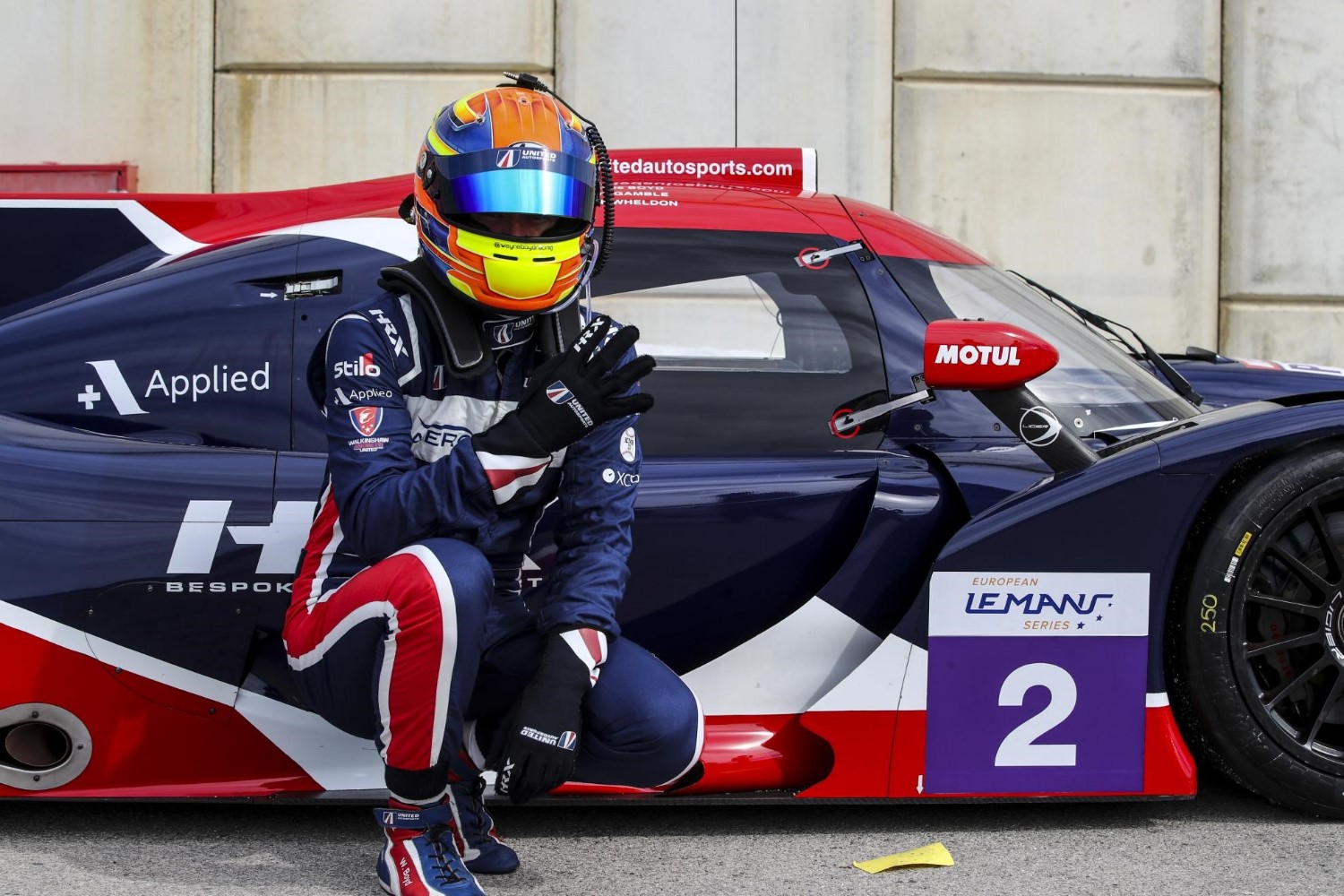 2020 ELMS Champion Phil Hanson was 5th fastest in the no22 United Autosports Oreca ahead of Nyck De Vries in the no26 G-Drive Racing Aurus.
LMP3: Championship Leaders Claim Pole
Wayne Boyd claimed what could be a crucial championship point in Portugal at the wheel of the no2 United Autosports Ligier-Nissan. The British driver posted a 1m36.277 lap early in the 10-minute session and held on until the checkered flag. He was one tenth ahead of the no4 DKR Engineering Duqueine of Laurents Hörr, the German threatening to take the pole on his final lap, only to miss out in the final sector.
Crucially for United Autosports, their nearest championship rivals in the no13 Inter Europol Competition Ligier will start the race down in 10th place after Dino Lunardi had a fast lap deleted for exceeding track limits right at the end of the session.
LMGTE: Piccini Claims Second Pole for Iron Lynx
Iron Lynx claimed their second pole position of the season and will start at the head of the 10-car field for the final race of the season in Portimão. Once again Andrea Piccini was at the wheel of the no60 Ferrari and posted a 1m38.769 lap to finish the 10-minute session two tenths ahead of the no88 AF Corse Ferrari of Alessio Rovera.
At the checkered flag the no83 Iron Lynx Ferrari of Michelle Gatting leapt up the order to third place, the Dane posting a 1m39.596 lap to push championship contender Alessio Picariello down to fourth in the no77 Proton Competition Porsche.
Championship leader David Perel in the no74 Kessel racing Ferrari will start tomorrow's race in 7th after the South African could only manage a best lap of 1m39.767.
Qualifying Results
| | | | | | | | |
| --- | --- | --- | --- | --- | --- | --- | --- |
| Pos | No. | Drivers | Team | Class | Time | Behind | Gap |
| 1 | 32 | W. Owen/A. Brundle/J. Van Uitert | United Autosports | LMP2 | 1:28.627 | 0.000s | 0.000s |
| 2 | 31 | J. Canal/N. Jamin/W. Stevens | Panis Racing | LMP2 | 1:29.068 | 0.441 | 0.441 |
| 3 | 37 | N. Lapierre/A. Borga/A. Coigny | Cool Racing | LMP2 | 1:29.196 | 0.569 | 0.128 |
| 4 | 28 | P. Lafargue/P. Chatin/R. Bradley | IDEC Sport | LMP2 | 1:29.378 | 0.751 | 0.182 |
| 5 | 22 | P. Hanson/F. Albuquerque | United Autosports | LMP2 | 1:29.452 | 0.825 | 0.074 |
| 6 | 26 | R. Rusinov/M. Jensen/N. De Vries | G-Drive Racing | LMP2 | 1:29.585 | 0.958 | 0.133 |
| 7 | 39 | J. Allen/T. Laurent/A. Cougnaud | Graff | LMP2 | 1:29.737 | 1.110 | 0.152 |
| 8 | 25 | J. Falb/G. Aubry/A. Maini | Algarve Pro Racing | LMP2 | 1:29.798 | 1.171 | 0.061 |
| 9 | 24 | H. Enqvist/L. Duval/J. Lancaster | Algarve Pro Racing | LMP2 | 1:29.908 | 1.281 | 0.110 |
| 10 | 30 | T. Gommendy/J. Hirschi/K. Tereschenko | Duqueine Team | LMP2 | 1:29.970 | 1.343 | 0.062 |
| 11 | 34 | J. Smiechowski/R. Binder | Inter Europol Competition | LMP2 | 1:30.252 | 1.625 | 0.282 |
| 12 | 20 | A. Fjordbach/D. Andersen | High Class Racing | LMP2 | 1:30.458 | 1.831 | 0.206 |
| 13 | 35 | F. Dracone/S. Campana | BHK Motorsport | LMP2 | 1:30.565 | 1.938 | 0.107 |
| 14 | 50 | T. Calderon/S. Floersch/B. Visser | Richard Mille Racing Team | LMP2 | 1:30.648 | 2.021 | 0.083 |
| 15 | 2 | W. Boyd/T. Gamble/R. Wheldon | United Autosports | LMP3 | 1:36.277 | 7.650 | 5.629 |
| 16 | 4 | L. Horr/F. Kirmann/W. Triller | DKR Engineering | LMP3 | 1:36.389 | 7.762 | 0.112 |
| 17 | 15 | M. Jakobsen/J. Dayson/L. Veglia | RLR MSport | LMP3 | 1:36.502 | 7.875 | 0.113 |
| 18 | 3 | D. Tappy/A. Bentley/J. Mcguire | United Autosports | LMP3 | 1:36.603 | 7.976 | 0.101 |
| 19 | 8 | J. Gerbi/D. Droux | Realteam Racing | LMP3 | 1:36.769 | 8.142 | 0.166 |
| 20 | 16 | T. Cloet/J. Adomavicius/A. Fontana | BHK Motorsport | LMP3 | 1:36.821 | 8.194 | 0.052 |
| 21 | 9 | V. Capillaire/A. Robin/M. Robin | Graff | LMP3 | 1:37.022 | 8.395 | 0.201 |
| 22 | 11 | N. Kari/N. Maulini/J. Baratto | Eurointernational | LMP3 | 1:37.171 | 8.544 | 0.149 |
| 23 | 10 | R. Hodes/G. Grist/C. Crews | Nielsen Racing | LMP3 | 1:37.307 | 8.680 | 0.136 |
| 24 | 13 | M. Hippe/D. Lunardi | Inter Europol Competition | LMP3 | 1:37.363 | 8.736 | 0.056 |
| 25 | 7 | A. Wells/C. Noble | Nielsen Racing | LMP3 | 1:37.394 | 8.767 | 0.031 |
| 26 | 60 | R. Mastronardi/S. Pianezzola/A. Piccini | Iron Lynx | LMGTE | 1:38.769 | 10.142 | 1.375 |
| 27 | 88 | F. Perrodo/E. Collard/A. Rovera | AF Corse | LMGTE | 1:38.997 | 10.370 | 0.228 |
| 28 | 83 | M. Gostner/M. Gatting/R. Frey | Iron Lynx | LMGTE | 1:39.596 | 10.969 | 0.599 |
| 29 | 77 | C. Ried/M. Beretta/A. Picariello | Proton Competition | LMGTE | 1:39.617 | 10.990 | 0.021 |
| 30 | 55 | D. Cameron/M. Griffin/A. Scott | Spirit of Race | LMGTE | 1:39.620 | 10.993 | 0.003 |
| 31 | 86 | M. Wainwright/B. Barker/A. Watson | Gulf Racing | LMGTE | 1:39.720 | 11.093 | 0.100 |
| 32 | 5 | E. Trouillet/S. Page | Graff | LMP3 | 1:39.751 | 11.124 | 0.031 |
| 33 | 74 | M. Broniszewski/D. Perel/N. Cadei | Kessel Racing | LMGTE | 1:39.767 | 11.140 | 0.016 |
| 34 | 93 | M. Fassbender/F. Laser/R. Lietz | Proton Competition | LMGTE | 1:39.770 | 11.143 | 0.003 |
| 35 | 51 | C. Ulrich/A. West/S. Görig | AF Corse | LMGTE | 1:40.740 | 12.113 | 0.970 |
| 36 | 66 | G. Jeannette/R. Sales/F. Hutchison | JMW Motorsport | LMGTE | 1:40.827 | 12.200 | 0.087 |