Burton earns back-to-back Xfinity victories
Rookie of the Year leader Harrison Burton led the most laps (81) and drove to his fourth victory of the season. It is the first time in Burton's career that he has won back-to-back races and it is the eighth victory for the Toyota Supra this year.
Burton pushed the Joe Gibbs Racing No. 20 Toyota to a .355-second win, leading a race-high 81 of the 250 laps in the Draft Top 250. The Sunoco Rookie of the Year candidate's fourth victory of the season was his first at the .526-mile Virginia track and the fourth of his Xfinity Series career.
Only Chase Briscoe entered Martinsville with a clinched title shot, thanks to his victory earlier in the postseason's Round of 8. Austin Cindric, Justin Allgaier and Justin Haley added their names to the list of four finalists who will battle for the Xfinity Series crown in next Saturday's season finale (5 p.m. ET, NBCSN/NBC Sports App, MRN, SiriusXM NASCAR Radio) at Phoenix Raceway.
The playoff field was cut in half, with Ross Chastain, Brandon Jones, Noah Gragson and Ryan Sieg eliminated from title contention.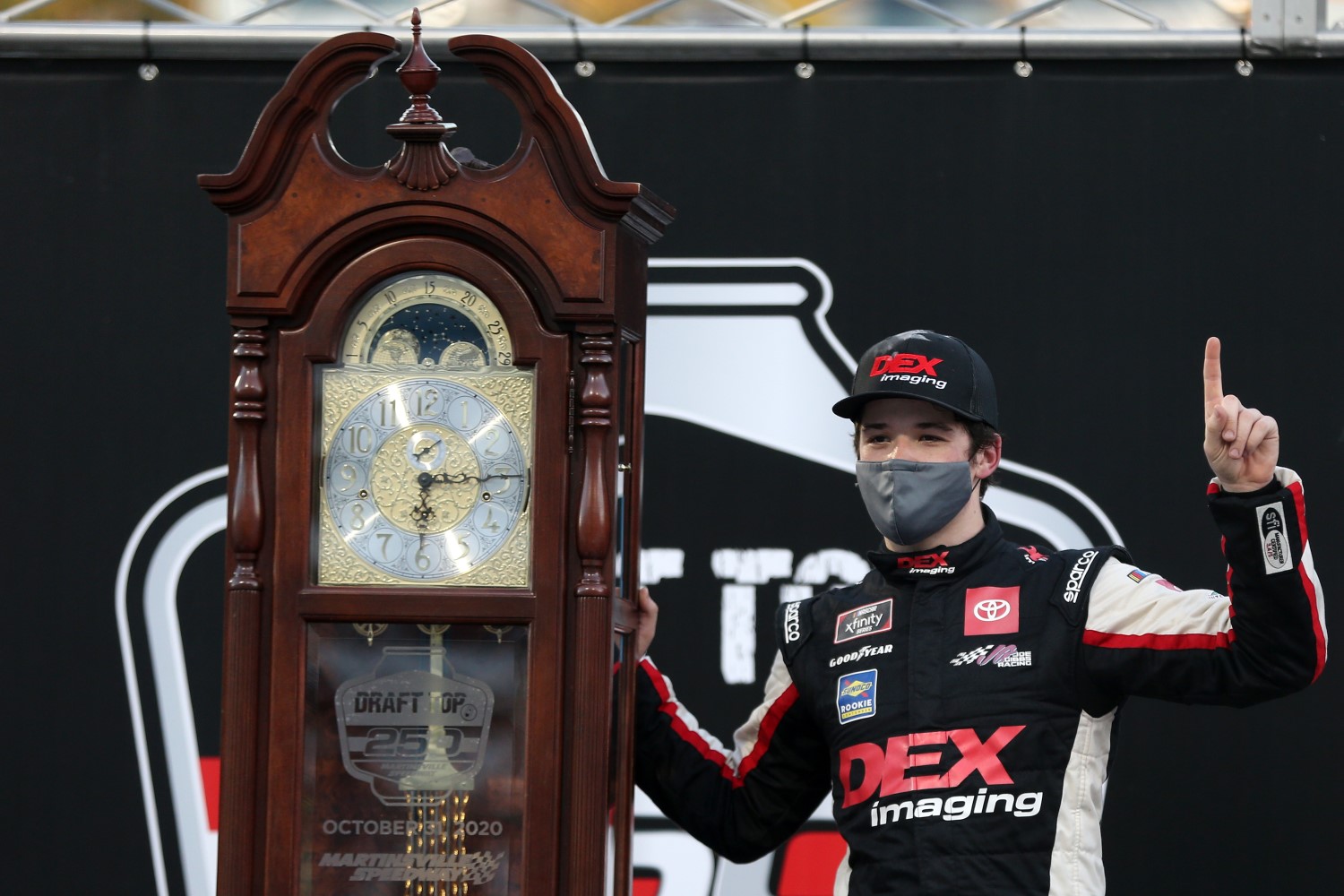 Allgaier finished second with Gragson third, Jeb Burton fourth and Chastain rounding out the top five.
AJ Allmendinger led twice for 68 laps but fell from contention when his No. 16 Kaulig Racing Chevrolet slowed with a flat left-rear tire with 37 laps remaining. He finished 26th, two laps down.
HARRISON BURTON, No. 20 DEX Imaging Toyota Supra, Joe Gibbs Racing
Finishing Position: 1st
What does it mean to win at Martinsville?
"It was a really fun race. Martinsville is one of those places that's really cool to win at. For me in particular because my family is from here. There's a guy in a hot dog for Halloween. The fans here are awesome. It's amazing to win here at what is one of my home tracks I would say and do what my dad did. I think it was his first Xfinity win was here."
Did you grow up wanting a Grandfather clock with your name on it considering your Dad had one since you were a kid?
"Absolutely. It's probably one of the coolest trophies in the whole series that we get. It's pretty hard to describe how exciting this is. My race team worked their tails off on this car expecting us to have to fight to get into Phoenix to win a championship and we got knocked out, but we've proven people wrong. We won two in a row in this round and we're going to go try to make it three at Phoenix."
What do you take away from the Playoffs heading into 2021?
"Just confidence. I think the schedule got released and it's the same round going to Phoenix next year. If we can come and perform next year and make it through the first round, we're going to be fighting for a championship and that's an amazing feeling. I'm really proud of my race team. They work their tails off on this race car and our DEX Imaging Supra was pretty bad to the bone."
Race Results
| | | | | | | | |
| --- | --- | --- | --- | --- | --- | --- | --- |
| Fin | Str | No. | Driver | Team | Laps | Status | Led |
| 1 | 10 | 20 | Harrison Burton # | DEX Imaging Toyota | 250 | Running | 81 |
| 2 | 6 | 7 | Justin Allgaier (P) | Unilever United For America Chevrolet | 250 | Running | 0 |
| 3 | 2 | 9 | Noah Gragson (P) | Bass Pro Shops/TrueTimber Camo Chevrolet | 250 | Running | 23 |
| 4 | 8 | 8 | Jeb Burton | State Water Heaters Chevrolet | 250 | Running | 0 |
| 5 | 4 | 10 | Ross Chastain (P) | Nutrien Ag Solutions Chevrolet | 250 | Running | 31 |
| 6 | 24 | 18 | Riley Herbst # | Monster Energy Toyota | 250 | Running | 0 |
| 7 | 5 | 98 | Chase Briscoe (P) | HighPoint.com Ford | 250 | Running | 0 |
| 8 | 11 | 1 | Michael Annett | TMC Chevrolet | 250 | Running | 0 |
| 9 | 7 | 19 | Brandon Jones (P) | Menards/Jen Weld Toyota | 250 | Running | 0 |
| 10 | 1 | 22 | Austin Cindric (P) | Pirtek Ford | 250 | Running | 42 |
| 11 | 9 | 39 | Ryan Sieg (P) | CMRRoofing.com Chevrolet | 250 | Running | 0 |
| 12 | 3 | 11 | Justin Haley (P) | LeafFilter Gutter Protection Chevrolet | 250 | Running | 0 |
| 13 | 14 | 2 | Brett Moffitt(i) | Destiny Homes Chevrolet | 250 | Running | 0 |
| 14 | 39 | 17 | JJ Yeley(i) | WORKPRO Ford | 250 | Running | 5 |
| 15 | 23 | 51 | Jeremy Clements | One Stop Convenience/ASE Chevrolet | 250 | Running | 0 |
| 16 | 15 | 44 | Tommy Joe Martins | AAN Adjusters Chevrolet | 250 | Running | 0 |
| 17 | 34 | 13 | Timmy Hill(i) | RoofClaim.com Toyota | 250 | Running | 0 |
| 18 | 12 | 68 | Brandon Brown | Solid Rock Carriers Chevrolet | 250 | Running | 0 |
| 19 | 13 | 92 | Josh Williams | Sleep Well/Alloy Chevrolet | 250 | Running | 0 |
| 20 | 38 | 26 | Mason Diaz | Prince William Marina Toyota | 250 | Running | 0 |
| 21 | 25 | 8 | Joe Graf Jr # | EAT SLEEP RACE Chevrolet | 250 | Running | 0 |
| 22 | 19 | 4 | Jesse Little # | Tufco Flooring Chevrolet | 249 | Running | 0 |
| 23 | 22 | 21 | Myatt Snider # | Tax Slayer Chevrolet | 249 | Running | 0 |
| 24 | 35 | 99 | Stefan Parsons | Springrates Chevrolet | 249 | Running | 0 |
| 25 | 27 | 15 | Colby Howard | Guy Roofing Chevrolet | 248 | Running | 0 |
| 26 | 36 | 16 | AJ Allmendinger | Nutrien Ag Solutions Chevrolet | 248 | Running | 68 |
| 27 | 16 | 36 | Alex Labbe | rousseau/Prolon Controls Chevrolet | 247 | Running | 0 |
| 28 | 20 | 0 | Jeffrey Earnhardt | Forever Lawn Chevrolet | 246 | Running | 0 |
| 29 | 26 | 52 | Kody Vanderwal # | BrilledLighting.com Chevrolet | 246 | Running | 0 |
| 30 | 33 | 47 | Kyle Weatherman | Chevrolet | 246 | Running | 0 |
| 31 | 28 | 90 | Donald Theetge | Theetge Chevrolet Chevrolet | 245 | Running | 0 |
| 32 | 37 | 66 | Carl Long | CrashClaimsR.US Toyota | 244 | Running | 0 |
| 33 | 29 | 78 | BJ McLeod | Koolbox Toyota | 239 | Running | 0 |
| 34 | 17 | 6 | Ryan Vargas | TikTok Chevrolet | 233 | Running | 0 |
| 35 | 30 | 7 | Gray Gaulding(i) | Panini Chevrolet | 230 | Electrical | 0 |
| 36 | 21 | 74 | Bayley Currey(i) | You Are Not Alone Chevrolet | 178 | Accident | 0 |
| 37 | 32 | 61 | Chad Finchum | American Dream Toyota | 120 | Engine | 0 |
| 38 | 18 | 5 | Matt Mills | JF Electric Toyota | 103 | Oil Line | 0 |
| 39 | 31 | 93 | Josh Reaume(i) | Colonial Countertops Chevrolet | 62 | Suspension | 0 |