NHRA: Torrence, Capps, Anderson, and Kraweic lead Las Vegas fields
Billy Torrence, Ron Capps, Greg Anderson, and Eddie Krawiec earned the top qualifying spots for Top Fuel, Funny Car, Pro Stock, and Pro Stock Motorcycle respectively at the Dodge NHRA Finals presented by Pennzoil, the season finale of the 2020 NHRA Camping World Drag Racing season.
Torrence's qualifying lead is the first of his 58-race Top Fuel career, and he did it by stealing the no. 1 spot from his points-leading son, Steve, who had clocked a 3.731 to seemingly lock up the No. 1 spot. Billy answered in the final pair of the session with a 3.728 for the top spot.
Billy stealing the no. 1 spot from Steve could have had serious ramifications if not for an interesting twist that changed the Sunday landscape significantly. Entering the second and final session, Rob Passey was expected to make his first qualifying run of the event to set the field at 15 cars, which would have meant a bye for the No. 1 qualifier. If that had been low qualifier Steve, he would have soloed to win the championship.
Passey, however, was shut off on the starting line with a fluid leak before staging the car, meaning he did not get a spot in the field and making it a 14-car field, which does not have a bye in round one. If Passey had been able to get a time, Billy would have prevented his son from clinching the championship.
It didn't turn out that way as a 14-ar ladder has no first-round byes. Steve Torrence can clinch the championship by defeating first-round opponent (and fellow Texan) Kevin Kinsley.
"I saw my old man keep on rolling down through there, so I knew it was on a good run, but we'll just go out and do what we need to do tomorrow," Steve Torrence said. "We need to go rounds. We don't need to worry about what the points are and who we have. We just need to go rounds tomorrow."
Doug Kalitta, who qualified No. 3 with a 3.746, still has a path to stop Steve Torrence from winning the championship but it relies on Kinsley taking out Torrence and Kalitta winning the event. Kalitta faces newly-minted rookie of the year Justin Ashley. Torrence and Kalitta could potentially meet in the semifinals but that championship would be over by then.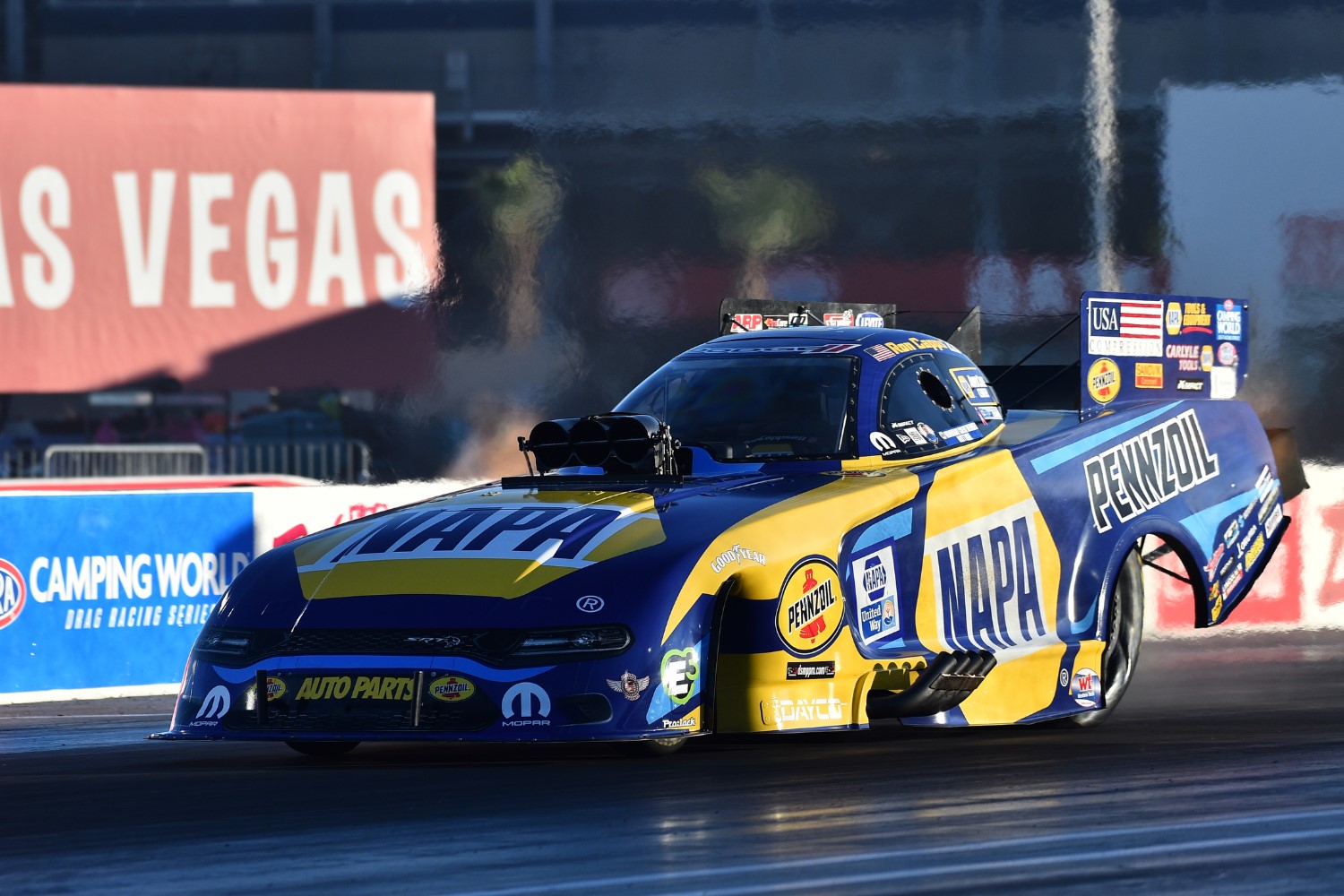 Capps was effectively eliminated from the Funny Car championship battle still being waged by his Don Schumacher Racing teammates Matt Hagan, Tommy Johnson Jr., and Jack Beckman, but the Rahn Tobler-led NAPA Auto Parts team had a parting gift for the title battle: their first No. 1 qualifying position of the season.
Capps was ranked just seventh after the first session as eight drivers bashed their way into the three-second zone in a somewhat tricky first qualifying session that was headed by points leader Hagan, who earned four bonus points in Q1 with a 3.911. Capps posted a 3.958 in that first session then improved by a half-tenth with a 3.902 to take the no. 1 spot from Hagan. Hagan's chance to answer back later in the session ended when his Mopar Dodge broke traction early.
Alexis DeJoria, who apparently has put her top-end mishaps behind her, looked impressive with a pair of three-second passes with the Del Worsham-tuned ROKiT/ABK Beer Toyota including a 3.915 at 322.42 to get the No. 3 spot ahead of Johnson, who ran an identical time but at just 319.14, DeJoria getting the higher spot due to her superior speed.
Below them on the sheets and also in the threes are Bob Tasca III (3.929), Blake Alexander (3.929), Paul Lee (3.933), Tim Wilkerson (3.940), JR Todd (3.975), and Beckman (3.996).
Beckman's poor qualifying effort will cost him first-round lane choice against Paul Lee while Hagan will pick his lane over Cruz Pedregon and Tommy Johnson will select his favored lane against Jim Campbell.
If they both win their first-round races, Hagan and Beckman will clash in round two; Johnson is on the other side of the ladder. Hagan maintained a two-round lead on both meaning that if Beckman can take him out in round two, or if Hagan loses in round one, the door is swung open.
For the 106th time in his career, Anderson is the qualifying leader for an NHRA Pro Stock field. Anderson wheeled his Summit Camaro to a 6.601 during Saturday's opening qualifying session at the Dodge NHRA Finals and his time was never bettered for the rest of the day. Anderson had briefly thought about laying back in order to help teammate Jason Line, who is contending for the Camping World championship. Anderson ultimately decided against that strategy although he could face a potential race against points leader Erica Enders in the semifinals.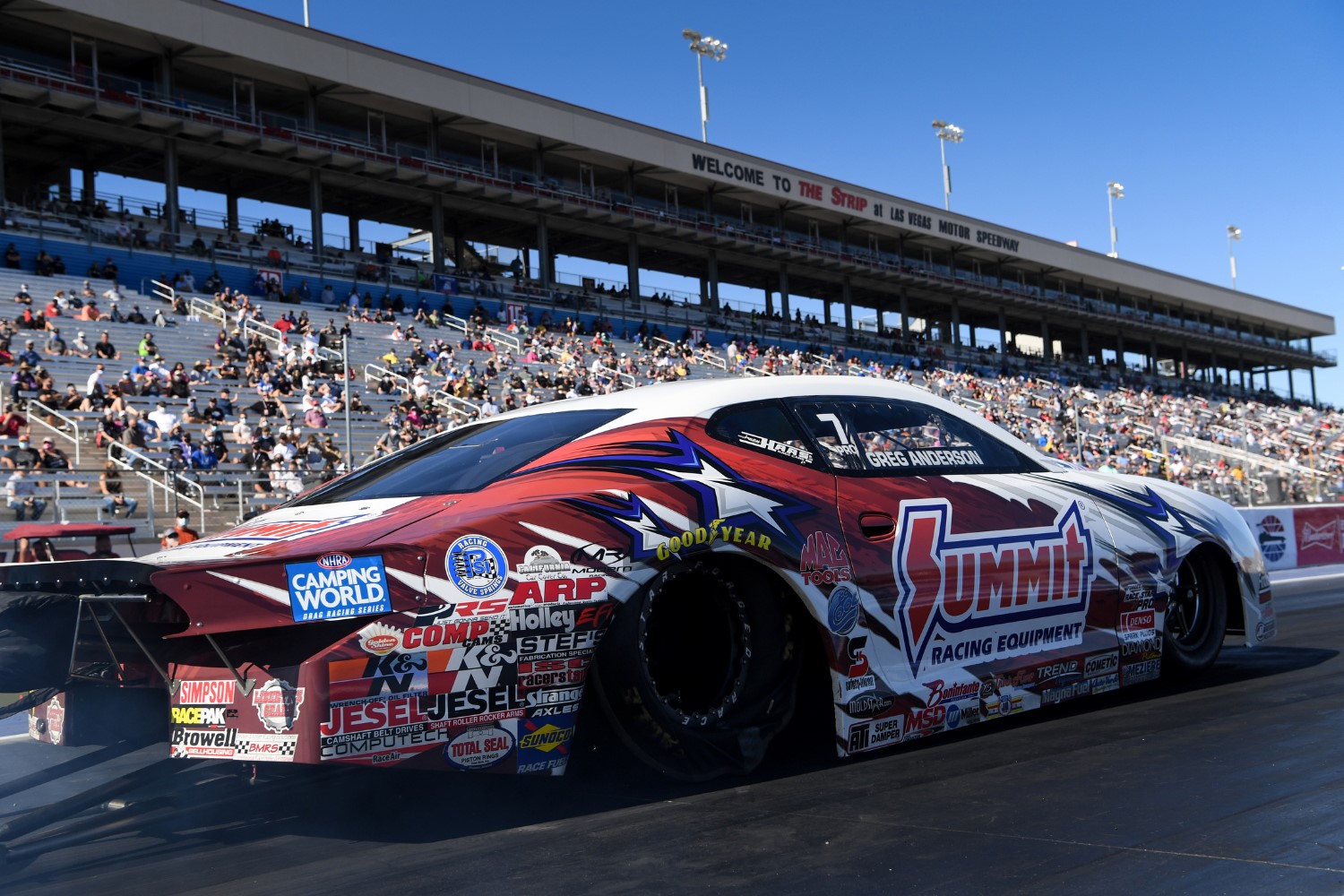 Line will begin his quest for a fourth title from the No. 2 spot following a 6.635 best. Line is competing in his final event as a full-time pro and entered the Vegas Finals facing a 55-point deficit to leader Erica Enders. Line cut that lead to 47 points during qualifying but still must advance two more rounds than Enders in order to take the lead. Line will take his Summit Camaro up against Cristian Cuadra in round one. Line is on the opposite side of the ladder from Anderson, Enders, and fellow title contender Jeg Coughlin Jr.
Enders rarely qualifies outside the top half of the field, but she will begin her quest for a fourth time from the No. 12 spot, her lowest starting assignment in two years. Enders drove her Melling Camaro to a 6.652 and will be paired with her teammate, Alex Laughlin in round one. The duo has not raced since last year's Las Vegas event, where Enders prevailed on her route to a third championship.
The battle to make the field was nearly as intense as the points battle at the top of the sheet. Aaron Strong, a last-minute substitute for Richard Freeman in an Elite-powered Camaro, made the show on the bump spot with a 6.724. That left Val Smeland and Alan Prusiensky outside the field. Smeland ran a best of 6.727 to miss by three-thousandths of a second while Prusiensky was four thousandths back at 6.727. Steve Graham and Fernando Cuadra also missed the cut for the tight field.
A week after winning in Houston,  Krawiec will continue his pursuit of a fifth Pro Stock Motorcycle championship from the top spot. Krawiec was very impressive in Saturday's opening round of qualifying with a 6.801 that was not bettered for the rest of the day. Krawiec, the low qualifier for the 48th time in his career and second time this season, needs to make up 80 points on leader Matt Smith, which equals three elimination rounds. Krawiec is paired with Cory Reed in round one.
Smith powered to a 6.821 in Q2 to secure the second spot aboard his Denso EBR and his reward for that is a round-one match with three-time world champion Angelle Sampey. Smith has been the low qualifier in five of the last six races and has not been ranked lower than third at any time this season. Smith can officially lock up his fourth world championship simply by reaching the semifinals although that might be easier said than done. Should Smith defeat Sampey, he will face the winner of the match between Ryan Oehler and six-time world champ Andrew Hines.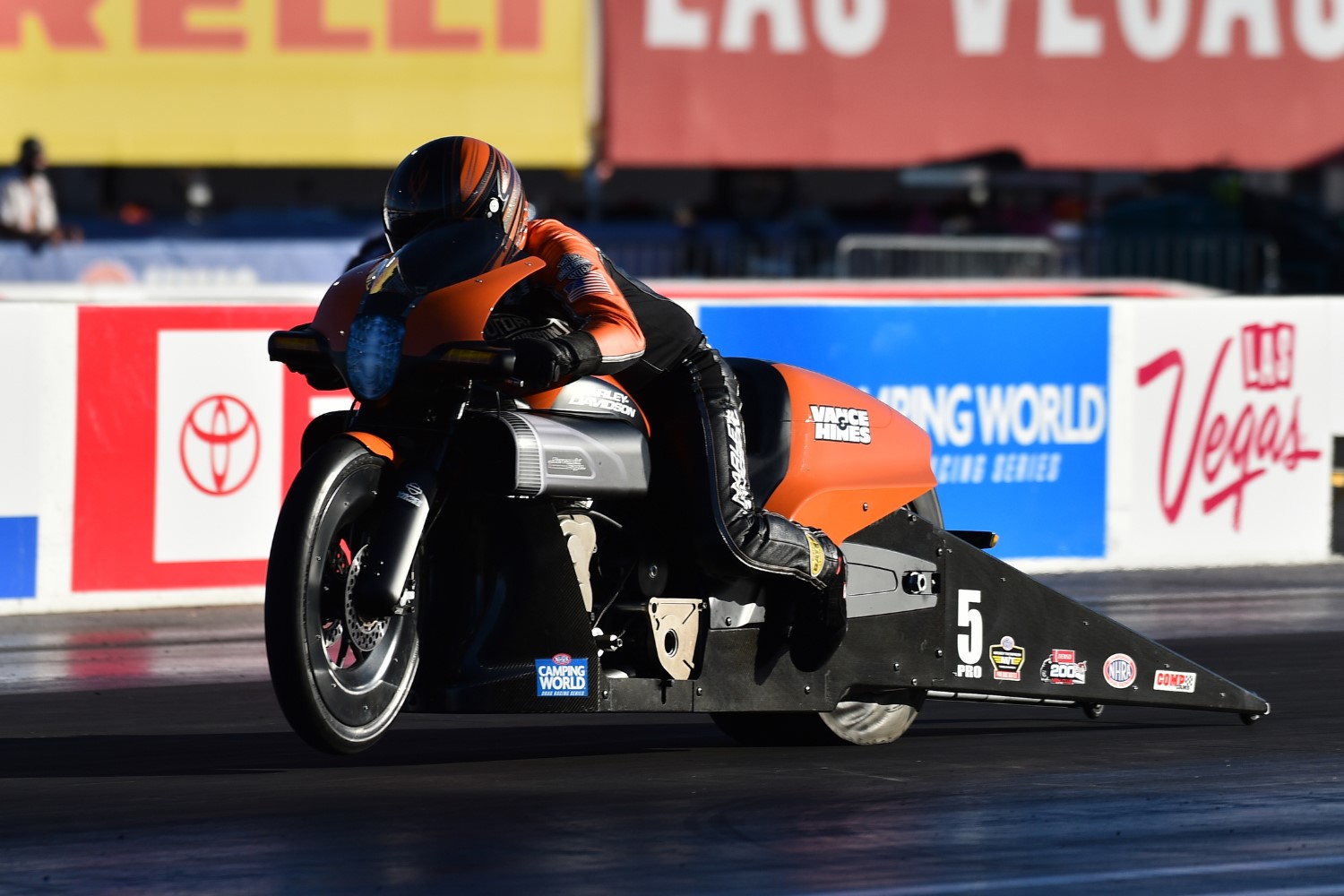 Also in the championship mix is U.S. Nationals winner Scotty Pollacheck, who sits fourth after a 6.900 best on his Strutmasters EBR. Pollacheck is 86 points out of first place so he faces the same hurdle as Krawiec and needs to win three more rounds than teammate Smith during eliminations. Pollacheck's opening round opponent is David Barron, who is riding the Lucas Oil EBR normally raced by Hector Arana Sr.