NHRA: Brown, Hagan, Enders, and Smith win in Vegas
Antron Brown will enjoy the off season as much as anyone after breaking a long dry spell with his first Top Fuel victory in more than a year and a half. Brown won the season-ending Dodge NHRA Finals presented by Pennzoil by upsetting his good friends, freshly recrowned three-time world champ Steve Torrence in the final round on a 3.75 to 3.74 holeshot.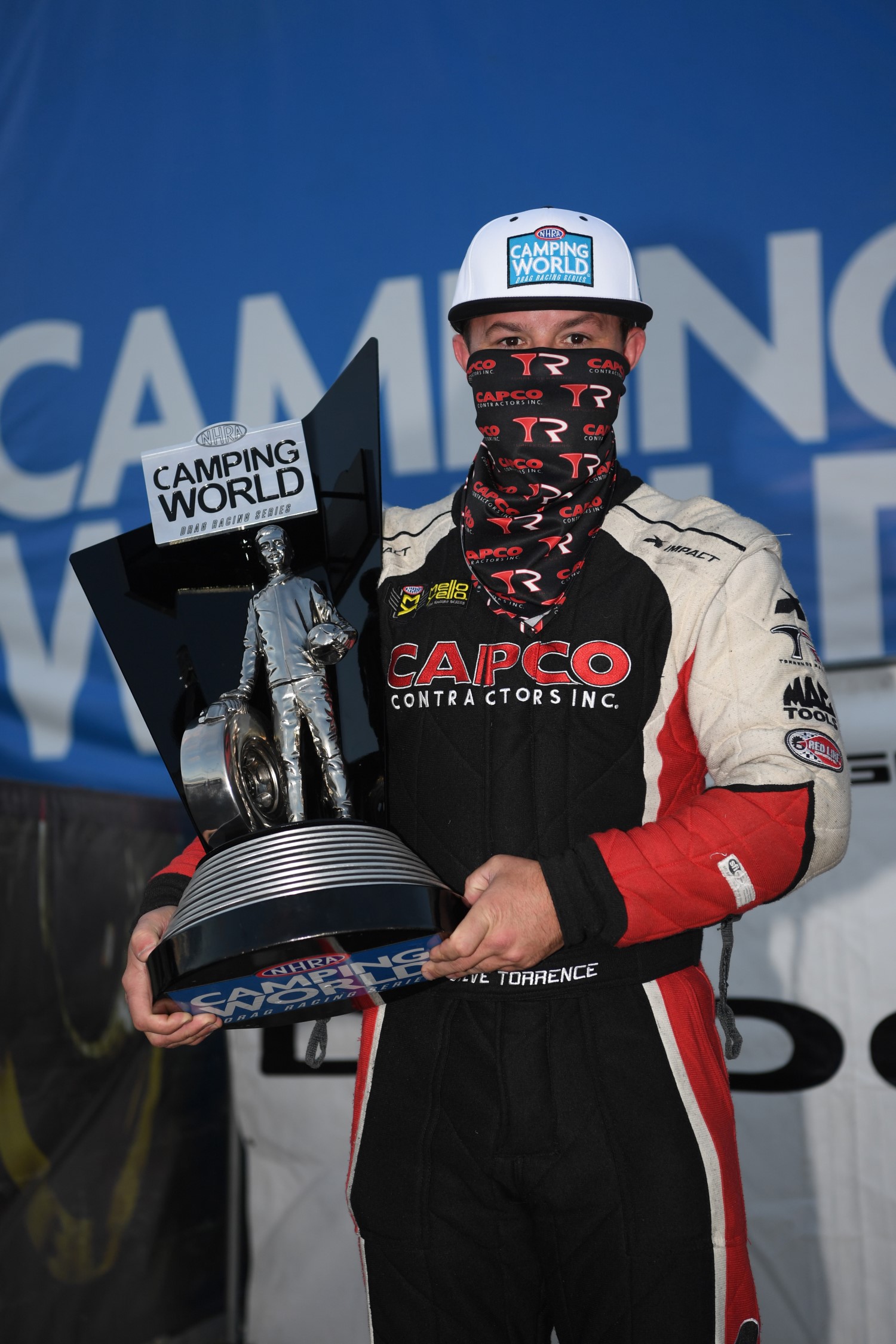 Brown, the three-time world champ who had been winless since the Seattle event in the summer of 2018, reached his 124th career final, a total split over a successful career in Pro Stock Motorcycle and an even more successful run in Top Fuel.
"It feels great and it was a whole team effort," Brown said. "Everyone is working hard and we're looking forward to next year. Everybody stuck with us and it's a process. We just never gave up when the chips were down. We stayed persistent."
Brown, who reached the final round twice in 2019 and was defeated by Torrence in his most recent final that year in Richmond, Va., reached the final round from the No. 4 qualifying spot by defeating his Don Schumacher Racing teammate Tony Schumacher in round one, then defeated another former world champ in Shawn Langdon in round two. Brown's biggest hurdle to the final came in the semifinals against low qualifier Billy Torrence, but Torrence's machine faltered early and Brown took a fortunate victory despite a cylinder-dropping 4.04 pass.
Torrence reached his seventh final round in 10 starts this season, beating fellow Texans Kebin Kinsley and Troy Buff in the first two rounds, then earning the final-round berth by putting a holeshot on the year's holeshot king, rookie of the year Justin Ashley. Torrence's red and black Capco Contractors machine left with a superb .037 reaction time, which is usually Ashley territory, but the first-year pro picked the worst time to have one of his worst lights of the year, .078, and Torrence won on a holeshot, 3.75 to 3.72.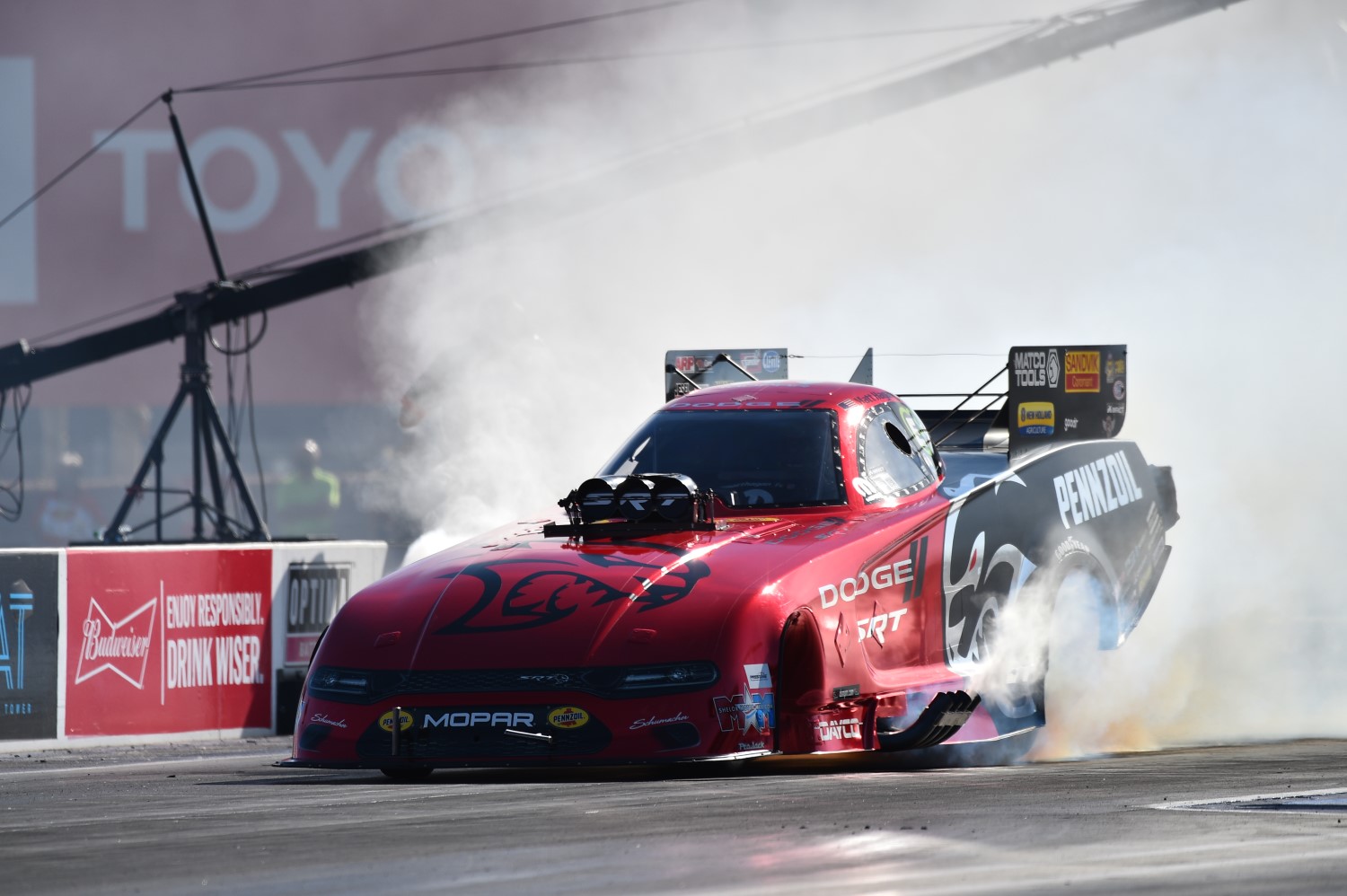 Matt Hagan and his "demon-possessed" Dodge Charger SRT Hellcat Redeye have earned the 2020 National Hot Rod Association (NHRA) Drag Racing Series Funny Car World Championship title and the national event win at the season-ending Dodge NHRA Finals Presented by Pennzoil in Las Vegas. It is Hagan's third championship crown after title wins in 2011 and 2014 and the sixth Funny Car class victory for the Don Schumacher Racing (DSR) team in 18 years.
From the No. 2 position on the eliminations ladder, Hagan earned his third Wally trophy of the year in a season dominated by the DSR stable of HEMI®-powered Funny Cars. The DSR foursome of Hagan, Tommy Johnson Jr., Jack Beckman and Ron Capps finished 1-2-3-4 atop the Funny Car standings and combined for a NHRA season "sweep" in which a Dodge Charger SRT Hellcat won every national event to extend the team's undefeated streak to a record 14 consecutive victories since October 2019.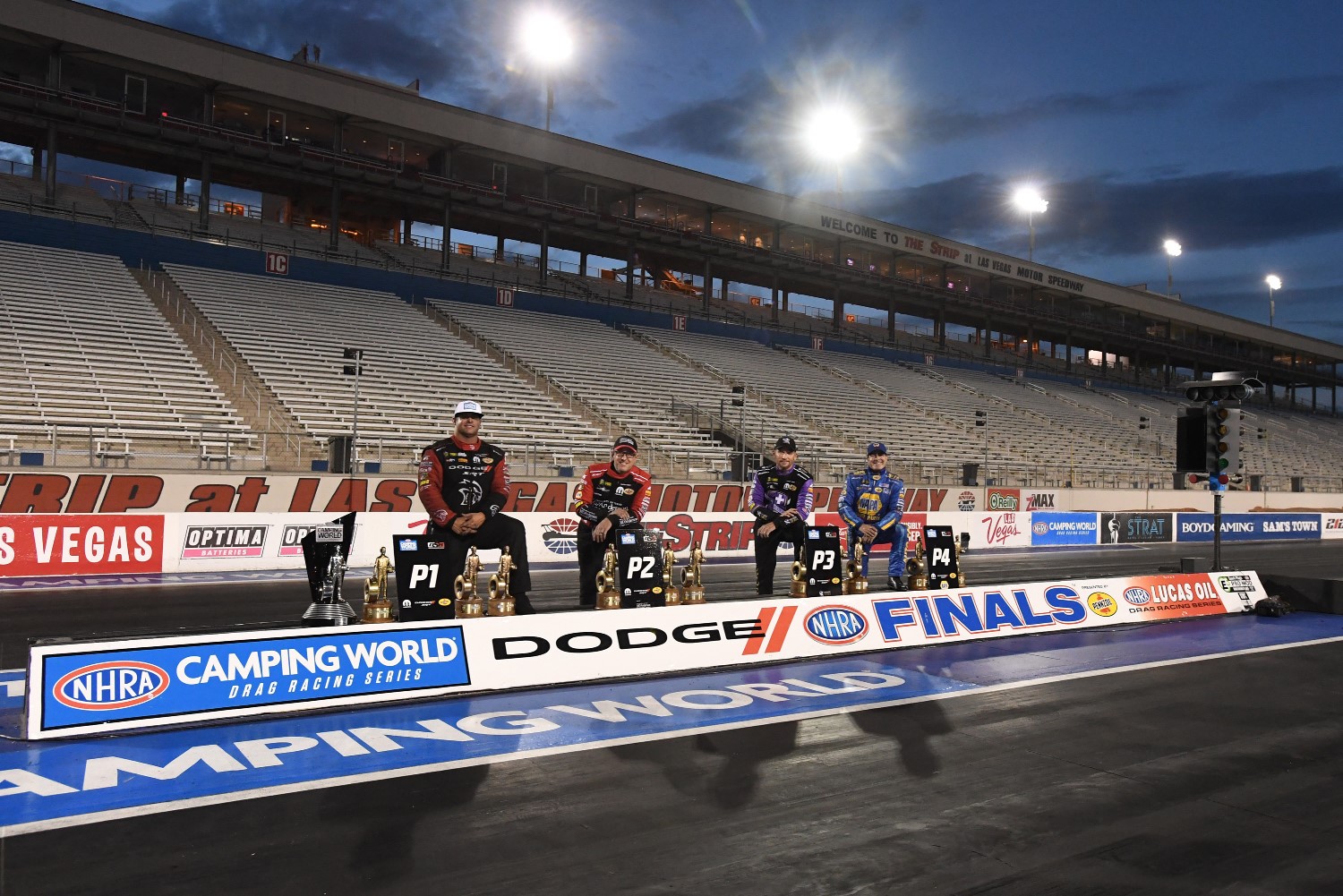 "It's been just an unbelievable season," said Hagan. "My guys have put an unbelievable car behind me with Pennzoil, Dodge SRT and Mopar. Everybody who supports us. It's great to win for Camping World and their first championship. My guys have worked so hard all season long. I can't say enough about them and thank them. Three wins, a championship, it's just special. I can't wait for next season."
"To have Matt Hagan win the championship at the Dodge NHRA Finals and cap off it off with an undefeated season and record 14th straight victory is a testament to the team's hard work and the pure performance of the Charger SRT Hellcat," said Tim Kuniskis, Head of Global Head of Alfa Romeo and Head of Passenger Cars – Dodge, SRT, Chrysler and FIAT, FCA – North America. "It is really satisfying to watch our quickest, fastest and most powerful production vehicles represented so well on the race track."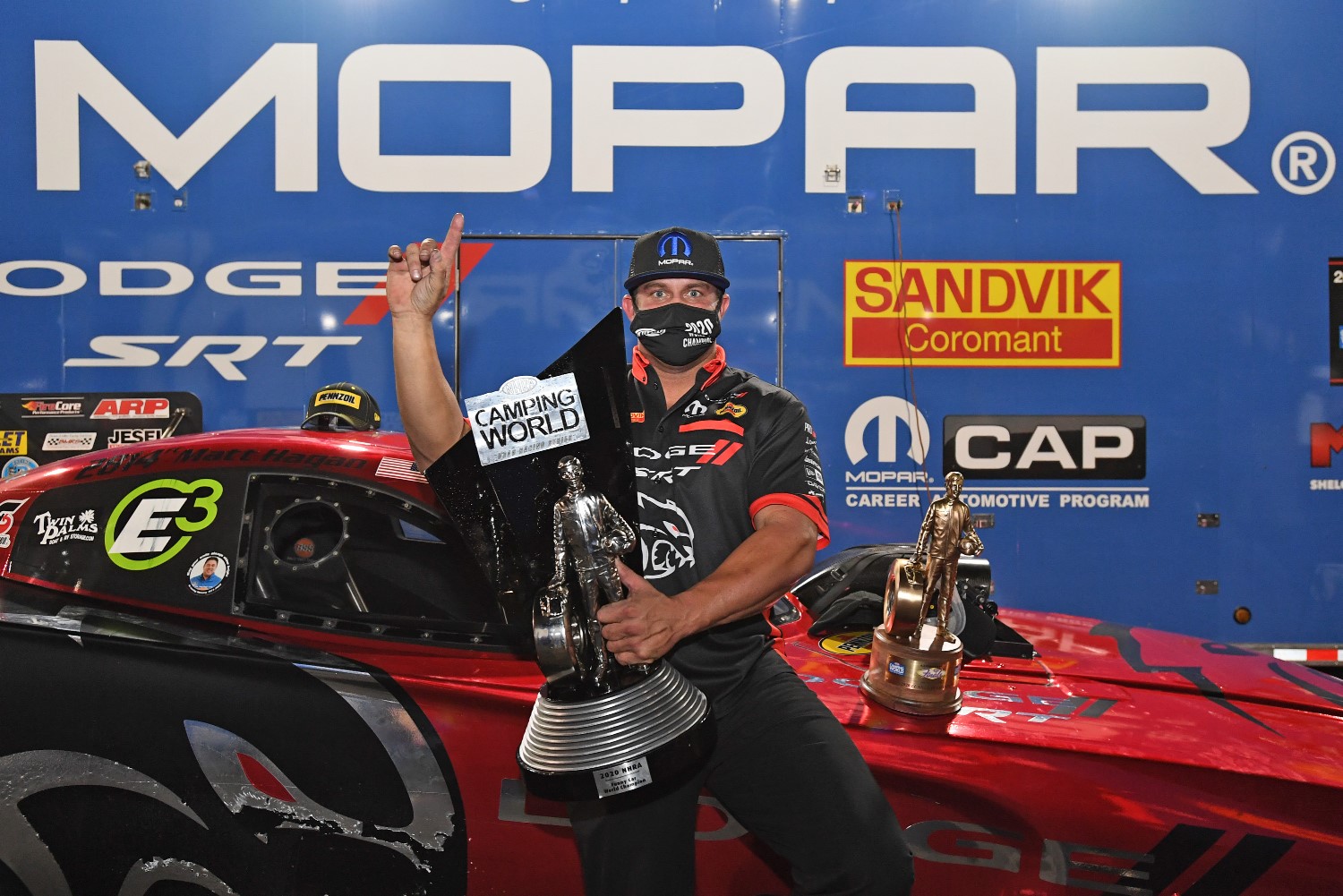 "On behalf of all of us at Mopar, congratulations to Matt Hagan on a well-deserved third NHRA World Championship and a dominating performance in Funny Car competition this season," said Mark Bosanac, Head of Mopar Service, Parts and Customer Care for FCA – North America. "Reflecting on Mopar's long-standing involvement in the NHRA, including 18 successful years in partnership with Don Schumacher, we take great pride in this title win."
With a two-round lead over his closest championship challengers, teammates Johnson and Beckman, Hagan clinched the crown after wins over Cruz Pedregon and Paul Lee in the first two rounds and just prior to staging his Dodge Charger SRT Hellcat Redeye for his semifinal match-up against Alexis DeJoria. The deal was sealed after Beckman was upset in the opening round against Paul Lee and No. 1 qualifier Capps defeated Johnson as the first semifinal pair to take the track.
With the 2020 Funny Car championship secured, all that was left to determine was who would take home the Dodge NHRA Finals Wally trophy as Hagan and Capps lined up for the seventh head-to-head Hellcat final round battle of the year.
While Capps had the early lead his efforts went up in smoke at half-track as Hagan took his Dodge Charger SRT Hellcat for a solid 3.914-second final lap to earn his 36th career victory and defend his 2019 win at The Strip at Las Vegas Speedway and tie the NHRA record.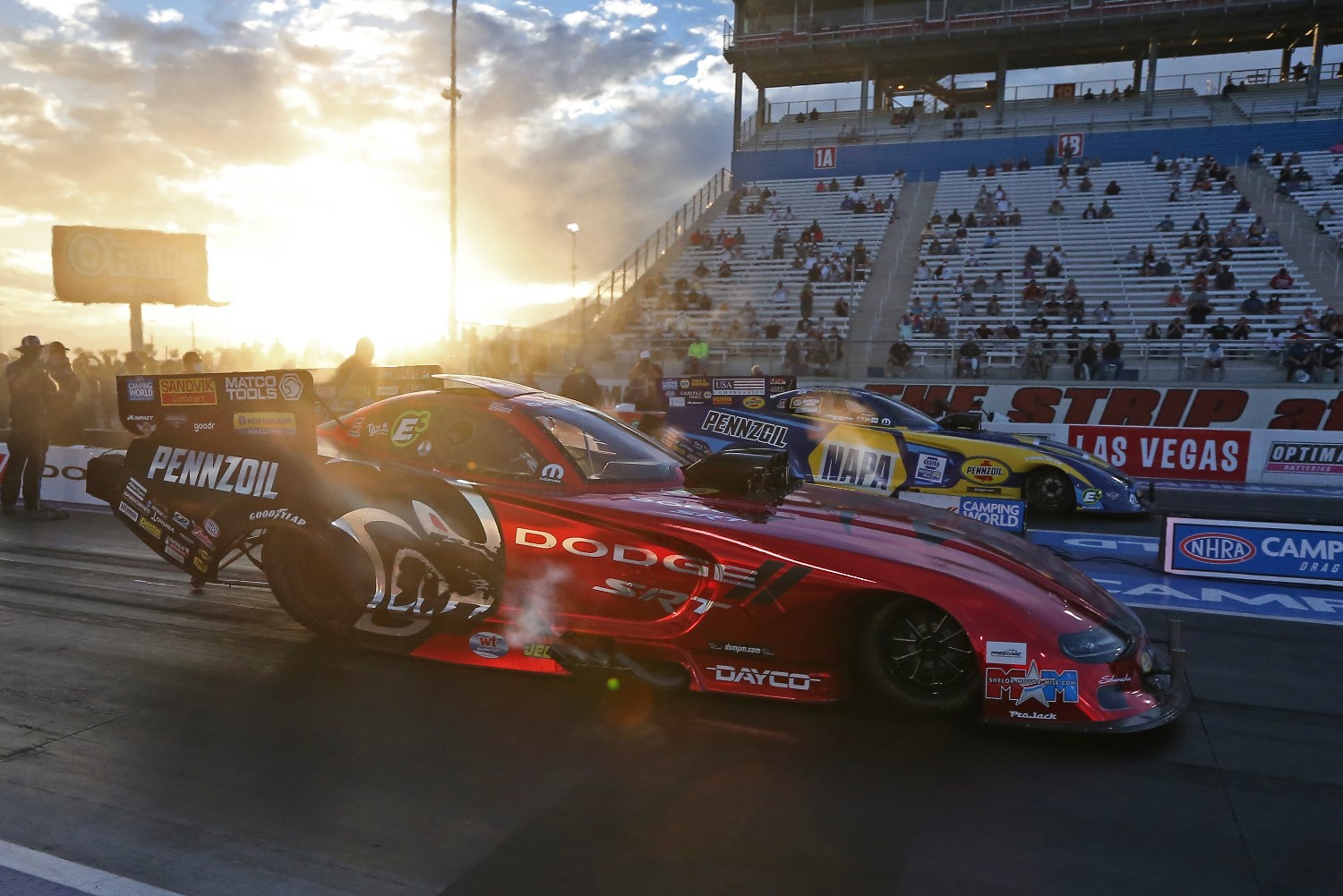 "Dodge and the DSR fab shop, they've put a great race car underneath us," said Hagan. "My crew chief Dickie Venables, I can't say enough about the guy. He's won me two world championships (2014, 2020) and we've runnered-up a few times. There's a handful of guys on this team who haven't won a championship before. I'm just so proud to give them that opportunity and I know how bad everybody wanted it.
"For us to have won three world championships now in this sport, it's incredible," added Hagan. "It all comes back down to my guys and the car they put under me. It's not just me. I try not to mess it up. This is one of the most humbling sports I've been involved in and it always seems to come down to the last race and that certainly doesn't make me look any younger. Thank you to everyone who supports what we do and we hope we made you proud to be a part of this."
Capping off what was easily one of the best days of her long and successful career, Erica Enders won her fourth Camping World NHRA Pro Stock championship and then returned a few hours later to win her 29th Pro Stock event. Enders ran her record to a perfect 4-0 in final rounds this season with a 6.643 after up-and-coming rookie Kyle Koretsky red-lighted in his Nitro Fish Camaro.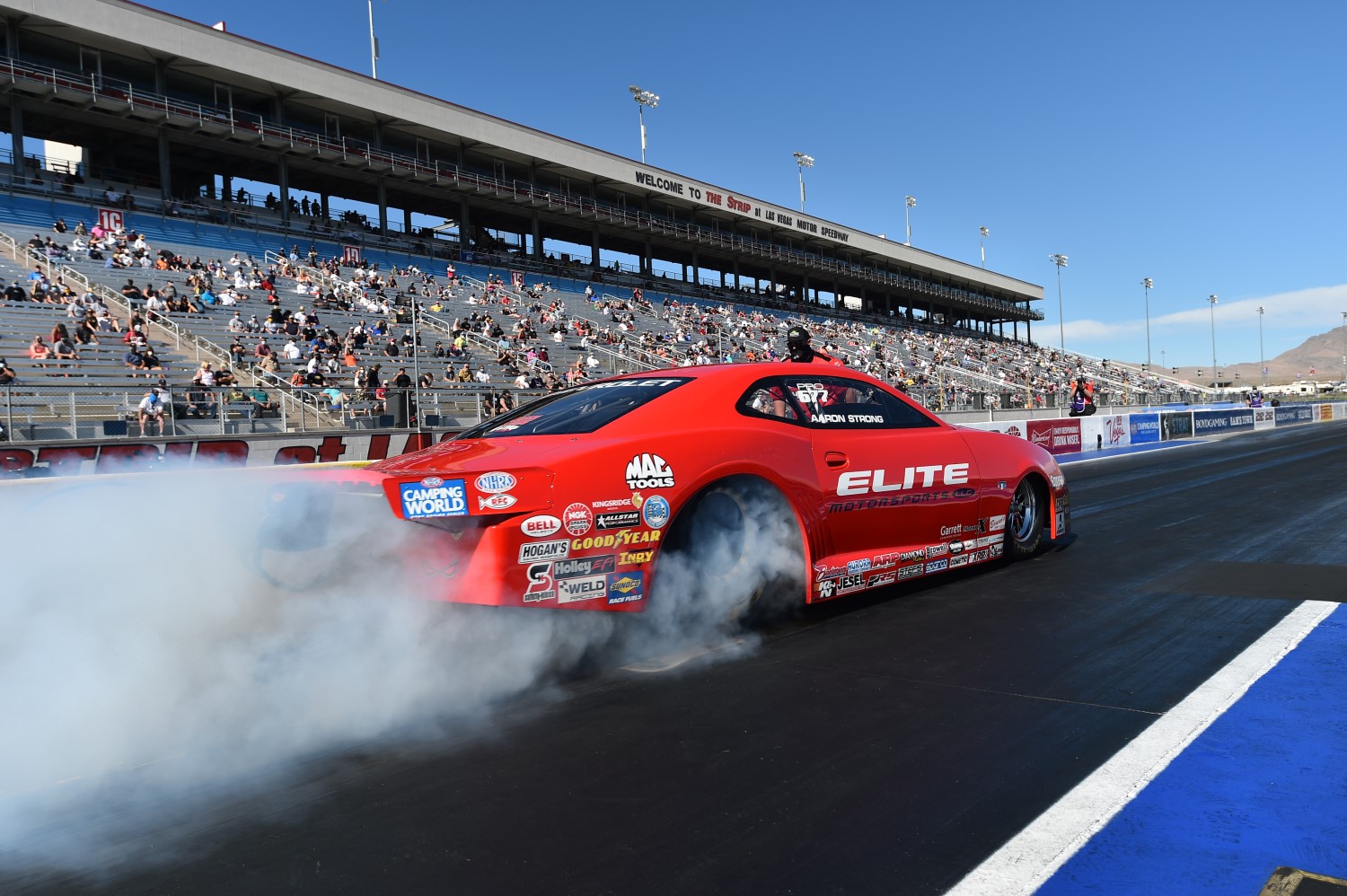 "What an unbelievable day," said Enders, who now has won six times in Las Vegas including four at the fall race. "This place has been so good to me but I couldn't do it without my team. This wasn't our best year by any stretch but we persevered and dug deep and found a way to make it happen. I am a luck girl to live the life I do."
Enders and her Melling/Elite team have never been anything less than competitive, but they struggled in qualifying in Las Vegas and landed in the No. 12 spot heading into the final day of the season. In a shocking development, Enders officially clinched the title in the opening round when he two rivals, Jeg Coughlin Jr. and Jason Line, both lost on holeshots.
The pressure of the point battle behind her, Enders rolled to wins against teammates Alex Laughlin and Troy Coughlin Jr. and Greg Anderson to make it to the final round, but it wasn't easy. Coughlin, a runner-up to his uncle, Jeg, at the second Indy event this year, put up the biggest fight, but ultimately came up .002-second short at the finish line. Enders also defeated rival Anderson on a holeshot when her 6.642 was enough to hold off the Summit driver's 6.625 by just .009-second.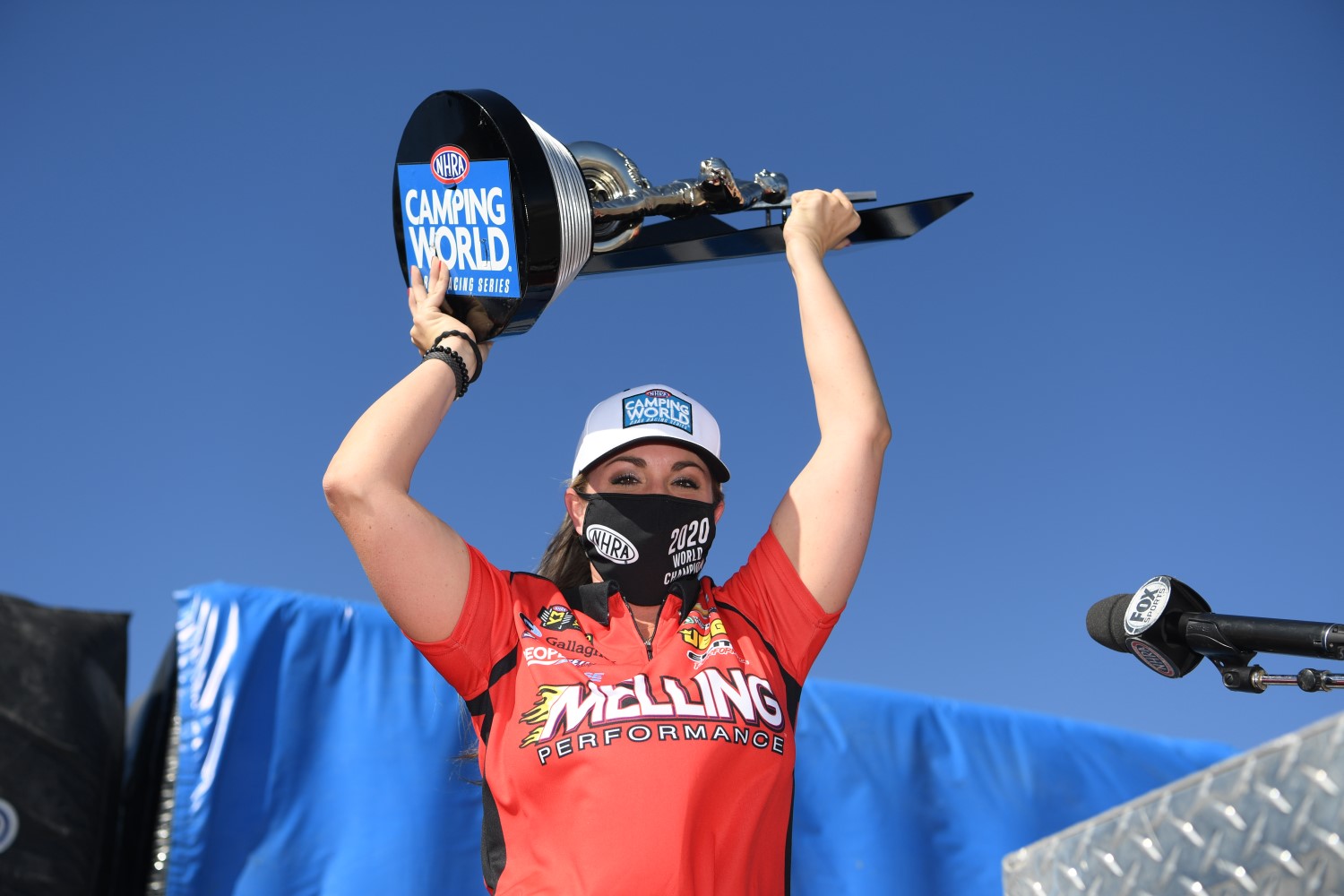 It took just eight races for Korestky to join his father, Kenny, as a national event finalist in Pro Stock by driving his KB-powered Camaro to wins against Kenny Delco, 2017 champ Bo Butner, and sophomore racer Cristian Cuadra, who reached the semifinals for the first time in his career. Coming off a semifinal finish a week ago in Houston, Koretsky held on to defeat Cuadra's Corral Boots entry, 6.665 to 6.686.
The abbreviated 2020 Pro Stock schedule featured just ten events but had six different winners including Enders, who captured the lion's share of the titles with four victories. Jeg Coughlin Jr., Matt Hartford, Aaron Stanfield, and Alex Laughlin also picked up victories.
Hours after watching her husband, Matt, win his fourth Pro Stock Motorcycle world championship, Angie Smith picked up a Wally of her own when she won the final round of the Dodge NHRA Finals presented by Pennzoil. Smith outran Steve Johnson's Suzuki in the final, 6.917 to 6.990 and needed almost all of it after Johnson grabbed a big lead off the starting line. The difference between the two bikes at the finish line was just .007-second.
The win was the second for Smith, who famously won a husband-wife final against Matt at the 2013 Epping event.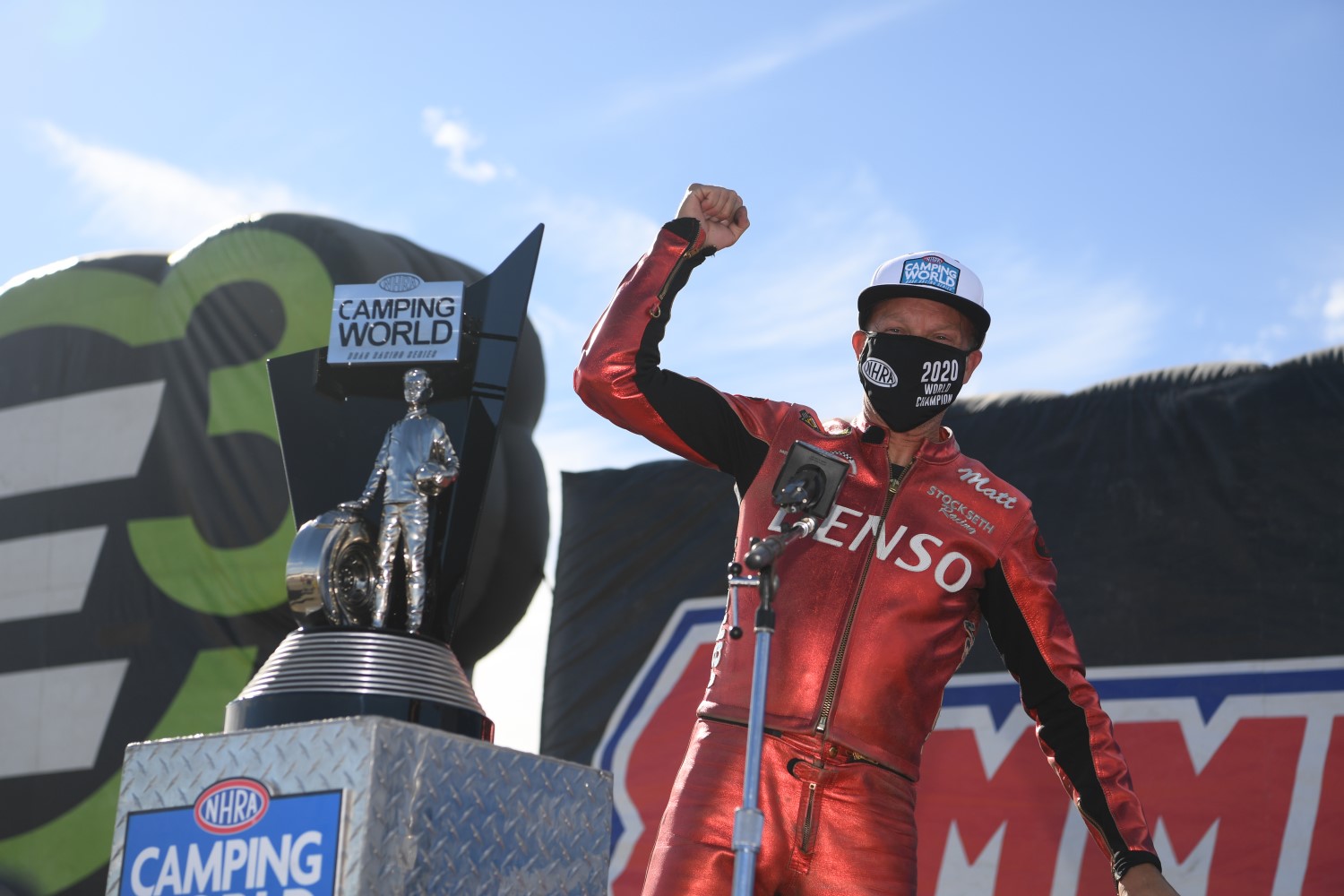 "You never know when you're going to get back here," said Smith. "It's important to never give up on your dreams. You can do anything if you put your mind to it. I need to thank Denso and Mark Stockseth and everyone who helps us. I also need to thank my team for building me up. They've told me to never give up. Sometimes, I know I'm a pain in the butt, but they've always got my back."
Smith joined the Denso 200-mph Pro Stock Motorcycle club this season, continued her recent string of strong performances in Las Vegas. After qualifying in the No. 5 spot, she defeated Katie Sullivan in round one and then upset teammate Scotty Pollacheck in the quarterfinals, ending his championship bid. In her 181st start, Smith made it to her second final after Hector Arana Jr. fouled on his Lucas Oil EBR.
No one has raced in more Pro Stock Motorcycle races than Johnson, who started his 446th event in Las Vegas. The veteran Suzuki racer has dealt with a lot of adversity over the last few seasons. Earlier this season, his longtime crew member Ervin "Jock" Allen was hospitalized for an extended period after contracting the COVID-19 virus. Undeterred, Johnson rode to his 23rd career final with wins against Kelly Clontz, Joey Gladstone and Matt Smith. Smith had a shot to join his wife in the final but his Denso EBR lost fire on the starting line. Smith's crew re-fired the bike but it stalled again, sending Johnson in a single run to the final.