Sheldon Creed wins NASCAR Truck race and title in Phoenix
Brett Moffitt was on the cusp of his second NASCAR Gander RV & Outdoors Truck Series championship, leading the Lucas Oil 150 at Phoenix Raceway handily as the laps ticked away—fifteen, ten, five…
But a caution with just three laps to go for a crashing Dawson Cram changed everything, sending the race into overtime and erasing it all.
It would be Moffitt's GMS Racing teammate Sheldon Creed hoisting the champion's trophy after the call from crew chief Jeff Stankiewicz to take on tires for the two-lap shootout, and those fresh ties proved to be the difference as the 23-year-old Creed charged by a half-dozen trucks to take the lead, clearing the field with a lap to spare and then watching them recede behind him.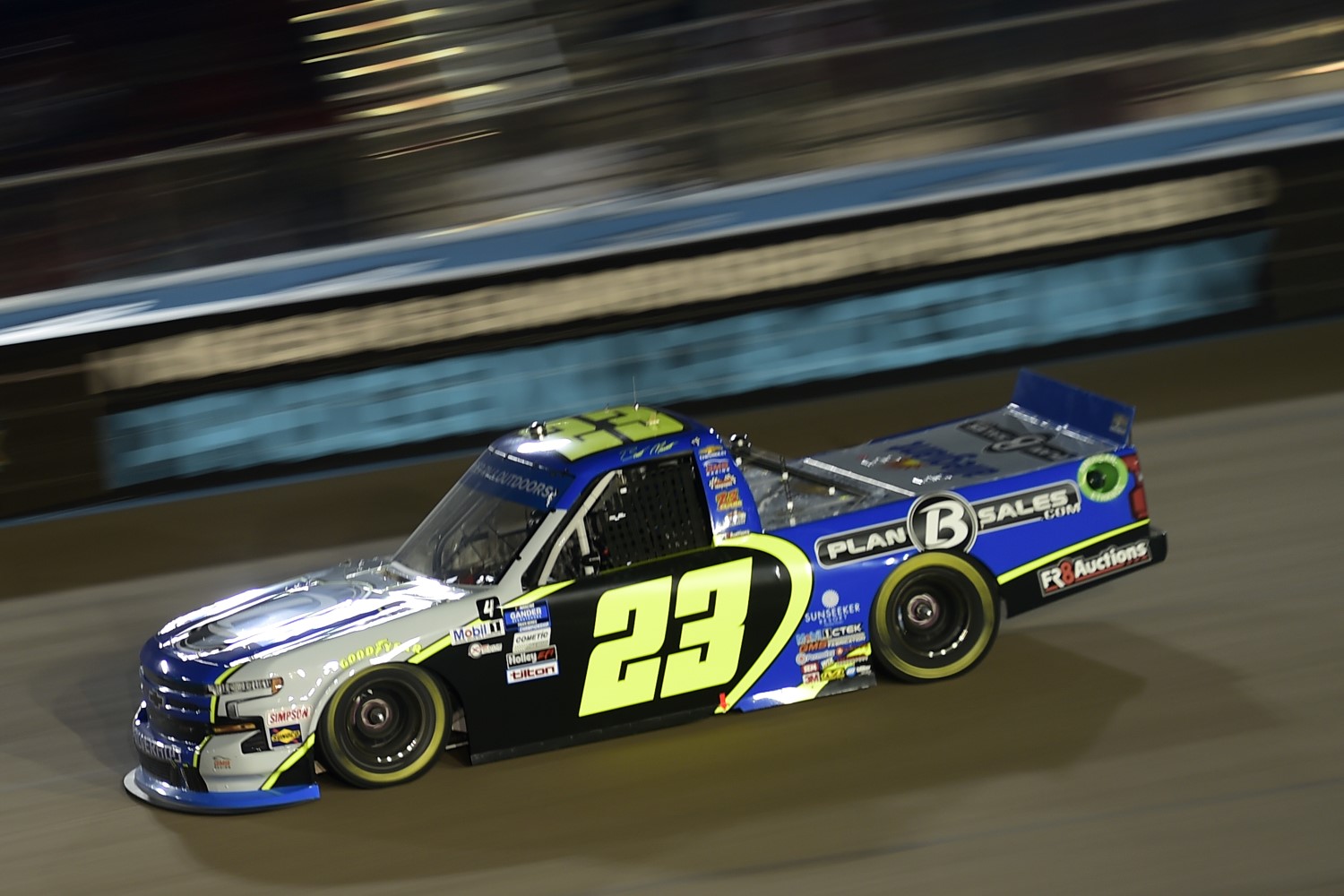 Zane Smith, who also took tires, finished second, wrapping up the runner-up spot in points as well as the series rookie title.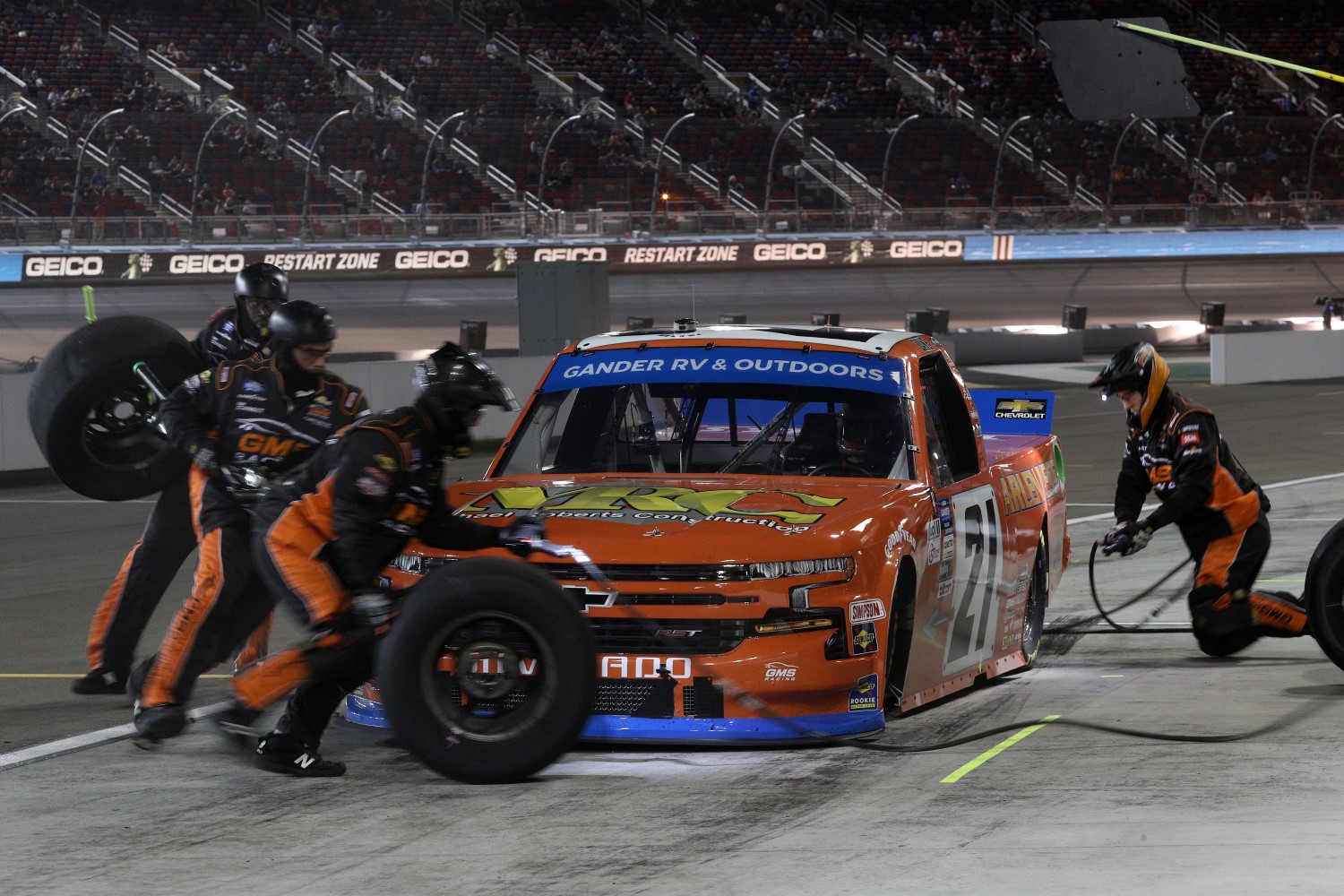 Moffitt, on the oldest tires of the championship contenders, fell back on the restart, finishing 10th but wrapping up a third-place points finish. Grant Enfinger tagged the wall on the final lap, finishing the race in 13th and taking home the fourth-place prize on the season.
It was Creed's fifth career win and also his fifth win of 2020. It marks his first win at Phoenix Raceway.
Creed says the victory was unexpected until he and his team took the tire gamble on the final caution.
"I thought my teammate was going to run the championship, and we were going to run third," Creed said afterward. "Just a good truck on the short run, way too loose as we went on.  Caution came out there and [Stankiewicz and] I were talking, and we said we have nothing to lose.  Let's put tires on it.  I pride myself on my restarts week in and week out.  Just nailed a restart right there.  They were racing really hard; [I was] driving this thing as hard as I can.  I wanted this thing so bad. I don't know how I did it.  I just drove as hard as I could.  I knew if I did that I'd have a shot."
Chandler Smith finished the race in third, with Kyle Busch Motorsports teammates Christian Eckes and Raphael Lessard filling the top 5 on the night.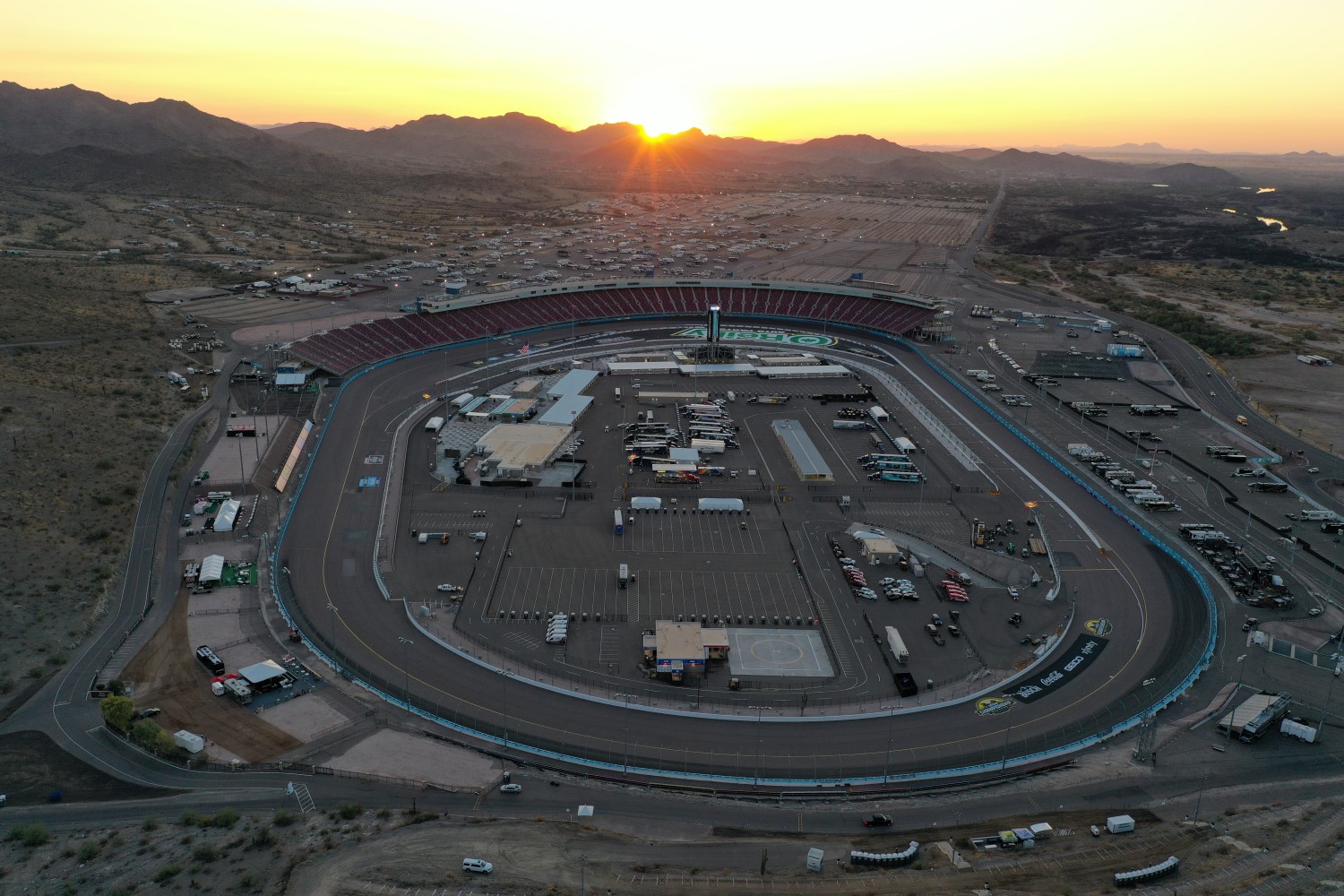 Zane Smith rolled out to the early lead, dragging Creed along for the ride. Martinsville winner Enfinger dropped to fourth on the start after choosing the outside line from the pole, and he'd have to spend the early laps playing catch-up. Moffitt bided his time and worked his way closer to the leaders as the laps ticked away in stage 1, but couldn't make the move. Smith won a caution-free stage 1, with Creed, Moffitt, Enfinger and Matt Crafton making up the top 5.
Creed started stage 2 from the point as he won the race off pit road, holding off early challenges by Moffitt and Ben Rhodes as Zane Smith fought Rhodes for third and Enfinger lost a couple of spots. It would be Creed's teammate Moffitt bringing the biggest challenge as the stage wore on, which allowed Smith to close in.
Moffitt took the lead from Creed with 16 laps to go in the stage, setting up the pick as the pair navigated lapped traffic. Zane Smith took advantage as well, getting past Creed and setting sail for Moffitt.
Moffit had the truck to beat, though, winning stage 2 over Smith, Creed, Rhodes and Enfinger with no cautions to tighten up the field.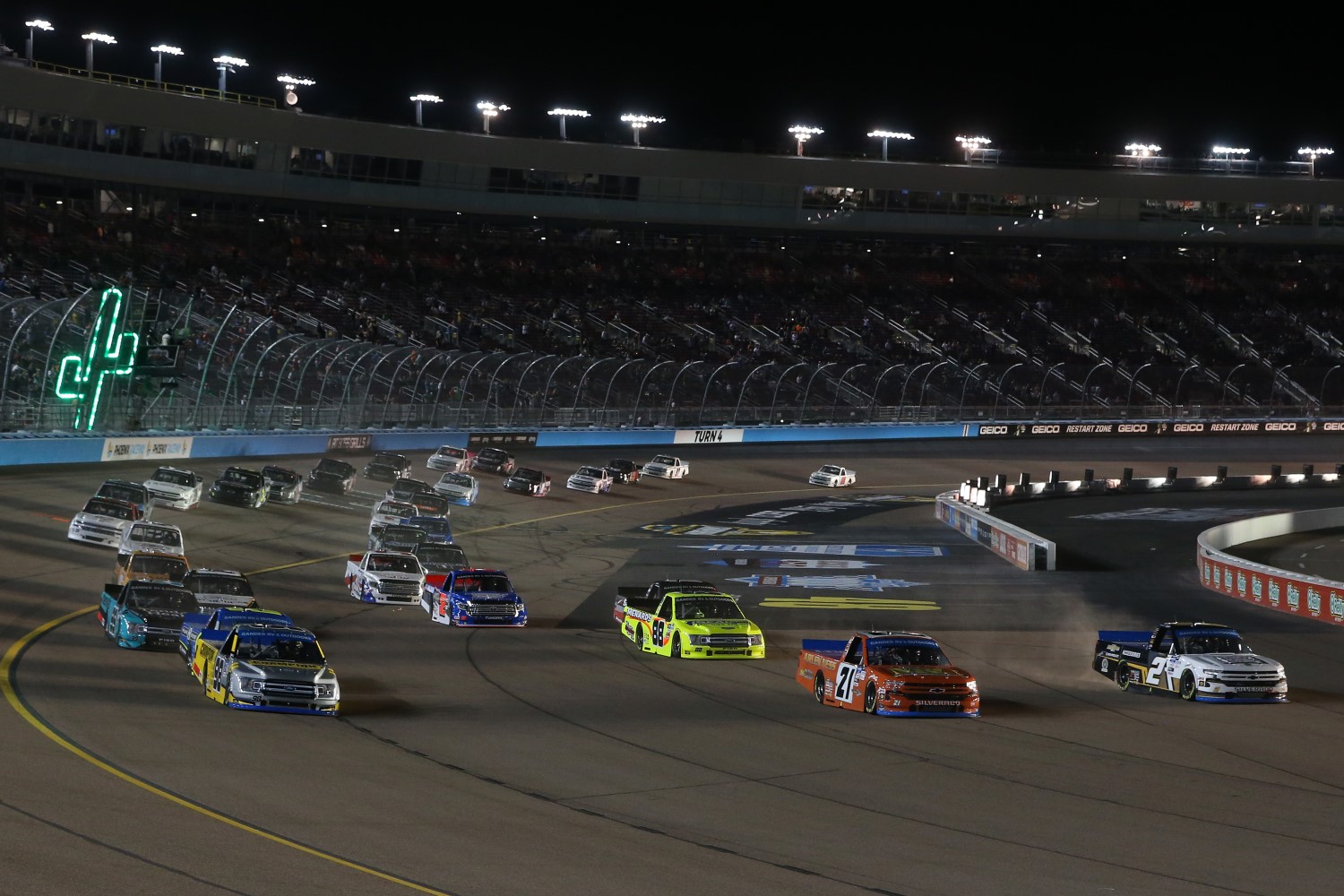 Moffitt rolled out of the pits first to lead the field to green in the final stage. Creed tried to make something happen, but was unable to pass Moffitt as Zane Smith stalked them from third. Enfinger, who had been quiet for the first half, charged through the field, getting by both Smith and swapping second spot with Creed a couple of times before setting his sight squarely on Moffitt. He had the faster truck, but time was on Moffitt's side as the laps dwindled. Then came Cram's crash.
"I don't have much good to say, said a defeated Moffitt as he climbed from his truck.  "We finally hit the setup right, and can't call a race to save our lives.  It's cost us multiple times this year and now it cost us the championship.  Unfortunate, but thankful to all my partners who have been with us all season long and to everyone on this team for working hard.  It's frustrating losing like that."
Enfinger credited his team's strategy for the late charge that ultimately fell short.
"[Crew chief Jeff] Hensley made a good call to just get off sequence.  We just couldn't go on a short run.  We had good speed on a long run, but just couldn't pass after that.  So we got off sequence.  That worked.  Hensley was leaning towards tires at the end.  I was leaning against it just to do something different, and we ended up staying out.  That cost us.  It just is what it is.  We didn't have quite the short run speed to legitimately contend tonight, but, man, a great season by these guys.  I'm gonna try not to be too sad leaving here because it's been a great year.  It's just unfortunate the way it turned out tonight.
"I was voting to stay out and Hensley was kind of voting to come in and I talked him into staying out and that cost us a shot.  Anyway, we'll try not to hold our head too low leaving here.  It's been a great year.  I'm proud of these guys, it just didn't work out tonight."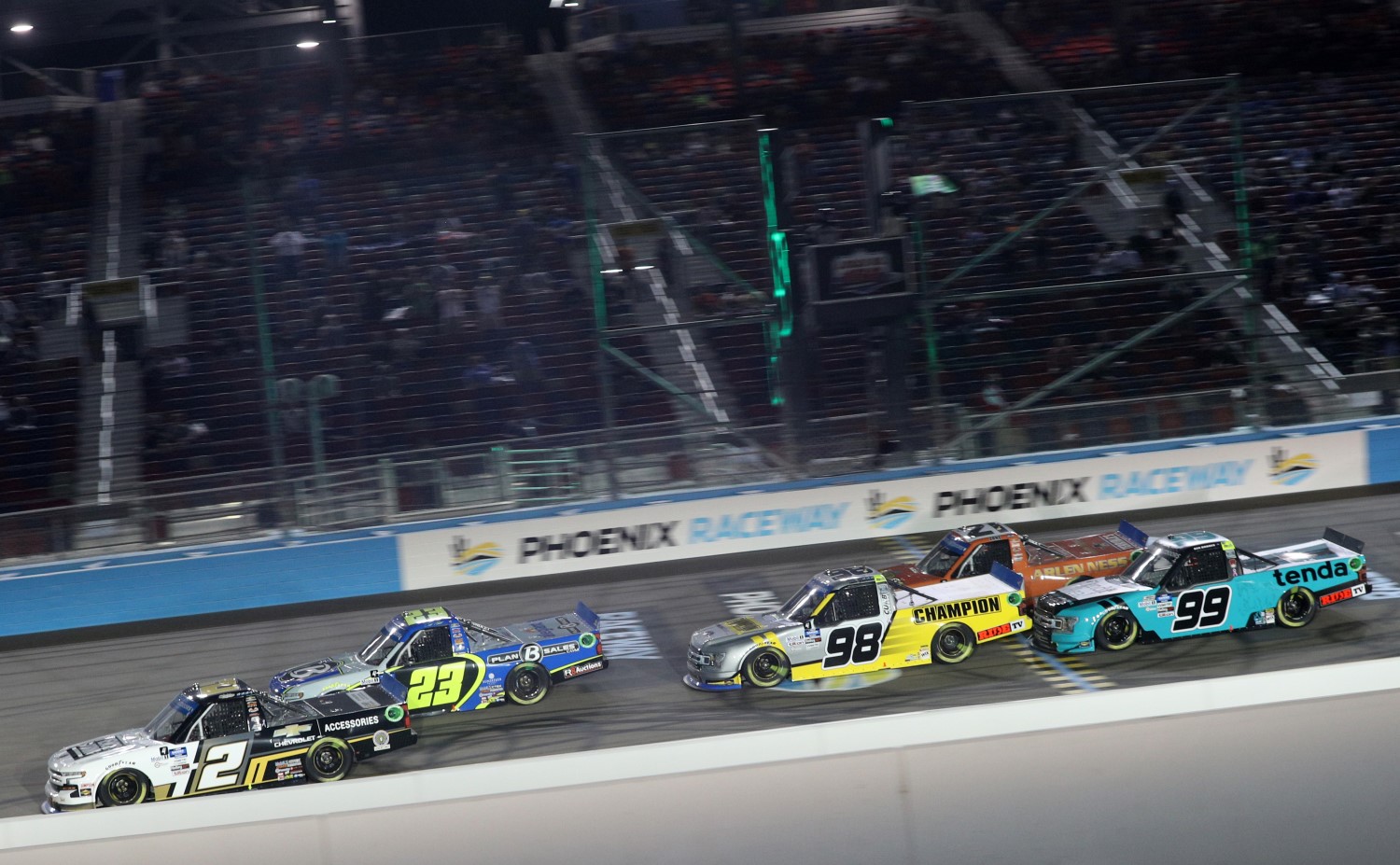 Runner-up Zane Smith expressed disappointment in himself for failing to catch Creed in overtime. "[I'm] disgusted, honestly.  I'm happy for Sheldon.  He had an amazing year, along with us.  Nothing hurts more than being the first loser. But still, like I said, an amazing year, rookie of the year.  Just one spot short."
"Overall, we had a really good finish in our No. 51 JBL Toyota Tundra," said third place Chandler Smith. "We just missed it on our splitter heights this weekend and ultimately it killed us, especially with how deep we started in the pack. We stayed out on that late race caution, got some track position and executed."
"I chose the bottom," said 4th place Christian Eckes. "On those last restarts, I saw that you can make moves, go low and go really wherever you need to. That played in our favor, pretty well overall. I wish we would have been a little bit lower, maybe, we would have been in front of the 2 (Sheldon Creed). Not sure if we had the speed to beat him, but the track position definitely could have helped. Overall, pretty proud of my team. We were able to get Chandler (Smith) up there to get a top-five too, and I think all three of our Tundras were in the top-five too. It was a good day for KBM (Kyle Busch Motorsports)."
"It was pretty good," said 5th place Raphael Lessard. "It was my first time here at Phoenix. I have never seen the track before so it was a little bit of learning at first. I think I got used to it really quick. We stayed in the top-10 most of the race. We got both sides. We were pretty good and couldn't really make moves because it was so hard to pass, and I was still learning the racetrack. Then we got to the last stage, we got way too free. We were super loose, but we kept fighting and trying to pass people. Then the caution came out and we had the green-white-checkered. We came in and put on two right side tires, and we fired off on the last restart and we got everything we could get. We finished with a good top-five I feel like that is pretty good for my first time here. I'm just glad we got to run this year with everybody at Kyle Busch Motorsports, Toyota TRD. It's been an awesome year and CANAC, they've been a huge help for me this year. I'm just proud to have driven a full season and have a win in the Truck Series."
Creed's title is his first in the Truck Series and comes in his second season. He's also the 2018 ARCA Menards Series champion.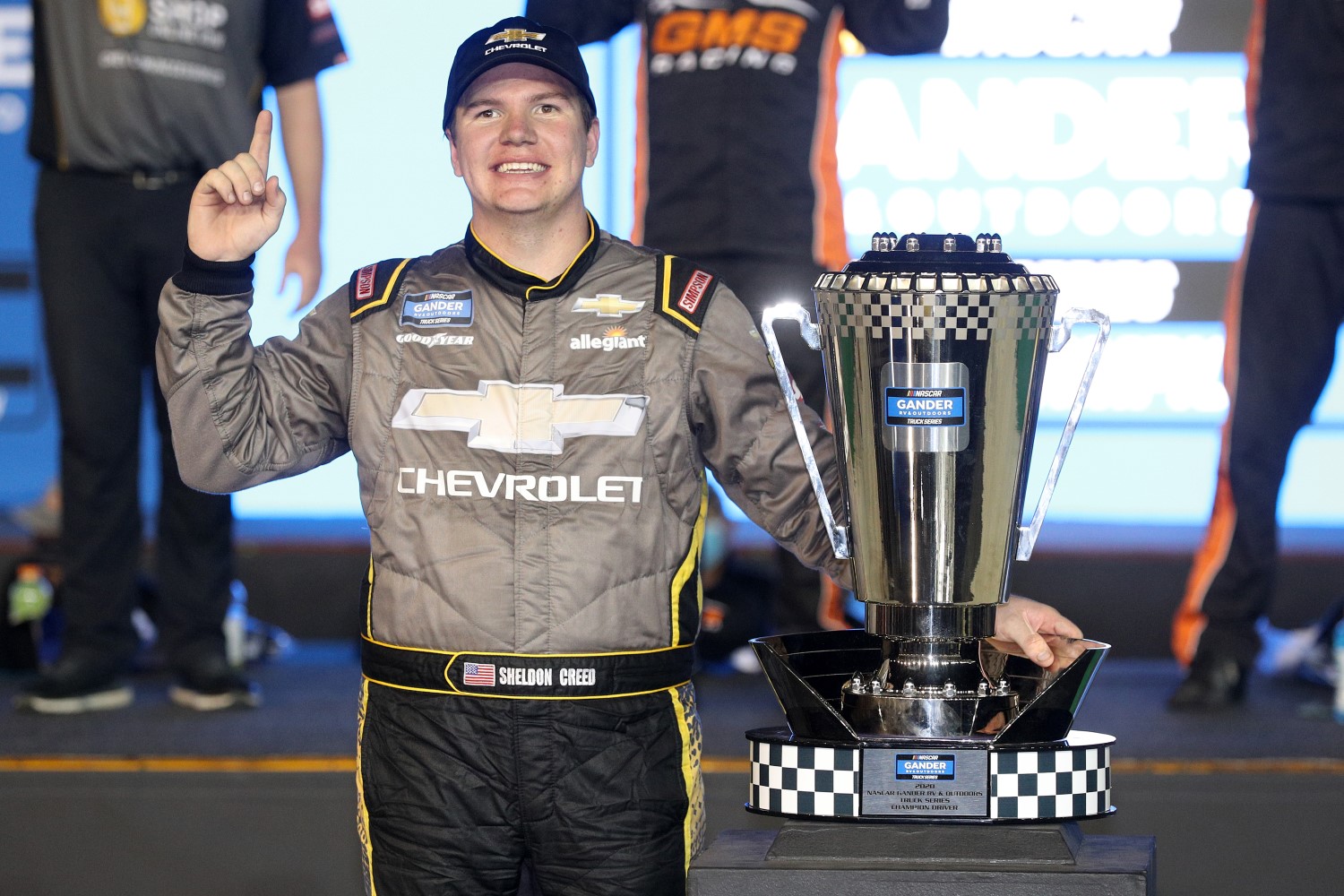 Race Results
| | | | | | | | |
| --- | --- | --- | --- | --- | --- | --- | --- |
| Fin | Str | No. | Driver | Team | Laps | Status | Led |
| 1 | 3 | 2 | Sheldon Creed (P) | Chevy Accessories/Trench Shoring Chevrolet | 156 | Running | 27 |
| 2 | 2 | 21 | Zane Smith # (P) | MRC Construction Chevrolet | 156 | Running | 48 |
| 3 | 21 | 51 | Chandler Smith | JBL Toyota | 156 | Running | 0 |
| 4 | 7 | 18 | Christian Eckes # | Safelite AutoGlass Toyota | 156 | Running | 0 |
| 5 | 13 | 4 | Raphael Lessard # | Mobil 1 Toyota | 156 | Running | 0 |
| 6 | 9 | 52 | Stewart Friesen | Halmar Racing To Beat Hunger Toyota | 156 | Running | 0 |
| 7 | 6 | 99 | Ben Rhodes | Tenda Heal Ford | 156 | Running | 1 |
| 8 | 10 | 26 | Tyler Ankrum | LiUNA! Chevrolet | 156 | Running | 0 |
| 9 | 22 | 38 | Todd Gilliland | Frontline Enterprises Inc Ford | 156 | Running | 0 |
| 10 | 4 | 23 | Brett Moffitt (P) | Plan B Sales Chevrolet | 156 | Running | 78 |
| 11 | 16 | 13 | Johnny Sauter | Vivitar Ford | 156 | Running | 0 |
| 12 | 17 | 16 | Austin Hill | United Rentals Toyota | 156 | Running | 0 |
| 13 | 1 | 98 | Grant Enfinger (P) | Champion/Curb Records Ford | 156 | Running | 2 |
| 14 | 5 | 88 | Matt Crafton | Ideal Door/Menards Ford | 156 | Running | 0 |
| 15 | 23 | 15 | Tanner Gray # | Ford Performance Ford | 156 | Running | 0 |
| 16 | 32 | 17 | Dylan Lupton | Crosley Ford | 156 | Running | 0 |
| 17 | 15 | 24 | Sam Mayer | Armour Guard Chevrolet | 156 | Running | 0 |
| 18 | 12 | 45 | Trevor Bayne | AirPower Foundation Chevrolet | 156 | Running | 0 |
| 19 | 28 | 2 | Tate Fogleman # | Solid Rock Carriers Chevrolet | 156 | Running | 0 |
| 20 | 14 | 22 | Austin Wayne Self | GO TEXAN/AM Technical Solutions Chevrolet | 156 | Running | 0 |
| 21 | 25 | 40 | Ryan Truex | Marquis Chevrolet | 155 | Running | 0 |
| 22 | 20 | 3 | Jordan Anderson | Bommarito.com/Lucas Oil Chevrolet | 154 | Running | 0 |
| 23 | 27 | 11 | Spencer Davis # | Polar Bear Coolers Toyota | 154 | Running | 0 |
| 24 | 8 | 19 | Derek Kraus # | Gates Hydraulics/NAPA Belts & Hoses Toyota | 153 | Running | 0 |
| 25 | 26 | 56 | Tyler Hill | HairClub Chevrolet | 153 | Running | 0 |
| 26 | 11 | 30 | Danny Bohn | North American Motor Car/Blue Buffalo Toyota | 153 | Running | 0 |
| 27 | 18 | 20 | Spencer Boyd | HairClub Chevrolet | 152 | Running | 0 |
| 28 | 24 | 41 | Dawson Cram | Magnum Contracting Inc Chevrolet | 152 | Running | 0 |
| 29 | 33 | 97 | Robby Lyons(i) | SunWest Construction Chevrolet | 152 | Running | 0 |
| 30 | 29 | 33 | Akinori Ogata | Shinano Pneumatic Tools Toyota | 150 | Running | 0 |
| 31 | 30 | 10 | Jennifer Jo Cobb | Fastener Supply Company Chevrolet | 147 | Running | 0 |
| 32 | 19 | 42 | Carson Hocevar | Scott's/GMPartsNow Chevrolet | 103 | Accident | 0 |
| 33 | 31 | 0 | Josh Reaume | LEVRACK Chevrolet | 44 | Brakes | 0 |