Austin Cindric wins NASCAR Xfinity race and title at Phoenix
Austin Cindric was not going to be denied his chance at his first NASCAR Xfinity Series Championship, even if that meant having to tear his way back to the lead in just three laps.
Sporting four fresh tires on his No. 22 Ford Mustang, Cindric bested Justin Allgaier with a three-wide pass on the opening lap of a final, three-lap shootout to finish out the 2020 season and held on to win the Xfinity Series finale at Phoenix Raceway to score his sixth win of the season and win his first career Xfinity Series title.
Allgaier finished fifth in the race to finish second in the championship standings. Justin Haley finished eighth ahead of Chase Briscoe to round out the rest of the Championship 4.
Saturday's victory was the first for Cindric in this season's Xfinity Playoffs, having made it through all three rounds on points alone.
"Amazing effort by this 22 team. I'm speechless.  I can't believe it.  I'm pretty humbled by the effort for sure," said Cindric, who is the son of Team Penske team president Tim Cindric. "There was a lot of work put into this race car. It's awesome to get them a championship in NASCAR, to be a champion in NASCAR, and do it in front of all these great people cheering us on at championship weekend.
"I'm proud to be here.  I'm proud of the work that I've put in to get here, and there's still a lot more to go."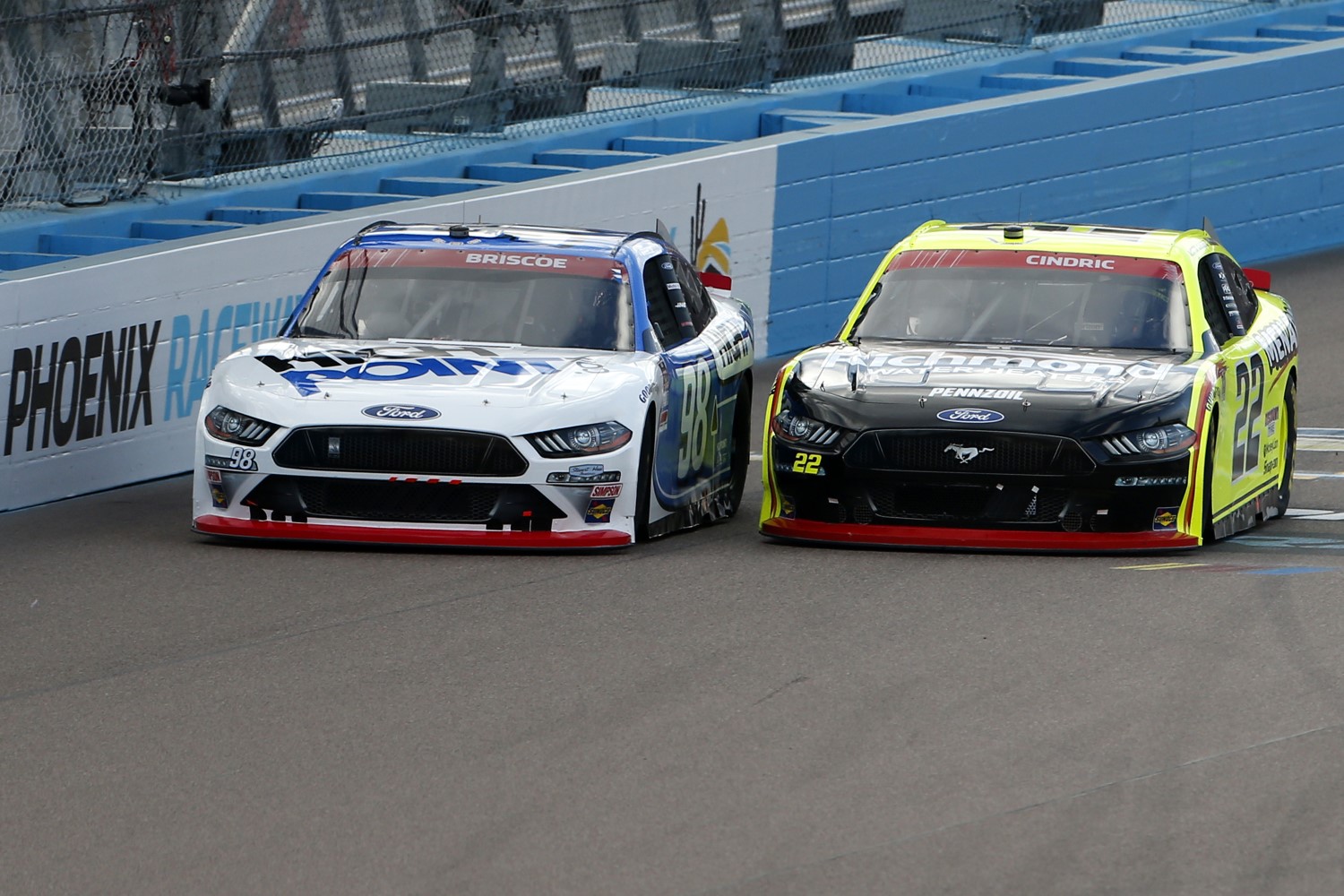 Cindric and Allgaier had fought a pitched battle all day, trading the lead back and forth along with fellow Championship 4 contender Chase Briscoe, who won the opening stage with Cindric and Allgaier running right behind him.
Cindric would flip the script in the second stage, leading Allgaier and Briscoe to the green-checkered flag.
Allgaier would lead the field to the green flag to start the final stage and led the opening 30 laps before Cindric re-gained the top spot. From there, Cindric spent the next 60 trying to run away from Allgaier, while seemingly having the best car to beat.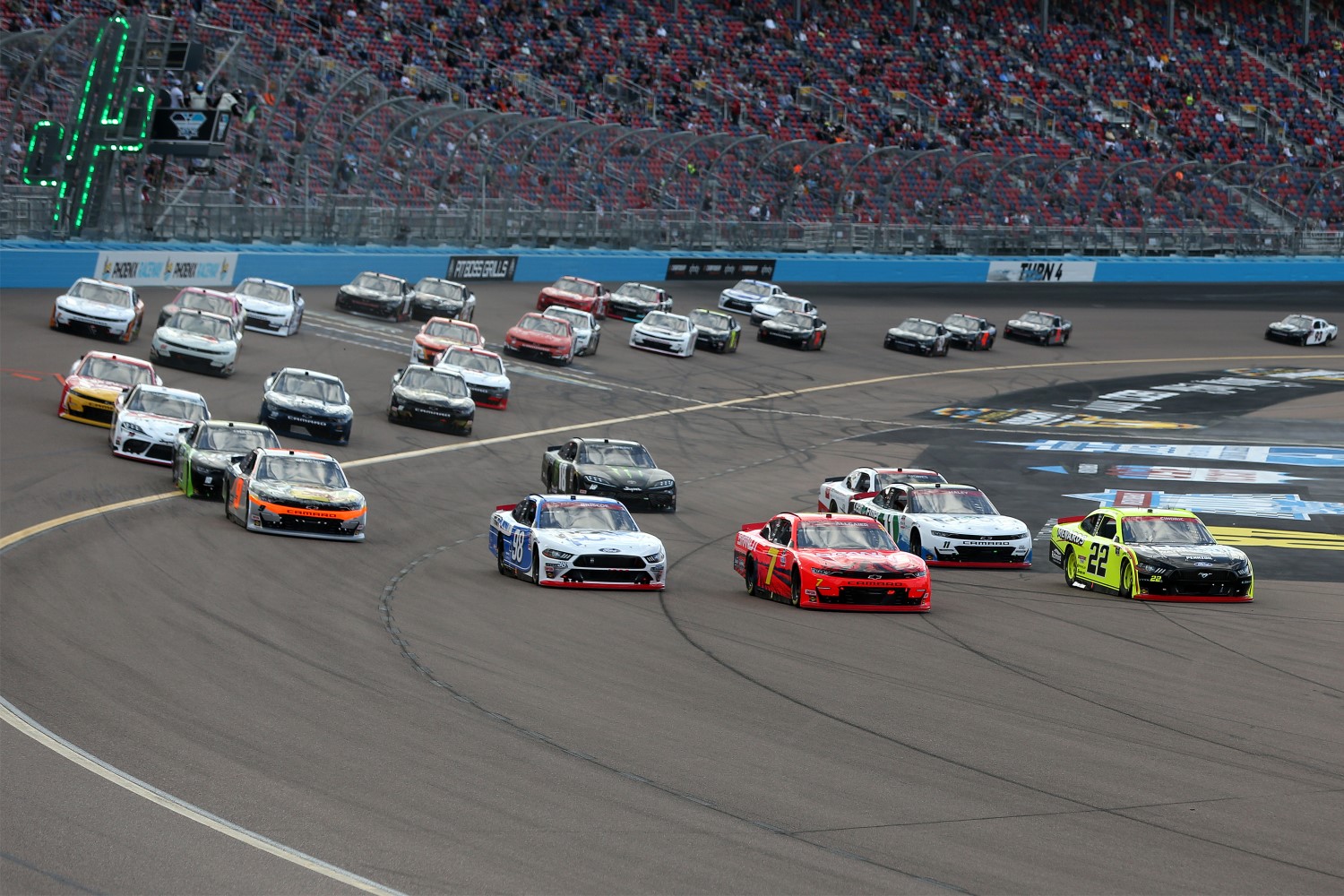 With just four laps to go and with a 1.5-second lead over Allgaier, Cindric saw his championship hopes hit the wall as Briscoe spun in turn three to bring out the final caution flag of the day, and gave Allgaier his best chance to win.
With a green-white-checkered finish looming, Cindric and his team opted to roll the dice and gave up the lead to pit for tires, giving the lead to Allgaier.
Lining up third on the restart, Cindric took the high side behind Allgaier and soon found himself battling three wide in the middle of Allgaier and his teammate Noah Gragson. Gragson drifted up high in turn four as the three made contact coming to the stripe to take the white flag, putting Cindric ahead of Allgaier.
Coming down the back straight, Cindric moved to the inside of Gragson and rode around the low side going through three and four to take the top spot and beat Gragson to the line by a single car length.
"This was an amazing effort by Brian Wilson and everybody back at the shop.  There was a lot of work put into this Ford Mustang.  I've got to thank Roger Penske and everyone from Team Penske plus the Menards family who put so much support into racing itself.  It's awesome to get them a championship in NASCAR, to be a champion in NASCAR, and do it in front of all these great people cheering us on at championship weekend. Thanks to Ford Performance, Doug Yates, and everybody at Roush Yates Engines.  I'm speechless. I'm pretty humbled by the effort for sure."
Brandon Jones finished third, followed by Michael Annett.
The decision made by Cindric and his crew to pit for fresh tires made have seemed like a bold move, but having seen Sheldon Creed race from deep in the field on fresh tires win the Truck Series title on Friday night, Cindric knew it was the right call.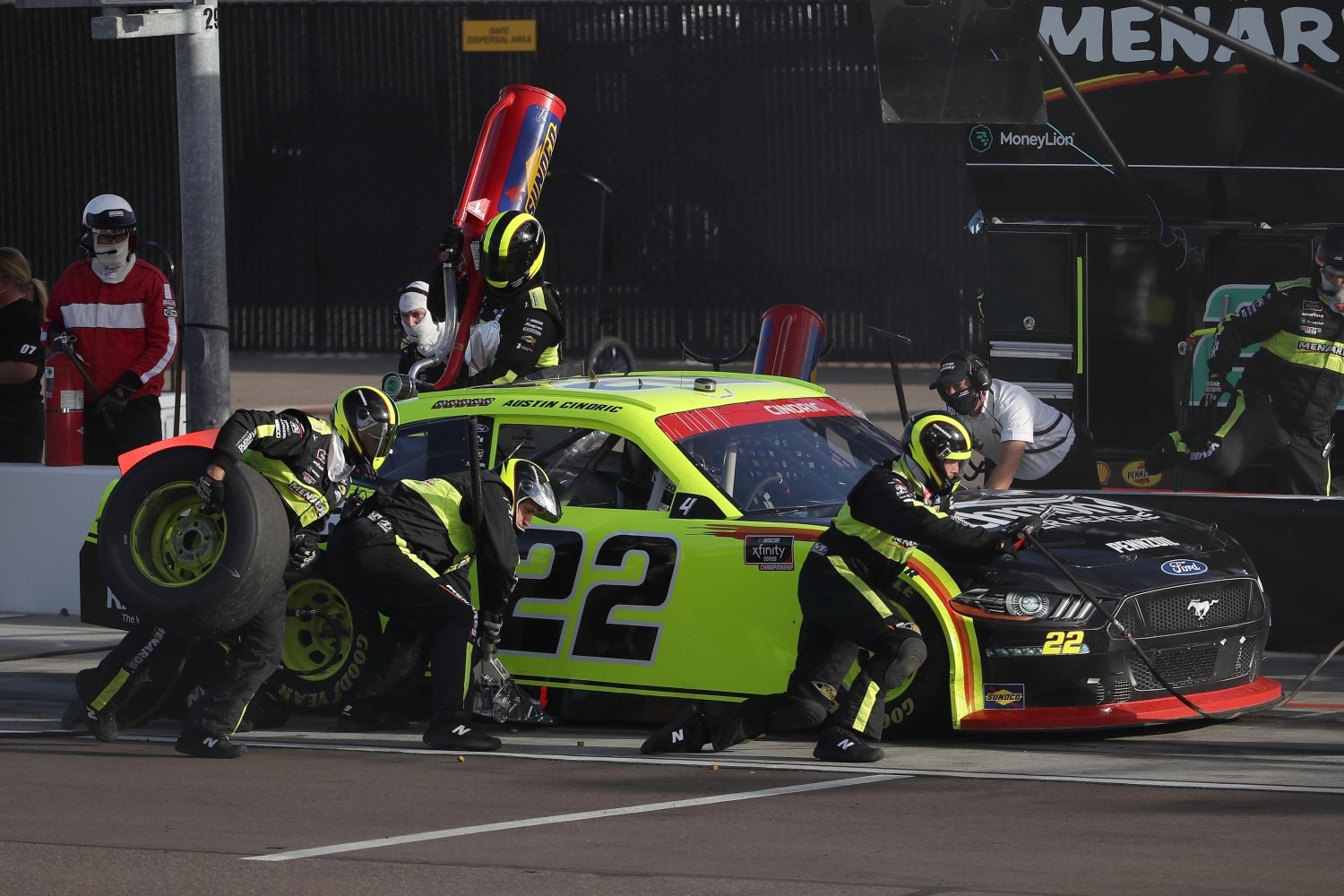 "I watched Sheldon Creed do it last night, so why couldn't we?", Cindric said.
For Allgaier, 2020 was another season of coming so close to securing his first-career Xfinity Series title, with his runner-up finish marking his career-best finish in the points standings – having finished fourth in the Championship 4 last season.
"So close, but so far away", said Allgaier. "Proud of our guys, proud of everybody at JR Motorsports.  We had a shot at it at the end, and when it's all said and done, that's all you can really ask for.
"I knew that (Cindric was) going to be good on tires. I was hoping to see a few more cars in my rear-view mirror when we took the green… We didn't have the speed at the end. We were off a little bit all night."
Briscoe finished the season having tallied nine wins to lead the Xfinity Series – including victories in both opening rounds of the playoffs. Next season, he will be moving up to the Cup Series – replacing Clint Bowyer in the No. 14 Ford for Stewart-Haas Racing.
"It's nice to know that I'm going to the Cup Series and all these things, but it sucks to run fourth in the championship after the year that we had, but that's how it works," said Briscoe. "I didn't execute and they did a better job, so go on to next year.  It's gonna be an uphill battle all year long, but looking forward to the challenge."
Justin Haley battled back from going a lap down to finish in the top ten in the race, and third in the points battle. He also lost the race to get home from the track, as he and Cindric were flying home together.
"We were not too good there at the start, and then we actually took a little time on one of the pit stops," said Haley. "We started running in the top five, but it's super hard to pass. "We were too far back to make anything happen at the green-white-checkered.
"I just want to congratulate the 22 team. It actually sucks they got the championship, because we share a plane. So we're going to have to wait on them to go home."
Race Results
| | | | | | | | |
| --- | --- | --- | --- | --- | --- | --- | --- |
| Fin | Str | No. | Driver | Team | Laps | Status | Led |
| 1 | 3 | 22 | Austin Cindric (P) | Menards/Richmond Ford | 206 | Running | 72 |
| 2 | 6 | 9 | Noah Gragson | Bass Pro Shops/TrueTimber Camo Chevrolet | 206 | Running | 1 |
| 3 | 8 | 19 | Brandon Jones | Toyota Service Centers Toyota | 206 | Running | 3 |
| 4 | 10 | 1 | Michael Annett | Pilot Flying J Chevrolet | 206 | Running | 0 |
| 5 | 1 | 7 | Justin Allgaier (P) | BRANDT Chevrolet | 206 | Running | 76 |
| 6 | 5 | 20 | Harrison Burton # | DEX Imaging Toyota | 206 | Running | 0 |
| 7 | 7 | 10 | Ross Chastain | Nutrien Ag Solutions Chevrolet | 206 | Running | 10 |
| 8 | 4 | 11 | Justin Haley (P) | LeafFilter Gutter Protection Chevrolet | 206 | Running | 0 |
| 9 | 2 | 98 | Chase Briscoe (P) | HighPoint.com Ford | 206 | Running | 41 |
| 10 | 13 | 51 | Jeremy Clements | Diecast Kings Chevrolet | 206 | Running | 0 |
| 11 | 9 | 18 | Riley Herbst # | Monster Energy Toyota | 206 | Running | 0 |
| 12 | 14 | 68 | Brandon Brown | Larry's Hard Pink Lemonade Chevrolet | 205 | Running | 0 |
| 13 | 16 | 92 | Josh Williams | Musselman's/JW Hospital Tour Chevrolet | 205 | Running | 0 |
| 14 | 27 | 78 | BJ McLeod | Koolbox Toyota | 205 | Running | 0 |
| 15 | 33 | 74 | Bayley Currey(i) | Fort Worth Screen Printing Chevrolet | 205 | Running | 0 |
| 16 | 29 | 7 | David Starr | Chasco/Interstate Batteries Chevrolet | 205 | Running | 0 |
| 17 | 31 | 47 | Kyle Weatherman | Keystone K9 LLC. Chevrolet | 205 | Running | 0 |
| 18 | 15 | 21 | Myatt Snider # | TaxSlayer Chevrolet | 204 | Running | 0 |
| 19 | 12 | 2 | Brett Moffitt(i) | Fr8Auctions Chevrolet | 204 | Running | 0 |
| 20 | 25 | 15 | Colby Howard | Project Hope Foundation Chevrolet | 204 | Running | 0 |
| 21 | 21 | 36 | Alex Labbe | rousseau/Prolon Controls Chevrolet | 203 | Running | 0 |
| 22 | 30 | 52 | Kody Vanderwal # | Felora Chevrolet | 203 | Running | 0 |
| 23 | 19 | 13 | Timmy Hill(i) | RoofClaim.com Toyota | 203 | Running | 0 |
| 24 | 24 | 26 | Mason Diaz | Mulch Mate Toyota | 202 | Running | 0 |
| 25 | 18 | 8 | Daniel Hemric | Poppy Bank Chevrolet | 201 | Running | 0 |
| 26 | 34 | 61 | JJ Yeley(i) | WORKPRO TOOLS Toyota | 200 | Running | 0 |
| 27 | 23 | 8 | Joe Graf Jr # | Bucked Up Energy Chevrolet | 199 | Running | 0 |
| 28 | 37 | 66 | Stan Mullis | Sharelife Vacations Toyota | 198 | Running | 0 |
| 29 | 20 | 4 | Jesse Little # | TeamJDMotorsports.com Chevrolet | 198 | Running | 0 |
| 30 | 36 | 99 | Jesse Iwuji(i) | TrueCar Military Chevrolet | 197 | Running | 0 |
| 31 | 11 | 39 | Ryan Sieg | CMRRoofing.com Chevrolet | 196 | Running | 0 |
| 32 | 22 | 0 | Jeffrey Earnhardt | Contec Inc. Chevrolet | 185 | Running | 0 |
| 33 | 28 | 6 | Ryan Vargas | TikTok Chevrolet | 124 | Running | 0 |
| 34 | 17 | 44 | Tommy Joe Martins | Gilreath Farms Red Angus Chevrolet | 73 | Engine | 3 |
| 35 | 32 | 5 | Matt Mills | JF Electric Toyota | 36 | Accident | 0 |
| 36 | 26 | 90 | Donald Theetge | Theetge Chevrolet Chevrolet | 27 | Accident | 0 |
| 37 | 35 | 93 | CJ McLaughlin | SciAps Chevrolet | 27 | Accident | 0 |