Whelen Engineering and Action Express Return to IMSA in 2021
Felipe Nasr and Pipo Derani will return in 2021 to the No. 31 Whelen Engineering Cadillac DPi-V.R to run for the IMSA WeatherTech SportsCar DPi Championship.
"We are very happy to announce that we will back in 2021 with the same full time, driver line-up as this year," Gary Nelson, Action Express team manager, said. "We have a great core of technical and mechanical staff who communicate well with our drivers. In racing, people move around a lot, so keeping our core has been one of the keys to our success.
"Felipe and Pipo round out that core. They are both fast and complement each other on and off the track. They are committed to doing what it takes to win, and when we cannot, they maximize our points paying positions on the track. That is how we have dominated the IMSA Michelin Endurance Cup Championship the last few years. We will again have Mike Conway with us for the longer events. Mike is very familiar with our team and our expectations. We would like to thank Filipe Albuquerque for his contributions to the team and congratulate him on his WEC P2 Championship this season. We wish him the best in the future."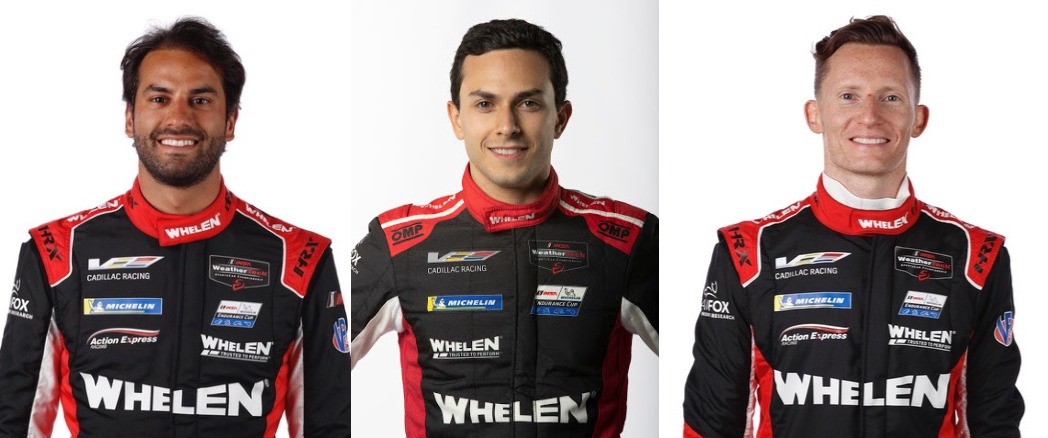 Whelen Engineering will continue as the team's primary sponsor. Whelen Engineering is a global leader in the emergency warning industry, and it will enter its fifth year as the title sponsor with Action Express Racing.
"We are also proud to be representing Whelen Engineering on the racetrack again in 2021," Nelson continued. "Sonny Whelen and the entire Whelen Engineering company is behind our effort, and we are looking forward to providing them and their great customers with even more excitement in 2021."
Nasr has a championship with the team (2018) and will be looking for another one.
"Super excited to be staying and continuing to work with Action Express and Whelen Engineering for 2021," Nasr said. "I love this team. The atmosphere is great. I have a good bond with everyone on the team. They're passionate real racers. I have been with the team since 2018 when we won the championship. We were second last year and this year we are having a great fight. I am looking forward to next year to keep pushing forward with the team. We expect to win. A big thanks to Whelen Engineering and all of the folks there like Sonny and Christine Whelen.
"The competition will be tough again. But I am confident I am in the best position to fight for a championship again next year. Pipo is a great teammate. He is easy to work with and we like similar things in the set-up of the car. We welcome Mike [Conway] back for the endurance races. We will be tough to beat next year, starting with grabbing that win at Daytona in January!"
Derani is ready to continue winning races and championships with the team in 2021
"I am extremely proud to be back for another IMSA season with Action Express Racing and Whelen Engineering in 2021," Derani said. "Since joining the team in 2019, we have achieved a great level of success together including an amazing win at the 12 Hours of Sebring and also securing the IMSA Michelin Endurance Cup Championship last year. I am still amazed with the level of professionalism that this group consistently operates at every race. It is a pleasure to commit to another season knowing that together we have a team and car to fight for more wins and championships."
The IMSA WeatherTech Championship with travel to Sebring Florida this week for the final race of the 2020 Championships. The Whelen Engineering team is currently third in overall points and second in the IMSA Michelin Endurance Cup Championship. Gabby Chaves will join Pipo Derani and Felipe Nasr as they fight to end 2020 with another overall race win and potentially first place in both Championships.
The team will closeout the IMSA WeatherTech Championship season with this weekend's running of the Mobil 1 Twelve Hours of Sebring at Sebring International Raceway.
The 2021 IMSA WeatherTech SportsCar Championship season will kick-off with the traditional Roar Before the 24 at Daytona International Speedway Jan. 29-31, 2021.