12H Sebring: Van der Zande tops Thursday Practice
Renger van der Zande put the #10 Wayne Taylor Racing Cadillac DPi-V.R to the top of the time sheets in the second practice session of the weekend at Sebring International Raceway.
Van der Zande put up a lap late at 1m47.478s to edge out the No. 5 JDC-Miller Motorsports Cadillac of Sebastien Bourdais by 0.167 seconds.
It led a Cadillac 1-2-3 sweep, with Pipo Derani third in the No. 31 Action Express Racing entry.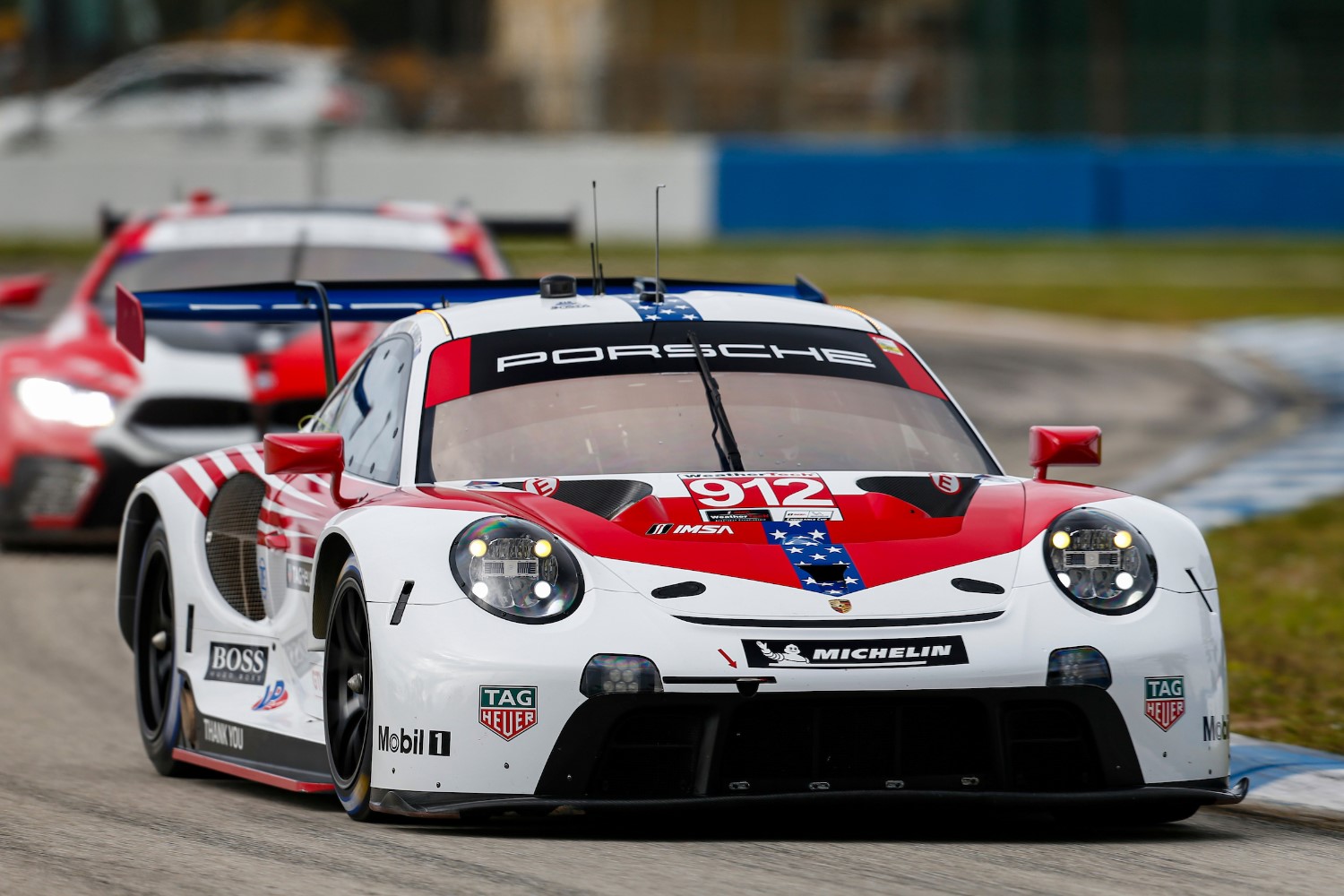 Porsche was 1-2 run in GT Le Mans, with the No. 912 Porsche 911 RSR-19 of Laurens Vanthoor outpacing teammate Fred Makowiecki, with Jordan Taylor and Antonio Garcia third in the No. 3 Chevrolet Corvette C8.R.
GT Daytona was led by a pair of Lamborghini Huracan GT3 Evos, with Steijn Schothorst recording a 2:02.352 lap time in the No. 11 Grasser Racing Team entry.
Thursday Fast Times
| | | | | | | | | |
| --- | --- | --- | --- | --- | --- | --- | --- | --- |
| POS | NO. | CL | TEAM | CAR | Drivers | TIME | BEHIND | GAP |
| 1 | 10 | DPi | Konica Minolta Cadillac DPi-V.R | Cadillac DPi | Renger van der Zande/Ryan Briscoe/Scott Dixon | 1:47.478 | +0.000s | +0.000s |
| 2 | 5 | DPi | Mustang Sampling Racing / JDC-Miller | Cadillac DPi | Tristan Vautier/Sebastien Bourdais/Loic Duval | 1:47.645 | +0.167 | +0.167 |
| 3 | 31 | DPi | Whelen Engineering Racing | Cadillac DPi | Felipe Nasr/Pipo Derani/Gabby Chaves | 1:48.241 | +0.763 | +0.596 |
| 4 | 77 | DPi | Mazda Motorsports | Mazda DPi | Oliver Jarvis/Tristan Nunez/Olivier Pla | 1:48.335 | +0.857 | +0.094 |
| 5 | 7 | DPi | ACURA TEAM PENSKE | Acura DPi | Helio Castroneves/Ricky Taylor/Alexander Rossi | 1:48.458 | +0.980 | +0.123 |
| 6 | 6 | DPi | ACURA TEAM PENSKE | Acura DPi | Juan Pablo Montoya/Dane Cameron/Simon Pagenaud | 1:48.857 | +1.379 | +0.399 |
| 7 | 55 | DPi | Mazda Motorsports | Mazda DPi | Jonathan Bomarito/Harry Tincknell/Ryan Hunter-Reay | 1:49.055 | +1.577 | +0.198 |
| 8 | 85 | DPi | JDC-Miller MotorSports | Cadillac DPi | Stephen Simpson/Matheus Leist/Scott Andrews | 1:49.178 | +1.700 | +0.123 |
| 9 | 8 | LMP2 | Tower Motorsport by Starworks | ORECA LMP2 07 | John Farano/Mikkel Jensen/David Heinemeier Hansson | 1:51.667 | +4.189 | +2.489 |
| 10 | 52 | LMP2 | PR1 Mathiasen Motorsports | ORECA LMP2 07 | Patrick Kelly/Simon Trummer/Scott Huffaker | 1:51.931 | +4.453 | +0.264 |
| 11 | 51 | LMP2 | Inter Europol Competition | ORECA LMP2 07 | Jakub Smiechowski/Naveen Rao/Matthew Bell | 1:52.951 | +5.473 | +1.020 |
| 12 | 38 | LMP2 | Performance Tech Motorsports | ORECA LMP2 07 | Don Yount/Patrick Byrne/Guy Cosmo | 1:56.253 | +8.775 | +3.302 |
| 13 | 912 | GTLM | Porsche GT Team | Porsche 911 RSR – 19 | Earl Bamber/Laurens Vanthoor/Neel Jani | 1:57.975 | +10.497 | +1.722 |
| 14 | 911 | GTLM | Porsche GT Team | Porsche 911 RSR – 19 | Nick Tandy/Fred Makowiecki/Earl Bamber | 1:58.172 | +10.694 | +0.197 |
| 15 | 3 | GTLM | Corvette Racing | Chevrolet Corvette C8.R | Antonio Garcia/Jordan Taylor/Nicky Catsburg | 1:58.444 | +10.966 | +0.272 |
| 16 | 24 | GTLM | BMW Team RLL | BMW M8 GTE | Jesse Krohn/John Edwards/Augusto Farfus | 1:58.606 | +11.128 | +0.162 |
| 17 | 25 | GTLM | BMW Team RLL | BMW M8 GTE | Bruno Spengler/Connor De Phillippi/Colton Herta | 1:59.143 | +11.665 | +0.537 |
| 18 | 4 | GTLM | Corvette Racing | Chevrolet Corvette C8.R | Oliver Gavin/Tommy Milner/Marcel Fassler | 1:59.544 | +12.066 | +0.401 |
| 19 | 11 | GTD | GRT Grasser Racing Team | Lamborghini Huracan GT3 | Richard Heistand/Steijn Schothorst/Franck Perera | 2:02.352 | +14.874 | +2.808 |
| 20 | 48 | GTD | Paul Miller Racing | Lamborghini Huracan GT3 | Bryan Sellers/Madison Snow/Corey Lewis | 2:02.450 | +14.972 | +0.098 |
| 21 | 16 | GTD | Wright Motorsports | Porsche 911 GT3R | Ryan Hardwick/Patrick Long/Jan Heylen | 2:02.478 | +15.000 | +0.028 |
| 22 | 14 | GTD | AIM VASSER SULLIVAN | Lexus RC F GT3 | Aaron Telitz/Jack Hawksworth/Kyle Kirkwood | 2:02.591 | +15.113 | +0.113 |
| 23 | 12 | GTD | AIM VASSER SULLIVAN | Lexus RC F GT3 | Frankie Montecalvo/Townsend Bell/Michael De Quesada | 2:02.957 | +15.479 | +0.366 |
| 24 | 86 | GTD | Meyer Shank Racing w/Curb-Agajanian | Acura NSX GT3 | Mario Farnbacher/Matt McMurry/Shinya Michimi | 2:03.065 | +15.587 | +0.108 |
| 25 | 96 | GTD | Turner Motorsport | BMW M6 GT3 | Robby Foley/Dillon Machavern | 2:03.235 | +15.757 | +0.170 |
| 26 | 23 | GTD | Heart Of Racing Team | Aston Martin Vantage GT3 | Ian James/Roman De Angelis/Darren Turner | 2:03.284 | +15.806 | +0.049 |
| 27 | 74 | GTD | Riley Motorsports | Mercedes-AMG GT3 | Gar Robinson/Lawson Aschenbach/Marc Miller | 2:03.321 | +15.843 | +0.037 |
| 28 | 63 | GTD | Scuderia Corsa | Ferrari 488 GT3 | Cooper MacNeil/Alessandro Balzan/Jeff Westphal | 2:03.374 | +15.896 | +0.053 |
| 29 | 44 | GTD | GRT Magnus | Lamborghini Huracan GT3 | John Potter/Andy Lally/Spencer Pumpelly | 2:03.666 | +16.188 | +0.292 |
| 30 | 57 | GTD | Heinricher Racing w/MSR Curb-Agajanian | Acura NSX GT3 | Joey Hand/Misha Goikhberg/Trent Hindman | 2:03.811 | +16.333 | +0.145 |
| 31 | 30 | GTD | Team Hardpoint | Audi R8 LMS GT3 | Rob Ferriol/Andrew Davis/Pierre Kaffer | 2:04.536 | +17.058 | +0.725 |