12H of Sebring: Taylor puts Penske Acura on pole, Garcia wins GTLM pole
Ricky Taylor has won pole for the Mobil 1 Twelve Hours of Sebring in a closely fought qualifying session for Saturday's IMSA WeatherTech SportsCar Championship title decider.
Taylor put up a lap of 1m46.904s lap in the No. 7 Team Penske Acura ARX-05 to edge out title contender Renger van der Zande's #10 Cadillac by 0.251 seconds.
The sister Penske #6 Acura of Dane Cameron was third, just 0.266 seconds slower than Taylor.
It marked Taylor's 11th career WeatherTech Championship pole, in his last outing for Team Penske.
Taylor, who will share the No. 7 Acura with Helio Castroneves and Alexander Rossi, is co-leading the Daytona Prototype international (DPi) driver standings with Castroneves, while also helping the No. 7 lead the team championship.
They are just two points ahead of the No. 10 Cadillac and Van der Zande and his full-season co-driver, Ryan Briscoe. The No. 10 Wayne Taylor Racing entry will be joined Saturday by six-time IndyCar Series champion Scott Dixon.
"It's such an amazing way to end a championship," Taylor said of the duel with his dad's team. "As a fan, you want it to come down to the last race. Basically, whoever wins the race wins the championship. I don't think you could have scripted it any better. To be racing against the (No.) 10 car, of all teams, is really weird, but it's fun. I wouldn't want to be racing against anybody else."
The No. 31 Whelen Engineering Racing Cadillac and driver Pipo Derani have remote hopes of pulling out the team and driver titles, sitting nine points behind the No. 7. Derani, who'll share the No. 31 with Felipe Nasr and Gabby Chaves, qualified sixth on Friday. Derani, Nasr and Eric Curran won last year's Twelve Hours of Sebring in the No. 31.
Kelly Adapts and Puts No. 52 ORECA on LMP2 Pole
Patrick Kelly expected the unexpected on his way to winning the pole in the Le Mans Prototype 2 (LMP2) class with a lap of 1:51.373 (120.890 mph) in the No. 52 PR1 Mathiasen Motorsports ORECA LMP2 07.
"It was 'Be ready to adapt,'" Kelly said. "I went into it and was like, 'OK, send it, but be ready to adapt. Don't plan on it being the same car again.' It hasn't been the same car in any two practice sessions yet."
Kelly, who shares the No. 52 with Simon Trummer and Scott Huffaker, topped the best lap by the No. 51 Inter Europol Competition ORECA LMP2 07 driven by Naveen Rao, who is fresh from winning the IMSA Prototype Challenge championship last month with Matthew Bell. Rao, Bell and Jakub Smiechowski will share the No. 51.
No. 3 Corvette on GTLM pole
Corvette Racing's Antonio Garcia claimed his second pole position of the season Friday ahead of the Mobil 1 Twelve Hours of Sebring, adding yet another exclamation point to a championship season for the No. 3 Mobil 1/SiriusXM Chevrolet Corvette C8.R.
Garcia set a GT Le Mans (GTLM) track record in time trials for Saturday's IMSA WeatherTech SportsCar Championship season finale – 1:55.456 (116.615 mph) in the mid-engine Corvette that he shares will GTLM Drivers co-champion Jordan Taylor as well as Nicky Catsburg.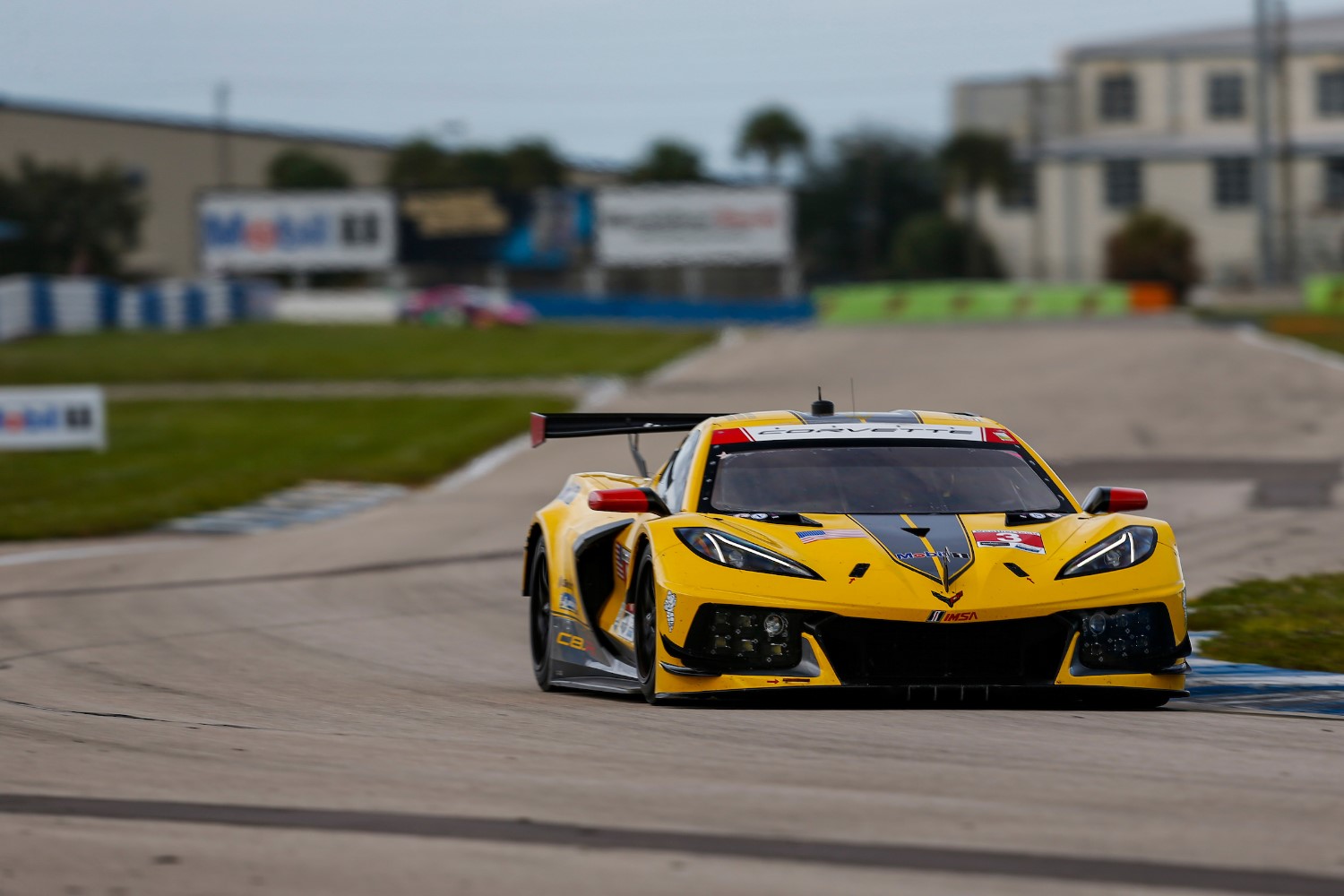 Garcia's effort was the seventh pole position for Corvette Racing this season and sixth for the No. 3 C8.R. Garcia also claimed pole position for the 10-hour Petit Le Mans at Michelin Raceway Road Atlanta, and Taylor captured poles at Sebring in July, Mid-Ohio, Charlotte and WeatherTech Raceway Laguna Seca. Gavin, who will make his final full-season appearance for Corvette Racing, was the GTLM pole-winner at Daytona in July.
"It was a perfect lap," said Garcia. "From yesterday, we flipped around the car a little bit. With not as much track time as in years past, qualifying is almost like practice for us, too. We gambled on something different and it seems to be working. I'm happy with that. The Corvette Racing guys did a fantastic job. It's been an amazing season. This year I had my first pole at Petit Le Mans and today is my first pole at Sebring. I'm very, very happy for that, too. That defines how 2020 has been for us. Let's hope we can carry on that way. The C8.R seems to be really good although I'm expecting a lot of close fights with BMW and Porsche. We are starting in the best place, so let's see what tomorrow brings. It's not a two-hour, 40-minute one like in July. Tomorrow will the classic race where we finish at night. We'll see what the new Sebring date brings us."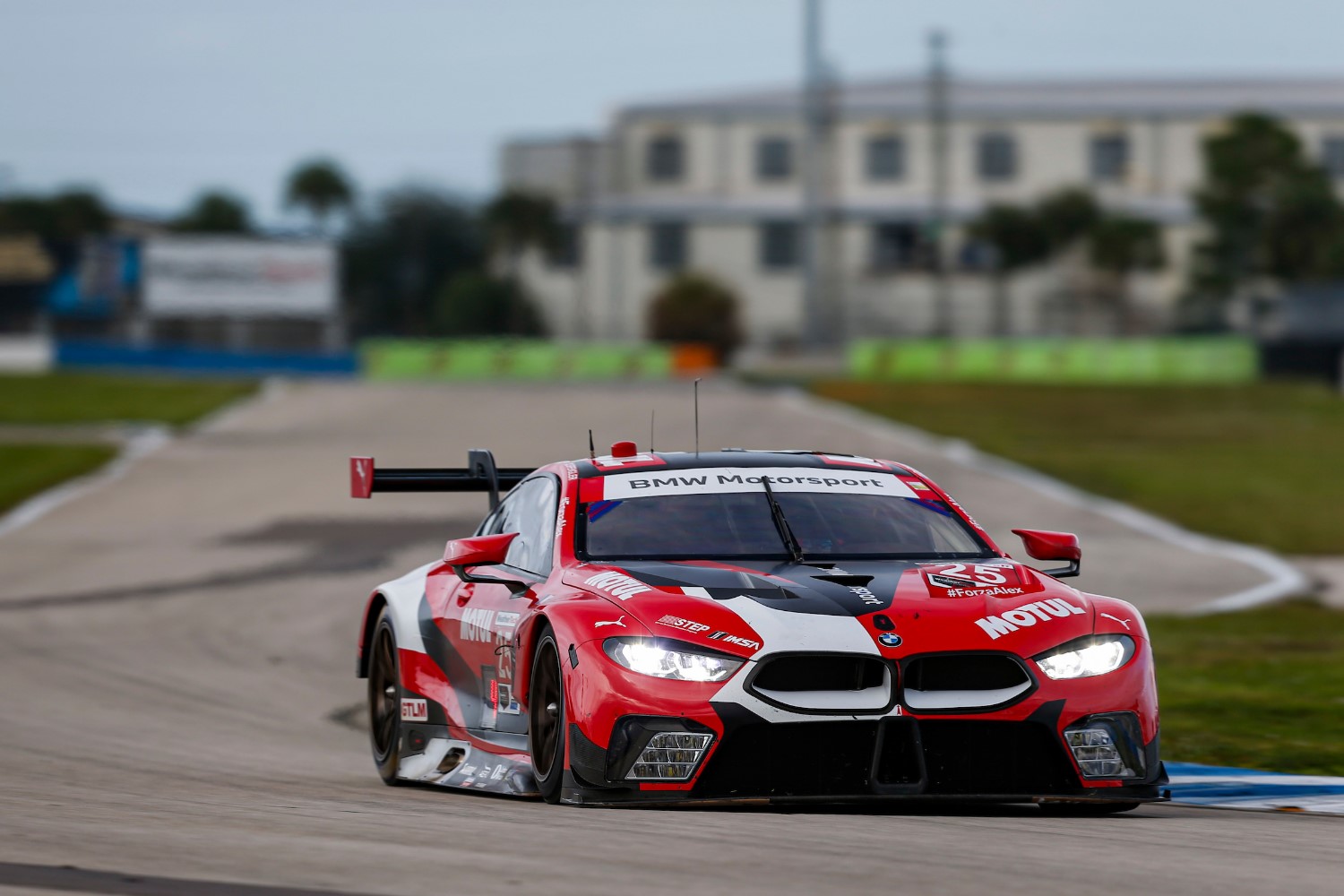 "P2 is certainly a good place to start the 12 Hour. We have focused primarily on race pace this week and hopefully all our efforts will translate into the result we want – the win."
Heylen takes GTD pole
Jan Heylen scored his first career WeatherTech Championship class pole  with a 2m00.844s lap time in the No. 16 Wright Motorsports Porsche 911 GT3 R to outpace the No. 30 Team Hardpoint Audi R8 LMS GT3 Evo of Andrew Davis by 0.702 seconds.
Heylen will share driving duties with full-season drivers Patrick Long and Ryan Hardwick.
Team Hardpoint's Andrew Davis qualified the No. 30 GridRival/Team Hardpoint Audi R8 LMS GT3 second in Friday's 15-minute qualifying session.
Davis turned a lap of 2:01.546 (110.772 mph) on his sixth trip around the 17-turn, 3.74-mile circuit. This is Davis' second appearance with Team Hardpoint, joining the team previously at Michelin Raceway Road Atlanta for the Petit LeMans endurance race.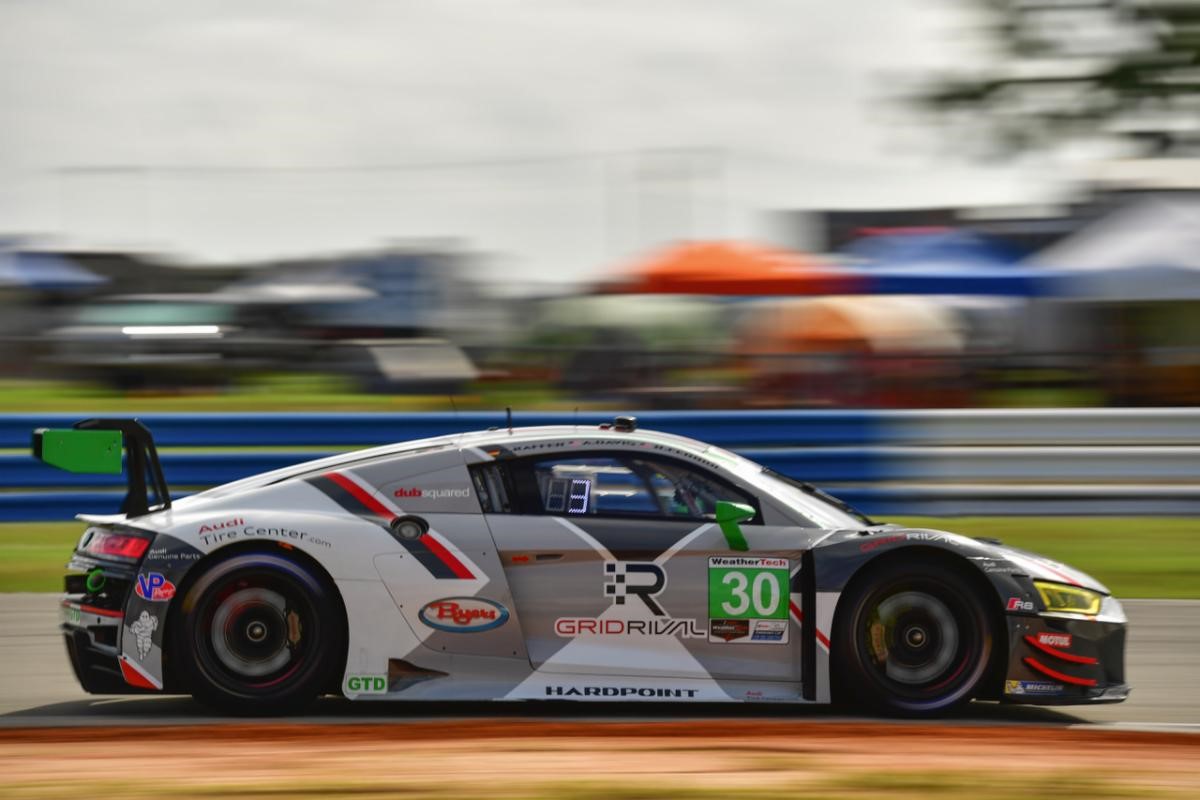 "These guys have been working hard, working together, working as a unit to get better," Davis said. "It's nice to see that positive attitude and a willingness to improve the car and improve the team. Everybody's on the same page. I think that came together in qualifying where the Audi R8 LMS GT3 was running great, I was able to push it. We did a good job with the strategy on when to go out, to wait on the tires to come up to pressure, and then just hit it when everything was right.
"You can say it's a 12-hour race and it doesn't matter where you start, but in reality, not only is it a great morale boost but you can start to control the event. Ideally when you're up front, it's easier. You're in less of a mess. You're the first one to get to the corners, you have less traffic, you can work your way through. It's just step one of a 12-hour plan. Hopefully that plays well into our strategy and will open it up a little bit so we can hit the ground running. I'm really proud of the team, really appreciative of the opportunity from Team Hardpoint, Rob Ferriol and Audi Sport customer racing, and glad I could make the most of it in qualifying."
The Mobil 1 Twelve Hours of Sebring is set for 10:10 a.m. ET on Saturday. NBCSN will air the race live from 10 a.m.-3 p.m., and 6-10:30 p.m. ET; live network coverage on NBC is 3-6 p.m. TrackPass on NBC Sports Gold will offer live streaming of the full race starting at 10:05 a.m. ET. In addition, IMSA Radio will broadcast the race on IMSA.com, which also will host live timing and scoring. The race also will air on XM channel 202 and SiriusXM Online 972.
Qualifying Results
| | | | | | | | | |
| --- | --- | --- | --- | --- | --- | --- | --- | --- |
| POS | Class | NO. | TEAM | Car | Drivers | TIME | BEHIND | GAP |
| 1 | DPi | 7 | ACURA TEAM PENSKE | Acura DPi | Helio Castroneves/Ricky Taylor/Alexander Rossi | 01:46.9 | 0.000s | 0.000s |
| 2 | DPi | 10 | Konica Minolta Cadillac DPi-V.R | Cadillac DPi | Renger van der Zande/Ryan Briscoe/Scott Dixon | 01:47.1 | 0.251 | 0.251 |
| 3 | DPi | 6 | ACURA TEAM PENSKE | Acura DPi | Juan Pablo Montoya/Dane Cameron/Simon Pagenaud | 01:47.1 | 0.266 | 0.015 |
| 4 | DPi | 5 | Mustang Sampling Racing / JDC-Miller MotorSports | Cadillac DPi | Tristan Vautier/Sebastien Bourdais/Loic Duval | 01:47.2 | 0.335 | 0.069 |
| 5 | DPi | 55 | Mazda Motorsports | Mazda DPi | Jonathan Bomarito/Harry Tincknell/Ryan Hunter-Reay | 01:47.2 | 0.371 | 0.036 |
| 6 | DPi | 31 | Whelen Engineering Racing | Cadillac DPi | Felipe Nasr/Pipo Derani/Gabby Chaves | 01:47.3 | 0.453 | 0.082 |
| 7 | DPi | 77 | Mazda Motorsports | Mazda DPi | Oliver Jarvis/Tristan Nunez/Olivier Pla | 01:47.5 | 0.6 | 0.147 |
| 8 | DPi | 85 | JDC-Miller MotorSports | Cadillac DPi | Stephen Simpson/Matheus Leist/Scott Andrews | 01:47.7 | 0.822 | 0.222 |
| 9 | LMP2 | 52 | PR1 Mathiasen Motorsports | ORECA LMP2 07 | Patrick Kelly/Simon Trummer/Scott Huffaker | 01:51.4 | 4.499 | 3.677 |
| 10 | LMP2 | 51 | Inter Europol Competition | ORECA LMP2 07 | Jakub Smiechowski/Naveen Rao Matthew/Matthew Bell | 01:53.1 | 6.273 | 1.774 |
| 11 | LMP2 | 38 | Performance Tech Motorsports | ORECA LMP2 07 | Don Yount/Patrick Byrne/Guy Cosmo | 01:54.0 | 7.171 | 0.898 |
| 12 | LMP2 | 8 | Tower Motorsport by Starworks | ORECA LMP2 07 | John Farano/Mikkel Jensen/David Heinemeier Hansson | 01:54.2 | 7.32 | 0.149 |
| 13 | GTLM | 3 | Corvette Racing | Chevrolet Corvette C8.R | Antonio Garcia/Jordan Taylor/Nicky Catsburg | 01:55.5 | 8.582 | 1.262 |
| 14 | GTLM | 25 | BMW Team RLL | BMW M8 GTE | Bruno Spengler/Connor De Phillippi/Colton Herta | 01:56.1 | 9.242 | 0.660 |
| 15 | GTLM | 24 | BMW Team RLL | BMW M8 GTE | Jesse Krohn/John Edwards/Augusto Farfus | 01:56.3 | 9.442 | 0.200 |
| 16 | GTLM | 4 | Corvette Racing | Chevrolet Corvette C8.R | Oliver Gavin/Tommy Milner/Marce Fassler | 01:56.4 | 9.572 | 0.130 |
| 17 | GTLM | 911 | Porsche GT Team | Porsche 911 RSR – 19 | Nick Tandy/Fred Makowiecki/Earl Bamber | 01:56.8 | 9.966 | 0.394 |
| 18 | GTLM | 912 | Porsche GT Team | Porsche 911 RSR – 19 | Earl Bamber/Laurens Vanthoor/Neel Jani | 01:57.8 | 10.900 | 0.934 |
| 19 | GTD | 16 | Wright Motorsports | Porsche 911 GT3R | Ryan Hardwick/Patrick Long/Jan Heylen | 02:00.8 | 13.97 | 3.070 |
| 20 | GTD | 30 | Team Hardpoint | Audi R8 LMS GT3 | Rob Ferriol/Andrew Davis/Pierre Kaffer | 02:01.5 | 14.672 | 0.702 |
| 21 | GTD | 14 | AIM VASSER SULLIVAN | Lexus RC F GT3 | Aaron Telitz/Jack Hawksworth/Kyle Kirkwood | 02:01.6 | 14.731 | 0.059 |
| 22 | GTD | 11 | GRT Grasser Racing Team | Lamborghini Huracan GT3 | Richard Heistand/Steijn Schothorst/Franck Perera | 02:01.7 | 14.778 | 0.047 |
| 23 | GTD | 63 | Scuderia Corsa | Ferrari 488 GT3 | Cooper MacNeil/Alessandro Balzan/Jeff Westphal | 02:01.8 | 14.928 | 0.15 |
| 24 | GTD | 12 | AIM VASSER SULLIVAN | Lexus RC F GT3 | Frankie Montecalvo/Townsend Bell/Michael De Quesada | 02:01.8 | 14.965 | 0.037 |
| 25 | GTD | 96 | Turner Motorsport | BMW M6 GT3 | Robby Foley/Dillon Machavern/Nick Yelloly | 02:02.2 | 15.336 | 0.371 |
| 26 | GTD | 86 | Meyer Shank Racing w/Curb-Agajanian | Acura NSX GT3 | Mario Farnbacher/Matt McMurry/Shinya Michimi | 02:02.3 | 15.412 | 0.076 |
| 27 | GTD | 48 | Paul Miller Racing | Lamborghini Huracan GT3 | Bryan Sellers/Madison Snow/Corey Lewis | 02:02.4 | 15.561 | 0.149 |
| 28 | GTD | 74 | Riley Motorsports | Mercedes-AMG GT3 | Gar Robinson/Lawson Aschenbach/Marc Miller | 02:02.7 | 15.815 | 0.254 |
| 29 | GTD | 23 | Heart Of Racing Team | Aston Martin Vantage GT3 | Ian James/Roman De Angelis/Darren Turner | 02:02.7 | 15.831 | 0.016 |
| 30 | GTD | 57 | Heinricher Racing w/MSR Curb-Agajanian | Acura NSX GT3 | Joey Hand/Misha Goikhberg/Trent Hindman | 02:03.2 | 16.279 | 0.448 |
| 31 | GTD | 44 | GRT Magnus | Lamborghini Huracan GT3 | John Potter/Andy Lally/Spencer Pumpelly | 02:04.4 | 17.489 | 1.21 |