Sebring Hour 1: #6 Penske Acura leads, #7 Acura blows turbo
After 1 Hour Dane Cameron has assumed the early lead of the Mobil 1 Twelve Hours of Sebring after turbo issues struck the championship-leading No. 7 Team Penske Acura ARX-05 of Ricky Taylor.
Taylor, who had led the IMSA WeatherTech SportsCar Championship title-decider from pole, pitted on Lap 22 with a boost-related issue. An intercooler was replaced on the car, but they are 9 laps down.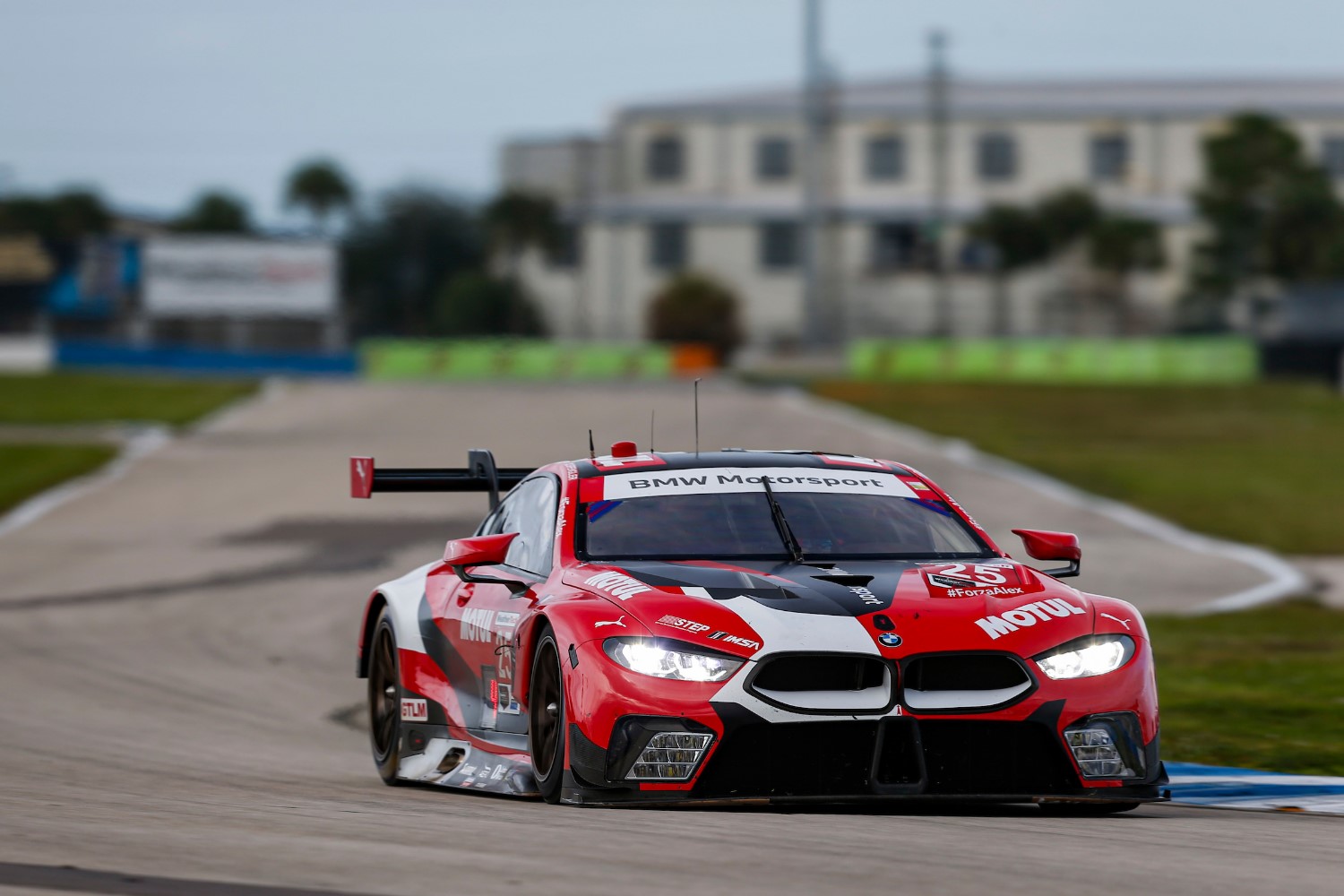 Taylor and co-driver Helio Castroneves headed into the race with only a two-point lead over Wayne Taylor Racing's Ryan Briscoe and Renger van der Zande, who was assessed a drive-through penalty for an improper start procedure.
The Dutchman lost around 30 seconds and currently runs seventh, with Pipo Derani third in the No. 31 Action Express Racing Cadillac DPi-V.R, which has suddenly found itself back in title contention.
Connor De Phillippi leads GT Le Mans in the No. 25 Team RLL BMW M8 GTD following a pass on Antonio Garcia at the start of the race.
The No. 63 Ferrari leads in GTD.
Hour 1 Standings
| | | | | | | | |
| --- | --- | --- | --- | --- | --- | --- | --- |
| POS | PIC | CLASS | CURRENT DRIVER | NO./CAR | LAPS | BEHIND | STOPS |
| 1 | 1 | DPi | Dane Cameron | 6 Acura | 31 | –.— | 3 |
| 2 | 2 | DPi | Sebastien Bourdais | 5 Cadillac | 31 | 0.833 | 3 |
| 3 | 3 | DPi | Pipo Derani | 31 Cadillac | 31 | 4.612 | 2 |
| 4 | 4 | DPi | Oliver Jarvis | 77 Mazda | 31 | 23.932 | 2 |
| 5 | 5 | DPi | Ryan Hunter Reay | 55 Mazda | 31 | 24.492 | 2 |
| 6 | 6 | DPi | Matheus Leist | 85 Cadillac | 31 | 35.615 | 3 |
| 7 | 7 | DPi | Renger van der Zande | 10 Cadillac | 31 | 36.962 | 3 |
| 8 | 1 | LMP2 | Patrick Kelly | 52 ORECA | 30 | 1 lap | 2 |
| 9 | 1 | GTLM | Connor DePhillippi | 25 BMW M8 GTD | 29 | 2 laps | 2 |
| 10 | 2 | GTLM | Antonio Garcia | 3 Chevrolet Corvette C8.R | 29 | 2 laps | 2 |
| 11 | 2 | LMP2 | John Farano | 8 ORECA | 29 | 2 laps | 2 |
| 12 | 3 | GTLM | Earl Bamber | 911 Porsche 911 RSR – 19 | 29 | 2 laps | 2 |
| 13 | 4 | GTLM | Jesse Krohn | 24 BMW M8 GTD | 29 | 2 laps | 2 |
| 14 | 5 | GTLM | Tommy Milner | 4 Chevrolet Corvette C8.R | 29 | 2 laps | 2 |
| 15 | 6 | GTLM | Neel Jani | 912 Porsche 911 RSR – 19 | 29 | 2 laps | 2 |
| 16 | 3 | LMP2 | Patrick Byrne | 38 ORECA | 29 | 2 laps | 2 |
| 17 | 4 | LMP2 | Matthew Bell | 51 ORECA | 28 | 3 laps | 3 |
| 18 | 1 | GTD | Cooper MacNeil | 63 Ferrari 488 | 28 | 3 laps | 2 |
| 19 | 2 | GTD | Madison Snow | 48 Lamborghini Huracan | 28 | 3 laps | 3 |
| 20 | 3 | GTLM | Ryan Hardwick | 16 Porsche 911 GT3R | 28 | 3 laps | 2 |
| 21 | 4 | GTD | Gar Robinson | 74 Mercedes-AMG | 28 | 3 laps | 3 |
| 22 | 5 | GTD | Rob Ferriol | 30 Audi R8 LMS | 28 | 3 laps | 3 |
| 23 | 6 | GTD | Michael De Quesada | 12 Lexus RC F | 28 | 3 laps | 2 |
| 24 | 7 | GTD | Kyle Kirkwood | 14 Lexus RC F | 28 | 3 laps | 2 |
| 25 | 8 | GTD | Robby Foley | 96 BMW M6 | 28 | 3 laps | 2 |
| 26 | 9 | GTD | Misha Goikhberg | 57 Acura NSX | 27 | 4 laps | 1 |
| 27 | 10 | GTD | Steijn Schothorst | 11 Lamborghini Huracan | 27 | 4 laps | 3 |
| 28 | 11 | GTD | Shinya Michimi | 86 Acura NSX | 27 | 4 laps | 2 |
| 29 | 12 | GTD | Ian James | 23 Aston Martin Vantage | 27 | 4 laps | 3 |
| 30 | 13 | GTD | Spencer Pumpelly | 44 Lamborghini Huracan | 27 | 4 laps | 4 |
| 31 | 8 | DPi | Ricky Taylor | 7 Acura | 22 | 9 laps | 3 |