Sebring 12 Hours: #5 Cadillac takes leads at 2/3rd Mark
The No. 5 JDC-Miller Motorsports Cadillac DPi-V.R of Tristan Vautier leads after 8 of 12 hours in the Mobil 1 Twelve Hours of Sebring.
The Frenchman holds a 3.4-second lead over the No. 77 Mazda RT24-P of Tristan Nunez.
Simon Pagenaud runs in third aboard the No. 6 Team Penske Acura ARX-05, which could help their sister car win the drivers' championship.
Felipe Nasr, in the No. 31 Action Express Racing Cadillac, has remained the only championship contender not to have trouble and runs in fourth.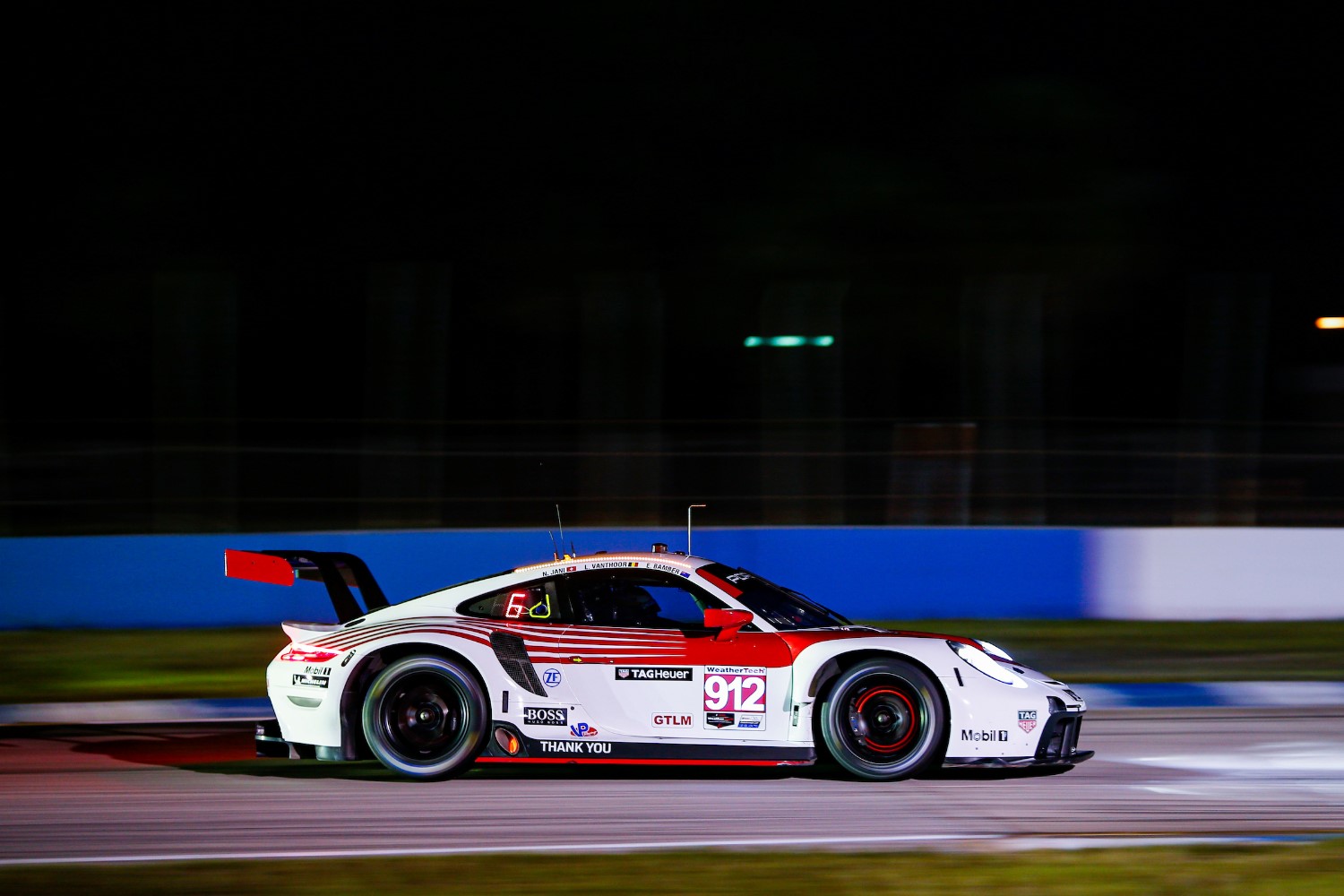 Nasr's co-driver Pipo Derani is in a must-win scenario in order to take the DPi title.
The No. 3 Chevrolet Corvette C8.R of Antonio Garcia leads the way in GT Le Mans
The GT Daytona class sees an equally hard-fought race, currently led by the No. 63 Scuderia Corsa Ferrari 488 GT3 Evo 2020 of Alessandro Balzan.
Hour 8 Standings
| | | | | | | | |
| --- | --- | --- | --- | --- | --- | --- | --- |
| POS | CLASS | PIC | CURRENT DRIVER | NO./CAR | LAPS | BEHIND | STOPS |
| 1 | DPi | 1 | Tristan Vautier | #5 Cadillac | 229 | –.— | 14 |
| 2 | DPi | 2 | Tristan Nunez | #77 Mazda | 229 | 3.437 | 13 |
| 3 | DPi | 3 | Simon Pagenaud | #6 Acura | 229 | 14.698 | 14 |
| 4 | DPi | 4 | Felipe Nasr | #31 Cadillac | 229 | 23.567 | 13 |
| 5 | DPi | 5 | Harry Tincknell | #55 Mazda | 229 | 27.552 | 13 |
| 6 | DPi | 6 | Stephen Simpson | #85 Cadillac | 228 | 1 lap | 13 |
| 7 | DPi | 7 | Ryan Briscoe | #10 Cadillac | 223 | 6 laps | 14 |
| 8 | LMP2 | 1 | Scott Huffaker | #52 ORECA | 223 | 6 laps | 14 |
| 9 | DPi | 8 | Alexander Rossi | #7 Acura | 221 | 8 laps | 15 |
| 10 | LMP2 | 2 | Mikkel Jensen | #8 ORECA | 219 | 10 laps | 14 |
| 11 | LMP2 | 3 | Guy Cosmo | #38 ORECA | 219 | 10 laps | 12 |
| 12 | GTLM | 1 | Antonio Garcia | #3 Chevrolet Corvette C8.R | 218 | 11 laps | 10 |
| 13 | GTLM | 2 | Augusto Farfus | #24 BMW M8 | 218 | 11 laps | 10 |
| 14 | GTLM | 3 | Colton Herta | #25 BMW M8 | 218 | 11 laps | 9 |
| 15 | GTLM | 4 | Fred Makowiecki | #911 Porsche 911 RSR – 19 | 218 | 11 laps | 10 |
| 16 | GTLM | 5 | Laurens Vanthoor | #912 Porsche 911 RSR – 19 | 218 | 11 laps | 9 |
| 17 | GTLM | 6 | Tommy Milner | #4 Chevrolet Corvette C8.R | 213 | 16 laps | 10 |
| 18 | GTD | 1 | Bryan Sellers | #48 Lamborghini Huracan | 210 | 19 laps | 14 |
| 19 | GTD | 2 | Lawson Aschenbach | #74 Mercedes-AMG | 210 | 19 laps | 13 |
| 20 | GTLM | 3 | Jan Heylen | #16 Porsche 911 GT3R | 210 | 19 laps | 12 |
| 21 | GTD | 4 | Andrew Davis | #30 Audi R8 LMS | 210 | 19 laps | 10 |
| 22 | GTD | 5 | Mario Farnbacher | #86 Acura NSX | 210 | 19 laps | 9 |
| 23 | GTD | 6 | Jeff Westphal | #63 Ferrari 488 | 210 | 19 laps | 9 |
| 24 | GTD | 7 | Joey Hand | #57 Acura NSX | 210 | 19 laps | 10 |
| 25 | GTD | 8 | Spencer Pumpelly | #44 Lamborghini Huracan | 210 | 19 laps | 13 |
| 26 | GTD | 9 | Robby Foley | #96 BMW M6 | 209 | 20 laps | 13 |
| 27 | GTD | 10 | Darren Turner | #23 Aston Martin Vantage | 209 | 20 laps | 9 |
| 28 | GTD | 11 | Steijn Schothorst | #11 Lamborghini Huracan | 204 | 25 laps | 11 |
| 29 | LMP2 | 4 | Naveen Rao | #51 ORECA | 204 | 25 laps | 11 |
| 30 | GTD | 12 | Townsend Bell | #12 Lexus RC F | 182 | 47 laps | 11 |
| 31 | GTD | 13 | Kyle Kirkwood | #14 Lexus RC F | 70 | 159 laps | 3 |