L. McMillin/Roeseler win 53rd SCORE Baja 1000
Combining the enthusiasm and rare talent of youth with the experience and wisdom of a Hall of Famer, San Diego's Luke McMillin joined forces with Off-Road Motorsports Hall of Famer Larry Roeseler, Boulevard, Calif. to etch their names afresh in the lasting legacy of the BFGoodrich Tires 53rd SCORE Baja 1000, presented by 4 Wheel Parts Sunday, capturing the overall and SCORE Trophy Truck victory in the iconic Granddaddy of All Desert Races.
The pair defeated a field of 185 starters as well as outlasting the viciously rugged 898.40-mile race course that was the longest in the history of SCORE long loop races.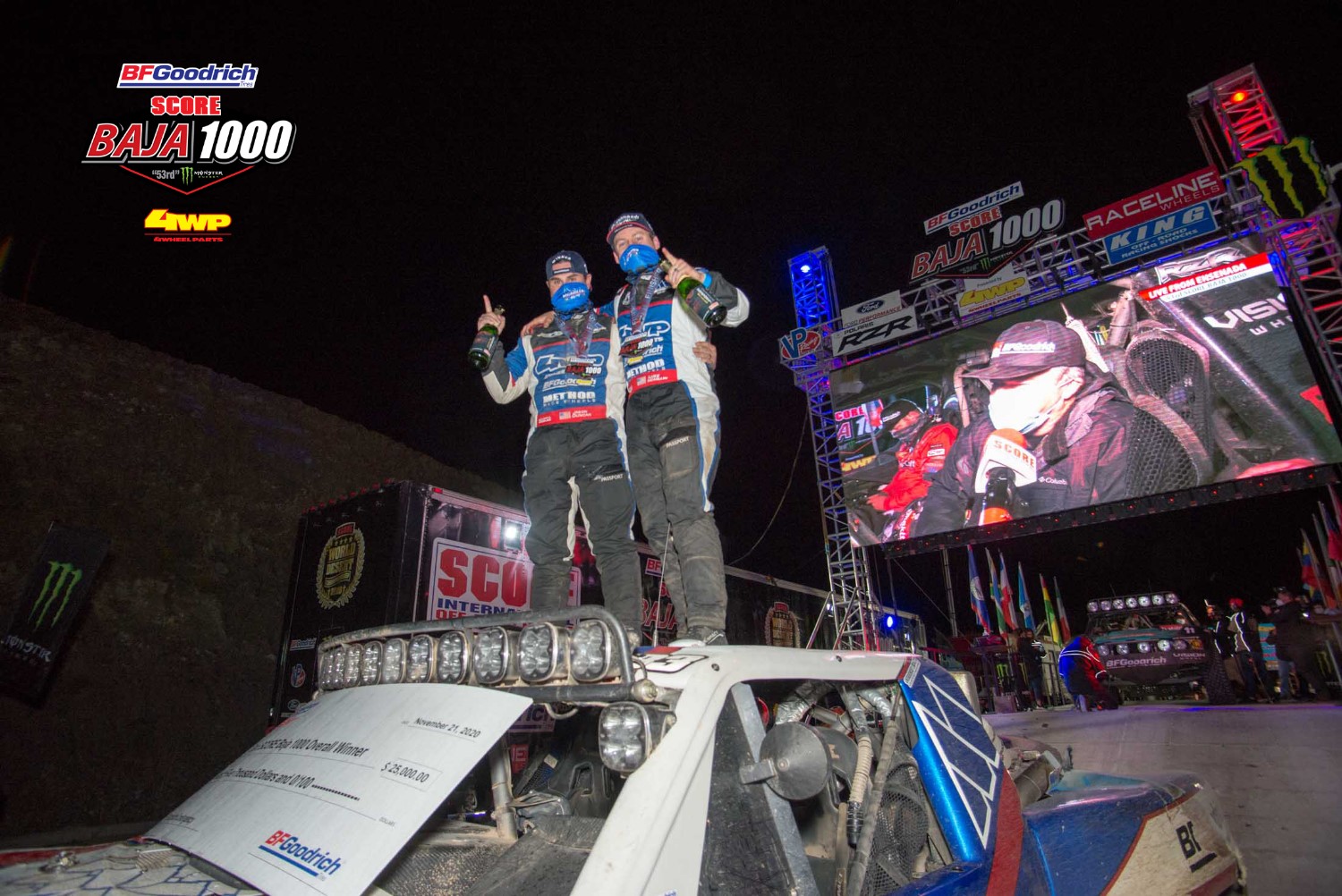 53rd SCORE BAJA 1000
At the pinnacle of motorsports world as the most iconic, oldest, prestigious, toughest and longest continuously held desert race in the world, this year's epic BFGoodrich Tires SCORE Baja 1000, presented by 4 Wheel Parts, was held on an extremely rugged loop-race record 898.40-mile race course over the Northern part of Mexico's Baja California peninsula, starting and finishing on the outskirts of Ensenada. It was the finale of the two-race pandemic-abbreviated two-race 2020 SCORE World Desert Championship.
 Starting and finishing under strict BioSecurity health and safety protocols in Ensenada, Baja California, Mexico, race-week activities and the Granddaddy of All Desert Races did not allow spectators in the start/finish line area.
Spectators, adhering to the protocols, were allowed to watch the race from around the race course.
The race will be televised on a delayed basis as a one-hour special on the ABC TV Network's World of X Games programming. First airing is set for Jan. 3, 2021 on ESPN2. It is being produced by SCORE in association with award-winning BCII TV of Los Angeles. Announcer was Hall of Fame racer Cameron Steele.
Ensenada, "The Off-Road Capital of the World" is a coastal city on the Bahia de Todos Santos area of the Pacific Ocean, 80 miles south of the U.S. border at San Diego.
FINAL FLAG
When the final checkered flag fell, a total of 185 vehicles left the starting line early Friday morning in the elapsed time race. When the course officially closed at 3:30:28 a.m. PT on Sunday there were 111 official finishers for a 60.00 finishing percentage on the extremely challenging course.
The results were made official following complete data tracking review of the devices on each vehicle in the event early on Sunday.
BIG BLUE M MACHINE
A third-generation desert racer from San Diego, Luke McMillin, 27, and veteran 'Mr. Baja' Roeseler, 63, of Boulevard, Calif. worked through the pack of lead SCORE Trophy Trucks that included his brother Daniel McMillin, brothers Alan and Aaron Ampudia of Mexico and all-time winningest SCORE Trophy Truck driver Rob MacCachren to earn the victory.
McMillin/Roeseler drove their No. 83 Mark Racing Racer-built Ford F-150 SCORE Trophy Truck to a penalty-free winning time of 19 hours, 10 minutes and 25 seconds with an average speed of 46.86 miles per hour on the bone-bruising course.
Luke's brother Daniel, who won this year's SCORE Baja 500 fell out of the race over halfway because of mechanical issues. Mexico's Ampudia brothers, who won last year's SCORE Baja 1000, slowed enough by a flat tire midway through the grueling race and MacCachren, endured to the end with MacCachren finishing second and the Ampudia brothers sixth in class.
The Luke McMillin/Larry Roeseler tandem also finished third overall and in SCORE Trophy Truck in last year's SCORE Baja 1000.
With an enduring legacy started by the late family patriarch Corky McMillin, Luke McMillin added to the Big Blue M rich history with his first career victory in the marquee SCORE Trophy Truck division for hi-tech, 950-horsepower unlimited custom trucks.
The Luke McMillin/Larry Roeseler broke up the midway cluster of trucks and gradually got the breathing room needed to earn the hard-earned victory on the brutally rough Baja race course. After penalties were assessed by SCORE adjusting the finishing times of the majority all finishers, McMillin/Roeseler earned a victory margin of 11 minutes, five seconds over the second-place truck. Roeseler, who earned his race-record 14th career SCORE Baja 1000 Overall race victory, started the race and drove to race-mile 430 where Luke McMillin got behind the wheel and powered to the finish line on the Eastern outskirts of Ensenada.
With his victory, McMillin also earned at US$25,000 contingency bonus from long-time SCORE sponsor and race title sponsor BFGoodrich Tires offered to the winner of this year's race. The victory also marked the 31st overall victory in this race for vehicles equipped with BFGoodrich Tires.
Besides his late grandfather Corky, Luke McMillin's champion family members include his brother Daniel McMillin, his dad Mark McMillin, his uncle Scott McMillin, and his cousins Andy McMillin and Jessica McMillin. As a family, the McMillins now have earned a race-record 13 overall victories in the SCORE Baja 1000.
While Luke McMillin earned his first SCORE Baja 1000 overall, his father Mark has five as does his cousin Andy and his uncle Scott has two overalls in this storied race.
THE PODIUM
Joining Luke McMillin on the podium were four-time overall SCORE Baja 1000 winner Rob MacCachren, 55, of Las Vegas who has over 300 career desert, short-course and stadium race victories in second place and champion racer Bryce Menzies, 33, Las Vegas and Andy McMillin, 33, San Diego, a five-time SCORE Baja 1000 overall champion who is Luke's cousin.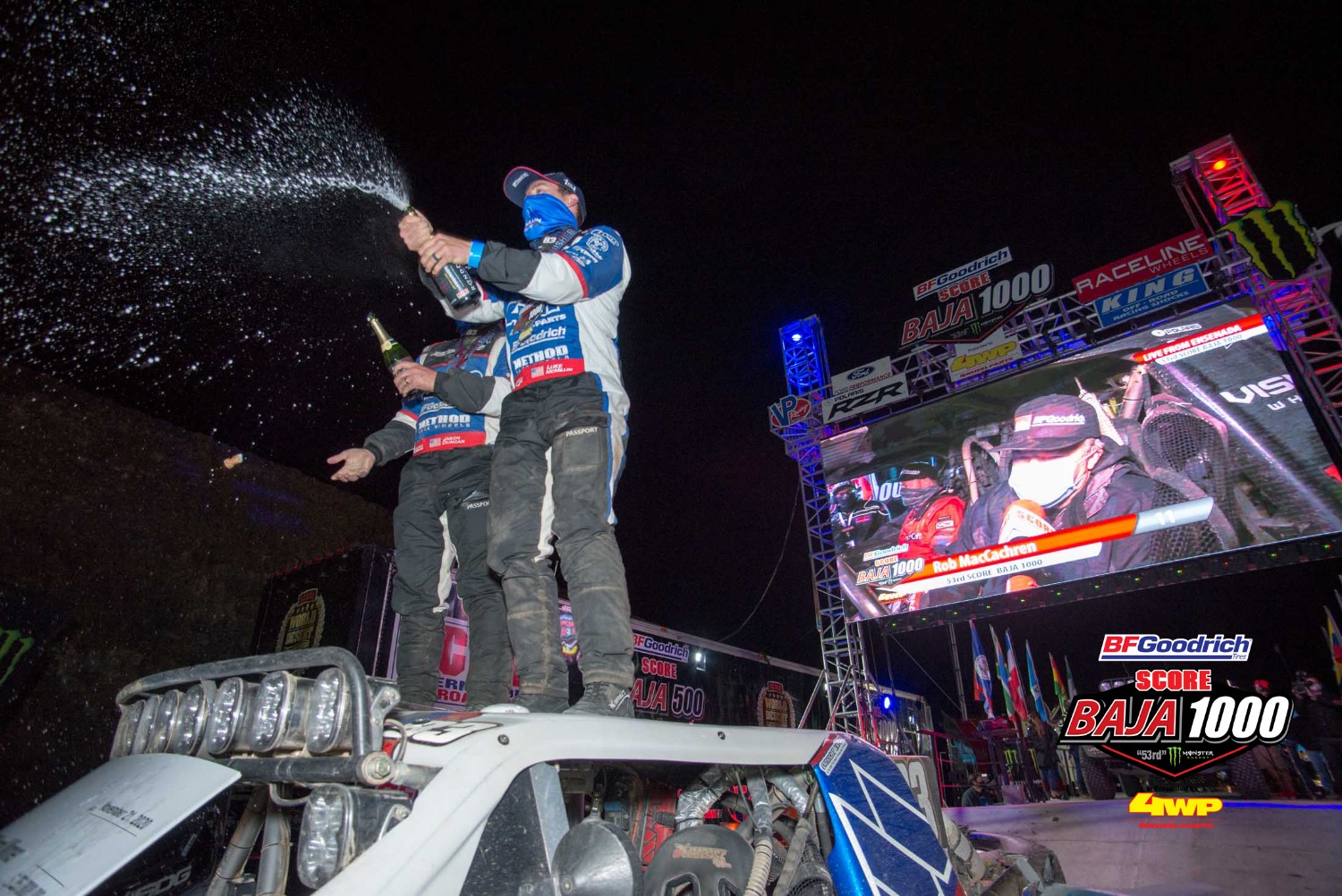 MacCachren and his additional driver Josh Daniel, Vista, Calif., finished in a time of 19:21:30 in the No. 11 MacCachren Motorsports Geiser-built Ford F-150 with an average speed of 46.41mph. Menzies and McMillin finished third in the No. 7 Menzies Motorsports Mason-built Ford Raptor in a time of 19:42:40 while averaging 45.58mph.
SLR M/C SAGA CONTINUES
Continuing their winning ways individually and as a team, Mark Samuels, 31, Yucca Valley, Calif. and his teammates Justin Morgan, 30, El Cajon, Calif. and Justin Jones, 29, Murrieta, Calif. who won their 12th consecutive overall motorcycle title in a SCORE race on their No. 1x Slam Life Racing Honda CRF450X.
Winning their 10th straight race as a team as a team in the SCORE World Desert Championship, the super team finished the grueling course in a penalty-free time of 20:50:30 with an average speed of 43.11 miles per hour.
Morgan won the SCORE Baja 1000 last year with other teammates as both Samuels and Jones were sidelined with injuries.
Morgan has 14 straight SCORE race wins over the last four years. Individually this was the fifth SCORE Baja 1000 overall victory for Samuels and fourth overall for both Morgan for Jones.
Samuels started the race and quickly switched to Justin Morgan. Justin Morgan rode to race mile 124. Justin Jones rode from race mile 124 to race mile to 303. Samuels rode again from race mile 303 to race mile to 604. Morgan from rode race mile 604 to the finish.
The victory also earned Honda motorcycles its race-record 30th overall motorcycle victory in the SCORE Baja 1000.
SIX OF TOP 10 OVERALL SCORE TROPHY TRUCKS
Besides podium finishers L. McMillin/Roeseler, MacCachren/Daniel, Menzies/A. McMillin and the Ampudia brothers, six of 10 the top 10 overall four-wheel vehicles were SCORE Trophy Trucks. SCORE Trophy Truck is the marquee racing division in the sports for hig-tech, 950-horsepower unlimited custom trucks. The class was created by Sal Fish, who owned SCORE for 38 years, created the 'Monsters of the Desert' in 1994.
Finishing fourth overall and in SCORE Trophy Truck was Cameron Steele, 52, of San Clemente, Calif. (No. 16 Ford Raptor-Geiser), fifth overall and in SCORE Trophy Truck was Las Vegas' Tim Herbst (No. 19 Ford F-150-Herbst/Smith).
Seventh overall and winning the Trophy Truck Spec class was Jeff Bader, 39, Ladera Ranch, Calif. (No. 261 Brenthel-Chevy), eighth was Tim Herbst's son Pierce Herbst, 18 of Las Vegas (second in Trophy Truck Spec, No. 264 Herbst/Smith-Chevy).
Ninth overall was Class 1 winner Cody Parkhouse while 10th was Elijah Kiger, 20, Kirby, Pa. (third in Trophy Truck Spec, No. 238 TSCO-Chevy).
CLASS 1 SUPERLATIVE
Backing up their Class 1 family victory at this year's SCORE Baja 500, Cody Parkhouse and his father Dickerson captured the checkered flag again in the unlimited Class 1 and the also finished ninth overall.
Battling another son/father team for much of the race in Broc Dickerson and his father Jeff Dickerson, Cody Parkhouse, 33, and his father Brian Parkhouse, 63, both from Long Beach, Calif. battled through the rough course in their No. 127 Chevy-powered Jimco open wheel desert race car in a time of 22:21:09 with an average speed of 40.19 mph.
Both from Brawley, Calif., Broc Dickerson, 19, and his father Jeff Dickerson, 45 pushed through some mechanical issues to finish fifth in Class 1 in their No. 123 Jimco-Ford.
OVERALL UTV
Coming off of a three-year sabbatical from SCORE Baja racing, Guatemala's Francisco Arredondo, the 2017 SCORE Overall and Pro Moto Unlimited season point champion, moved to a four-wheel class and give Honda its first overall UTV title over 44 starters in four classes while winning the Pro UTV NA (Naturally Aspirated) class.
Earning his sixth career class win in the SCORE Baja 1000, Arredondo, 43, teamed with veteran SCORE champion Cisco Bio, Spring Valley, Calif. who earned his fifth career class win in this race, to drive the No. 1945 Bremen/Chris Haines Honda Talon to a 27th overall four-wheel vehicle finish in his first four-wheel vehicle race in SCORE.
Honda also picked up another class win as second-generation desert race Eliott Watson, 20, of El Centro, Calif., captured the win in the Pro UTV Unlimited class in his No. 1893 Honda Talon 1000R.
COOL HAND LUKE
Commenting at the finish line, Luke McMillin had plenty to say: "It was a great day. Larry (Roeseler) did an amazing job, he just kept it in line and had no downtime, which is exactly what you need to do in the first half of the SCORE Baja 1000. No one knows it more than Larry, he's won this thing 14 times now. He brought me a clean truck, we were third and we were right up there with the top leaders when I got in."
"We were just waiting for them to make a mistake. Ampudia (No. 10) got a flat tire and I was just trailing my brother (Dan McMillin, No 23). I made a run for it and he let me go as the great teammate he is. We didn't have a single flat tire all day on our superb BFGoodrich Tires and that's unbelievable. The race was tight all day between Dan, Ampudia, Rob MacCachren (No. 11). We got some gnarly silt and some tough bumps out there. Part of the portion I drove was also part of the course of the SCORE Baja 500, so it was just rough. It's hard to pick up your pace in a 1,000-mile race and don't beat up the truck too much, so we tried to be strategic on that. It was a tough course, but a great course. Jose Grijalva (SCORE's president and race director) does an amazing job for SCORE and we have to thank him."
1x REFLECTIONS
Mark Samuels said at the finish line: "This was a very tough course and extremely demanding, it was the longest loop race ever here. It was very technical, and they added some new stuff to it. You had to have good equipment and good riders to go, perform and win it, and luckily we do have that, we've built that over the years. For a SCORE Baja 1000, that was very brutal, tough and long and I'm glad to be the first one here.
Co-rider Justin Morgan said: "It was a really long, technical and physically demanding course for us on the bike. It was great, well laid out and they kept it interesting with some new things. This is such a reliable bike. We just stayed steady and it ran great all night and got us here with no problems. It's a super big deal and we don't take it for granted. We had help from a lot of people and we really appreciate it."
Co-Rider Justin Jones reflected: "This one was tough for me. It was my first SCORE Baja 1000 back since a knee injury and it kicked my butt. To be honest, I wasn't ready for it, but I gave my best. It definitely wasn't my best SCORE Baja 1000, but I kept it together, stayed off the ground, got the bike going and let my teammates bring it home and it ended up great. We had a good race and the bike was great."
SCORE TT LEGEND
Earning his first victory in the SCORE TT Legend Class (for SCORE Trophy Truck drivers over 50 years old) was Off-Road Motorsports Hall of Fame inductee Robbie Pierce, 61, Alpine, Calif. Pierce, owner of the iconic Jimco Racing Products, teamed with Ricky Johnson, 57, Encinitas, Calif. and Barry Karakas, Oak Hills, Calif. for the win in the No. 20L Jimco-built Chevy Silverado.
BOLIVIAN/CHILEAN IRONMEN
SCORE has had few racers from Bolivia or Chile compete in a SCORE race but this year's SCORE Baja 1000 saw a pair of Bolivian international rally racers and national motorcross champions—Juan Carlos 'Chavo' Salvatierra and Fabricio Fuentes, each competing as solo riders in the SCORE Pro Moto Ironman class. Chile also had a rider in Pro Moto Ironman in Javier Perez Potsch.
Finishing in same order on the Pro Moto Ironman, all three riders rode KTM 500EXCF motorcycles.
Salvatierra, 39, Santa Cruz, Bolivia, has raced nine years in the Dakar Rally, also mountain biking and triathlons. Considered the most important athlete in the history of Bolivia, In 2011, Salvatierra became the first racer from Bolivia to race in the Dakar Rally. He is also a nine-time Bolivian National Motocross champion.
Salvatierra also won the Pro Moto Ironman class in September's SCORE Baja 500, his first SCORE race. He rode on the No. 725x motorcycle to a winning tedious time of 33:36:49 seconds.
Fuentes, 43, Villamontes, Bolivia, four-time Bolvian National Motocross champion who competed in the Dakar Rally from 2014 through 2019.  On his No. 785x motorcycle, Fuentes finished second in class with a time of 37:08:56.
Perez Potsch, 29, is a prominent international rally racer from Chile. He raced in last year's SCORE Baja 1000 in the Sportsman Moto class and did not finish. But he came back this year on his No.772x motorcycle, surviving the extremely difficult challenge in 37:58:16.
The three international racers were the only three finishers out of seven starters in the class for solo motorcycle riders.
MULTIPLE B1K CLASS WINNERS
Adding to their racing legacy in the SCORE Baja 1000 by earning another class victory, Roeseler (SCORE Trophy Truck) is clearly at the top with 18 career class wins (including 14 overalls). Other class winners adding to their totals were Francisco Septien with 13 career class wins Shane Esposito with eight (Pro Moto 30), Francisco Arredondo (Pro UTV NA) who now has six class wins, Justin Davis (Class 10), Wes Miller (Pro UTV FI) and Mark Samuels (Pro Moto Unlimited) who each now have five class wins in this race. Earning their fourth class victories in this legendary event were Adolfo Arellano (Pro Quad), Justin Jones (Pro Moto Unlimited) and Justin Morgan (Pro Moto Unlimited).
THE UNDEFEATED
Eight racers were unbeaten in their respective classes in this year's pandemic-abbreviated two race 2020 SCORE World Desert Championship. Besides Parkhouse (Class 1), Samuels (Pro Moto Unlimited), Septien (Pro Moto 30), Salvatierra (Pro Moto Ironman) and Silva (SPT Moto), the other undefeated racers in 2020 were Gustavo Pinuelas, Mexicali, Mexico (SCORE Lites, No. 1218 Jimco-VW) and Edward Muncey, San Diego (Baja Challenge, No. BC4 BTC-Subaru) and Vance Kennedy, Peoria, Ariz. (Pro Moto 50, No. 522x Honda CRF450X).
MORE CLASS WINNERS
Among the other class winners in this year's epic event were: Jeremy Davis, Chino Hills, Calif. (Class 10, No. 1085 Jimco-Chevy), Wes Miller, Las Vegas (Pro UTV FI, No. 2989 Polaris RZR XP Turbo), Rhys Millen, San Juan Capistrano, Calif. (New Zealand) (Class 7, No. 727 RMR-Ford), Eli Yee, Tijuana, Mexico (Class 1/2-1600, No. 1616 Kreger-VW), Carolina Sanchez, Calexico, Calif. (Pro UTV Stock, No. 3913 Can-Am X3), Paul Horschel, Park City, Utah (Hammer Truck Unlimited, No. 4419 Custom-Chevy), Miguel Pabloff, Ensenada, Mexico (Class 5, No. 507 Penhall-Chevy), Tomas Fernandez, Monterrey, Mexico (Class 5/1600, No. 555 VW Baja Bug), Justin Park, Encinitas, Calif. (Class 7F, No. 714F Ford Ranger), Darren Skilton, Long Beach, Calif. (Class 2, No. 2021 SCG Baja Boot-Chevy) and Marc Van Tassell, Ely, Nev. (Stock Full, No. 8155, Toyota Land Cruiser).
BFGOODRICH TIRES UNMATCHED
BFGoodrich Tires is celebrating over four decades as a major player in SCORE Baja racing. In addition to being the official tire of SCORE International for over four decades, BFGoodrich Tires has produced the tire of choice for 31 of the overall 4-wheel vehicle winners in the SCORE Baja 1000, including 31 of the last 35 years along with a record-run of 20 straight from 1986 through 2005. In total, BFGoodrich Tires has now be the tire of choice for the overall 4-wheel vehicle winner in 94 SCORE Baja races including 33 in the SCORE Baja 500.
BFGoodrich Tires also provides unmatched pit support for racers using their tires with six full service pit areas and more than 200 support crew personnel spread along the race course and complete radio relay the entire race course. This year BFG had six full-service pits.
BFGoodrich Tires will also award $25,000 contingency money to the overall winner-Luke McMillin-of this year's SCORE Baja 1000 who ran exclusively on BFGoodrich Tires.
FASTEST SPORTSMAN WINNER
The fastest sportsman finisher in this year's race, competing in the SPT Moto class, was the team led by defending SCORE season point champion Carlos Silva who finished in 21:02:53 on his No. 200x Honda CRF450X.
MORE AWARDS…
In addition to season class point championships and 2020 SCORE World Desert Championship overall point titles, the racers were also competing for part of nearly $400,000 in cash purse and contingency postings.
There were also the numerous annual SCORE Off-Roadsman of the Year Awards being decided.
Racers were also attempting to earn prestigious Rod Hall SCORE Milestone Awards, given to all racers who complete every required mile of the race season.  These awards are being presented by SCORE for the 35th consecutive year.
SALIDA Y LA META
This year's race started for the 46th time and finished for the 27th time in Ensenada and the race is annually the finale of the SCORE World Desert Championship, which has been held exclusively for the past six years in Baja California.
GLOBAL PARTICIPATION
     Included in the 185 official starters for this year's renewal of the world's most iconic desert race came racers from 26 U.S. States and 14 countries.
U.S. States represented in the field of competitors to date are from Alaska, Arizona, Arkansas, California, Colorado, Connecticut, Florida, Georgia, Idaho, Louisiana, Maine, Michigan, Montana, Nevada, New Mexico, New York, North Carolina, Ohio, Oregon, Pennsylvania, Tennessee, Texas, Utah, Virginia, Washington and Wisconsin.
Besides the United States and host Mexico, countries represented in the total starting field were from Argentina, Belize, Bolivia, Chile, Ecuador, France, Guatemala, Ireland, Netherlands, New Zealand, Peru and South Africa.
VIVA BAJA
The official loop-race record 898.40-mile race course ran in a counter-clockwise direction after the two-way section to the Ojos Negros area and down along the Pacific Ocean and around San Felipe and the Sea of Cortez before heading back up through Cordillera de Molina and back to Ojos Negro and the finish in Ensenada.
The challenging race course worked its way through four of Baja California's infamously magnificent washes: Amarillas, Chanate, Huatamote and Matomi before heading through the San Felipe area along the Sea of Cortez and West through Cordillera de Molina and then back to Ojos Negros to the finish just on the Eastern outskirts in Ensenada.
The start/finish line compound, closed to the public because of established safety and health protocols, was located on the outskirts of Ensenada, east of downtown, at the end of the extension of Avenida Ruiz on the highway overpass.
There were four physical full-stop checkpoints and 359 virtual checkpoints. Physical checkpoints: CP1-El Socorro (race mile 206.60), CP2-Valle de Trinidad (rm407.95), CP3-End of Matomi Wash (rm602.85) and CP 4-El Alamo (rm838.50). The race route also had 20 Speed Zones for a total of 106.13 miles.
All Sportsman classes along with Pro classes 7SX, 11 and 9 ran on a reduced course of 767.06 miles.
TOP OVERALL FINISHERS
Pro Cars, Trucks & UTVs
Top 20 Overall Trucks, Cars & UTVs
83 Luke McMillin, 27, San Diego/Larry Roeseler, 63, Boulevard, Calif., Ford F-150 (Racer), 19:10:25 (46.86 mph) (SCORE Trophy Truck)
11 Rob MacCachren, 55, Las Vegas/Josh Daniel, Vista, Calif., Ford F-150 (Geiser), 19:21:30 (46.41 mph) (SCORE Trophy Truck)
7 Bryce Menzies, 33, Las Vegas/Andy McMillin, 33, San Diego, Calif., Ford Raptor (Mason), 19:42:40 (45.58 mph) (SCORE Trophy Truck)
16 Cameron Steele, 52, San Clemente, Calif./Bobby Pecoy, 55, Yorba Linda, Calif./Rene Brugger, San Diego, Ford Raptor (Geiser). 20:30:23(43.81 mph) (SCORE Trophy Truck)
19 Tim Herbst, 57, Las Vegas/Pat Dean, 51, Las Vegas, Ford F-150 (Herbst-Smith), 20:40:02 (43.47 mph) (SCORE Trophy Truck)
10 Alan Ampudia, 29, Ensenada, Mexico/Aaron Ampudia, 27, Ensenada, Mexico, Ford Raptor (ID), 20:53:46 (42.99 mph) (SCORE Trophy Truck)
261 Jeff Bader, 39, Ladera Ranch, Calif./Dan Fresh, 52, Dana Point, Calif., Brenthel-Chevy, 21:44:55 (41.31 mph) (Trophy Truck Spec)
264 Pierce Herbst, 18, Las Vegas/Ryan Millen, 36, Huntington Beach, Calif. (New Zealand)/Thor Herbst, 20, Las Vegas, Herbst/Smith-Chevy, 22:00:30 (40.82 mph) (Trophy Truck Spec)
127 Cody Parkhouse, 33, Long Beach, Calif./Brian Parkhouse, 60, Long Beach, Calif./Roger Starkey 36, Scottsdale, Ariz., Jimco-Chevy, 22:31:08 (39.90 mph) (Class 1)
238 Elijah Kiger, 20, Kirby, Pa./Brock Heger, 20, El Centro, Calif./Sean Bogdan, 28, Kirby, Pa./Christopher King, 26, Kirby, Pa., TSCO-Chevy, 22:58:14 (39.11 mph) (Trophy Truck Spec)
77 Robby Gordon, 51, Charlotte, N.C./Damen Jefferies, 47, Apple Valley, Calif., Chevy Silverado (Custom), 23:18:48 (38.54 mph) (SCORE Trophy Truck)
97 B.J. Baldwin, 41, Las Vegas/Ray Griffith, Toyota Tundra (ID), 23:41:09 (37.93 mph) (SCORE Trophy Truck)
295 William Hedrick Jr, 24, Vicente Guerrero, Mexico/William Hedrick, 54, Vicente Guerrero, Mexico, ID-Chevy, 23:45:36 (37.81mph) (Trophy Truck Spec)
273 Jordan Brenthel, 33, Temecula, Calif./Jonathan Brenthel, 41, La Cresta, Calif./Chuck Dempsie, 52, Oak Hills, Calif./Greg Adler, 51, Temecula, Calif., Brenthel-Chevy, 23:45:47 (37.81 mph) (Trophy Truck Spec)
89 Mike Walser, 53, Comfort, Texas/Luke Johnson, 27, Sun City, Calif./Rod Walser, 44, Canadian, Texas, Chevy Silverado (Mason), 23:53:47 (37.60 mph) (SCORE Trophy Truck)
1085 Jeremy Davis, 20, Chino Hills, Calif./Justin Davis, 27, Chino Hills, Calif./Tyler Peterson, 30, Apple Valley, Calif., Jimco-Chevy, 24:16:11 (37.02 mph) (Class 10)
40 Chris Miller, 46, Rancho Santa Fe, Calif./Christian Sourapas, 24, Rancho Santa Fe, Calif., Chevy Silverado (Mason), 24:23:59 (36.82 mph) (SCORE Trophy Truck)
103 Gabriel Torres, 27, San Luis Potosi, Mexico/Esteban Cruz, Ensenada, Mexico/J. David Ruvalcaba, 47, Ensenada, Mexico, Alumi Craft-Chevy, 24:24:12 (36.81 mph) (Class 1)
1022 Rafael Aguirre, 41, Monterrey, Mexico/Adrian Saucedo, 28, Monterrey, Mexico/Cesar Fiscal, 35, Monterrey, Mexico, Jefferies-Chevy, 24:31:39 (36.63 mph) (Class 10)
4419 Paul Horschel, 44, Park City, Utah/Loren Healy/Mitchell Sweatt/Zig DeGroot/Josh Markham, Custom-Chevy, 24:44:00 (36.32 mph) (Hammer Truck Unlimited)
Pro Motorcycles
Top Five Overall Motorcycles
1. 1x Mark Samuels, 31, Yucca Valley, Calif./Justin Morgan, 30, El Cajon, Calif./Justin Jones, 29, Murrieta, Calif., Honda CRF450X, 20:50:30 (43.11 mph) (Pro Moto Unlimited)
2. 66x Santiago Creel, 34, Mexico City, Mexico/Brandon Prieto, 34, Ensenada, Mexico/Sammy Mantalvan, Ensenada, Mexico/Eric Yorba, Rosarito Beach, Mexico/ Ricardo Villalobos, 31, Tecate, Mexico/Dalton Shirey, Mexico, Husqvarna FC450, 22:55:10 (39.20 mph) (Pro Moto Unlimited)
3. 370x Francisco Septien, 45, Ensenada, Mexico/Shane Esposito, 44, Temecula, Calif./Justin Shultz, 39, Lake Forest, Calif./David Zarate, 30, Chula Vista, Calif., Honda CRF450X, 24:32:19 (36.61 mph) (Pro Moto 30)
4. 325x Jano Montoya, 49, Winter Garden, Fla. (Peru)/Alberto Ruiz, 44, Ensenada, Mexico/Bryce Stavron, 32, San Clemente, Calif./Kyle Tichenor, 32, Mesquite, Nev./Jesse Canepa, 33, Las Vegas, KTM 450EXCF, 24:41:24 (36.39 mph) (Pro Moto 30)
5. 106x Gorge Ramirez, 20, Ensenada, Mexico/Sergio Garza, 22, Tecate, Mexico/Kadin Guard, 22, St. George, Utah/Jason Alosi, 37, Reno, Nev./Daniel Reynoso, Tecate, Mexico, Husqvarna FE350, 25:15:45 (35.56 mph) (Pro Moto Limited)
SCORE BAJA 1000 ALL-TIME OVERALL CHAMPIONS
(4-wheel and 2-wheel vehicles–1967 through 2019)
YEAR DRIVERS/RIDERS VEHICLE TIME
1967 Vic Wilson/Ted Mangels Meyers Manx-VW 27:38
J.N. Roberts/Malcolm Smith Husqvarna 28:48
1968 Larry Berquist/Gary Preston Honda 20:38:28
Larry Minor/Jack Bayer Ford Bronco 21:11:32
1969 Larry Minor/Rod Hall Ford Bronco 20:48:10
Gunnar Nilsson/J.N. Roberts Husqvarna 21:35:52
1970 Drino Miller/Vic Wilson Miller-VW 16:07
Mike Patrick/Bill Bowers Yamaha 18:31
1971 Parnelli Jones/Bill Stroppe Ford Bronco 14:59
Malcolm Smith/Gunnar Nilsson Husqvarna 16:51
1972 Parnelli Jones/Bill Stroppe Ford Bronco 16:47
Gunnar Nilsson/Rolf Tibblin Husqvarna 19:19
1973 Bobby Ferro/Johnny Johnson Funco-VW 16:50:25
Mitch Mayes/A.C. Bakken Husqvarna 18:42:51
1974 NO RACE
1975 Al Baker/ Gene Cannady Honda 18:22:55
Malcolm Smith/Dr. Bud Feldkamp Hi-Jumper-VW 18:55:49
1976 Larry Roeseler/Mitch Mayes Husqvarna 11:30:47
Ivan Stewart Chenowth-VW 12:17:28
1977 Brent Wallingsford/Scot Harden Husqvarna 14:37:07
Malcolm Smith/Dr. Bud Feldkamp Funco-VW 15:10:42
1978 Larry Roeseler/Jack Johnson Husqvarna 10:23:47
Mark Stahl Chenowth-VW 12:55:42
1979 Larry Roeseler/Jack Johnson Husqvarna 19:48:04
Walker Evans/Bruce Florio Dodge pickup 20:48:27
1980 Larry Roeseler/Jack Johnson Yamaha 12:45:13
Mark Stahl Chenowth-VW 13:33:55
1981 Scot Harden/Brent Wallingsford Husqvarna 17:14:05
Mark McMillin/Thomas Hoke Chenowth-VW 20:29:14
1982 Al Baker/Jack Johnson Honda 17:25:27
Mickey Thompson/Terry Smith Raceco-VW 19:40:23
1983 Dan Smith/Dan Ashcraft Husqvarna 14:48:10
Mark McMillin/Ralph Paxton Chenowth-VW 17:35:06
1984 Chuck Miller/Randy Morales Honda 14:34:34
Mark McMillin/Ralph Paxton Chenowth-VW 16:27:09
1985 Randy Morales/Derrick Paiement Honda 17:44:42
Steve Sourapas/Dave Richardson Raceco-VW 17:54:55
1986 Bruce Ogilvie/Chuck Miller Honda 18:05:52
Mark McMillin/Ralph Paxton Chenowth-Porsche 18:26:28
1987 Dan Ashcraft/Bruce Ogilvie Honda 12:02:14
Bob Gordon/Malcolm Smith Chenowth-Porsche 13:15:04
1988 Paul Krause/Larry Roeseler/Danny LaPorte Kawasaki 11:33:45
Mark McMillin Chenowth-Porsche 13:07:09
1989 Larry Roeseler/Danny LaPorte/Ted Hunnicutt Jr. Kawasaki 17:53:16
Robby Gordon Ford Truck 18:04:07
1990 Larry Roeseler/Ted Hunnicutt Jr./Danny LaPorte Kawasaki 11:11:45
Bob Gordon/Robyn Gordon/Robby Gordon Chenowth-Chevy 12:30:45
1991 Larry Roeseler/Ted Hunnicutt Jr./Marty Smith Kawasaki 13:35:25
Larry Ragland Chevrolet pickup 16:37:35
1992 Danny Hamel/Garth Sweetland/Paul Ostbo Kawasaki 16:50:12
Paul & Dave Simon Ford truck 16:53:02
1993 Ivan Stewart Toyota SR5 13:29:11
Danny Hamel/Larry Roeseler/Ty Davis Kawasaki 13:57:23
1994 Danny Hamel/Larry Roeseler/Ty Davis Kawasaki 10:20:47
Jim Smith (SCORE Trophy Truck) Ford 10:28:56
Dave Ashley/Dan Smith Ford truck 10:43:43
1995 Paul Krause/Ty Davis/Ted Hunnicutt Jr. Kawasaki 19:31:19
Larry Ragland (SCORE Trophy Truck) Chevy 20:14:12
Dale White Chevy Truck 21:57:03
1996 Paul Krause/Ty Davis/Greg Zitterkopf Kawasaki 14:11:02
Larry Ragland (SCORE Trophy Truck) Chevy 14:38:59
Ryan Thomas Chenowth-VW 15:53:56
1997 Johnny Campbell/Tim Staab/Greg Bringle Honda 13:19:59
Larry Ragland (SCORE Trophy Truck) Chevy 13:53:46
Doug Fortin Chenowth-VW 14:31:02
1998 Johnny Campbell/Jimmy Lewis Honda 18:58:48
Ivan Stewart Toyota truck 19:08:20
1999 Johnny Campbell/Tim Staab Honda 14:15:42
Larry Ragland Chevy truck 14:26:36
2000 Johnny Campbell/Tim Staab/Craig Smith, Steve Hengeveld Honda 30:54:12
Dan Smith/Dave Ashley Ford truck 32:15:39
2001 Johnny Campbell/Tim Staab Honda 13:51:40
Doug Fortin/Charlie Townsley Jimco Chevy truck 14:35:42
2002 Steve Hengeveld/Johnny Campbell/Andy Grider Honda 16:17:28
Dan Smith/Dave Ashley, Ford truck 16:19:03
2003 Steve Hengeveld/Johnny Campbell/Bruce Ogilvie Honda 15:39:52
Doug Fortin/Charlie Townsley Jimco-Chevy 16:24:02
2004 Steve Hengeveld/Johnny Campbell/Kendall Norman, Honda 15:57:37
Troy Herbst/Larry Roeseler, Smithbuilt-Ford 16:18:14
2005 Steve Hengeveld/Johnny Campbell/Mike Childress, Honda 14:20:30
Larry Roeseler/Troy Herbst, Smithbuilt-Ford 15:06:19
2006 Steve Hengeveld/ Mike Childress/Quinn Cody, Honda 18:17:50
Andy McMillin/Robby Gordon, Chevy truck 19:15:17
2007 Robby Bell/Steve Hengeveld/Johnny Campbell/Kendall Norman, Honda 24:15:50
Mark Post/Rob MacCachren/Carl Renezeder, Ford truck 25:21:25
2008 Robby Bell/Kendall Norman/Johnny Campbell, Honda 12:29:18
Roger Norman/Larry Roeseler, Ford truck 12:40:33
2009 Kendall Norman/Timmy Weigand/Quinn Cody, Honda 13:27:50
Andy McMillin/Scott McMillin, Chevy truck 14:19:50
2010 Gus Vildosola Jr./Gus Vildosola Sr., Ford truck 19:00:04
Kendall Norman/Quinn Cody, Honda 19:20:52
2011 Kendall Norman/Quinn Cody/Logan Holladay, Honda 14:14:25
Andy McMillin/Scott McMillin, Ford truck 14:51:36
2012 B.J. Baldwin, Chevy truck 20:00:59
Colton Udall/Timmy Weigand/David Kamo, Honda 20:09:30
2013-Tim Weigand/Colton Udall/David Kamo/Mark Samuels, Honda 18:29:14
B.J. Baldwin, Chevy Truck, 18:36:30
2014-Rob MacCachren/Andy McMillin/Jason Voss, Ford truck 22:31:28
Ricky Brabec/Robby Bell/Steve Hengeveld/Max Eddy Jr., Kawasaki 24:24:01
2015-Rob MacCachren/Andy McMillin, Ford truck 15:58:32
Colton Udall/Mark Samuels/Justin Jones, Honda 16:29:08
2016- Rob MacCachren/Jason Voss, Ford truck 17:12:58
Colton Udall/Mark Samuels/Justin Jones/Daymon Stokie/David Kamo, Honda 18:16:42
2017- Carlos 'Apdaly Lopez/Juan C. Lopez, Chevy truck 19:53:36
Francisco Arredondo/Shane Esposito/Justin Morgan/Max Eddy Jr/Ty Davis, Honda 21:07:17
2018- Justin Morgan/Mark Samuels/Justin Jones, Honda 16:23:26
Cameron Steele/Pat Dean, Ford truck 16:24:02
2019- Alan Ampudia/Aaron Ampudia, Ford truck 16:10:36
Justin Morgan/David Kamo/Max Eddy Jr/Shane Esposito, Honda 17:34:28
2020-Luke McMillin/Larry Roeseler, Ford, 19:10:25
Mark Samuels/Justin Morgan/Justin Jones, Honda 20:50:30
NOTE: 1994-1997, SCORE Trophy Truck competed as its own series