Bahrain GP: Hamilton and Bottas lead Mercedes 1-2 in Practice 1
It was a Mercedes 1-2 in opening practice for the Bahrain GP, with Lewis Hamilton heading his teammate Valtteri Bottas by 0.449s, with Sergio Perez a solid third for Racing Point, but almost a full second back.
So confident were Hamilton and Bottas that he even completed nearly a full race distance in race trim – those two having managed 40 laps each, with the race on Sunday set to be 57.
Carlos Sainz Jr. was 4th for McLaren while Pierre Gasly rounded out the top-5 for AlphaTauri.
The Ferraris of Charles Leclerc and Sebastian Vettel were both 1.5s off the pace in 11th and 12th and out to lunch.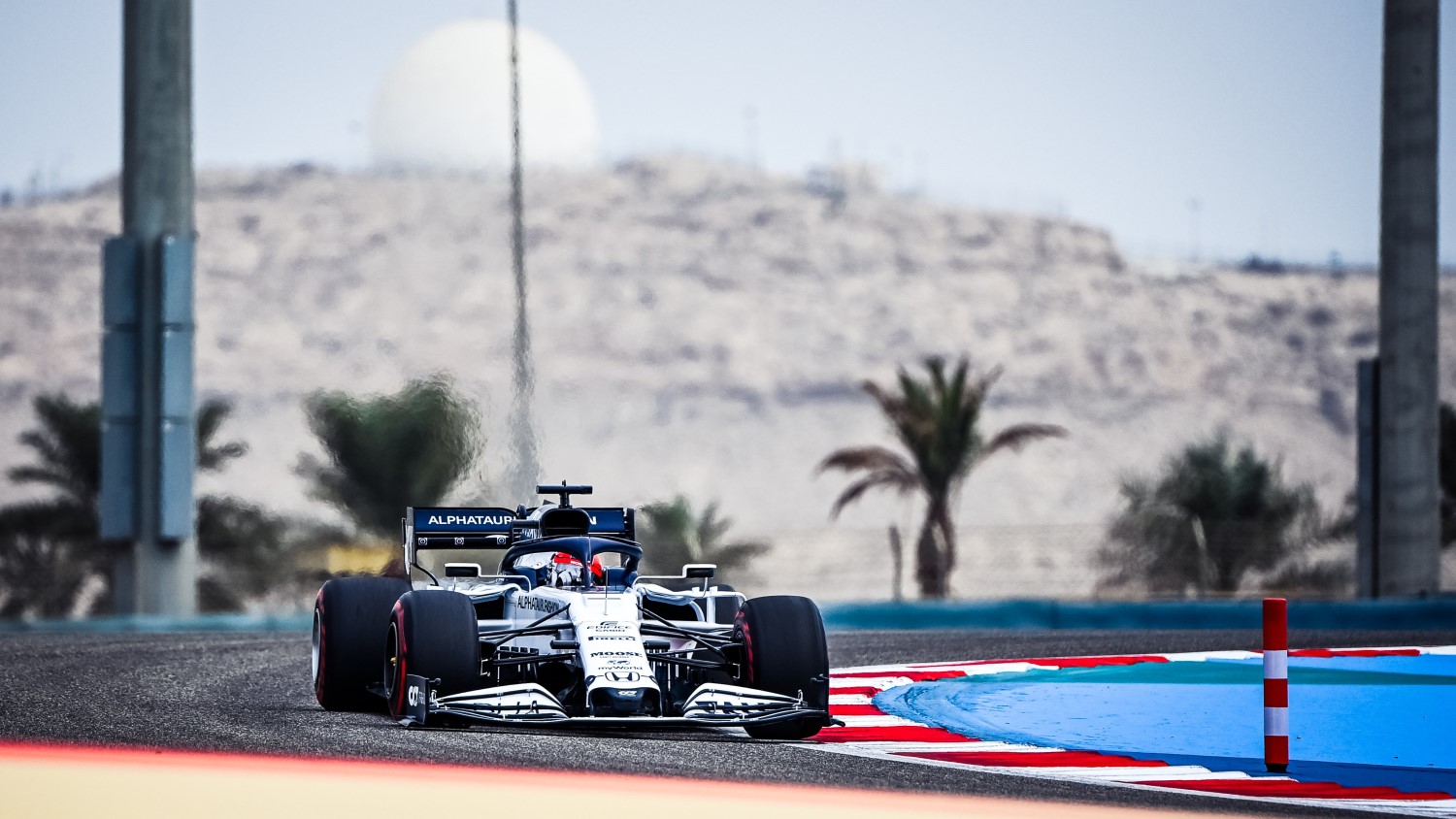 The F1 circus might have thought it had escaped the inclement weather when it left Europe and set sail for the sunny shores of Bahrain, but after a glorious Thursday in the paddock where shorts were the order of the day, Friday dawned overcast with a passing shower. Hopefully the rain holds off.
Practice 1 Results
| | | | | | | |
| --- | --- | --- | --- | --- | --- | --- |
| POS | NO | DRIVER | CAR | TIME | GAP | LAPS |
| 1 | 44 | Lewis Hamilton | Mercedes | 1:29.033 | +0.000s | 40 |
| 2 | 77 | Valtteri Bottas | Mercedes | 1:29.482 | +0.449s | 41 |
| 3 | 11 | Sergio Perez | Racing Point Mercedes | 1:30.000 | +0.967s | 31 |
| 4 | 55 | Carlos Sainz | McLaren Renault | 1:30.018 | +0.985s | 31 |
| 5 | 10 | Pierre Gasly | AlphaTauri Honda | 1:30.049 | +1.016s | 34 |
| 6 | 33 | Max Verstappen | Red Bull Racing Honda | 1:30.294 | +1.261s | 18 |
| 7 | 23 | Alexander Albon | Red Bull Racing Honda | 1:30.302 | +1.269s | 34 |
| 8 | 31 | Esteban Ocon | Renault | 1:30.384 | +1.351s | 28 |
| 9 | 18 | Lance Stroll | Racing Point Mercedes | 1:30.426 | +1.393s | 30 |
| 10 | 3 | Daniel Ricciardo | Renault | 1:30.508 | +1.475s | 30 |
| 11 | 16 | Charles Leclerc | Ferrari | 1:30.589 | +1.556s | 29 |
| 12 | 5 | Sebastian Vettel | Ferrari | 1:30.628 | +1.595s | 24 |
| 13 | 88 | Robert Kubica | Alfa Romeo Racing Ferrari | 1:30.732 | +1.699s | 24 |
| 14 | 8 | Romain Grosjean | Haas Ferrari | 1:30.832 | +1.799s | 28 |
| 15 | 20 | Kevin Magnussen | Haas Ferrari | 1:30.854 | +1.821s | 29 |
| 16 | 99 | Antonio Giovinazzi | Alfa Romeo Racing Ferrari | 1:30.896 | +1.863s | 27 |
| 17 | 26 | Daniil Kvyat | AlphaTauri Honda | 1:31.020 | +1.987s | 37 |
| 18 | 4 | Lando Norris | McLaren Renault | 1:31.392 | +2.359s | 27 |
| 19 | 6 | Nicholas Latifi | Williams Mercedes | 1:32.472 | +3.439s | 29 |
| 20 | 40 | Roy Nissany | Williams Mercedes | 1:32.801 | +3.768s | 27 |