F2: Mazepin quickest in Sakhir Free Practice ahead of Daruvala and Tsunoda
Championship contender Nikita Mazepin (shown above) has laid down a marker at the start of the penultimate round of season, topping FIA Formula 2 Free Practice with a time of 1:42.660. The Hitech Grand Prix driver beat out Carlin duo Jehan Daruvala and Yuki Tsunoda in Sakhir.
Guiliano Alesi was the first driver to get himself back on the road after the two-month break from racing, with the grid last tasting F2 action at Sochi in September. The Frenchman took a steady first tour of the Bahrain International Circuit, lapping at just over two minutes.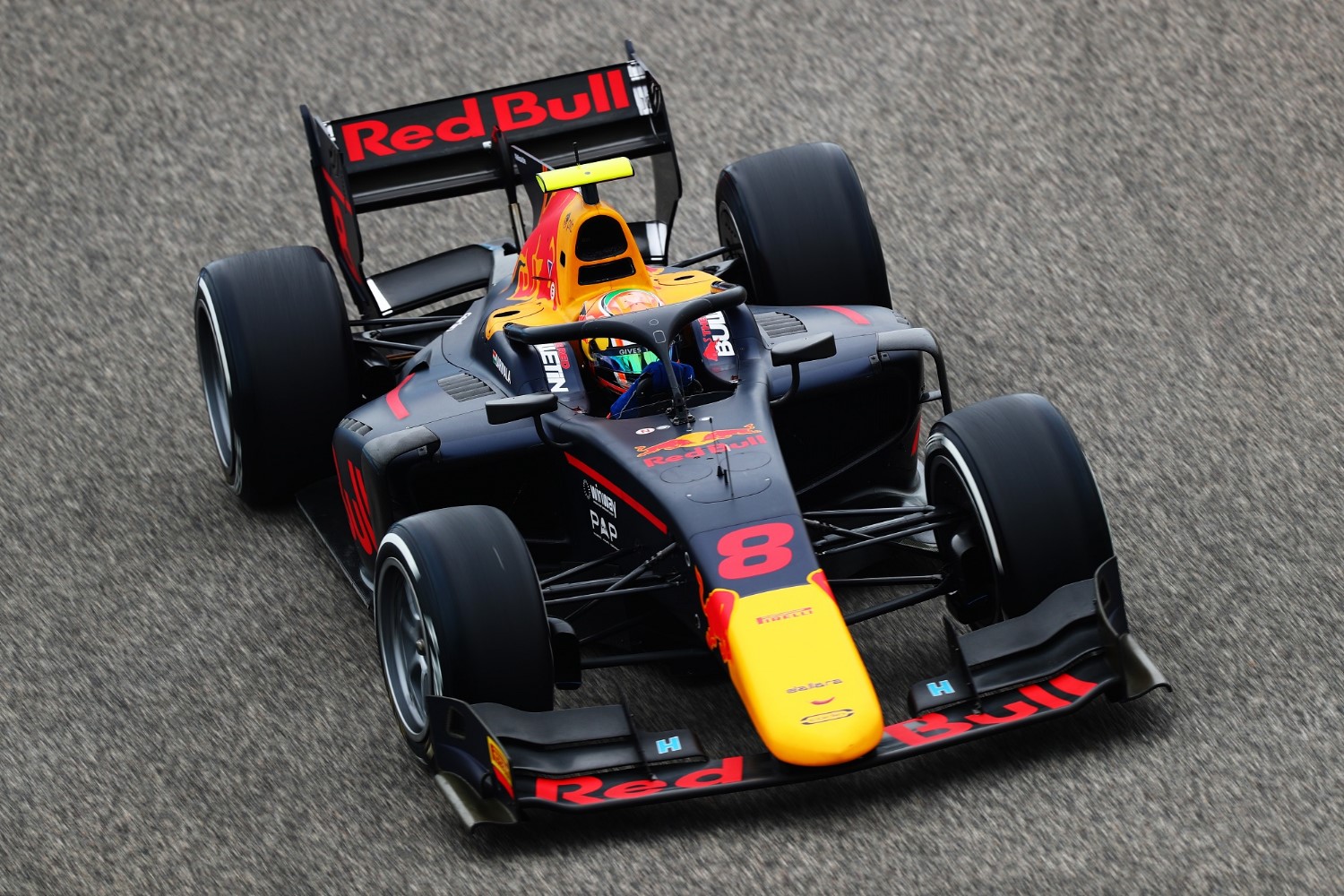 More than half of the grid remained in the pitlane in the opening five minutes. Tsunoda was the first of the title contenders to hit the track, before Christian Lundgaard joined his title rival out there shortly after and set the pace at 1:43.103.
Artem Markelov and Marino Sato were both caught out by the final corner, spinning off track and bringing out red flags inside of the opening 15 minutes. Daruvala and Dan Ticktum took turns at the top of the table when action resumed, as the best time fell to 1:42.955.
A spot of rain injected some spice into the final 15 minutes of the session, but it didn't appear to hinder Daruvala too badly as the Carlin driver returned himself to the top of the timesheets. He was backed up by his teammate, Tsunoda, who lapped just over a tenth slower.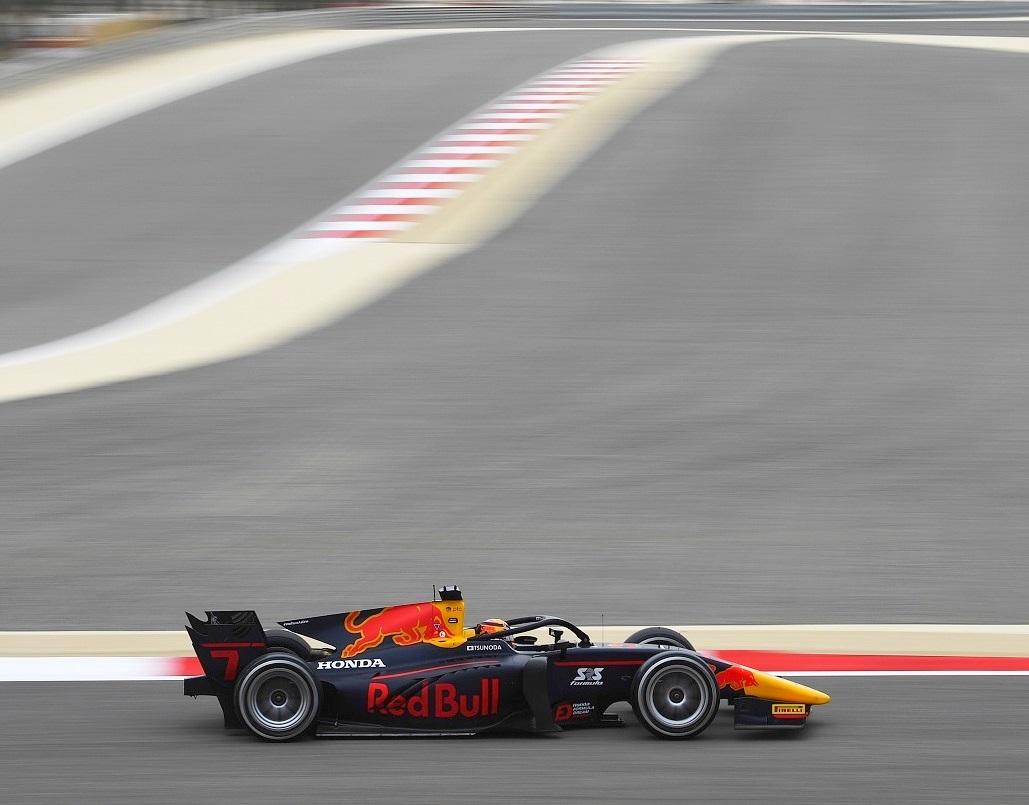 Mazepin ramped up his preparations with five minutes to go, lapping a tenth faster than Daruvala to wrestle first place off the Carlin driver. No one could topple the Russian in the closing minutes, who sealed first ahead of Daruvala and Tsunoda.
Ticktum and Lundgaard completed the top five, ahead of Luca Ghiotto, Robert Shwartzman, Guanyu Zhou, Felipe Drugovich and Championship leader Mick Schumacher.
Mazepin will look to carry his promising early form over into Qualifying when the grid return to the track in just over two hours' time, at 16.15 (local time).
Practice Results
| | | | | | | | |
| --- | --- | --- | --- | --- | --- | --- | --- |
| POS | No. | Driver | Team | LAPS | TIME | GAP | INT. |
| 1 | 24 | N. Mazepin | Hitech Grand Prix | 12 | 1:42.660 | 0.000s | 0.000s |
| 2 | 8 | J. Daruvala | Carlin | 14 | 1:42.782 | 0.122 | 0.122 |
| 3 | 7 | Y. Tsunoda | Carlin | 15 | 1:42.918 | 0.258 | 0.136 |
| 4 | 2 | D. Ticktum | DAMS | 14 | 1:42.965 | 0.305 | 0.047 |
| 5 | 6 | C. Lundgaard | ART Grand Prix | 16 | 1:43.064 | 0.404 | 0.099 |
| 6 | 25 | L. Ghiotto | Hitech Grand Prix | 13 | 1:43.079 | 0.419 | 0.015 |
| 7 | 21 | R. Shwartzman | PREMA Racing | 14 | 1:43.100 | 0.440 | 0.021 |
| 8 | 3 | G. Zhou | UNI-Virtuosi | 12 | 1:43.128 | 0.468 | 0.028 |
| 9 | 15 | F. Drugovich | MP Motorsport | 13 | 1:43.142 | 0.482 | 0.014 |
| 10 | 20 | M. Schumacher | PREMA Racing | 13 | 1:43.172 | 0.512 | 0.030 |
| 11 | 5 | M. Armstrong | ART Grand Prix | 15 | 1:43.201 | 0.541 | 0.029 |
| 12 | 12 | P. Piquet | Charouz Racing System | 13 | 1:43.270 | 0.610 | 0.069 |
| 13 | 11 | L. Delétraz | Charouz Racing System | 15 | 1:43.490 | 0.830 | 0.220 |
| 14 | 4 | C. Ilott | UNI-Virtuosi | 14 | 1:43.491 | 0.831 | 0.001 |
| 15 | 14 | G. Alesi | MP Motorsport | 14 | 1:43.835 | 1.175 | 0.344 |
| 16 | 9 | J. Aitken | Campos Racing | 14 | 1:44.009 | 1.349 | 0.174 |
| 17 | 17 | T. Pourchaire | BWT HWA RACELAB | 14 | 1:44.420 | 1.760 | 0.411 |
| 18 | 22 | R. Nissany | Trident | 14 | 1:44.915 | 2.255 | 0.495 |
| 19 | 10 | G. Samaia | Campos Racing | 13 | 1:45.246 | 2.586 | 0.331 |
| 20 | 1 | S. Gelael | DAMS | 5 | 2:00.250 | 17.590 | 15.004 |
| 21 | 23 | M. Sato | Trident | 3 | -No Time | – | – |
| 22 | 16 | A. Markelov | BWT HWA RACELAB | 2 | -No Time | – | – |