Formula E: Late lap fast lap puts Lotterer on top in 2nd practice
Andre Lotterer (TAG Heuer Porsche) posted the fastest time on the first day of testing from Valencia's Circuit Ricardo Tormo, with a late lap dethroning Da Costa (DS TECHEETAH) and Nick Cassidy's eye-catching efforts (Envision Virgin Racing)
Lotterer and Jean-Eric Vergne (DS TECHEETAH) squeezed in a couple of late full-power efforts to take first and second spots, respectively, with the Frenchman's teammate Antonio Felix da Costa winding up third quickest.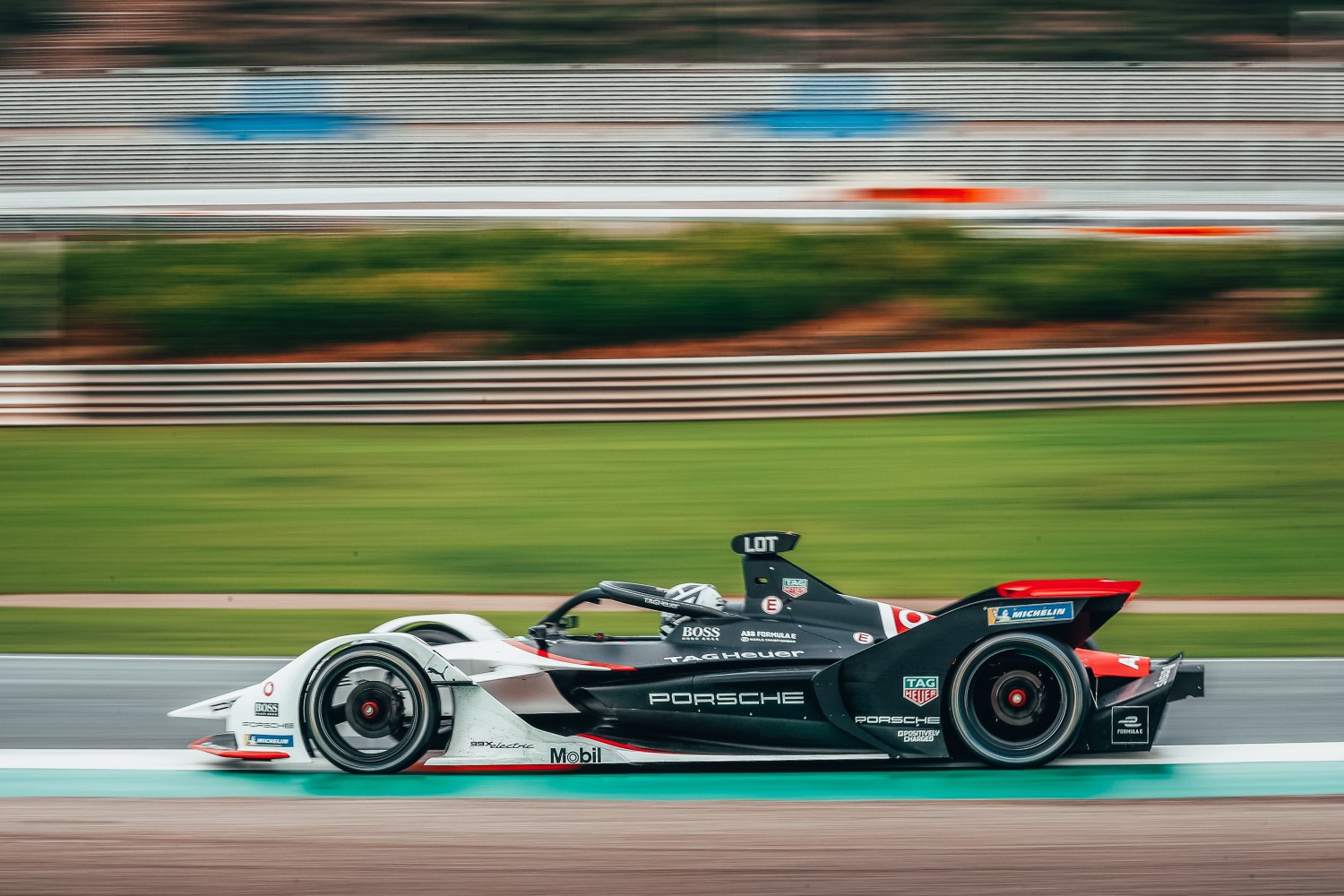 The field took advantage of the afternoon sun and raised track temperatures which yielded a drying line at the Circuit Ricardo Tormo, with times some six seconds quicker than was seen in the morning. In the end, the top 18 runners were separated by less than a second.
Lotterer did set the early pace in Session 2 with an early sighter, with Nico Mueller able to follow suit in the DRAGON / PENSKE. It was Nick Cassidy (Envision Virgin Racing) that caught the eye, though, as he flew to a 1:12.982, which was enough to see him atop the times for more than two hours of the afternoon's running.
Stoffel Vandoorne (Mercedes-Benz EQ) looked handy, too – his Sector 1 the best of the bunch at the time, though Cassidy controlled Sectors 2 and 3 until the late flurry of activity from Lotterer, Vergne and Da Costa.
Cassidy will be pleased with the day's fourth-quickest effort, however, with the rookies arguably the story of the day. Norman Nato (ROKiT Venturi Racing) rounded out the day seventh best and Jake Dennis (BMW i Andretti Motorsport) also finished Day 1 inside the top 10.
Practice 2 Results
| | | | | | | |
| --- | --- | --- | --- | --- | --- | --- |
| Pos | No. | Driver | Team | Time | Behind | Gap |
| 1 | 36 | A. LOTTERER | TAG Heuer Porsche Formula E Team | 1:12.519 | 0.000 | 0.000 |
| 2 | 25 | J. VERGNE | DS TECHEETAH | 1:12.607 | 0.088 | 0.088 |
| 3 | 13 | A. DA COSTA | DS TECHEETAH | 1:12.651 | 0.132 | 0.044 |
| 4 | 37 | N. CASSIDY | Envision Virgin Racing | 1:12.689 | 0.170 | 0.038 |
| 5 | 29 | A. SIMS | MAHINDRA RACING | 1:12.705 | 0.186 | 0.016 |
| 6 | 33 | R. RAST | Audi Sport ABT Schaeffler Formula E Team | 1:12.740 | 0.221 | 0.035 |
| 7 | 71 | N. NATO | ROKiT Venturi Racing | 1:12.777 | 0.258 | 0.037 |
| 8 | 6 | N. MÜLLER | DRAGON PENSKE AUTOSPORT | 1:12.800 | 0.281 | 0.023 |
| 9 | 27 | J. DENNIS | BMW i ANDRETTI MOTORSPORT | 1:12.837 | 0.318 | 0.037 |
| 10 | 4 | R. FRIJNS | Envision Virgin Racing | 1:12.860 | 0.341 | 0.023 |
| 11 | 11 | L. DI GRASSI | Audi Sport ABT Schaeffler Formula E Team | 1:12.873 | 0.354 | 0.013 |
| 12 | 23 | S. BUEMI | Nissan e.dams | 1:13.022 | 0.503 | 0.149 |
| 13 | 28 | M. GÜNTHER | BMW i ANDRETTI MOTORSPORT | 1:13.059 | 0.540 | 0.037 |
| 14 | 22 | O. ROWLAND | Nissan e.dams | 1:13.089 | 0.570 | 0.030 |
| 15 | 5 | S. VANDOORNE | Mercedes-Benz EQ Formula E Team | 1:13.101 | 0.582 | 0.012 |
| 16 | 10 | S. BIRD | Jaguar Racing | 1:13.104 | 0.585 | 0.003 |
| 17 | 99 | P. WEHRLEIN | TAG Heuer Porsche Formula E Team | 1:13.140 | 0.621 | 0.036 |
| 18 | 94 | A. LYNN | MAHINDRA RACING | 1:13.328 | 0.809 | 0.188 |
| 19 | 7 | S. SETTE CÂMARA | DRAGON PENSKE AUTOSPORT | 1:13.492 | 0.973 | 0.164 |
| 20 | 17 | N. DE VRIES | Mercedes-Benz EQ Formula E Team | 1:13.575 | 1.056 | 0.083 |
| 21 | 8 | O. TURVEY | NIO 333 FE Team | 1:14.086 | 1.567 | 0.511 |
| 22 | 20 | M. EVANS | Jaguar Racing | 1:15.093 | 2.574 | 1.007 |
| 23 | 48 | E. MORTARA | ROKiT Venturi Racing | 1:15.381 | 2.862 | 0.288 |
| 24 | 88 | T. BLOMQVIST | NIO 333 FE Team | 1:16.015 | 3.496 | 0.634 |