Grosjean survives huge wreck on Lap 1 of Bahrain GP
(Update)
Grosjean has been sent to the hospital for minor burns and possible broken ribs.  He is otherwise OK.
He is one lucky man!
A succession of replays have highlighted just how terrifying a moment that truly was. A massive credit is due to the marshals who were on the scene incredibly quickly to put those flames out.
I'm so grateful Romain is safe. Wow… the risk we take is no joke, for those of you out there that forget that we put our life on the line for this sport and for what we love to do. Thankful to the FIA for the massive strides we've taken for Romain to walk away from that safely https://t.co/dG8AXmsbKN

— Lewis Hamilton (@LewisHamilton) November 29, 2020
---
November 29, 2020
Romain Grosjean escaped serious injury on the opening lap of the Bahrain GP when his Haas F1 car collided with the AlphaTauri of Daniil Kvyat that sent Grosjean head-on into an Armco barrier.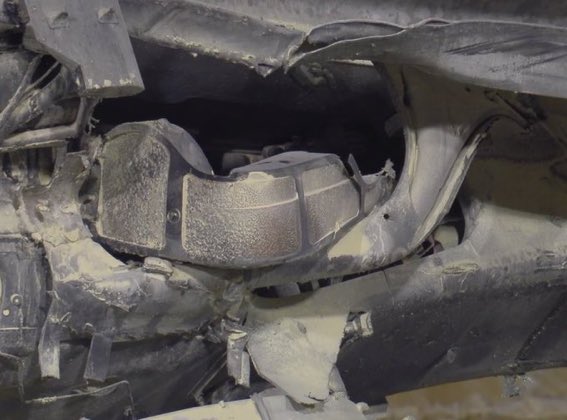 The car burst into flames and the cockpit pierced the steel barrier and if not for the F1 Halo he would have likely been decapitated.
A horrible moment at the #BahrainGP and a very real reminder of the risks involved in F1 racing.

That Romain Grosjean was able to walk away from this is nothing short of a miracle. We await more news.

📻 Listen: https://t.co/dFY9a7gu0X
📲 Follow: https://t.co/pqmqohNJXO#bbcf1 pic.twitter.com/doNmaV27D7

— BBC Sport (@BBCSport) November 29, 2020
So relieved @RGrosjean is okay after surviving an unprecedented accident – no question safety cell and halo saved his life as it penetrated the Armco. Shades of #F1 of the 1970s but with 21st century safety 🙏🙏 #BahrainGP https://t.co/AUypgwhea7

— James Allen (@Jamesallenonf1) November 29, 2020
If you watch the replay, you see @alanvdm and Dr. Ian Roberts in the @FIA medical car heading right into danger to rescue @RGrosjean. #NotAllHeroesWearCapes #F1 #BahrainGP @HaasF1Team pic.twitter.com/DT3OUlYDU9