Yuki Tsunoda tops opening F2 practice on Bahrain Roval
Yuki Tsunoda topped his fifth Free Practice session of the season to get his weekend off to the perfect start in Sakhir, beating out his teammate Jehan Daruvala by 0.2s. Luca Ghiotto was a further tenth back in third place, as title rivals Mick Schumacher and Callum Ilott finished in seventh and 18th.
The stage is set for the 12th and final round of the 2020 Formula 2 championship, with all the teams operating out of the same garages as last week. However, they will be tackling a different layout known as the Outer Track. It features 11 corners and is 3.543 kilometers in length, requiring a completely different car set-up. The track will produce a much higher average speed than last weekend's with very few slow corners and a higher percentage of straight line sections.
Christian Lundgaard led the field out onto the track for the final Free Practice session of the season, but it was Championship leader Mick Schumacher who set the first flying lap, touring around the outer layout of the Bahrain International circuit in 1:04.094.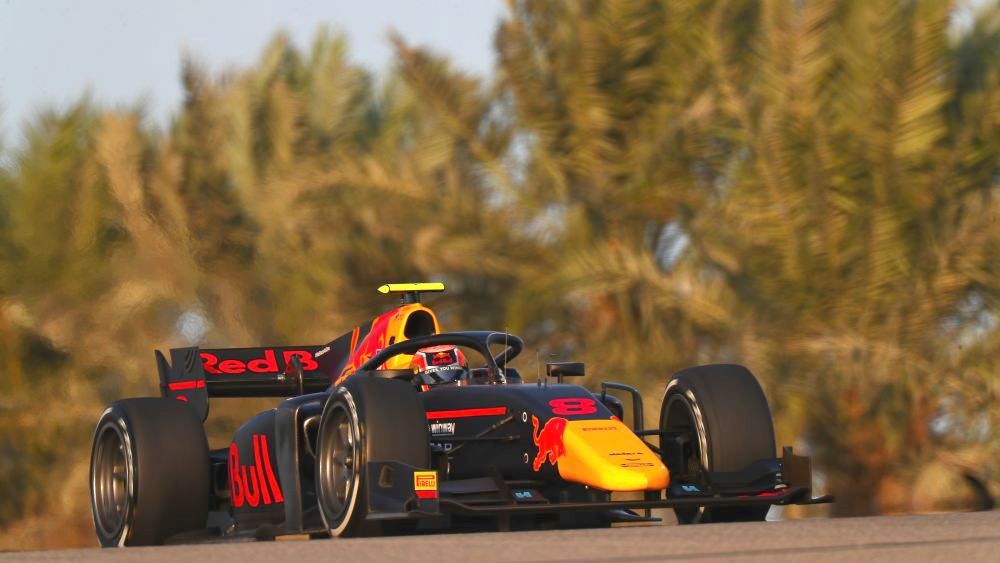 The German wasn't at the top of the order for long, as Round 11 Feature Race winner Felipe Drugovich dropped the quickest time down to 1:03.780, before Robert Shwarztman and Theo Pourchaire dived into second and third.
Tsunoda briefly usurped the MP Motorsport man, looking to top his fifth FP of the year, but Drugovich battled back and returned his name to the summit. Tsunoda had another go on his next tour and this time made it stick, taking P1 with 1:03.780. The Japanese driver's Carlin teammate Jehan Daruvala popped up in second behind him, as Drugovich dropped to fourth below Luca Ghiotto.
Attention switched to longer runs and data gathering, before Artem Markelov's BWT HWA RACELAB went up in smoke down the main straight. This brought out a red flag with four minutes of the session to go and the decision was taken not to restart.
That meant that Tsunoda retained his place in P1, ahead of his teammate Daruvala. Ghiotto finished third and Drugovich took fourth, ahead of Nikita Mazepin, Marcus Armstrong, Schumacher and Guanyu Zhou. Louis Delétraz finished ninth, ahead of Shwartzman. Meanwhile, Schumacher's main title rival, Callum Ilott, struggled to P18 in the opening session of the weekend.
The title fight will pick up in Qualifying at 6.45pm (local time) and Ilott will need to be back on the pace to keep his hopes to sealing the crown alive.
Practice Results
| | | | | | | | |
| --- | --- | --- | --- | --- | --- | --- | --- |
| Pos | No. | Driver | Team | LAPS | TIME | GAP | INT. |
| 1 | 7 | Y. Tsunoda | Carlin | 28 | 1:03.267 | 0.000s | 0.000s |
| 2 | 8 | J. Daruvala | Carlin | 28 | 1:03.495 | 0.228 | 0.228 |
| 3 | 25 | L. Ghiotto | Hitech Grand Prix | 23 | 1:03.582 | 0.315 | 0.087 |
| 4 | 15 | F. Drugovich | MP Motorsport | 26 | 1:03.609 | 0.342 | 0.027 |
| 5 | 24 | N. Mazepin | Hitech Grand Prix | 22 | 1:03.664 | 0.397 | 0.055 |
| 6 | 5 | M. Armstrong | ART Grand Prix | 25 | 1:03.872 | 0.605 | 0.208 |
| 7 | 20 | M. Schumacher | PREMA Racing | 24 | 1:03.876 | 0.609 | 0.004 |
| 8 | 3 | G. Zhou | UNI-Virtuosi | 22 | 1:03.879 | 0.612 | 0.003 |
| 9 | 11 | L. Delétraz | Charouz Racing System | 24 | 1:03.940 | 0.673 | 0.061 |
| 10 | 21 | R. Shwartzman | PREMA Racing | 22 | 1:03.966 | 0.699 | 0.026 |
| 11 | 2 | D. Ticktum | DAMS | 25 | 1:03.994 | 0.727 | 0.028 |
| 12 | 6 | C. Lundgaard | ART Grand Prix | 23 | 1:04.012 | 0.745 | 0.018 |
| 13 | 9 | R. Boschung | Campos Racing | 24 | 1:04.014 | 0.747 | 0.002 |
| 14 | 17 | T. Pourchaire | BWT HWA RACELAB | 26 | 1:04.060 | 0.793 | 0.046 |
| 15 | 1 | S. Gelael | DAMS | 25 | 1:04.065 | 0.798 | 0.005 |
| 16 | 12 | P. Piquet | Charouz Racing System | 27 | 1:04.065 | 0.798 | 0.000 |
| 17 | 22 | R. Nissany | Trident | 23 | 1:04.104 | 0.837 | 0.039 |
| 18 | 4 | C. Ilott | UNI-Virtuosi | 25 | 1:04.117 | 0.850 | 0.013 |
| 19 | 23 | M. Sato | Trident | 26 | 1:04.166 | 0.899 | 0.049 |
| 20 | 16 | A. Markelov | BWT HWA RACELAB | 26 | 1:04.252 | 0.985 | 0.086 |
| 21 | 10 | G. Samaia | Campos Racing | 26 | 1:04.366 | 1.099 | 0.114 |
| 22 | 14 | G. Alesi | MP Motorsport | 25 | 1:04.426 | 1.159 | 0.060 |