Sakhir GP: Russell again fastest in Hamilton's superior car
For the 2nd practice session in a row, former F1 back marker George Russell, who scored zero points driving the Williams, turned the fastest lap in practice 2 for the Sakhir GP in Bahrain driving in place of Lewis Hamilton who is out with Covid.
Russell turned a lap of 54.713s to again top the Red Bull of Max Verstappen, this time by 0.128s. Sergio Perez was 3rd quick for Racing Point 0.153s behind.
Esteban Ocon and Alex Albon rounded out the top-5.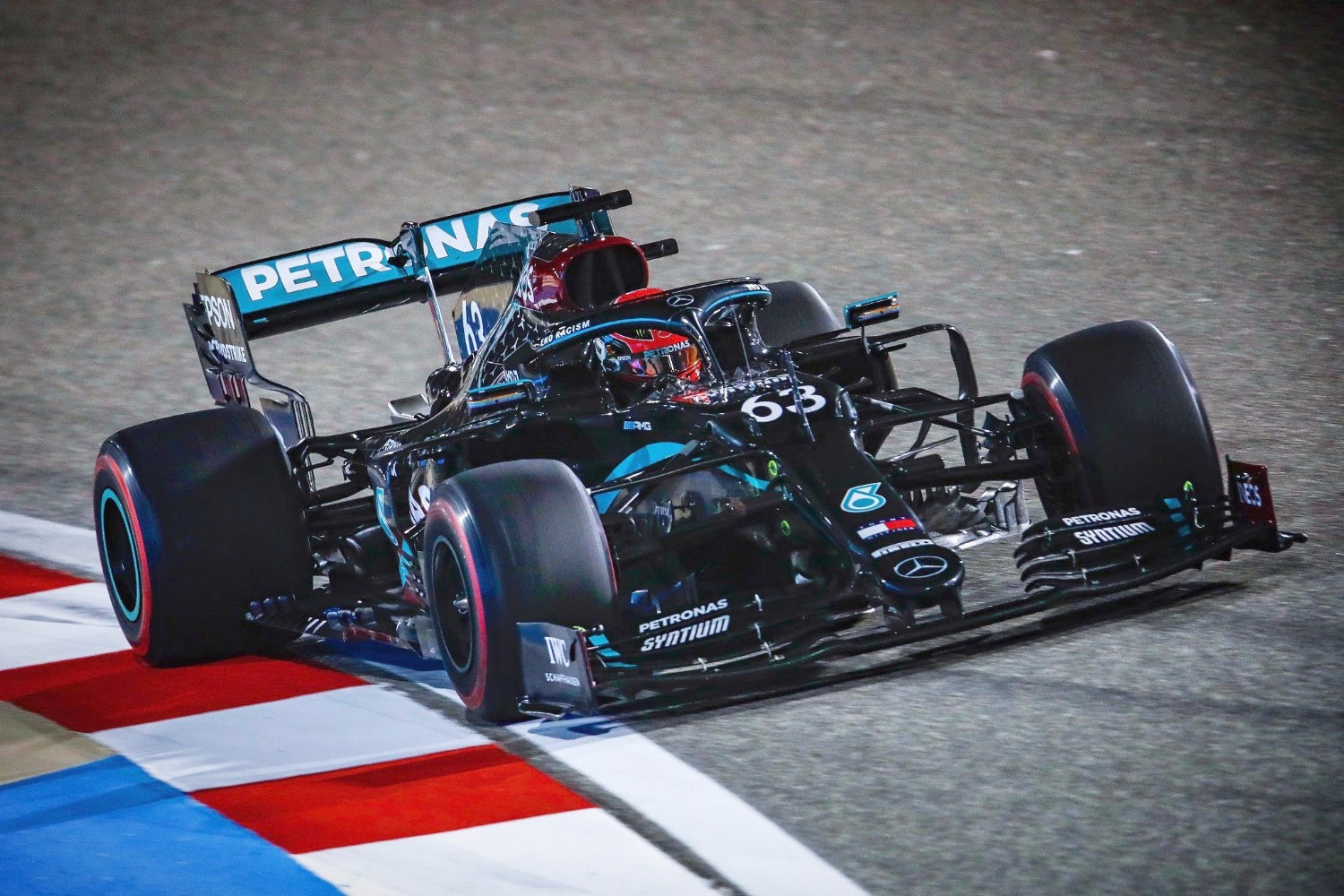 It was tough for any driver to get a perfectly clean lap around the tight 3.5km Bahrain International Circuit Outer Track that stands at just 0.2km longer than Monaco. But once the qualifying simulations were complete, it was Russell who, as in FP1, headed the time sheets with a lap of 54.713s – some two-tenths slower than he managed in the opening session of the weekend.
💬 A day of learning for @GeorgeRussell63 in Bahrain #SakhirGP pic.twitter.com/eJ3yrSUnHq

— Mercedes-AMG PETRONAS F1 Team (@MercedesAMGF1) December 4, 2020
Valtteri Bottas couldn't get within three-tenths of his teammate in FP1 – and on paper, his FP2 performance was even worse, the Finn ending up in P11, and not looking entirely at ease around the shorter circuit configuration.
After Albon in fifth came the AlphaTauri of Daniil Kvyat, a punchy first day for the Russian and his team seeing him finish ahead of the second Racing Point of Lance Stroll and the second Renault of Daniel Ricciardo, with Pierre Gasly and the leading McLaren of Carlos Sainz – who complained of a loss of synchronization on his gears midway through his long run simulation – in P9 and P10, Gasly suffering a scare in the final moments of the session after being struck painfully on the finger by some flying gravel.
Behind Bottas' time for 11th, Kimi Raikkonen was 12th ahead of his Alfa Romeo teammate Antonio Giovinazzi – the two Ferrari-powered cars seen tentatively experimenting with a tow early on in the session at the fast Sakhir GP track – while Haas' Kevin Magnussen was 14th, ahead of the Williams of Nicholas Latifi.
Quotes
Mercedes AMG Petronas Motorsport
George Russell (1st, 0:54.713): "It was a good first day in the W11 but there's definitely work to be done. The new track layout is very different to the usual layout here and it's not an easy track to say the least. It's going to be very tight in qualifying and we can probably expect a dramatic race. It's been good to be working with the team today and I'm learning a lot every single lap I'm in the car. I think my lap times are a bit deceiving at the moment and not the true representation of the pace. I struggled on the high fuel runs in FP2 and ultimately that's going to be key on Sunday. The Red Bulls were quick on the long runs and Valtteri was quickest in FP2 but had his lap time deleted. It's going to be close, so we'll get our heads down tonight. There's still a lot of work to do to get comfortable in the car and with the set-up. But it's been an encouraging first day and I'm excited to be back in W11 tomorrow."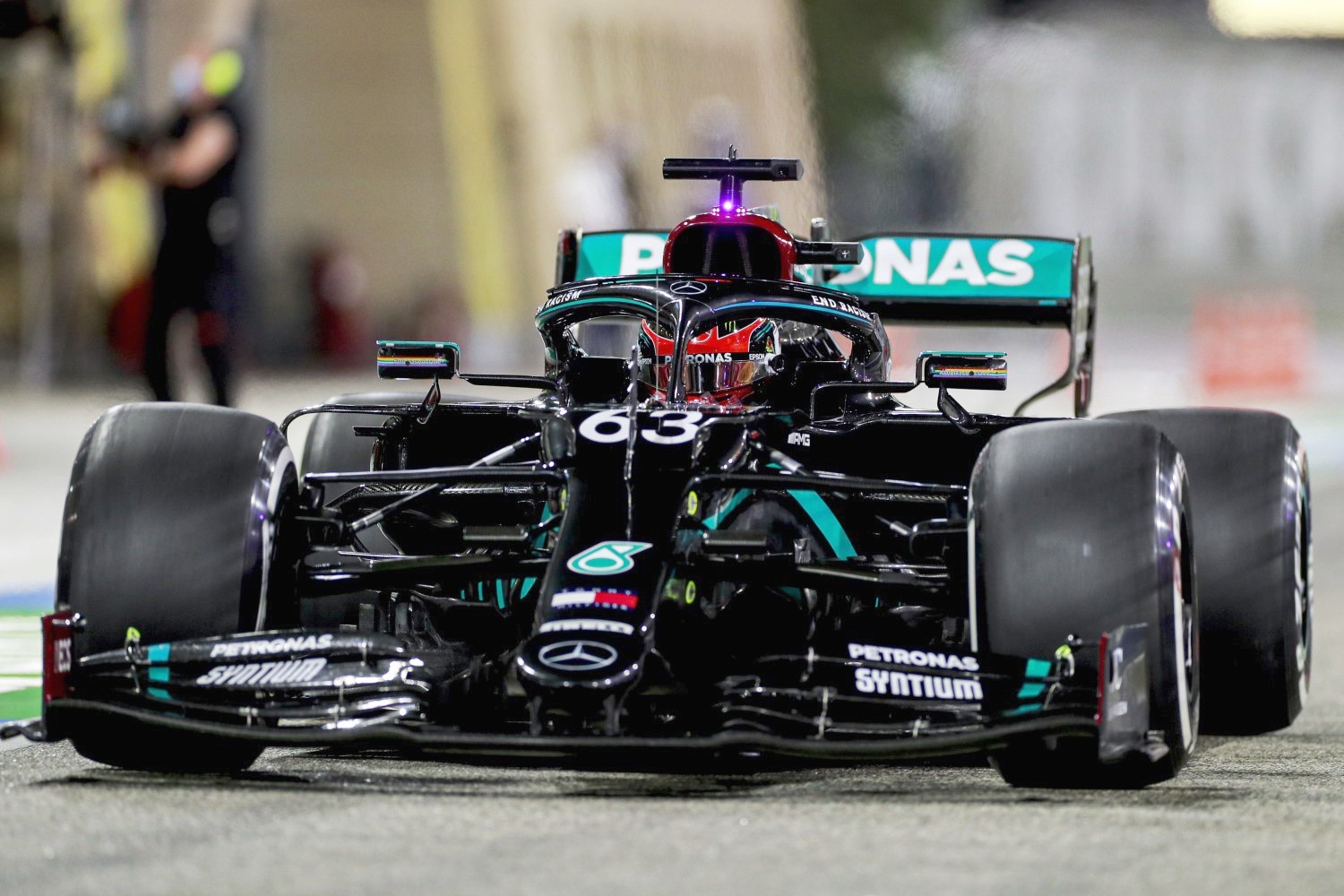 Valtteri Bottas (11th, 0:55.321): "It was a tricky day for me. I went over the curbs in Turn 8 in my first run in FP1 and broke quite a large chunk off the floor, so the rest of the session was a bit of a waste afterwards. FP2 felt ok, but obviously, I didn't really get any laps in on the Soft tire, as my only half decent lap was deleted because of track limits. So, not the best day, but the long runs were pretty consistent. Red Bull look really competitive on those long runs, particularly on the Medium tire, and George was putting in good laps as well. There's quite a bit of work to do on my side to get everything together for qualifying. The new section of track is really technical and bumpy, so it's quite challenging and really easy to lose a tenth. On such a short track, in qualifying that could make all the difference. It's going to be intense with so many cars on track, too, so it's going to be really important to get clean laps in and prioritize the gaps."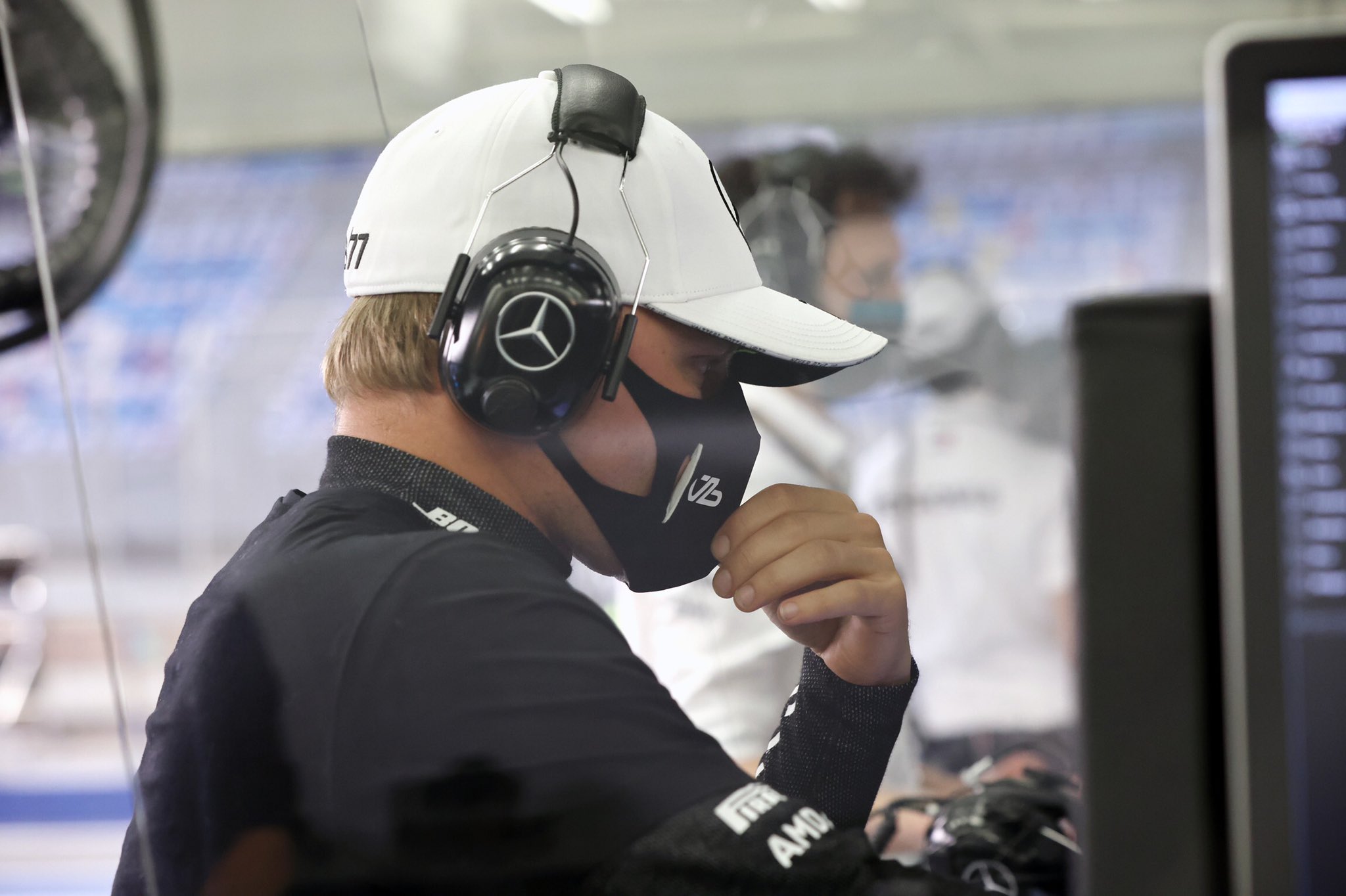 Andrew Shovlin: "It's been an interesting day with such a short lap and so few corners. Removing the mid-speed and high-speed corners does change the nature of the track somewhat and we've been tuning the set-up through the day to get the car working well in the slower corners, which weren't our strength last week. George has settled in well and both he and Valtteri look to have the pace to be in the fight for pole position. Our long runs weren't quite there today; the Red Bull looks to be stronger in that regard. So, we'll focus some effort tonight towards understanding the limitations on race fuel, but there are a few things to work on so we're optimistic we can make some progress."
Scuderia Ferrari
Sebastian Vettel (16th, 0:55.830): "We have had a mixed day: the first session was ok, the second was horrible. We tried some setting changes on the car, but the result was a very aggressive car, which is not what we needed. I hope tomorrow we can close the gap and get back on the right track. This track configuration is maybe a bit too short, almost over before it begins, but it's ok. Turn 4 is more or less as it was last week, a bit faster because it opens up, then it is bumpy between turn 7 and 8 where the curbs are very aggressive. This part is quite tricky but it's not bad. With 20 cars on track, Q1 will be very tight especially because of the traffic: we have to go very slowly on the cool-down laps to bring the tire temperatures down and this complicates things. I hope all the drivers will manage to get a clean lap without being impeded, or having too much trouble with traffic. It will be very tight and a few hundredths will make the difference."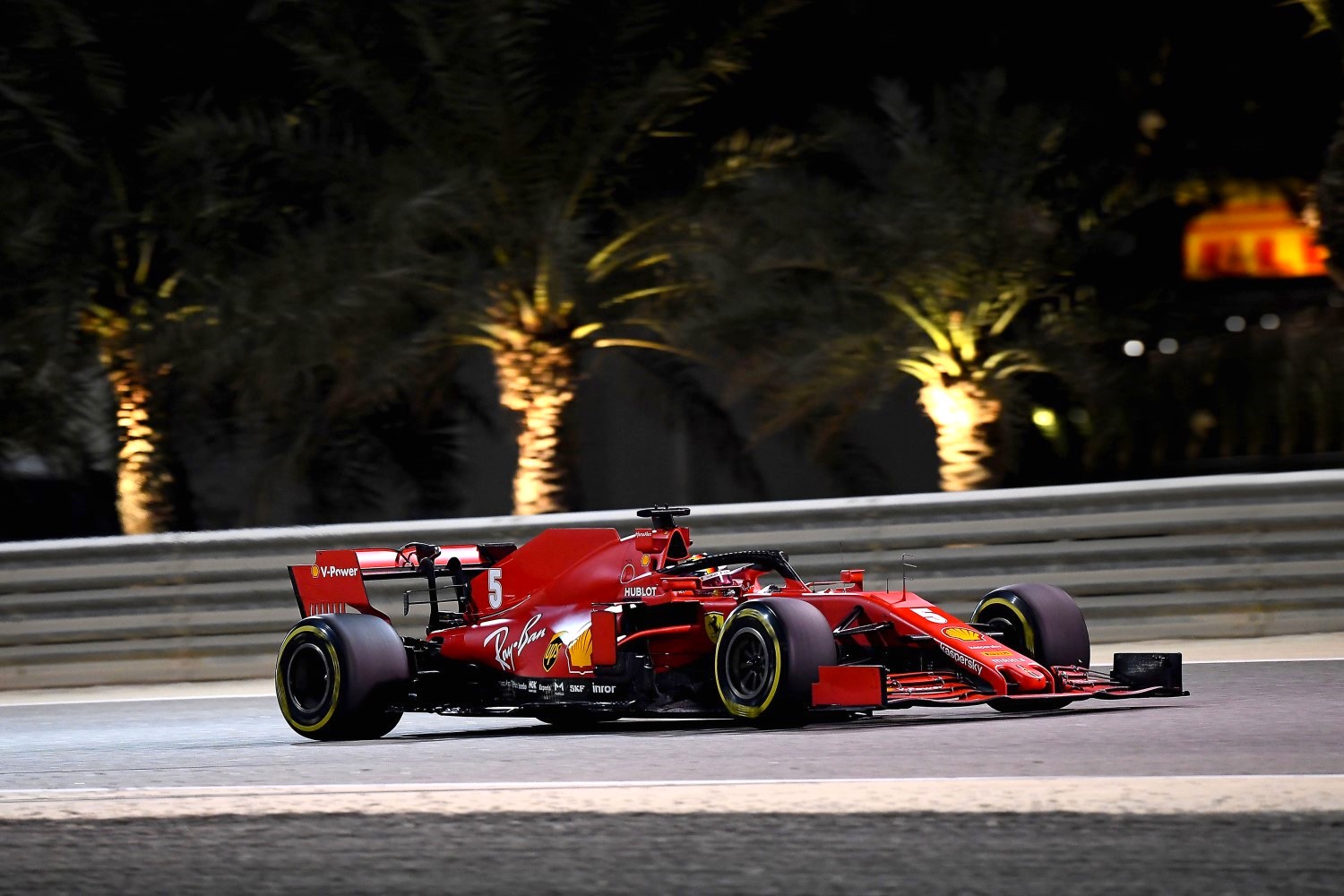 Charles Leclerc (20th, No Time): "It was better than expected today. Things were going well until the technical problem at the very beginning of FP2, so hopefully it will be a good day tomorrow. I enjoyed the track with very few corners as it reminds me of the karting days. It's a nice track and it should be a fun race. With these long straights, whoever is behind will have a big advantage. Finding a gap tomorrow in qualifying will be my main concern. Especially in Q1 and Q2, which could be messy, I think. The car felt good at the beginning of FP2 so I feel confident we are in a good place, but we still need to see the lap times to confirm this."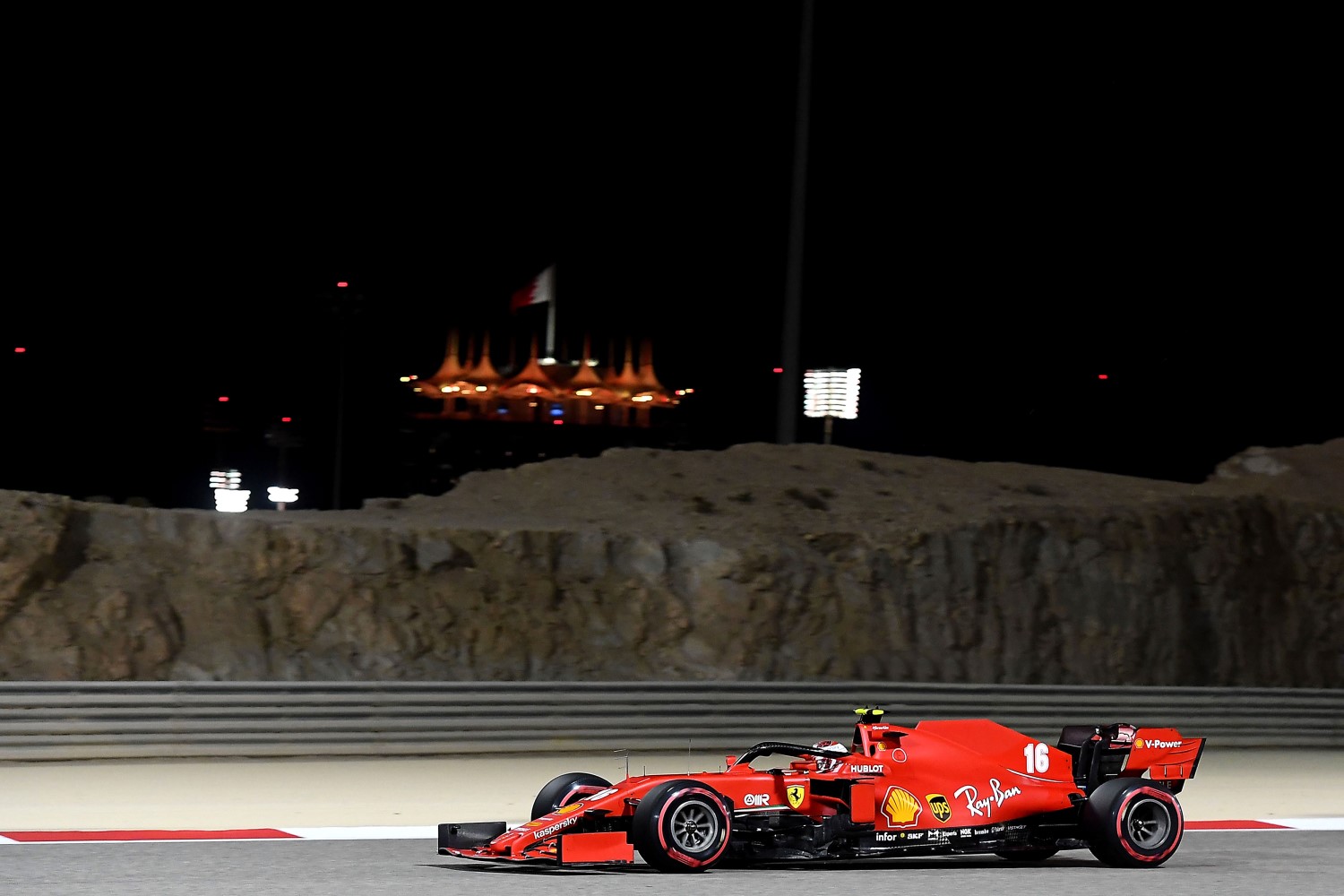 Red Bull Racing
Max Verstappen (2nd, 0:54.841): "It was tricky out there and balance wise we haven't quite found the optimum set-up, especially on the short runs. The long runs were definitely an improvement and looked quite good this evening but even there we can do better. The track is not the most exciting to drive and because it is such a short lap the radio is constantly open with traffic warnings about other cars. The second sector it is quite blind for a lot of corners and it isn't going to be easy when we need to cool the tires before doing a second push lap and I think it could actually be quite dangerous. We never know exactly where we are on a Friday but Valtteri's lap was cancelled so it looks like we are a couple of tenths off Mercedes. We have a bit of work to do before qualifying and then we will focus on the race pace to ensure we are competitive as following closely behind other cars will be a challenge around here."
Alexander Albon (5th, 0:55.036): "I'm enjoying this new track as it's very unique and some parts are quite challenging which makes it fun to get on top of. It was interesting out there today and there will be a lot to look at tonight in terms of what went well and what didn't. It felt as though we had more grip in the first session than compared with FP2 so we'll also have to look at that but overall the race pace looked pretty good which is positive but it's still early days. Finding a gap in qualifying tomorrow isn't going to be easy and because you have to drive so slowly to cool these tires down the closing speeds are huge, so we'll have to be on our toes and I expect our engineers are going to be busy. As drivers we all have respect for each other in terms of getting out of the way but at the same time we all want our tires to be in the best possible window for our own laps so I'm sure it will be a talking point in the drivers briefing later this evening."
Renault Sport Formula One Team
Esteban Ocon (4th, 0:54.940): "It was a good day for us and probably the best Friday of the season on our side of the garage. We had good performance in FP1, and we found a bit more in FP2 where we made a step and we're pleased with that. The long runs in FP2 were decent and I had some battles with some other cars, so that was fun. It's promising for tomorrow when we need to put everything together and make it happen. The new track is very technical and very different to last week. We're on lower downforce and we're arriving quicker into the corners, but I think we've adapted quite quickly to it."
Daniel Ricciardo (8th, 0:55.124): "It's been a good Friday for us. The track is obviously very short, but I quite like it, and I'd say that the new section in the middle is my favorite bit. We've done quite a few laps here now so it's nice to have something a little different. The afternoon session was strong and then we experimented a little bit in the evening. Esteban's pace looks good as well, so I think we'll be set for a good qualifying tomorrow. I'm looking forward to it and we have to make sure we're on it tomorrow to underline today's pace."
Ciaron Pilbeam, Chief Race Engineer: "We've had a very good day. Both drivers were quite comfortable in the car right from the start of FP1. We've been chipping away at the car balance trying to get more performance from it but, generally, it's been pretty good on both short and long runs. It's a short lap and the traffic, today at least, wasn't quite as busy as we thought it would be. Qualifying will probably be busy and crowded, especially Q1 with all the cars out there. We tried something in the afternoon on Daniel's car, which maybe hasn't worked out so well, but it didn't hamper him too much and it's an easy thing to go back on. We've had a solid day, we're in good shape and we're looking forward to tomorrow."
Haas F1 Team
Kevin Magnussen (14th, 0:55.738): "Well, it's certainly a very short track with a lot of traffic – it's very narrow as well, very bumpy. It's certainly a challenge. Unfortunately, we're not fast enough, either on the normal track or this new one. We've also got to work on the balance of the car, it's not just the straights where we're slow – we have to work on the corners. We've got to try and manage all that. I think Pietro (Fittipaldi) has done really well today. It's a big ask to be thrown into a car just a couple of days before a race weekend with no testing. I think he's gotten up to speed really well. Hopefully he's enjoying it."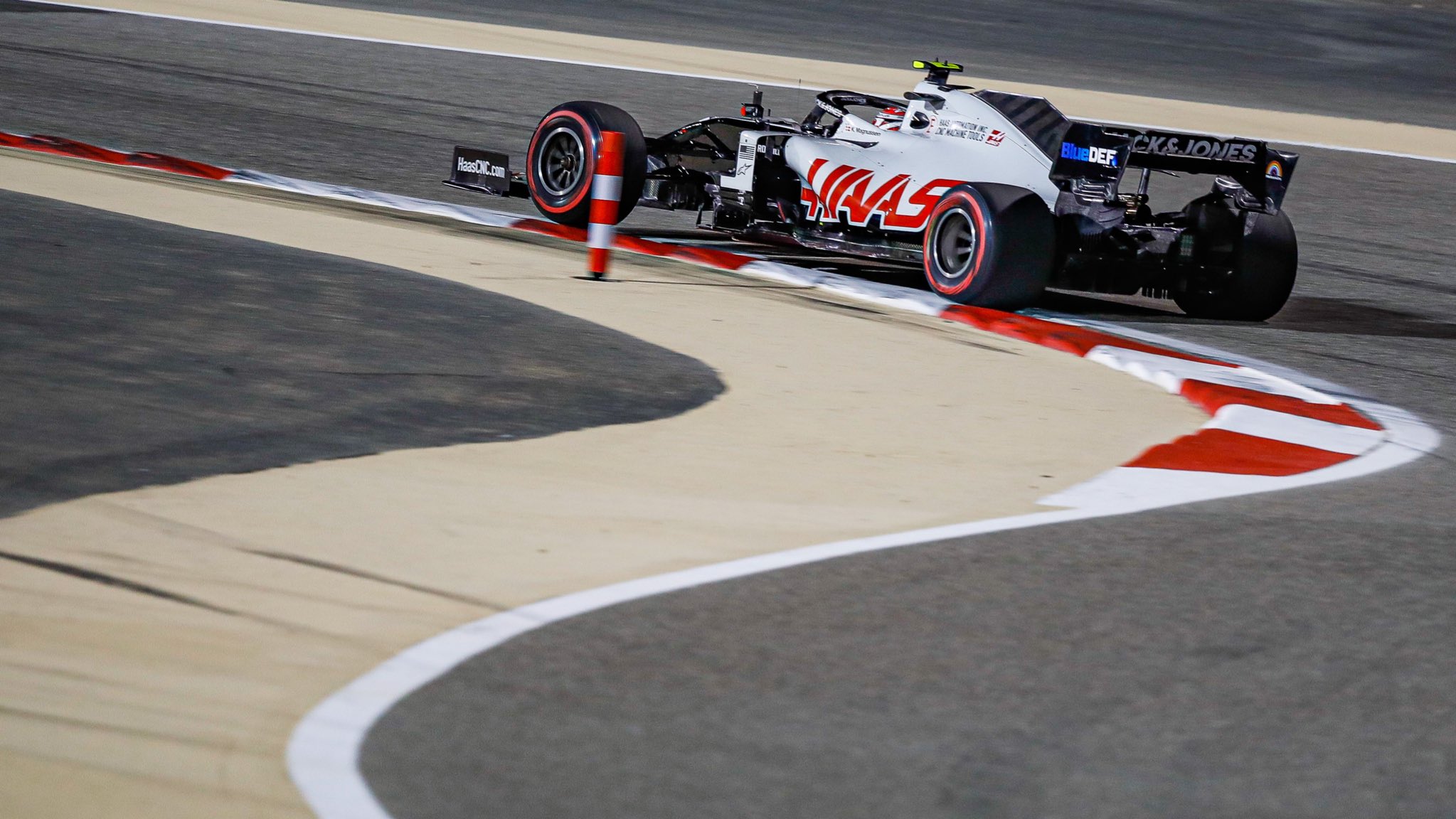 Pietro Fittipaldi (18th, 0:56.110): "It's been both fantastic and exciting today. It's been a year since I've driven a Formula 1 car, eight months since I've driven anything on track. I took the day step-by-step, I just kept my focus and kept calm. I was really happy with the day. The team have helped me with everything, the engineers did a great job talking me through things, and the mechanics have done a great job as well. The only set-back was in FP1, we had a lock-up that damaged my tires, I couldn't do any further running. I kept my cool and we just went into FP2 and got through our run plan. Tomorrow I'll make another step, slowly turn up the volume, and push when it comes to qualifying then the race."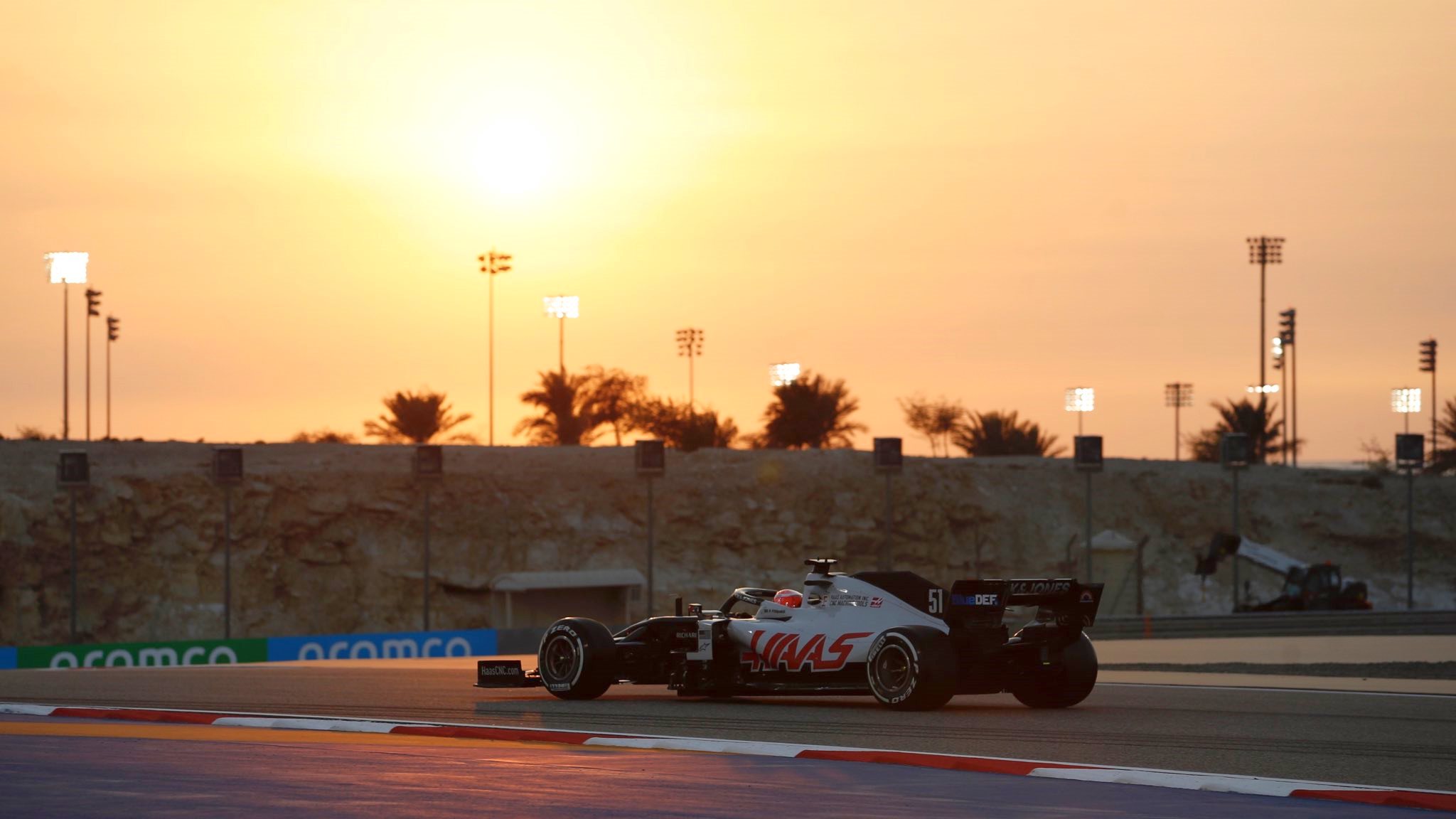 Guenther Steiner, Team Principal: "The combination of the two sessions were very good. In FP1 Pietro (Fittipaldi) lost a few laps – he flat-spotted the tires, so he couldn't go out anymore. For sure though, FP2 was good because the most important thing for Pietro was getting laps in. I thought he did very well in FP2. I hope he's not too worn out now because of the physical demands. Kevin (Magnussen) did a good job today as well, he was solid while getting used to the new track layout. Now we get ready for tomorrow."
McLaren F1 Team
Carlos Sainz (10th, 0:55.258):
Lando Norris (17th, 0:56.031):
Andreas Seidl, Team Principal:
Andrea Stella, Racing Director:
Racing Point F1 Team
Sergio Perez (3rd, 0:54.866): "I'm optimistic about our chances this weekend after a positive day on track. I think we can aim for a strong result, but today has really shown just how close qualifying is going to be. The margins will be tight and that means putting everything together over a single lap is going to be crucial. It was a challenge taking on the new layout today: the middle sector is particularly tricky because the curbs are quite aggressive. It's tempting to use them but it's so easy to make a mistake if you misjudge it. I think we'll see plenty of lap times deleted and see some errors over the weekend, so it's important to minimize the chances of making a mistake. The whole lap is a challenge too, even though there's not many corners overall – so getting the middle sector right is very important."
Lance Stroll (7th, 0:55.104): "It was really close out there today with small gaps between all the cars. I think we learned a lot about how the weekend will develop and how the race will play out. Turn 8 is going to be a big factor tomorrow and we'll probably see a lot of lap times deleted, so the key will be staying close to the limit. We managed the challenge of having a lot of traffic on such a short lap well today, but I expect that's going to be even more tricky in qualifying when everyone is searching for free air. Qualifying will be very important tomorrow because it was more difficult to overtake than we expected. It could end up being a track position race. All things considered, it was a good day's work and I'm confident in the car for Saturday and Sunday."
Alfa Romeo Racing
Kimi Raikkonen (12th, 0:55.484): "I didn't have any particular expectations about this track before the weekend, but the important thing was to have two clean sessions and do our job with the car. The track itself is relatively simple, it has just two big corners although it is quite bumpy. Our approach to the weekend didn't change, we will prepare for tomorrow's qualifying in the usual way: hopefully we can make another step forward tonight and be competitive in the afternoon."
Antonio Giovinazzi (13th, 0:55.533): "I am pretty happy with the pace we showed today, especially in the longer runs. Tomorrow should be an interesting challenge, finding space will be important but we know everyone will also be looking for a tow. We will need to be smart and play our cards right. We know we are fighting to be in Q2 and we are confident we have a chance to be there, so let's see what we can get tomorrow."
Red Bull AlphaTauri Honda
Daniil Kvyat (6th, 0:55.068): "It was quite a standard Friday, we managed to complete all of our program for today and worked through it pretty well. It was a new track to learn but I think we were quite OK out there. Hopefully, we will be able to understand a few more things tonight to see how we can improve tomorrow. It's extremely tight between the teams, so it's going to be important to get on top of everything without making any mistakes. It's a shorter track with new corners, which is always something I enjoy learning, and a different challenge that makes it very interesting."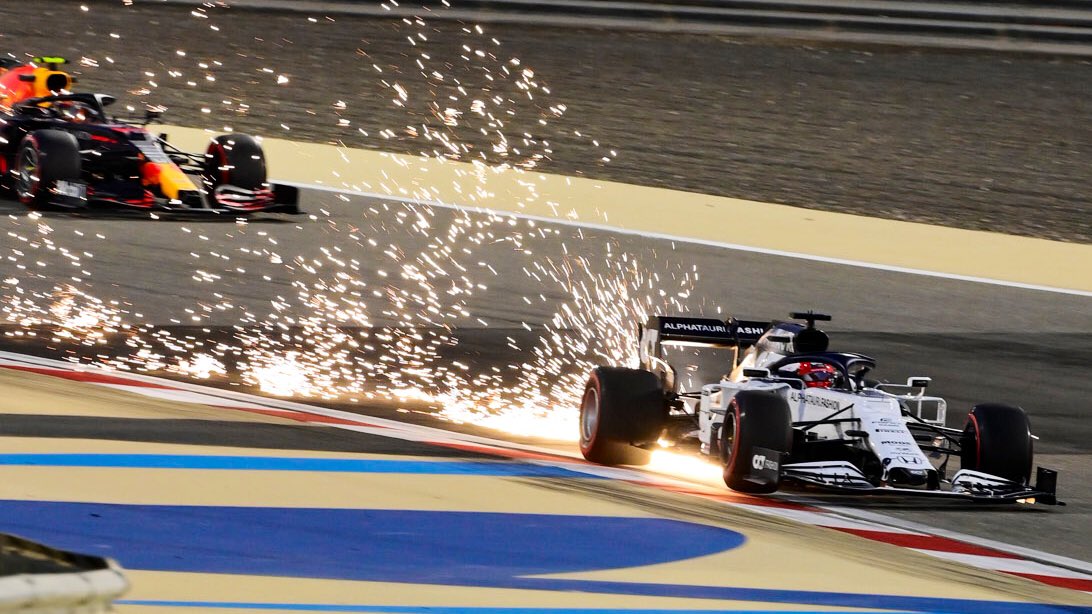 Pierre Gasly (9th, 0:55.133): "It was a decent Friday. I think we have a pretty competitive car and we tried different setups which gave us a good idea of which direction to go for tomorrow. FP2 was a bit scrappy on my run on Options, so I think we have a bit more performance to come. However, the long runs look competitive, so it will just be a matter of fine-tuning and work on final details tonight to make sure we can start in a good position on Sunday and have a strong car for the race."
Jonathan Eddolls, Chief Race Engineer: "Although we're at the same venue as last week, we're facing different challenges this week as we're racing on an altered layout. While the circuit is a bit less demanding on the tires, it's very hard on the cars, so even though effectively three of the corners are the same as last week, the aerodynamic requirement is quite different. We spent FP1 trying to understand the optimum configuration for the short run, which meant running some compares across the two cars, and at the end of the session, we started to get an initial understanding of tire degradation. From a first look at the numbers, the degradation looked in a better position compared to last week. Moving on to FP2, we focused on setup work at the start of the session, then switched to long-runs to try and get a better understanding of tire performance for Sunday. Things are looking positive so far; the short-run performance is good, and we managed to make some changes to the car to improve the long-run performance too, so it was a constructive day. Given that it's a short lap, one of the key points is certainly the traffic so I expect it's going to be a nightmare in Qualifying – we've already seen signs of it in practice – and Q1, in particular, is going to be a real challenge. We'll prepare ourselves tonight to be ready for it."
Williams Racing
Nicholas Latifi (15th, 0:55.784): "It was a different kind of day, and a different kind of track to what we are used to. It was pretty hectic out there, 20 cars sharing this short track made it difficult to focus on your own program, get clean laps in and try to not disturb anyone else. We have some work to do on both low and high fuel, but we are thereabouts with our competitors Haas and Alfa, which is always the target. The new section is very bumpy, it will create something different for sure which I think is what F1 wanted to achieve. I hope it makes it exciting and brings opportunities that we are all hoping for. It has definitely created a challenge to set up the car, so we will try and nail that down tomorrow."
Jack Aitken (19th, 0:56.260): "Today was pretty cool and I got lots of laps under my belt. We spent the first few laps in FP1 refreshing what I did during FP1 in Austria, so it was all pretty familiar, and I got up to speed quickly. There is some work to be done on our one lap pace, but the race form was encouraging so I am pretty happy. We built some solid foundations today, so I am looking forward to getting into qualifying. It will be tough tomorrow in qualifying; keeping your wits about you and being aware and hopefully we can be on the right side of things."
Dave Robson, Senior Race Engineer: "It has been a fun evening getting to grips with the new Sakhir layout. The new corners are a bit bumpy in places, but they add to the character of the circuit and give the drivers a new challenge. The wind direction was quite different to last week and so even the corners that are shared with the traditional Grand Prix circuit were a little different today. However, both drivers settled down to the job very well and, following a tricky FP1 session, had very productive FP2 sessions. Jack has driven very well and although he damaged his second set of tires in FP1, he was still able to complete some useful operational practice at the end of the session. His FP2 session was very good as he completed his qualifying program before getting stuck into the high fuel race runs. He was able to get a good idea of what will be required in the race on Sunday and his rate of learning was excellent. Nicholas meanwhile has happily and competently taken on the role of team leader and completed some very good running during the night session. He was able to consolidate his experience of the tires from last weekend and quickly adapt it to the nuances of driving the Outer Loop at night. As always, we have a lot to get through tonight but we're sure that we can improve the car further ready for qualifying tomorrow. We also understand that George Russell had a good day and we wish him well for the rest of the weekend."
Practice 2 Results
| | | | | | | |
| --- | --- | --- | --- | --- | --- | --- |
| POS | NO | DRIVER | CAR | TIME | GAP | LAPS |
| 1 | 63 | George Russell | Mercedes | 54.713 | +0.000s | 48 |
| 2 | 33 | Max Verstappen | Red Bull Racing Honda | 54.841 | +0.128s | 43 |
| 3 | 11 | Sergio Perez | Racing Point Mercedes | 54.866 | +0.153s | 52 |
| 4 | 31 | Esteban Ocon | Renault | 54.940 | +0.227s | 50 |
| 5 | 23 | Alexander Albon | Red Bull Racing Honda | 55.036 | +0.323s | 42 |
| 6 | 26 | Daniil Kvyat | AlphaTauri Honda | 55.068 | +0.355s | 58 |
| 7 | 18 | Lance Stroll | Racing Point Mercedes | 55.104 | +0.391s | 44 |
| 8 | 3 | Daniel Ricciardo | Renault | 55.124 | +0.411s | 47 |
| 9 | 10 | Pierre Gasly | AlphaTauri Honda | 55.133 | +0.420s | 48 |
| 10 | 55 | Carlos Sainz Jr. | McLaren Renault | 55.258 | +0.545s | 39 |
| 11 | 77 | Valtteri Bottas | Mercedes | 55.321 | +0.608s | 52 |
| 12 | 7 | Kimi Räikkönen | Alfa Romeo Racing Ferrari | 55.484 | +0.771s | 54 |
| 13 | 99 | Antonio Giovinazzi | Alfa Romeo Racing Ferrari | 55.533 | +0.820s | 57 |
| 14 | 20 | Kevin Magnussen | Haas Ferrari | 55.738 | +1.025s | 49 |
| 15 | 6 | Nicholas Latifi | Williams Mercedes | 55.784 | +1.071s | 52 |
| 16 | 5 | Sebastian Vettel | Ferrari | 55.830 | +1.117s | 43 |
| 17 | 4 | Lando Norris | Mclaren Renault | 56.031 | +1.318s | 14 |
| 18 | 51 | Pietro Fittipaldi | Haas Ferrari | 56.110 | +1.397s | 56 |
| 19 | 89 | Jack Aitken | Williams Mercedes | 56.260 | +1.547s | 58 |
| 20 | 16 | Charles Leclerc | Ferrari | No Time | No Time | 2 |