Dakar Stage 7: Al-Rajhi claims first home win, Brabec wins in Bikes
It's in the bag for Yazeed Al-Rajhi (Shown Above)! The Saudi ended a long drought that started in 2015 and claimed the stage win after moving into the lead with about 100 kilometers to go. The Toyota driver wrapped up the seventh special with 48′ to spare over Stéphane Peterhansel, 1'15' over Carlos Sainz in third place and 2'48' over Nasser Al-Attiyah.
After peaking at six minutes, Stéphane Peterhansel's advantage over Nasser Al-Attiyah went down to two minutes at the finish. The Qatari is now second overall, almost eight minutes behind the Frenchman. It was a good day for 'Monsieur Dakar', who claimed his sixth podium finish in seven stages!
Bikes
The winner of the prologue, American Ricky Brabec, had not finished on the podium since his second place in stage 2, but the defending champion struck back today by beating Ignacio Cornejo by 2'07' and Skyler Howes by 2'19'. Sam Sunderland came in fourth place, just under three minutes down.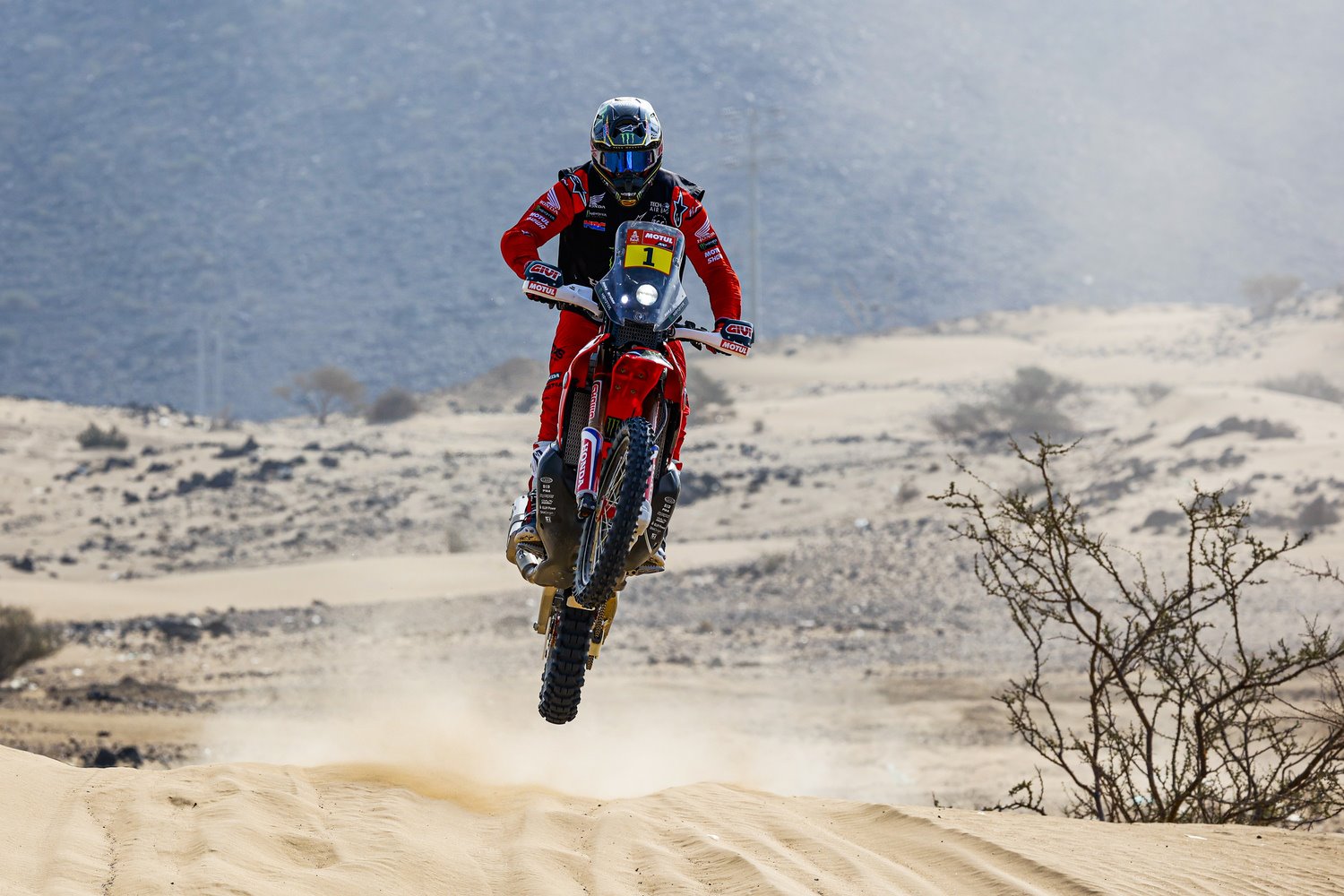 A single second separates Nacho Cornejo and Toby Price at the end of stage 7. Sam Sunderland put in a strong finish to come in third at 2'11' and Xavier De Soultrait finished 2'34' back. Just over 2'30' separated the top 4 men. The second week looks very promising!
Quads
Argentina's Manuel Andújar crossed the finish line first to easily take his second stage win of the year after leading the special from A to Z.s
Nicolás Cavigliasso's clutch broke down with less than 100 km to go. The Argentinian sought aid from another competitor before signalling his intent to withdraw. A massive disappointment for the 2019 champion, who started today's stage in the overall lead!
Trucks
Dmitry Sotnikov posted the fastest time in today's special to claim his fifth stage win this year by 3'23' over teammate Ayrat Mardeev. Anton Shibalov lost ground again after finishing 8'22' back.
Stage 7 Results (Top-10)
Cars
| | | | | |
| --- | --- | --- | --- | --- |
| Pos | No. | Driver/Nat. | Brand | Behind |
| 1 | 303 | Y. Al Rajhi SAU | Overdrive Toyota | 00:00:00 |
| 2 | 302 | S. Peterhansel FRA | X-Raid Mini Jcw Team | 00:00:48 |
| 3 | 300 | C. Sainz ESP | X-Raid Mini Jcw Team | 00:01:15 |
| 4 | 301 | N. Al-Attiyah GAT | Toyota Gazoo Racing | 00:02:48 |
| 5 | 307 | J. Przygonski POL | Orlen Team/Overdrive | 00:12:00 |
| 6 | 314 | C. Despres FRA | Abu Dhabi Racing | 00:17:06 |
| 7 | 311 | N. Roma ESP | Bahrain Raid Xtreme | 00:22:53 |
| | 317 | V. Vasilyev RUS | X-Raid Team | – |
| | 305 | S. Loeb FRA | Bahrain Raid Xtreme | – |
| | 310 | Sk. Al Qassimi ARE | Abu Dhabi Racing | – |
Bikes
| | | | | |
| --- | --- | --- | --- | --- |
| Pos | No. | Rider/Nat. | Make | Behind |
| 1 | 1 | R. Brabec USA | Monster Energy Honda Team 2021 | 00:00:00 |
| 2 | 4 | Ji. Cornejo Florimo CHL | Monster Energy Honda Team 2021 | 00:02:07 |
| 3 | 9 | S. Howes USA | Bas Dakar Ktm Racing Team | 00:02:19 |
| 4 | 5 | S. Sunderland GBR | Red Bull Ktm Factory Team | 00:02:52 |
| 5 | 21 | D. Sanders AUS | Ktm Factory Team | 00:03:14 |
| 6 | 12 | X. De Soultrait FRA | Ht Rally Raid Husqvarna Racing | 00:03:57 |
| 7 | 3 | T. Price AUS | Red Bull Ktm Factory Team | 00:05:05 |
| 8 | 77 | L. Benavides ARG | Rockstar Energy Husqvarna Factory Racing | 00:05:49 |
| 9 | 27 | J. Rodrigues PRT | Hero Motosports Team Rally | 00:05:55 |
| 10 | 06 | F. Caimi ARG | Monster Energy Yamaha Rally Team | 00:06:46 |
Quads
| | | | | |
| --- | --- | --- | --- | --- |
| Pos | No. | Driver/Nat | Brand | Behind |
| 1 | 154 | M. Andujar arg | 7240 Team | 00:00:00 |
| 2 | 168 | I. Pedemonte chl | Enrico Racing Team | 00:03:05 |
| 3 | 152 | A. Giroud fra | Team Giroud | 00:08:51 |
| 4 | 159 | G. Enrico chl | Enrico Racing Team | 00:08:54 |
| 5 | 163 | P. Copetti usa | Mx Devesa By Berta | 00:2:03 |
| 6 | 157 | R. Dutu fra | Smx Racing | 00:34:04 |
| 7 | 155 | K. Wisniewski pol | Orlen Team | 01:14:47 |
| 8 | 153 | T. Kubiena cze | Story Racing S.R.O. | 01:39:12 |
| 9 | 176 | L. Kancius ltu | Story Racing S.R.O. | 01:53:25 |
| 10 | 177 | S. Martinez bol | Team Can Am Martinez | 02:05:05 |
Trucks
| | | | | |
| --- | --- | --- | --- | --- |
| Pos | No. | Driver/Nat | Brand | Behind |
| 1 | 507 | D. Sotnikov rus | Kamaz – Master | 00:00:00 |
| 2 | 509 | A. Mardeev rus | Kamaz – Master | 00:03:23 |
| 3 | 501 | A. Shibalov rus | Kamaz – Master | 00:08:22 |
| 4 | 505 | A. Vishneuski blr | Maz-Sportauto | 00:10:29 |
| 5 | 500 | A. Karginov rus | Kamaz – Master | 00:11:44 |
| 6 | 504 | A. Loprais cze | Instaforex Loprais Praga | 00:14:47 |
| 7 | 506 | M. Van Den Brink nld | Mammoet Rallysport | 00:20:06 |
| 8 | 514 | M. Soltys cze | Tatra Buggyra Racing | 00:25:54 |
| 9 | 517 | I. Casale chl | Tatra Buggyra Racing | 00:26:13 |
| 10 | 503 | M. Macik cze | Big Shock Racing | 00:39:28. |