Dakar Stage 11: Al-Attiyah beats Peterhansel, Benavides tops in bikes
Nasser Al-Attiyah secured a fifth stage win of the 2021 Dakar Rally on Thursday, but was unable to make a major dent in Stephane Peterhansel's lead ahead of Friday's showdown.
Nasser Al-Attiyah also found himself in this role, but with a much more distant focus of his attention. Despite his 41st stage victory and a time gain of 1'56'', it was impossible for him to reverse the trend and block the way of Stéphane Peterhansel's march to a 14th title. Tomorrow, the Frenchman will start with a time cushion of 15'05''.
Benavides and Brabec will fight for the overall Bike Dakar 2021 victory tomorrow
The penultimate stage of the Dakar has once again produced some upsets. This morning, three riders set off from the Al-Ula bivouac eager to gain a place on the final podium. Brabec and Benavides remain in the battle for the overall win. Barreda has been forced to withdraw.
The longest special of the Dakar, as had been expected, caused some major shake-ups in the overall rankings. The originally planned 511-kilometer special stage was trimmed down to 464 kilometers due to route modifications. Recent rains had left the pistes in extremely poor condition causing race authorities to annul the most affected sections, citing safety reasons. There was, nevertheless, some complicated navigation to deal with on a route over all kinds of terrain: hard rock-filled tracks, dunes, sand and even a downpour of rain to welcome the riders upon arrival at the new Yanbu bivouac.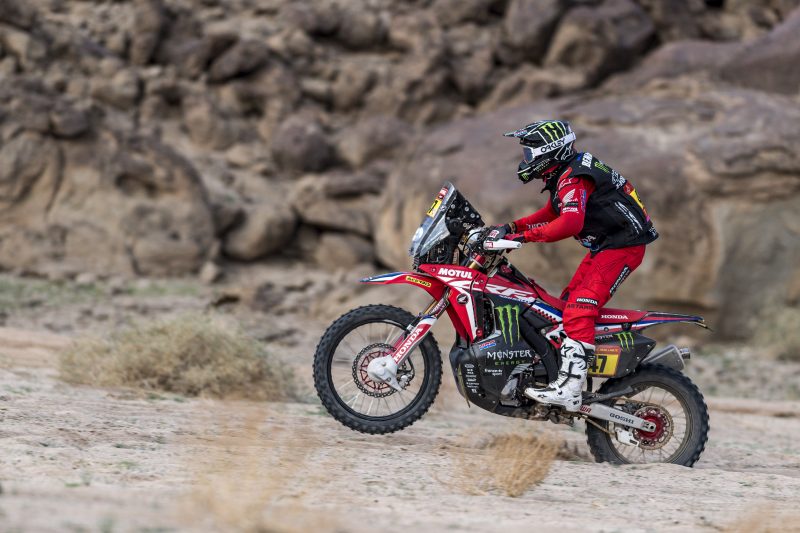 Ricky Brabec and Kevin Benavides still have their options wide open for the Dakar win. Today, the Monster Energy Honda Team riders completed a full stage which leaves them in an advantageous attacking position to be able to finish this Dakar on a high note. Ricky Brabec got the day's stage off and running, opening the track and, in spite of some setbacks, managed to keep a steady pace, which eventually saw him posting an excellent sixth place, some 7'13" behind the Dakar leader Kevin Benavides.
Argentinean Monster Energy Honda Team rider Kevin Benavides defended his overall lead in the race well to claim third place on the day. Tomorrow, he will attempt to hunt down his rivals in a bid for top honors on the final day of the Dakar Rally.
Joan Barreda's Dakar came to an end on this penultimate stage. The Spanish made a navigational blunder which meant he was unable to stop at the refueling point. A few kilometers later the Spaniard ran out of gas and was forced to retire. The rider then underwent medical checks to determine his condition after a fall yesterday.
The Dakar wraps up tomorrow with a final stage scheduled to finish in Jeddah, where the rally both starts and finishes in this 2021 edition. There will be just 202 kilometers of timed special, concluding on the shores of the Red Sea, but also featuring over 200 kilometers of liaison section. The winner of the Dakar 2021 will be known at the end of the 452-kilometer special stage.
Quads
In the quad race, Manuel Andújar headed for Yanbu with the same mind-set and his Chilean rival Giovanni Enrico only closed in to within 25'52'' by winning his second stage of the fortnight. In the lightweight vehicle category, the battle could have been much trickier for "Chaleco" López behind the wheel of his Can-Am, with a lead of only 10 minutes over Austin Jones, but the American let the pressure get to him rather than exerting it. As for Seth Quintero, he proved that his feat of last week was by no means down to chance as he won his second special.
Trucks
Anton Shibalov moved the counter up to 5 successes in total since his debut on the Dakar and should finish second, like last year, but this time behind Dmitry Sotnikov.
Performance of the day
In 2020, Wei Han finished his second Dakar in 10th position, becoming the best Chinese representative in the rally's history. Currently, occupying 18th place, he will not be able to improve his own record this year, but Han demonstrated that he was able to shine behind the wheel of an SMG buggy that is now prepared by the team he created alongside Philippe Gache. He proved this by achieving the sixth best time on today's special, ten minutes behind Nasser Al-Attiyah, slotted in between none other than Cyril Despres and Giniel De Villiers! As a result, Han picked up is second top ten finish and his best stage result on the Dakar. This bodes well for the Chinese driver, who hopes to line up with a reinforced team on the Dakar as from 2022.
A crushing blow
There is reason to wonder whether the day's bad luck encountered by Joan Barreda is due to an unfortunate chain of circumstances, or merely just a major blunder. Either way, the Honda rider, who had posted the best time after 215 km, got muddled up reading his road-book and did not stop at the refueling point, exposing himself to a severe penalty and especially to the likelihood of running out of petrol. This is exactly what happened as he ground to a halt after 267 km. Since he requested a medical examination, he was airlifted to the bivouac in Yanbu. Although he had the chance to equal his best finish on the rally so far, namely the 5th placed finish in 2017, "Bang-Bang" well and truly tore up all the benefits of his performance which had, until today, been in phase with his objectives and the hopes of his Honda team to see their bikes paint the upper reaches of the general standings red. As a result, his 11th participation on the Dakar finishes with the 5th withdrawal of his career on the rally.
Stat of the day: 7
In the absence of Toby Price, there were several riders ready to lay claim to the place of best KTM representative, but it was Sam Sunderland who came up trumps. By reacquainting himself with stage victory for the first time since 2019, the British rider also put a halt to a series of seven successive successes by the Honda clan, started on stage three by Joan Barreda and then continued by Kevin Benavides, Ricky Brabec and Nacho Cornejo. This sequence marked a shift in the balance of power to the Japanese constructor, which had taken time to rock the KTM boat but which had started, over the last few years, to prevent the Austrian brand becoming rapid-fire stage winners. Indeed, it is necessary to go back to 2016 to find a similar performance from KTM riders, with none other than Toby Price, alongside Antoine Meo and Štefan Svitko.
The makings of a Classic
Spanish drivers Antonio Gutiérrez and Luis Heras took part in the last African edition of the Dakar in 2007 in a truck that reached Lake Retba, the pink lake, in 47th position. This time, they are about to complete their Dakar Classic adventure on the shores of the Red Sea in a Mercedes G 320.
Quote of the day
Sam Sunderland: "I gave my all"
By winning stage 11 on the Dakar, the winner in 2017 has climbed into 2nd position, 4'12'' behind Kevin Benavides before the final special.
"I knew that today was one of my last chances to try to win and I gave my all, all day. The boys up front did a great job and, you know, I cannot be sad, because I give everything I have and try my best. I didn't quite manage to take enough time, but I'm happy with my effort. We still have one day to go and many things can happen on one stage. What a really tough day and a really difficult Dakar, but I'm super grateful for the team and everybody that put all the work in. Even to be able to be racing our bikes in the desert with the situation as it is in the world everywhere else, I can't complain and I'm going to be happy to go and get some rest now".
Stage 11 Results
Cars
| | | | | | |
| --- | --- | --- | --- | --- | --- |
| Pos. | No. | Nat | Driver | Make | Time/Gap |
| 1 | 301 | (QAT) | Nasser Al-Attiyah | Toyota Gazoo Racing | 04h 34m 24s |
| 2 | 302 | (FRA) | Stéphane Peterhansel | X-Raid Mini Jcw Team | 01m 56s |
| 3 | 300 | (ESP) | Carlos Sainz | X-Raid Mini Jcw Team | 02m 26s |
| 4 | 303 | (SAU) | Yazeed Al Rajhi | Overdrive Toyota | 04m 02s |
| 5 | 314 | (FRA) | Cyril Despres | Abu Dhabi Racing | 08m 31s |
| 6 | 304 | (ZAF) | Giniel De Villiers | Toyota Gazoo Racing | 13m 30s |
| 7 | 317 | (RUS) | Vladimir Vasilyev | X-Raid Team | 13m 58s |
| 8 | 310 | (ARE) | Sheikh Khalid Al Qassimi | Abu Dhabi Racing | 14m 30s |
| 9 | 316 | (SAU) | Yasir Seaidan | Srt Racing | 14m 51s |
| 10 | 312 | (CZE) | Martin Prokop | Benzina Orlen Team | 15m 33s |
Bikes
| | | | | | | |
| --- | --- | --- | --- | --- | --- | --- |
| Pos. | Rider | Num | Nation | Team | Constructor | Time/Gap |
| 1 | SUNDERLAND Sam | 5 | GBR | Red Bull KTM Rally Factory Team | KTM | 04:35'12 |
| 2 | QUINTANILLA Pablo | 2 | CHI | Rockstar Energy Husqvarna Factory Racing | Husqvarna | +00:02'40 |
| 3 | BENAVIDES Kevin | 47 | ARG | Monster Energy Honda Team | Honda | +00:06'24 |
| 4 | SANDERS Daniel | 21 | AUS | Red Bull KTM Rally Factory Team | KTM | +00:08'34 |
| 5 | WALKNER Matthias | 52 | AUT | Red Bull KTM Rally Factory Team | KTM | +00:09'27 |
| 6 | BRABEC Ricky | 1 | USA | Monster Energy Honda Team | Honda | +00:12'46 |
| 7 | VAN BEVEREN Adrien | 42 | FRA | Monster Energy Yamaha Rally Team | Yamaha | +00:14'48 |
| 8 | SANTOLINO Lorenzo | 15 | SPA | Sherco TVS Rally Factory | Sherco | +00:15'09 |
| 9 | SVITKO Stefan | 11 | SLO | Slovnaft Team | KTM | +00:16'45 |
| 10 | MENA Oriol | 87 | SPA | Rieju Dakar Team | Rieju | +00:18'15 |
Standings after Stage 11 (Top-10)
Cars
| | | | |
| --- | --- | --- | --- |
| Pos. | Driver | Car | Time/Gap |
| 1 | Stephane Peterhansel | Mini | 42hr09m26s |
| 2 | Nasser Al-Attiyah | Toyota | 15m05s |
| 3 | Carlos Sainz | Mini | 1hr04m14s |
| 4 | Jakub Przygonski | Toyota | 2hr32m24s |
| 5 | Nani Roma | BRX | 3hr15m54s |
| 6 | Khalid Al Qassimi | Peugeot | 3hr25m48s |
| 7 | Vladimir Vasilyev | Mini | 3hr26m58s |
| 8 | Giniel de Villiers | Toyota | 3hr55m02s |
| 9 | Martin Prokop | Ford | 3hr59m23s |
| 10 | Cyril Despres | Peugeot | 4hr49m05s |
Bikes
| | | | | | | |
| --- | --- | --- | --- | --- | --- | --- |
| Pos. | Rider | Num | Nation | Team | Constructor | Time/Gap |
| 1 | BENAVIDES Kevin | 47 | ARG | Monster Energy Honda Team | Honda | 45:01'44 |
| 2 | SUNDERLAND Sam | 5 | GBR | Red Bull KTM Rally Factory Team | KTM | +00:04'12 |
| 3 | BRABEC Ricky | 1 | USA | Monster Energy Honda Team | Honda | +00:07'13 |
| 4 | SANDERS Daniel | 21 | AUS | Red Bull KTM Rally Factory Team | KTM | +00:33'05 |
| 5 | HOWES Skyler | 9 | USA | BAS DAKAR KTM RACING TEAM | KTM | +00:49'07 |
| 6 | SANTOLINO Lorenzo | 15 | SPA | Sherco TVS Rally Factory | Sherco | +00:49'26 |
| 7 | QUINTANILLA Pablo | 2 | CHI | Rockstar Energy Husqvarna Factory Racing | Husqvarna | +01:00'18 |
| 8 | VAN BEVEREN Adrien | 42 | FRA | Monster Energy Yamaha Rally Team | Yamaha | +01:00'18 |
| 9 | SVITKO Stefan | 11 | SLO | Slovnaft Team | KTM | +01:26'40 |
| 10 | MICHEK Martin | 31 | CZE | Orion Moto Racing Group | KTM | +02:14'55 |