Dakar: Peterhansel wins in Cars, Benavides clinches in Bikes
Stephane Peterhansel (shown above) has secured a record 14th Dakar Rally title after winning the 2021 edition of the event in Saudi Arabia, beating 2nd place Nasser Al-Attiyah and 3rd place Carlos Sainz Sr. to the crown.
Peterhansel grabbed the lead after the second of the 12 stages and never surrendered it thereafter, eventually claiming victory by 14m51s from the factory Toyota of Al-Attiyah.
Peterhansel and his navigator Boulanger only took one stage win, but showed great consistency and didn't make any major mistakes. Third-placed Sainz and Cruz took three stage wins and had a deficit of 1:01:57 hours to the winners at the end.
Peterhansel added another chapter to his impressive Dakar record. He has now won the rally six times on a motorcycle (1991, 1992, 1993, 1995, 1997, 1998) and eight times in a car (2004, 2005, 2007, 2012, 2013, 2016, 2017, 2021). MINI took four consecutive wins with the MINI ALL4 Racing between 2012 and 2015, and now for the second time in a row with the MINI JCW Buggy after 2020.
At this year's edition, in addition to Peterhansel and Sainz, a third MINI crew finished in the top ten. Vladimir Vasilyev (RUS) and Dmitry Tsyro (UKR) crossed the finish line in sixth place in the MINI JCW Rally. A total of eight MINI cars competed in Saudi Arabia in 2021, six of which reached the finish line.
– Peterhansel first contested the world's most fearsome off-road race in 1988 on a Yamaha motorbike and won six titles on two wheels before switching to cars to reel off another seven desert victories in Africa and South America.
– This time around for Saudi Arabia's second edition, the 55-year-old had to keep three-time champion Al-Attiyah at bay with the Qatari only able to take seconds out of his 15m05s overnight lead by the Jeddah finish line.
– It is Peterhansel's third car victory in a Mini with Al-Attiyah second and last year's winner Carlos Sainz of Spain winning the final stage to round out a star-studded podium with Poland's Jakub Przygoński fourth, South African Giniel De Villiers eighth and Frenchman Cyril Despres 10th after the 8,000-kilometer odyssey.
– Peterhansel also now stands alone as the biggest winner in a single category with eight car wins after Monsieur Dakar had previously shared that record with Vladimir Chagin, winner of seven truck titles.
– He revealed: "It was a really tough one this year and there is always more pressure when you are the leader for so long. We had everything to lose but we did a really precise race, almost perfect. It's working really well inside the cockpit, it's a good feeling to have Edouard (Boulanger) sat next to me. This was his first Dakar in a top car and he did a really excellent job."
Bikes
Kevin Benavides has become a Dakar Rally champion on a day when Monster Energy Honda team-mate Ricky Brabec took final stage honors.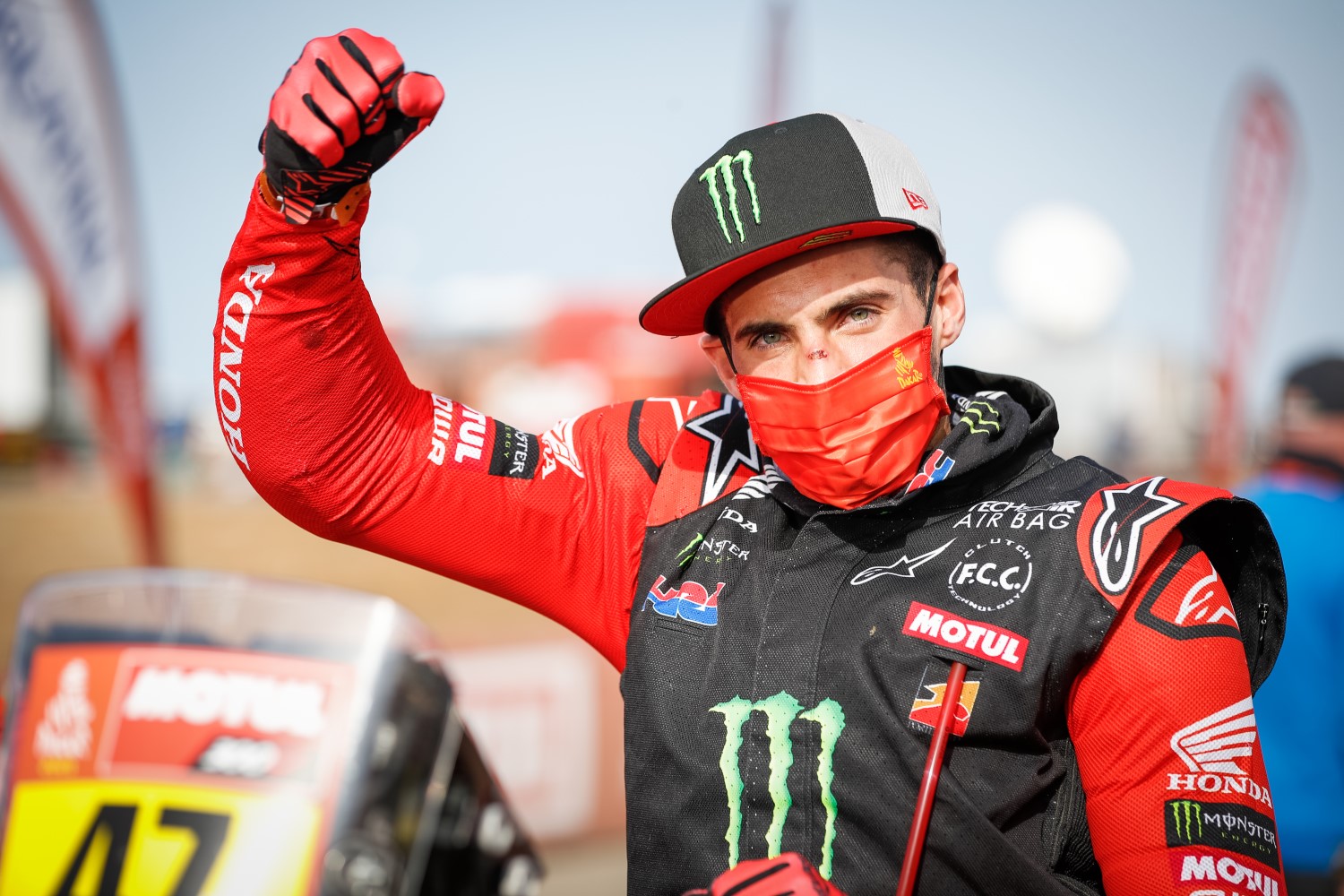 Benavides finished second to last year's champion by 2:17s in the final, 200km special which took the field back to Jeddah after a Prologue and 12 stages through Saudi Arabia.
It meant that the Argentine beat the American to the title by 4:56s, with Red Bull KTM's Sam Sunderland rounding out the podium and his works stablemate, Australian Daniel Sanders, taking fourth overall at his first attempt.
It was an intense, yet intriguing 202-kilometer special stage, which brought down the curtain on the Dakar Rally on the shores of the Red Sea. This marks a first title for the Argentinean Monster Energy Honda Team rider and, once again, a historic result for Honda, who dominated throughout the 2021 Dakar. Over twelve tough days, Monster Energy Honda Team commanded the rally, accomplishing the final mission for a second successive year.
Thirteen grueling days came to a close today in Jeddah on the shores of the Red Sea, with Kevin Benavides emerging the winner of the 2021 Dakar Rally and team-mate Ricky Brabec taking second place overall. The American Monster Energy Honda Team rider won the final special of the rally in an intense 202-kilometer thriller.
Monster Energy Honda Team ruled the roost throughout the world's toughest race for a second consecutive year, as the squad proved to have greater riders and superior mechanical firepower, winning 10 stages and leading nine of the thirteen days of racing. Kevin Benavides made history to become the first South American rider ever to hold aloft the winner's heavy bronze Touareg. The Argentinean, whose consistency turned out to be the decisive factor, claimed two stage wins in the rally. Honda's success was rounded out with runner-up spot going to American Ricky Brabec. The winner of last year's edition finished with a final tally of four stage wins.
Final Standings Top-10
Cars
| | | | | | |
| --- | --- | --- | --- | --- | --- |
| Pos. | No. | Nat | Driver | Team | Time/Gap |
| 1 | 302 | (FRA) | Stéphane Peterhansel | X-Raid Mini Jcw Team | 44h 28m 11s |
| 2 | 301 | (QAT) | Nasser Al-Attiyah | Toyota Gazoo Racing | + 00h 13m 51s |
| 3 | 300 | (ESP) | Carlos Sainz | X-Raid Mini Jcw Team | + 01h 00m 57s |
| 4 | 307 | (POL) | Jakub Przygonski | Orlen Team/Overdrive | + 02h 35m 03s |
| 5 | 311 | (ESP) | Nani Roma | Bahrain Raid Xtreme | + 03h 21m 48s |
| 6 | 317 | (RUS) | Vladimir Vasilyev | X-Raid Team | + 03h 29m 38s |
| 7 | 310 | (ARE) | Sheikh Khalid Al Qassimi | Abu Dhabi Racing | + 03h 33m 31s |
| 8 | 304 | (ZAF) | Giniel De Villiers | Toyota Gazoo Racing | + 03h 57m 39s |
| 9 | 312 | (CZE) | Martin Prokop | Benzina Orlen Team | + 04h 09m 21s |
| 10 | 314 | (FRA) | Cyril Despres | Abu Dhabi Racing | + 04h 51m 09s |
Bikes
| | | | | |
| --- | --- | --- | --- | --- |
| Pos | Rider | Nat | Make | Time/Gap |
| 1 | Kevin Benavides | ARG | Honda | 47:18:14 |
| 2 | Ricky Brabec | USA | Honda | +0:04:56 |
| 3 | Sam Sunderland | GBR | KTM | +0:15:57 |
| 4 | Daniel Sanders | AUS | KTM | +0:38:52 |
| 5 | Skyler Howes | USA | KTM | +0:52:33 |
| 6 | Lorenzo Santolino | ESP | Sherco | +0:58:30 |
| 7 | Pablo Quintanilla | CHI | Husqvarna | +1:16:39 |
| 8 | Stefan Svitko | SVK | KTM | +1:43:07 |
| 9 | Martin Michek | CZE | KTM | +2:22:37 |
| 10 | Matthias Walkner | AUT | KTM | +2:32:12 |